Microsoft reportedly considering an acquisition of Xamarin, would boost Windows Phone apps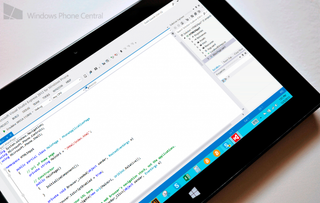 Here's some stellar news for Windows Phone developers. Microsoft is rumored to buy software development company Xamarin. Microsoft and Xamarin have always had a cozy relationship. Last November the two tightened their marketing and technical ties with a new partnership deal. Xamarin is a popular tool because it allows developers to create Android and iOS applications uses C#, the development language of choice for a lot of Windows Phone and Windows 8 developers. Now Microsoft might buy Xamarin.
Rumors suggest recent talks between with Xamarin (www.xamarin.com) and Microsoft that will result in either a huge investment or an acquisition. It's not just Xamarin though, Microsoft is also looking into other companies with similar product offerings that make it easier to run mobile applications on a variety of devices. Microsoft is also considering building its own programming tools to allow similar functionality.
Xamarin (and similar companies) allow developers to quickly create Android and iOS apps in the same development environment and with the same development language. Xamarin is already used by nearly 500,000 developers to create fully native apps on Windows, Mac, Android and iOS by using C#.
With the purchase of Xamarin, Microsoft could further entice Android and iOS developers to work put their apps out on Windows Phone and Windows 8. Developers can reuse their favorite .NET libraries and easily incorporate platform-specific libraries and frameworks into the apps.
Here's what Windows Phone developer Daniel Gary (@danielgary) thinks of the potential Xamarin acquisition by Microsoft:
Xamarin isn't the only option for developers to easily create apps for multiple platforms at once. We've previously covered PhoneGap before. We've also seen a few apps on Windows Phone that were created by PhoneGap, like Untappd.
However those apps produced via PhoneGap aren't always of the highest quality. PhoneGap relies on HTML5 and a WebBrowser control to create apps for all three mobile platforms. Xamarin produces apps that use native code/controls for the various platforms. The result is a better app experience.
Any devs out there excited by the prospect of Microsoft buying Xamarin?
Windows Central Newsletter
Get the best of Windows Central in in your inbox, every day!
Nice, who the hell still says ms does not stick to WP

The people who see MS themselves coding for other platforms before thier own - but that's a different article. :P

you think maybe they started on office for ipad before surface was even around?

That does make WP look a bit insecure in less aware eyes... And, it plainly pisses WP fans off...

I am sure Microsoft will put security first and C# is more secure and less resource intensive than say Java...

Windows phone fans aren't entitled to anything, tbh. It would be nice but Microsoft was a software company first. If they think that offering office to more platforms than WP will be beneficial, (which it probably will, otherwise people just use office less and less) then they will. Think about Microsoft as a whole company, not just a mobile OS.

I'm not liking the office thing. I've known many people wanting to switch from iPad to surface because they couldn't make their regular college presentations on the iPad. That's gonna be a lost opportunity for surface now...

Well, when the market share for Surface reaches or exceeds Android tabs, then this makes sense. Until such time, even Microsoft can't help but think about their own services on their own products second. That's just how it is going to be.

Saksham, Surface has 2 things that iPad hasn't got: The capacity to use a Mouse - you can't use iPad attached to an external monitor and external keyboard the same way that you can with Surface: don't under-estimate this, I do it all the time with Surface and as I write for iPad as well, I've quickly realised that it's difficult to create apps that are desktop like (i.e. ext Mouse, Keyboard, Monitor). The capacity to put 20 years of heavy duty software on it: if you can put it on Windows you can put it on Surface - but if you can put it on Mac you can't put it on iPad!

Well, mobile is where it's at, and obviously thinking of MS as a software company is old news.. Even MS itself is transitioning to a devices and services company... They need to stick to their guns, and differentiate their devices so that people not only want them, but need them.... If not, then what's the point of WP, and Surface?.... They are purchasing a entire device division with factories, and thousands of employees... I don't know about you but if I owned all that then I would want some good products to run through those factories that people WILL buy.. If not then really,,, what is the point?.... I do understand that theirs nothing wrong with putting their products on other platforms, and I understand why.. But, I think most MS fans frustration doesn't come from the fact that iPads are getting Office first this time,, rather MS seems to put their own product's last everytime......

Office less and less? Riiiight....

Amazon sell kindle's but there is a kindle app on all platforms. Do they still sell bucket loads of kindle's, yes, do they sell bucket loads of books, yes. Succes then...

Nice. Do you know if tool is compatible with VB.NET?
As developer I find this language to be more productive. Recently I've been using it more than C#.

At the moment it ONLY supports C#, I am not aware of their future roadmap, but I would think that with a really close tie-up with Microsoft, this is very easy and should happen soon. Hope for the best...

>> Nice. Do you know if tool is compatible with VB.NET? VB.net is supported through Portable class libraries, the primary language you would be using develop apps is C#

so far Xamarin only supports C# and F# Anyway, as you are probably able to generate .Net-DLLs, you should be able to link these DLLs to your Xamarin projects, so you do not have to start from scratch

This would be great news, to see Xamarin as a first party part of Visual Studio. The cost is *ridiculous* currently, especially if you're an independent dev.

Yeah. If Microsoft bought Xamarin and introduced a free or entry-level tier that would be great for independent devs. Plus Windows Phone users who potentially get more apps. Start ups from Silicon Valley to Silicon Beach to Silicon Alley to Silicon anywhere typically make their apps for iOS first. Then go through the pain of building an Android app. If they're not burnt out or underfunded we maybe sometimes see a Windows Phone version of that app. More often than not we don't. That's just reality. But if all these start ups started building their iOS apps with Xamarin it would take minimal work to product Android AND Windows Phone apps. Developers win. Users win. It'd be great to see more people take the Xamarin approach.

It also gives Microsoft the added benefit of pulling developers into Microsoft's developer environment. In other words, more people will become aware of what MS is doing and may be excited to contribute in some way. Getting Silicon Valley startups into the mix would be a huge boon for Microsoft.

And that would be explosive.

Well, there is already a Free version developers can use already. It does have an App size limit of 64K (not including references to the mono framework or 3rd party libraries that are used). The Indie licenses are $299 per developer per year. They are perpetual, so if you decide to not renew, it will still work, but you will not have access to new updates. All this uses Xamarin Studio, which honestly, is an impressive IDE. That's all you need really to develop iOS & Android apps. WP Apps can be created with Visual Studio Express, and you can share a lot of code between all 3 platforms if you architect your apps correctly. This is really feasible for start ups now. And it's hard to remember that Xamarin is also a start up company too. However, if you want to develop with the Visual Studio Pro (or above) IDE, you need the business edition license, which is $999 per platform per developer per year. That's where it can be cost prohibitive for developers. But Visual Studio is really not necessary. It is a nice to have and works well for MS shops, but one could reasonably develop for iOS and Android without Visual Studio. The potential I see here is Xamarin being packaged with BizSpark, Student Pricing, and MSDN subscriptions. If this were to be packaged with those models, then you would really see the adpoption just skyrocket. Let's just hope (if this does happen), that MS does not screw it up.

Xamarin is already offering student priceing (50% off, so 150$ per [Student-] indie per year).
But i aggree, if its done the right, this thing could be a new standart for mobile app development, and after some time we would for shure see a lot more high-quality WP apps.
Propably every developer would be in - just maintaining one codebase for 6 plattforms? Awesome! Bundled with the fimancial, personal and knowledge resources of MS this thing would go insane :)

with the $299 you forget that this is the price per plattform, so you have to double it if you want to support both, iOS and Android! I am not sure, if the license is still perpetual. I think this was changed last year for new licenses

No I didn't forget it's per developer/per platform/per year. If you buy both at the same time, you get a 10% discount. Regardless, I think this is still reasonable for a startup. Last year, they attempted to get rid of the perpetual licensing, but after some nasty backlash from the community, they re-instated the perpetual licensing shortly after. If this investment/acquisition results in less expensive licensing, I'm all for it. But as it stands now, I feel it's reasonable.

Hell yeah, but I got a iPod touch for apps.

This is great news! I'm a big fan of Xamarin, been using Mono since it was first released.

Microsoft should also buy Telerik and then offer those very expensive but very good tools free or at a great discount over today's prices.
8-D

Telerik is nice, but I find their controls to be a little on the heavy side. Modifying their HTML/CSS controls is kind of a pain, specifically their classes/rules.

I haven't used them much, but won a license, so I'm trying to figure them out in what very little spare time I have. Haven't tried modifying, as I'm a novice.

Let's hope its free or integraded in Visual studio

There already is a Visual Studio plug-in for it. You just have to pay $999 per developer per year for it. The potential is this being packaged with current Visual Studio pricing models.

I'm not a developer but there is not a limit that MS should have when it comes to getting more developers to develop for it's platforms... Wow! The tables sure have turned,,, and it's kinda sad, and funny, at the same time... I hope MS has learned it's lesson.

As long as developers make the effort to modify the apps into Metro-styled ones, I think this is a good step. I'm afraid however, that it means that we will see a lot of regular styled apps...

I guess regular style is better than no style... Actually, I've been looking at a lot of iDroid apps, and they look really nice!.. Kinda "Metroey", one might say... The well developed ones aren't bad at all...

Keep in mind: Xamarin helps devs to reuse the majority of their code, they only have to change OS specific APIs. This includes UI. Best example is Rdio they rely on Xamarin, still their WP App features WP's Metro.

I do hope that they get Xamarin it is an awesome tool as a cross platform developer I prefer Xamarin and it is awesome, if Microsoft buys it it will only become better especially with MVVMCross

people say whatever they want. MS is not giving up on windows mobile devices.
For some reason i cant change to other os now that i have 1020. I love how most important stuff is integrated in the OS. like emails, skype, onedrive, one note etc. Hard to leave them. Now if IE gets sync like chrome, it will be great. Surface RT is bit disappointing because app developers dont like it at all and desktop is not good enough for touch screens. But IE run better than browsers on android. Safari on ios is only one better than IE on RT.

Developers, developers, developers....DEVELOPERS! *(makes Ballmer face)*

Good news! Ps. Quite a few grammar errors/typos in the story... :)

Much typo
Wow
I agree though, their articles need proofreading

I like Windows Phone Central a lot and read articles here daily but don't understand why their authors don't write their articles using Word in Office. It proofreads for you. I mean, am I a genius or is that hard to do?

Articles by Daniel or Paul are generally OK. Articles by Sam are horrendous, both gramatically and coherently.

just finnished my first blog post on this Exact topic would be honored if people would check it out.. basicly saying this move is the first step for microsoft to get it's self out of the developer mess it's in http://cybrtitan.wordpress.com/2014/03/18/how-microsoft-can-score-a-win-by-creating-a-wart/

Awesome news! As an independent developer I ponied up $1800 for both Xamarin.iOS and Xamarin.Android about 9 months ago so I could welcome Xamarin being added to Visual Studio. As awesome as Xamarin is, its not enough to reuse most of your code - that's where awesome open source frameworks like MvvmCross come into play. I've achieved somewhere around 90% code reuse using these tools/frameworks together. As a cross platform dev, you'd be an idiot to not use them...

That's really cool. Sounds like you're on the cutting edge there. Which other tools/frameworks besides Xamarin/MvvmCross are you using to enable cross-platform code reuse, if any?

MS its like those rich kid, who when they needs something and actually cannot have it, they buy it. Haha BTW I'll love if this happen, MS is really working Hard for WP platform!

Great. This means i will be able to develop apps for ios and android right from visual studio :)

i am sure microsoft will do enough to enable that

Metro coming to ios and andoid :)

Xamarin is overpriced, but WinRT is so freaking under-developed that mozilla can't even port their browser and takes VLC a whole year to port a simple video app. instead of doing this, why don't they stop with the joke that is the WinRT API and give us a first class API that can do what win32 can and more instead of that sandboxed limited junk made for RSS apps.

Did you really just call rewriting 8 million lines of code "porting a simple video app"?

they didn't re-write them. read their blog.

This will be great. I'm currently developing my first app and it needs to be multi platform. Did some research on phonegap but the apps don't look of good quality and xamarin while it looks good it doesn't have a affordable license for me at this point. Hopefully Microsoft comes up with an express version or something more affordable for startups.

Hopefully when MS purchases it, xamarin will come as a free addon to VS

As awesome as that would be, I see this probably being a feature for Premium and above. If it workeds for Pro and above (or even Express) that would be phenominal. But realistically, it will probably be a plugin for the upper tiers of Visual Studio. I hope I'm wrong though.

Right now you can develop applications using c++ and c# for Android using Android NDK extension. But c++ maybe the most widely use for gaming on Android games development.

Congratulations to Miguel de Icaza. Now he will be what he always dreamed to be: a Microsoft employee.

Is this the guy who did Mono back then?

Yep, the same guy from mono

oh yeah! I think, when he started the Gnome project he did it only to impress Microsoft to hire him. Only 15 years later he got his success ;)

I have tried PhoneGap, the fact that it relies on HTML the biggest challenge was to make UI that looks native in each platform, and it's really a tall job when you do an app for 3 platforms. Turned out doing all apps natively to be cheaper and less time consuming. Xamarin sounds promising, will take a look.

This would be awesome. Make it happen Microsoft!

Do it!!! Use the billions of dollars in cash on hand to do whatever it takes to close the app gap on Win Phone!

I just don't want iOS styled apps on WP. Gosh I hate the iOS app design. HATE it. There's a reason I didn't move to iPhone.


That's up to the developers of the app. Or more accurately, the design team that does the app. You can make a shitty User Interface with any framework.

Since MSFT is deadset on destroying their own OS they might as well develop nice tools for other OSes, so I support this move. They need to make iOS and Android support seamless. I haven't used Xamarin's stuff but from what I've read you still have to do plenty of OS-specific work. Of course, my apps are tubed since I use D3D extensively and iOS/Android are OGL.

How are they destroying the selves

Nadellas power he had said earlier that he is more focused on services and devices

yea buy them and kick out lagdroid and gayphone :D

999$ per year is wayyyyyy too steep, hopefully they can bundle this with studio for MUCH cheaper

Stick with Unity3D .. Cross platform and all c# scripting on top of a powerful engine that any indie developer can easily use to get their creations out. Also Free to publish on ALL windows platforms already.

As a developer this is the most exciting news yet. The game is about to change.

i realy hope Microsoft does not do this ,, becourse ,, we had XNA c# and microsoft killed it,, it runs all windows phones 7,windows 7, xbox 360, and thay killed game developerment in c# ,, the same thing gonna happenend,, course microsoft is a control freaks, stop that,, that is why all there developers has left then there will be no freedom for the developer..

I am using Xamarin since about 2 years on a Mac. I would love to be able to programm WindowsPhone and Win8 Metro apps without being forced to use the Windows Desktop, as all my developing happens on a mac. I know, XamarinStudio does not play in the same league as VisualStudio does, but is more then "good enough", and a WP plugin is certainly possible :)


Purchase of Xamarin is only the tip of the iceberg. Hopefully we will see them purchase iFactr as well. iFactr uses Xamarin along with a custom UI that allows for true 100% code re-use (and yes that includes UI code). If they don't acquire that functionality from iFactr then they should at least look to achieve it through a XAML UI layer that compiles down to the appropriate platforms (MS also recently announced a new version of WPF coming sometime in the future - could be just a coincidence but I hope not - I hope its a cross-platform version of WPF - say a prayer and light a candle folks). Either way MS must make the push for drop dead easy platform compilation i.e. a dev should be able to right click on a project and see "Build to Windows Phone", "Build to Android" or "Build to iOS" - if Embarcadero (a.k.a Borland) can do it using Delphi/AppMethod then doggone it MS can accomplish it using VS and .Net. Devs would obviously include a Windows Store version of their app. It would be a no-brainer. Make it happen MS.

Yes, please, please buy them. Microsoft knows how to release products that work.
Windows Central Newsletter
Thank you for signing up to Windows Central. You will receive a verification email shortly.
There was a problem. Please refresh the page and try again.