Microsoft Research demos prototype smartphone cover with e-ink display
Microsoft's research division has come up with a new concept for smartphone covers that adds a secondary display, expanding screen real estate for content without buying a larger phone.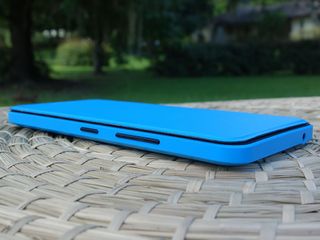 Microsoft Research has shared its work on a new kind of smartphone cover that adds a secondary e-ink display to smartphones. Demoed using a Lumia 640, the integrated display cover provides users with a second display for content, increasing screen real-estate on existing phones without too much bulk.
The project sees research teams try to provide another solution to user-demand for more display. Instead of making smartphones bigger, what if you could add a secondary screen in the form of a cover? Microsoft Research describes the following:
While working prototypes did not include a touch-layer, Microsoft Research also envisioned scenarios in which the cover did support touch, providing additional functionality such as using the secondary screen as a keyboard, or as extra screen space for apps like Word to expand into. The secondary display could also be used for pinning important information such as tickets to a concert, the latest happenings within Cortana, and more.
This research project is an interesting insight into how Microsoft is thinking about expanding the mobile form-factor. While most Microsoft Research projects never turn into real products, we do know Microsoft is already hard at work on "Andromeda," a mobile device that runs Windows Core OS with two-screens that's pocketable with telephony capabilities. Andromeda and this e-ink display cover share few similarities, but both focus on using extra screen real-estate for enhanced productivity.
What are your thoughts on this research project? Let us know below!
Spotted by @h0x0d on Twitter!
Get the Windows Central Newsletter
All the latest news, reviews, and guides for Windows and Xbox diehards.