Microsoft to resume 10586.63 Insider update today after early problem found with servers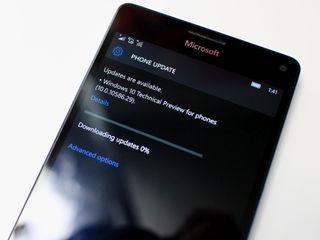 As it turns out, Microsoft was planning to release build 10586.63 cumulative update to Windows 10 Mobile Insiders in the Fast Ring. However, during the publishing of the update an issue was discovered at the last minute halting the process.
Microsoft's Gabriel Aul took to Twitter to explain the situation:
The good news is, of course, that the update should go out to all Insiders today at some point. The problem detected was a distribution server one and not the build itself. In other words, there is no risk for those who have it installed or are starting to install the update.
As to what the update contains, precisely, we are still learning more. However, Aul did add to this by saying "...we're doing very targeted changes to fix specific issues at this point with Mobile." However, do not expect a changelog, per se: "Not a detailed list. Mostly upgrade fixes and other corner-case things per device model."
Finally, regarding our earlier report about the new firmware and Insiders who cannot get it: "No news to share on that yet".
Source: Twitter
Daniel Rubino is the Executive Editor of Windows Central, head reviewer, podcast co-host, and analyst. He has been covering Microsoft here since 2007, back when this site was called WMExperts (and later Windows Phone Central). His interests include Windows, Microsoft Surface, laptops, next-gen computing, and arguing with people on the internet.
Nice!!.... firmware or new build...I cant decide.....UpDate: Getting it now on 950XL unlocked DS

Does it require the windows inside app to get it on the L640?

im getting it too, 950XLDS. ...now i wonder if after the update i could have access to the firmware update, or the problem regarding the insiders will remain.

I'd hope it would, but the earlier article said not.

yeah i will wait around a week or two for that firmware

Refresh and re-read the last paragraph as it has been updated.

I hope it fixes some problems with old 8.1 apps. For example Audiotica gives me a crash message and doesnt let me see the artist, songs, or album of the music I listed.

refresh and read last pharagraph. just some fixes.

Refresh and look at the comments, Daniel already said that

Refresh your attitudes people, it's a new year.

So fresh up in here gonna have to call us the Febreeze brothers.

I too, would expect that ALL insiders will get this very quickly if they plan on releasing it for patch Tuesday to keep it in line with the rest of Win 10.

Still no build, just waiting

Got the upgrade earlier no problem detected

As of I'm writing, no update for Lumia 525 in India

Im just praying for a better battery management. Its crazy how it's draining fast with some simple internet and messaging. The rest for me is already acceptable even for an old 925.

Strange! I have substantially lower battery usage with my standard (not very heavy) use after upgrading my Lumia 640 to Win10M.

Did you do an hard reset before installing the insider preview? The 925 always had ****** battery from the start...so im cannot complain too much about this.

Not true. I use my 925 as my primary phone and the battery life is just fine :) It drains a bit faster using W10 mobile though.

I dont even charge my 640 anymore, its just keeps going and going...

:) They are remarkable. The phone that just won't die. I have one at the house that is nothing but a Hotspot. It just routes and routes and routes all day and all night. It will probably need a reboot tonight for this new build.

Time to buy a mid-low end 640 than! :D so tired of smartphones with poor battery life

Just started downloading on L1520 att.

Still can't download .36 will this one be incremental or can I skip to it?

Gabe Aul said they are testing it for a few days on fast and then releasing it to slow ring. So you can always wait. Follow him on twitter he's very helpful with questions, problems and news on insider releases. Edit: Sorry misread your comment, but ask gabe

You should be able to skip to it.

No update here in sweden. 950xl CV. Wonder if this has something to do with Windows Insider app showing OS build 13068.36... System->About shows 10586.36 though...

Just showed up. Hope it fixes the version shown in the insider app. Not crucial, but a detail that annoys me xD

Also getting it. Sweden. Unlocked 950. Insider.

I don't see the update too. LUMIA 920 From Tunisia

I think I'll wait for the firmware since I just reset my 950, then hit the insider again.

I don't think it does, but hoping it includes a fix for the microphone issue on (not limited to) a lot of users L930's where the mic is muted when on speaker phone (and for some people when recording video/skype calls).
I assume this problem isn't there on the 950 and XL and it's limited to older handsets. One of the things that I think deffo needs to be sorted before it goes to non-insiders on affected devices. Not sure if it affects all L930 users but seen quite a lot with the problem on Twitter

The microphone issue is most propably a hardware thing. I had the same problems you described and after reading the comments here ( http://answers.microsoft.com/en-us/mobiledevices/forum/mdlumia/nokia-lumia-930-microphone-problem/f86a2bc4-a486-4fd3-95d5-75ee37c13fd2 ) I took it for repair and had it fixed.

People app doesn't work al my phonenr are gone ant I can't get my mail intoo outlook

No update on Lumia 830, Azerbaijan.

sometime today, you'll get it. patience.

Not yet on my 1520.3 in Guatemala.

Downloaded started, if you call 0% started. Contento.

Not yet here for Lumia 930, Philippines.

Already here for Lumia 1520 Philippines. Try it again.

I hope this fixes the issue on the 930 that recorded videos have no audio, hands free does not work and audio recordings are mute while cortana can hear me perfectly. apparently they mix the microphones wrong in some apps. and only on the 930.

Hmm can't say i'm experiencing the same on my L930. Audio from recorded video works fine, including playback. Not sure about the hands free part though.

I've got the same problem. It's really annoying!!!!

Nothing on L930 UK for myself or my wife's handset.

Downloading right now on lumia 625 in Belgium!

My Nokia Lumia Icon just tried to update and now everytime it starts up, I get the blue screen of death.

I've already started that part, but getting it back to Windows 10 Mobile keeps failing now.

Yep it arrived on Europe. Portugal 830 updating now.

May grab the firmware update first.... Then reenrol.

Its live in Greece.Dual sim 950XL

Starting in the Netherlands on my gremlin - Lumia 435

Installed and functioning Lumia 1520 Hong Kong phone located in Norway using US location. So far, so good.

Downloading now, on my Nokia
920

Available in Slovakia for my 640, downloading.

Downloading 10586.63 in Spain as i speak

Ativ S, Lumia 630 and Lumia 640 LTE in Slovenia also getting it.

Downloading on 930 in Germany

Downloaded in the netherlands and installing.

Downloaded to my 920 USA. Now to get my battery to 40%.

Just read the article, checked for updates on my 730, and its downloading. Yaayy! :D Posted via the Windows Central App for Android

Just entered Fast Ring (been on .36 via slow before and have the 27 Firmware Update resulting from an earlier Recovery Tool Use) ... Update found, download stuck at 0% for about 15 Minutes now.


LOL ... jumped to 99% the very moment I posted this.

Downloading now (Malaysia)

Does any of you guys had a problem on prevous 2 builds when you press home/start button when in messages and screen go back to start screen but remain frozen and backlight wont turn off but i can hear notifications and i feel vibration when i hold vol. up or vol. down? Then the only thing that help is rebooting phone by holding power button for 5-10 seconds... I hope that they fixed this thing in new build... I have lumia 625 and this problem started for me 2 builds ago, builds before that was fine... and i tried hard rested, i tried to go back to 8.1 than back to 10, i formated my mem. card few times with pc and phone i was even sure for some time that my problem is because of embeded skype feature so i deleted standalone skype app from phone but that ether did not help... I really have no more ideas what to do with this problem, everything else on phone works just fine, some things works even better than on 8.1, like battery last litle longer, gps is much faster now for me and even pictures taken with wp10 are better for me than on 8.1... Any ideas or help are very appreciated! :)

okay if its a culmulative update when do we get rid of migrating? :P

I got it on my 640 ( Bucharest/ Romania)...it run smoothly.

Installing... (Lumia 730 - Brazil)

how abt battery life in lumia 730?? and hows it works?? crash n flickering screen is fied or not???

Any ideas on why I can't get off .29 on my 950XL? I've gotten out of Windows Insider, Hard Reset and signed in without applying backup image. I joined Windows Insider, rebooted and still no love with seeing updates.

sounds really weird, try doing it without a SIM, or change your internet connection. Also! you can try changing your phone region to a europe nation

Hope MS fixes bluetooth issues with Band 2.

Lumia 950 Greece downloading now...

Lumia 930 Greece downloaded.....!!

Updateing my lumia 640 XL now Norway :D

Downloading in Australia for my 920

Got it on my 930 and now dowloading it on my 950 XL Canada

Now downloading on my Lumia 640 XL Philippines

Change log...bug fixes.... ABOUT FREAKING TIME.... This OS is a mess, I hope this adreses a LOT of the issues... I am sure they will fix some things but break a lot more... a normal Microsoft thing

I guess as long as you are not on a 550, 950, 950 XL nobody is forcing you to to use WP10.

Its nearly 5 a.m. in India. Just woke up to see my phone was updated to .63 build and haven't noticed any changes so far. (: My Lumia 535 still get frozen while watching a movie on YouTube in Edge and phone gets restarted after 8-10 seconds. Super annoying.

Try clearing your internal storage, maybe that could fix it. I sometimes get resets when I record long fullhd videos, or if I try to install big apps like asphalt 8, if my internal memory is low. I have a Lumia 735 8.1 btw.

Not enrolled to Windows Insider but got the update anyway. Anybody else with the same 'issue'?

Still waiting with my Lumia 1520 (Algeria). From what I read in the comments, can I expect a new firmeware update are is this one exclusive for lumia 950/XL?

Any performance improvements on l1520? I'm so tired of the little annoying bugs. Slow, slow unlocking, apps not gathering data, email formatting issues, messaging and attachment problems. Camera crashing or not opening and causing random restarts. These things need fixing. I so miss how windows phone use to be so buttery smooth and functional. All the new ideas are great but they are just not living up to the things that brought me to the platform. I'm holding off on upgrading to a L950 in hopes this will happen soon.

Checking on Lumia 730 (indonesian)

This update does not fix the Microsoft band 2 connection issues with W10M. Just checked... this sucks.

Really?!?! Grrr that was the fix that I most wanted!!! I guess I will have to keep using my MS Band 2 with my Iphone 6+ :-/

what connection issues do you face? i dont really see any... have the band 2 on a L930.. sure th health app takes a bit to sync.. but thats really cuz they dont have a-sync to the online servers...

I dont have any connections issues. Its syncs normaly but I cant get notifications neither allow to get notifications cause when I go to "Settings" "Acessory Apps" does not appear MS Band as a choice to turn on notifications.

you get to see the app.. not the device here ryt.. i see the MS Health App listed here... the band uses that app to route all notifications, data, customization etc.. (its like android wear + google fit / moto body in one app)

Just started downloading in Trinidad and Tobago on my 1020.

Looked over at my 950Xl and 1520 and they are both ready for a restart. They're like twins getting the update together. :)

Inside has kind of been a mess in some respects with the last update borking my 950 with crashes, battery drain, and the inability to accept new updates but will try with 1520 since its been pretty stable

Is it true with insider u get moore bug problems becose its beta ?

not really, give it a try. you wont regret

Downloading on my 950 now. Not. It came with a BS version of the OS and it's remedial to put a BS version of a preview on my disappointing $600 device that doesn't give me features I had on 8.1 even with the latest firm that can't even download. Forget these "fixing issues only updates". Fix the issue AND give me the features back I had previously. Like, i dont know the ones in the touch settings. I was hood winked. My pre-response to any comments is as follows: Such as, "My 950 series device runs flawlessly". You are a freaking liar and/or have low standards. To all the twats." Whoa, guess I should put this SoCo away. It's causing me to loose my composure.

I'm curious. I just bought a 950 yesterday. I also updated it to 10586.63. What features are you missing? I didn't use the people hub integration and I've heard some about that but overall it's been ok. I've had some quirks, like apps saying pending for an hour after the upgrade to apparently finish the upgrade, but haven't spotted anything missing. The biggest thing I have noticed is I've been getting better notifications.

The update shows up for my Lumia 930 on SE Telia in Sweden

I am downloading the update for my Lumia 640 at&t.

I woke up with my phone downloading this update, I had no idea :D

Got it on the second posting. Installed this time. 950 unlocked DS in US on ATT. Insider, so haven't received the firmware yet.
First 40 min of use: Battery drained 6%, only downloaded calculator update and read MSN news for 5 min. So, no change in the mediocre battery life. It does, however, feel ever so slightly more responsive. So far my 5GHz WiFi ac is staying connected...
EDIT: After posting my comment, 5GHz dropped. Sad trombone.

Do you maybe have a lot of background tasks or don't close Edge?

Downloading in Argentina, Lumia 535

My glance screen is not working any help 1520

Installed it and hoped for a lot as it is said to be the RTM for WO 8.1 Upgrades. Sadly, after playing around for an hour, not a single one of my problems was solved, especially the broken live tiles are annoying (Photos show some pictures I deleted days ago, Mail tiles count incoming mails and there Subjects/Seners till the moment I unpin and repin them).

This update did not solve the problem of glance screen hey Cortana and Lumia motion data 1520

What issues you referring to? No problems on my L1520.2 with glance or Hey Cortana, and I have yet to update.

My glance screen is not working my hey Cortana is saying it can not for my phone Lumia motion data can not be set

I just got it on my 920 in UK

1520 sucking the update up all good

installing 950xl Australia from .36 insider fast

Mine got it and is now downloading. Maybe, just maybe this could bring my phone the firmware update too once installed. Anyways I'm not complaining. What's new in this build, though?

I thought one had to get off the insider and reset the phone to get the 00027. Firmware.

At this point yes, hoping it will change soon. Don't think another preview build will fix the issue.

Windows Calculator is getting an update.

Never ever set up a Lumia phone without a sim card.

Downloading the new firmware now on Lumia 950 XL Unlocked Dual Sim w/ Vodafone Portugal :D

Downloading... Lumia532 philiippines

I hope this new firmware fix the lack of turn ON Notifications on Microsoft Band.

Gots it, 950 California. Dunno what's the diff is though.

MS should also find a solution about the notifications banners. When the phone is locked and you get a notification banner, the iris scanner doesnt turn ON. Its very annoying.

Installed into my L1520 (Mexico) no problema so far and everything works well. Live tiles, camera, email, etc. The only thing Im waiting its for Cortana availability... They said January would be the date so... Maybe in the following weeks.

Got it on my phone just now

It is definitely different, there's sparks coming out of my 930 after migrating data!!

Installing on my Lumia ICON. So Far so Good.

Downloading updated from space station

I've been stuck at downloading 1% for the past half hour. Anyone else? Thinking to restart my phone and try again...

It may go to 100% next, be patient. It will work out.

Will it bring back ' double tab to wakeup' feature?

see settings - extras - touch - it's been there for few builds already.

HTC One (M8) for Windows AT&T Unlocked stuck at 3%. Anyone?

Be patient, it will happen.

Just got notification of the update. Downloaded and installed without issues. Had issues this morning with my 4 month old Band v1 battery and charging. Why does it get problematic getting it to start charging. I'm tired of fiddling with it 3 times a week just to get it to work.

Mine (36 build) was stuck at 23% how can I get .63 build

Nothing on my dual sim unlocked 950XL AT+T USA. And it's the next day.... Seems every time i read theres an update that people are getting, there's nothing on my phone. Firmware or Update, in insider program and last to get it. Don't understand.

Getting the update on my Hong Kong L1520 in Colombia.

seems faster, looks like improved backlight.. but takes to much time to load apps from sdcard. After 15 mins of reboot some applications are still 'pending'.

Maybe I didn't get how it works...but even in this build I'm not able to use the awesome quick reply feature. I can pull down the notification and see much text of the message...but im not able to reply directly on the notification (on messenger and whatsapp) Despite this, I find this .63 release a nice step in the rtm direction!

WhatsApp and Facebook messenger haven't been updated to make use of the feature so what you're experiencing is what everyone else is as well.

Does anyone know when will the official windows 10 mobile roll out?