Microsoft reveals future roadmap for OneDrive for Business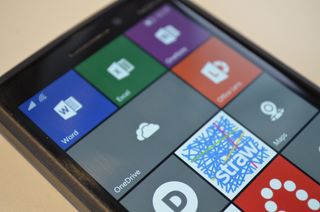 Microsoft offered a roadmap for future features and additions for OneDrive for Business customers as part of its Ignite IT conference this week.
Microsoft posted the PowerPoint presentation from the OneDrive for Business panel on its Tech Community site (opens in new tab) (via WinBeta). The roadmap section of the presentation shows that Microsoft is currently previewing shared folder and sync support with SharePoint Online, with general availably planned for the fourth quarter of 2016. That quarter will also see a new user interface for iPad and Android OneDrive users, along with offline file support for Windows.
Looking further ahead, the first half of 2017 will see features such as integration with Microsoft Flow, offline folders for mobile apps, the ability to move files from OneDrive to SharePoint and much more. Earlier this week, Microsoft confirmed that the old "placeholder" file feature for OneDrive in Windows 8 will be making a return in Windows 10 under the name "On-Demand Sync", although there's currently no word on when this feature will be added.
Get the Windows Central Newsletter
All the latest news, reviews, and guides for Windows and Xbox diehards.
Need to be able to auto upload camera roll.

Already exists. At least on iOS and Windows Mobile...

We're talking about OneDrive business here... Try again.

I hope they change the "Get Link" feature in OneDrive for Business... We just rolled out O365 in my company and I got everyone off of OneDrive and on to OneDrive for Business, but I noticed that when you upload something and "get a link" to give to someone, the link itself has the persons USERNAME in it!? Not only that, but there is no "shorten link" option like there is on OneDrive, so a normal link is like 200 characters long? I often wonder how simple things like this are overlooked?

That's really weird. It shouldn't happen. You should ask OneDrive support either on forums or twitter or via ur company contacts.

in the mean time you should just put a hyperlinked text like click here for them to click on.

Can somebody explain to me why its an added feature to move onedrive files to sharepoint? I thought that was already possible. Can't you sync SharePoint libraries with onedrive? Does that not allow you to add files? We don't get to use O365 at work, stuck with an IBM product, and as a MS fan boy, it kills me sometimes. I want to learn more and use it! Posted via the Windows Central App for Android

I wish windows central do a complete series with SharePoint and OneDrive, I try to use it correctly but I don't get it just yet. We have a basic O365 at work, but here nobody cares about using the tools correctly, they just add the files to the e-mail, the same as 10 years ago when the mass (in my country) got to know e-mail and the web.
Every URL in OneDrive for business says SharePoint, it seems to me two services very alike, so I really don't get the differences.

Yes can't sync SharePoint libraries. Old client did have the feature.

The old OneDrive for Business client could sync libraries, but it always hit problems in my experience. The newest client, which is a single client for Consumer and Business OneDrive doesn't support libraries, but the preview coming imminently supports this and a number of other awesome features.

I'm using the preview sync client now and so far it syncs SharePoint libraries beautifully. I'm going to roll out (in very small numbers) the preview client to a customer who is desperate for a better sync experience.

Very cool new features, looking forward to trying these out at work.

I've install the sync client preview this morning on my own PC and it's working beautifully. Also gives us the list of recently synced files for Personal OneDrive accounts too, which is nice.

When will we ever have on premise SharePoint again in Windows Mobile?

Let's hope what they demonstrate Wednesday is the final piece of the ODfB NGSC that will fully incorporate SharePoint and rid of us of the antiquated and buggy groove.exe client side application. This has been discussed since early last year. Microsoft's exceptionally slow development cycle on this has been disappointing and frustrating, also fixing things like character limitations.

Yes can't wait for the groove.exe client to go away. It ALWAYS hits sync issues. The new combined client is way way better but as you know it doesn't support syncing libraries, just your own OneDrive for Business or Personal folder. I saw the demo of the upcoming preview client that supports libraries and it looks fantastic.

Trying out the preview now and it's working great so far. MUCH better than the old groove.exe client which I just stopped using since it had so many problems. I have some customers that will LOVE these changes

Running the preview sync client now and it's great to see that (as expected by myself) the client features/enhancements also apply to OneDrive person where applicable - For example, the list of recently synced files. Expected this anyway with it being a single sync client, but I think we can safely say that other features such as On-Demand sync will also apply to personal. I guess "Offline files for Windows" means on W10M since the desktop sync client already does this, which is great news. I wonder if the new UX on iPad and Android will be based off the UWP app. Some people would say it's bland looking but I think it's really clean without any logos and stuff all over the place.