Microsoft is reworking the Cortana Notebook UI in Windows 10
Microsoft is rolling out a new Notebook UI for Cortana in the latest Windows 10 Insider Preview builds.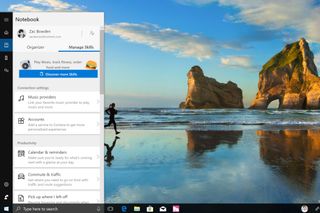 Microsoft is building a brand new Cortana Notebook user-interface for the upcoming version of Windows 10, codenamed Redstone 4. Spotted on Reddit (via Thurrott,) the new UI is currently in testing with Insiders in the Fast ring, and can be found in the Cortana Notebook area within the Cortana search UI.
The new design is far cleaner than the previous UI, which to many felt unorganized and messy. The new UI is much tidier, with skills and personalization options categorized into specific areas. You can quickly configure skills, settings, reminders and more.
Windows Central understands that Microsoft is internally building an entire new Cortana UI for Windows 10 users. While not much is known about the Cortana redesign at this time, we understand it could change the location where users interact with Cortana. Perhaps this Notebook UI update is the first step in that change.
Zac Bowden is a Senior Editor at Windows Central. Bringing you exclusive coverage into the world of Windows 10 on PCs, tablets, phones, and more. Also an avid collector of rare Microsoft prototype devices! Keep in touch on Twitter: @zacbowden.
I'm looking forward to Cortana expansion globally.

I agree. Cortana in Australia has gone backwards recently

This. All Cortana-related news is just noise as long as it's not even available in my region...

Lucky you, it is a shame it is available in my region.,

Technically you can use it in your region you just need to use a different language. So if you speak English you can use Cortana.

Looking better and bit organized than what we have now, but those shadows are just mismatched to Fluent Design cards from Action Center. Why the UI elements doesn't seem to align with each other still? Hopefully, they will make a serious effort at least to push Cortana globally.

It's annoying that the more of Cortana's Windows 10 UI is completely disrespecting the user's theme option. Might as well make whole UI White or have a specific colour scheme like the Android version of Cortana.

Confusing that Cortana stuff is now in 2 places. Cortana itself (Notebook) and the settings app. I think it should be consolated in one places, maybe settings app.

I heard rumor about windows 11?

Yeah and that is called Windows 3.1 For Workgroups.
.
It will be far superior to the current MS-DOS and IBM OS/2 interface and we know you will love it!

They need to focus on functionality first. The Connected Home needs help. I bought a newer Insteon Hub 2245 (replacing 2242), which was supposed to work with Cortana (and Invoke) but it doesn't. Connected Home shows being logged in and connected to Hub but asking Cortana to turn on Lamp and it says no devices connected, while clearly it shows one connected. I have tried, but it just doesn't work. So instead of showing me something that doesn't work, in a fancier way, make it work instead.

Cortana search is still horrible but I have to say, the new notebook UI is a lot better than before.

Note, they ripped out cards a few builds back. The new configuration still doesn't let you see things like news. Here's the response from Jennifer G "Microsoft engineer" on that feedback("Cortana isn't showing the proactive pane /cards on recent builds") "In the previous feature updates of Windows 10 (including the Fall Creators Update), there were two places to go to see the next action you might need to take: Cortana and Action Center. We heard feedback that this was confusing as it wasn't clear where to go. The fact that Cortana's insights and recommended actions lived outside of Action Center also made it impossible to focus Cortana's user interface on Cortana's natural language and search capabilities. To fix both of these problems, Cortana's proactive content is going to migrate to Action Center so that you have one place to go to find out what action to take next and to see the important insights Cortana has for you. This frees up Cortana's user interface to provide tips, educating customers about what can be said to Cortana, and to provide tools for search so that you can get the information you need as quickly as possible. You will see the first part of this change starting with build 17017 with Cortana no longer offering proactive content. Over time, you will see the proactive content that used to be available in Cortana show up in Action Center."

I don't watch/read general news (politics, local tragedies, etc.), period, so I welcome the ripping out of those cards. The one thing I like about Apple is that their software doesn't default to inundating you with the latest headlines from CNN, Politico, HuffPost, etc. Google software is really bad at this can't even turn this off in Chrome for Android

Wish they would make it easy to fix Cortana's live tile problem, like WSRESET for the Store.

Has anyone else had issues access Cortana since the Fall update? Search works, but it won't actually ever show the Cortana UI. In settings it says that Location History needs to be on, but it's greyed out and I can't get it back on. Microsofts suggestion was to reset my computer, which I don't really want to do. I've tried a few other online suggestions, but no luck.

It looks so much better. Rest of Windows need these visual tweaks. Grouping, shadows, bevels, colored icons.

More region and language support for Cortana, pretty please?

Do I see Android UI similarities here? :(

Cortana definitely isn't improving at any reasonable rate. Try asking it to "find the last email someone sent?" The response will be, 'I'm sorry, no one has thought that would be a good idea to program me to do!' Let's face it, Microsoft know tat Windows is on the way out and their future lies in Patent receipts. Or am I being too harsh? Are we to bet the bank on Windows on ARM now?
Windows Central Newsletter
Get the best of Windows Central in in your inbox, every day!
Thank you for signing up to Windows Central. You will receive a verification email shortly.
There was a problem. Please refresh the page and try again.