Microsoft says 12 million business PCs now run Windows 10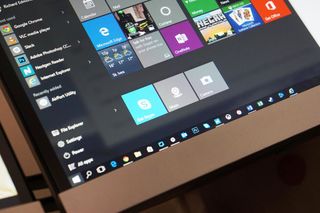 As part of today's release of the November update for Windows 10, Microsoft announced that of the 110 million PCs worldwide that have installed the OS so far, 12 million of them have specifically been business PCs.
With this update, Microsoft is now officially recommending that large businesses and organizations can deploy Windows 10 to their PCs. To that end, Microsoft's Windows and Devices head Terry Myerson announced some new features and services for those customers:
Windows Update for Business provides IT controls over the deployment of updates within their organizations, while ensuring their devices are kept current and their security needs are met, at reduced management cost. Features include setting up device groups with staggered deployments and scaling deployments with network optimizations.
Windows Store for Business provides IT a flexible way to find, acquire, manage and distribute apps to Windows 10 devices – both Windows Store apps and custom line of business apps. Organizations can choose their preferred distribution method by directly assigning apps, publishing apps to a private store, or connecting with management solutions.
Microsoft also announced some new options for IT workers to manage Windows 10 in businesses:
Mobile Device Management, empowers IT to use the full power of Enterprise Mobility Management to manage the entire family of Windows devices, including PCs, tablets, phones, and IOT. Windows 10 is the only platform that can manage BYOD scenarios from the device to the apps to the data on those devices – safely and securely. And of course, Windows 10 is fully compatible with the existing management infrastructure used with PCs, giving IT control over how they bridge between two capabilities.
Azure Active Directory Join, empowers IT to maintain one directory, enabling people to have one login and securely roam their Windows settings and data across all of their Windows 10 devices. AAD Join also enables any machine to become enterprise ready with a few simple clicks by anyone in the organization.
Myerson also mentioned the security options that enterprise customers can use to keep Windows 10 secure, including the Windows Hello facial and fingerprint recognition options to sign into a PC. He added:
Source: Microsoft
Windows Central Newsletter
Get the best of Windows Central in your inbox, every day!
Yeah but how many of those are Microsoft's own?

Yeah I really like W10. But I wonder if every computer at Microsoft has Windows 10 installed. Do you really think they all used 8?

No, I think that they have it on all of their computers, but I could care less about that. It will get to other businesses.

What is more important are there are more than 12M enterprise computers on Windows 10. It doesn't matter whose computers they are. Plus we will see the number rise significantly once ATMs have upgraded to Windows 10 (from WinXP and Win7)

some people are in middle of projects and can't upgrade like any other business where you can't take the risk to spend time upgrading and stuff like that. so it's obvious not every computer at Microsoft has Windows 10, not everyone can upgrade right away. Like when team dakota used Windows 8 computers to show their project spark twitch streams because they didn't have to upgrade to 10 and break something.

Microsoft has less than 100,000 employees... Even if each had 3 devices, it would leave 11.7 million other business PCs

Lol, this is exactly what I was thinking.

They have about 100,000 employees at most. So only 11,900,000 running Windows 10 if you don't count them :)

Windows 10 Fall update available now.

Yeah that's already been confirmed. Thanks. Now waiting for phone.

Phone version should have come out same day.

Gabe's eating breakfast and then has to brush his teeth. Be patient.

Cortana can't brush his teeth? man I thought she was more advanced on the internal ring.

My job will still take seven years to upgrade. Hell they barely upgraded to win7 about 5 years ago. The IT part of the company here is slow as hell.

Some people are still using vista!! Now that's even crazier, even if it's only around 2%

My company is worse. Watd to Windows 7 about 2.5 years ago, and there were still employees on XP until about a month before MSFT discontinued support. We were going start migrating to 8.1 this year, but our IT cancelled that plan and are now evaluating 10. If we're lucky, 10 will start rolling Q4 of 16, but my bet is on sometime late 2017 or early 2018.

XP we can understand that but windows vista which was slow and buggy someone still uses that OS.

after Vista got major updates it ran just fine

Yep & newer the hardware the better it ran(dual booting it on an ivybridge extreme aw)

I worked in a couple of companies since W10 started and most of them are still on XP. Odd I know. Others have Windows 7. Seriously people either dont give a sh*t or they are uneducated and lazy.

I have a client that is now stuck on XP or they can pay over $100k to upgrade a program that will work on W7- W10 if they would have upgraded when I suggested the cost was around $23k. all for one program

Yea I think its mainly because of the company software. Theyre thinking like "If it works why change it"

Can they not just run that program inside a VM?

Logic doesn't work with iPhone users ;) that was the plan and then the owner decided to get a new car and not upgrade the computers that could handle a VM. you know adding another Rolls Royce to your collection is way more important. His thinking is if it's not broke don't replace it unless the new iPhone is out.

Might be worth checking if the program is compatible without buying a new version. I've tested some XP only software (in compatiblity mode, of course) and it worked without any issues. THere have been some pretty significant improvements with "backwards compatiblity", as opposed to Windows 7 - 8.1.

for non network database it works in compatiblity mode but not networked.

They want everything brand new and secure except PC OS.. I just hate this

If I would just know how to utilize the Azure Active Directory properly

I wish in the future all ATMs will have Windows Hello or Iris Scanner that will allow you to make transactions with your Iris Scan as ID instead of PIN number, or a dual secure Iris ID plus PIN. In this way, scammers will have a hard time scamming people through ATMs.