Windows 10 November Update is rolling out now with build 10586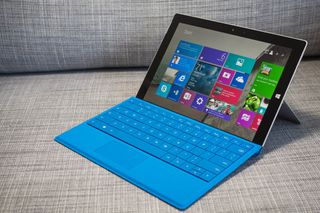 Microsoft has officially launched the Windows 10 November Update, with build 10586 now rolling out to all PC users of the operating system. The update includes a number of improvements, with many of them targeting business and enterprise customers.
The update also has the version number of 1511, to show it was released in November of 2015. In a blog post, Microsoft's Windows and Devices head Terry Myerson stated that this update now allows the company to "confidently recommend Windows 10 deployment to whole organizations." Here are some of the improvements he lists that are included in the November update:
Performance in everyday tasks, such as boot time now nearly 30% faster than Windows 7 on the same device.
With Cortana, you can use your device's pen to just scribble a note in the Cortana Notebook and Cortana will recognize the phone number, email address, and even physical address to help you set reminders. Cortana can also now keep track of your event and movie bookings too, sending you helpful reminders to know where to go and get there on time, plus the option to book and track an Uber. We're excited to make Cortana available in Japan, Australia, and Canada and India (in English) with features and experiences customized for each market.
Microsoft Edge offers improved performance and security, along with tab preview, which allows you to hover over your open tabs and get a preview of what's on those websites without leaving the page you're on. Microsoft Edge now syncs your Favorites and Reading list items across devices so you can easily get back to the content you're interested in most. And, Cortana will now notify you of the best coupons from your favorite retailers such as Staples, Macys and Best Buy when shopping in Microsoft Edge.
Check out what's new, improved and fixed in the Windows 10 November/Fall update
Source: Microsoft
I dunno about that. The PC version, even after today's update, still feels a bit "beta-ish" and the mobile version needs probably six more months of development (especially in the polish area) to be overall better than Windows Phone 8.1.

What changes you want in the mobile part??

People are helplessly hoping for a complete overhaul in the next 8 days ala 8.1. Not gonna happen. The OS isn't ready for prime time but the show goes on. Gonna be interesting.

Does the text message continuity with Windows 10 work on WP8.1? If it and notifications carry over, I care less about upgrading to WP10. I'm definitely not spending for a Lumia 950 with its meh design and high price. I'll either stick with my Lumia 925 or go for another mobile OS.

The Lumia 550 will kick your 925's *ss and be way cheaper ...

You'll be able to upgrade to Windows 10 Mobile in February :)

For starters, redesign the notification centre. The current one is very ugly. Second UI consistency across all native apps. Third little things like download progress bar in action centre. And aero effects.

Unlike Universal apps native apps can to a large extend have the UI elements built in to the application. So unless it is a Microsoft stock app it will be a challenge to get that changed..

Building UI elements into the application just makes your application look like a pariah on the platform. No OS X developers except a few are doing this, and most of them are either cross platform apps or they are special purpose types apps (i.e. Photography Workflow applications). Aside from that, the vast majority of people seem to be going strictly by Apple's UI Guidelines. There are all sorts of implications when you start using those third party widget toolkits (Accessibility, for example). The platform and it's UI Guidelines needs to lead the way in how applications are developed on it, not third parties with UI Interface/Widget Libraries. Microsoft should be leading. They should not be expecting third parties to go to Telerik or DevExpress just so they can design a decent looking application on the platform. No such thing exists on OS X, and that is very fortunate for those users.

I want an attractive, responsive user interface I want a consistent design across applications. I want mainline features from Windows 8.1 to carry over, like a unified inbox and double-tap-to-wake and changes to the font size in settings that percolate throughout the OS and a working people hub and swiping to reveal the on screen keyboard doesn't result in unintended taps and email messages to reliably sync across devices and... In short, I want my experience to be both powerful and pleasant. At least Windows Phone 8.1 is pleasant, albeit woefully lacking in features. Windows 10 Mobile adds almost no new features and is rather unpleasant. I don't think six months will make Windows 10 Mobile suddenly more powerful, but if spent wisely it can maybe make things more pleasant.

I have to disagree on Win 10 adding no new features. It's closer to a PC in functionality than before. Having a proper file system where I can download where I want and upload things to the web like I would on a computer is awesome. The communication between apps is vastly improved. The settings are way better organized. Yes, there could be more polish but your list of "needed" fixes is more personal preference and tells me that you haven't spent nearly enough time just playing with the system and learning the new stuff.

Well said, why I'm still on 8.1 with my 1020 and Surface 3.

The 1020 would indeed not see much improvement as it is obsolete and frankly outdated hardware. While it will run WIN10 it will not get any better for it.. Unfortunately I doubt you will have a choice as far as updating goes on mobile.

Double-tap to wake still works...also I agree that there are quite a few UI inconsistincies still and also would like to see more aesthetic changes, that make the OS look better. But overall, I think that feature wise, Windows10Mobile out does Windows8.1. After using W10M for so long, when I go back to W8.1 it literally feels like a step back, as things look more barren and simple features like a quick flashlight button, in-line text replies, etc. are missing.

Double tap to wake hasn't gone anywhere, though.

doible tap to wake up is there and has been since i jioned TP 4-5 months ago!

Not on my phone (One M8).

Do you have gesture installed??

7m29s to bootup the new buid 10586. I'm afraid you'll be seriously disapponted. MS is a sad joke.

There are still lots of UI inconsistencies throughout the OS and the Microsoft apps. And much of the good functionality of WP8.1 has been removed and tasks have become more difficult and less intuitive. The problems I was having on the last build before I uninstalled it because it wasn't usable on my 928 are as follows, but not comprehensive... Keypad still needed a lot of work, word prediction was terrible, and I made far more mistakes than on the 8.1 keypad.
Keypad would often disappear when trying to type in a text box, say like on a web page.
Driving Mode didn't work at all.
Resuming screens were abundant for just about everything.
The camera app was slow as all hell and often crashed.
There are lots of inconsistencies as far as how the Microsoft apps work, where settings are placed, etc. Things like the News app are just awful as far as usability goes, particularly if you have a decent number of "topics" you follow, because having to swipe through two dozen pivots rather than flip down a scroll list is just painful. But the News app isn't the only questionably designed app. They all are big steps backwards compared to the WP8.1 apps.
Many of the Live Tiles never updated, like with Mail and Calendar, and oftentimes you had to remove the tile and re-pin it to get anything at all to show, otherwise it was just a colored square.
Saving a file from the web has become a tedious process, where you have to navigate through the entire folder tree to get to a save location. What was a one or two tap process with WP8.1 has become a 6 or so tap process with W10M.
File integration with OneDrive didn't work, like if I wanted to attach a picture to an email or something. OneDrive was never an option. I had to manually pull the file down from the OneDrive app, save it to the phone, and then attach. It's flawless in WP8.1.
Much of the text throughout the OS and apps is far too small, leaving tons, and tons, and tons, of blank space for absolutely no reason. My vision is good, but for some reason Microsoft and many other developers seem to be competing for who can implement the smallest text. A lot of the recent Xbox One games are doing the same.
Hamburger menus are used inconsistently throughout.
One handed use has become rather difficult, particularly when compared to WP8.1 where one-handed use was great. The one-handed feature on W10M is just a horrible thing. Very poor design decision trying to mask the poor design decision to force two-handed use.
Another example of poor design, in the Mail app the standard to delete an email is to swipe left. Yet to delete/remove a notification you swipe right. Things like this need to be consistent throughout the OS. Yes, you can change the Mail app (although I never could get settings to save), but by default there should be consistency, it shouldn't be left to the user.
The notifications pull down/push up was very finicky, particularly if you had just one or two notifications. You had to hit it just right to swipe it up to close. It needs to be much more forgiving, like in WP8.1.
I could go on, but these are some of the problems I had/have with W10M. I'm sure some of them will get ironed out, but given that it's less than a month to launch, that so much is still broken is perplexing. My apologies, but apparently you can't actually format text in this farked up commenting system, despite having all of the options to do so.

I think what you have pointed out is just an utter, complete lack of polish everywhere in the OS. WP has literally one thing going for it: An extremely elegant UI. It is lagging behind iOS and Android in every other way. Now, W10 has a terrible interface. Which makes it lacking iOS and Android in every way.

we knwo you are an apple fan .. not sure why your are interested in posting in a windows forum .... People can like a different platform from you .. relax, its ok!!

I agree completely. I have tried WM10 on my daily driver twice and removed it to go back to WP8.1. The native apps aren't as good. (No Linked Inbox, No weekely view in Calendar) Quite a few of my Win 8.1 apps wouldn't work on WM10. Microsoft has really bit off too much with WM10. It was also determinined to change all the native apps to universal apps. So every native app is different. And several apps are missing probably because they didn't have the resources to do a completely new OS and all the native apps. My fealling is they should have redone the OS and made sure with WP8.1 native apps would still work in the new OS. Then upgraded the native apps slowly in subsequent releases. MS is pushing Universal apps so hard that they must have felt it was essential to show developers how apps can work on both PCs and Phones. Sadly, as a developer, I have looked at the basics of creating an app for both W10 and WM10. There is still quite a bit of complex interface coding required to make and app look good in all the form factors. It actually makes the UI coding more involved than creating two interface layout codes which is the way Visual Studio 2013 worked for the previous version of "universal apps" in Win 8.1 and WP8.1

Try resetting the pc once .. You will feel the real win10

Um, no. I have upgraded PCs, PCs that were upgraded and then refreshed, and PCs that have never run an OS other than Windows 10. I have underpowerd mini tablets and super-beefy desktops, and all kind of devices in between. They all run about equally well, which is to say, poorly and unattractively. I really like the new corner snapping and multiple desktops. But other than that, there's not much in Windows 10 to recommend it over 8.1 and lots of things (creepy spyware Cortana, forced updates, utter lack of UI polish, completely unstable store apps, etc.) that are markedly worse.

Everthing you mentioned can be improved with updates in Win10 ..This shouldn't be much of a deal breaker to recommened Win10!!

It's already wayyy better than 8.1

Not if you took MS' bait and started heavily using OneDrive. Not if you like your devices to reconnect to WiFi coming out of hibernation. Not if you were dependent on the built-in email client. Not if you do a lot of work with multiple monitors.

Are you talking about the pc or phone one? I had trouble with windows 10 in my first upgrade, but after reinstall it works as good as windows 8.1
And compared to windows 8 its much better. As for the phone, i had trouble but that was just the preview and not the RTM. Otherwise, i know that feeling/pain when everything isnt working as it should.

I havent had these issues. I use One Note quite a bit. Wifi reconnects after standby and hibernation. I use the built in email and like it. My desktop is running the latest preview with multiple monitors, its better than 8 for multiple monitors, but still a few minor quirks.

Windows 10 is the best version of Windows and no other windows is comes close in my opinion... And if people don't like my opinion to bad. Posted via the Windows Central App for Android only because the screen on my 1520 broke.

Wow, sounds like your computers got some issues. I however just finished the last update to Windows 10 build 10586.3 across 5 PCs and 3 tablets without any problems what-so-ever. All were upgraded from 8.1 and 8.1 Pro. OneDrive: I have over 700GB sync'd to OneDrive and have never had a problem. I even have the location for Music, My Documents, Pictures, Videos, and my Desktop sync'd there so they're all the same no matter what computer i'm using. I also use it to backup my code, video, and graphic design projects for clients in addition to regular offsite backups and in house backups. Again never an issue. WiFi & Hibernation: I am using 5GHz Wireless AC on all the PCs and 2.4GHz N on the tablets with a range of hardware and not a single one has an issue with connecting coming out of hibernation. Email Client: The built in email client is just fine and if you need more power there's a plethora of options from free to paid software including Microsoft's own Outlook. I personally use the Mail app regularly and don't have an issue with it. Multiple Monitors: Multiple monitors have not been an issue for me here either. 2 on HDMI & 2 on Display Port without an issue. I also want to note that my wife and kids all installed Windows 10 build 10586.3 and none of them are having any issues as well. My wife runs a call center out of our house and her little Windows 10 tablets use multiple monitors with mini-hdmi connections without issue.

I'm sure that the residents of Poland are just fine with it...=P

"We're focused on the broad delivery of 10586 to customers right now, it will be a few more days before a new Mobile build" - Gabe Aul

Does everyone have "defer upgrades" UNchecked? I don't see the update available (mine is checked).

I went to download it, but guess what I got instead? ANOTHER DEFINITION UPDATE FOR WINDOWS DEFENDER

Yeah I got the same thing.

Haha! Same here for the past 12 hours!

i got that defender update and now just got the 10586 build minutes ago.

Well, mine says 'Your device is up to date.'

Use the media creation tool to download 10586 ISO!

Yup, them damn Windows Defender updates! That was the story of my life from July 29- Oct 2 (When I finally got W10). Annoying as hell lol.

Its rolling out staggered over 2 days. I got lucky and it started downloading this morning. Been going since 8:30 or so and still at 50%...

I had the update but it failed to download then just disappeared and says I'm up to date Posted via the Windows Central App for Android only because the screen on my 1520 broke.

exactly the same thing happened to me

And me also. WIndows 10 Pro 64 bit fully updated as of 10 Nov 2015. I ran the upgrade tonight (turned off AV etc to prevent that interfering etc), the install failed, and now Windows Update says I'm up to date?

The same here. Any ideas...?

Hope boot time will be improved in this update till it takes 2-3min in 64bit

Are you running a P3 with 64MB RAM?

Nope 2gb RAM.. And I have noticed this problem in of my friend having 4GB RAM

My intel compute stick is quick. I have seen problems from upgrades from W7 &8.1 try a backup and clean install

It must be your PC. My PC with i5 boots up in 3.5 seconds, and my AMD FX6300 boots up in aprox. 10 sec. Ofcourse both have SSD.

Yup i5 should be fast enough no doubt about that

Kinda funny. CPU has nothing to do with it. My Pentium with HDD boots for about 6-8 seconds. Either or was with W8.1 or W10

Every part of a system contributes to better performance of system.

And bottle necks hold back all the rest. A slow HDD loading a ton of start up programs makes for long load times.

Try resetting your pc once ..it improved my laps performance!!

My 5yo AMD CPU (8GB RAM) is ready to use in 30s (64bit)

my Phenom II x3 720BE, 4GB RAM, HDD 160 + 500. only takes 15 seconds

Drop a hundred or two on a ssd. My system boots in about 5 seconds. Posted via the Windows Central App for Android because I am unfortunately with Sprint

When is the new mobile build coming........

In a few days. Probably monday.

November 2020 for you and everyone else soon Posted via the Windows Central App for Android only because the screen on my 1520 broke.

Is this the one that lets you activate Windows by entering a legitimate Windows 7/8 key?

It's supposed to, yes. Hoping to confirm that myself when I get home from work tonight.

Worked for me on Insider Build 10586 from fresh install. You just have to ensure that the key matches the version: for example, if you have a Windows 7 Home key it can only activate Windows 10 Home, not Win10Pro. But that's pretty obvious.

no update for me for the moment (France)

Same here just cumulative and defender update

France's internet is on strike for having to work more than 30 hours a week.

Errr..; don't let propoganda strikes your brain more 30 hours a week.

ive checked fluently today and still no sign (Sweden)

Download the media creation tool and use that to update your PC. I just did it.

Anybody knows the size of the update?

No updates is showing other than cumulative and difender.. Where is the fall update?????

After installing cumulative, the fall should show up.

why do you guys think there will be an update for phones today? maybe a new build for insiders? or maybe a confirmation that W10 has been sent to carriers, but I don't think you should keep your hopes high on having your 8.1 phones updated today.

Nope, no build today. "We're focused on the broad delivery of 10586 to customers right now, it will be a few more days before a new Mobile build" - Gabe Aul

I guess this confirmed there will still be a divide between the two deliverables, which is just always a step away from true unity... Never the twain shall meet. =[

Downloading version 1511 build 10586 update.

from windows updates or from somewhere else?

From windows update. Have win 10 pro

I am downloading on win home but win pro hasn't appeared on my desktop

What about mobiles???? And what about official update????

This is the official Windows 10 fall update

What's the size of download?

I'm wondering WHERE can I see my build number in Windows 10 ?
my system is crashing when I'm trying to see "system info" in settings

Press Win+R, type winver, press enter

Go to Run and type in 'winver' (Without quotes) and press enter

Press WIN+R to get the run box. Enter WINVER and press enter.

No updates for me (India)

Do you have the pro version? Maybe the pro gets first. Windows 10 pro. Germany, 62% through download

It's Pro, Still no update is showing

Ok. Well, you will get it today later or tomorrow for sure.

Doesn't show for me too ... Win10 pro

It's downloading for me.. India.. Pro version. But its downloading faster than expected :-o

Now in India.. :P m downloading

Downloading on windows 10 home on my laptop but desktop still no luck win pro....
The download seems fast though already on 99% including cumulative update

Yes, it's downloading. Time 9:20 PM from India • Upgrade to Windows 10 Pro, version 1511, 10586.

still no update is showing

So download update will be 3GB or less...

The max it could be is 3.5GB which is the size of the full windows 10 iso.

Why would 3.5gb be max it could be? Posted via the Windows Central App for Android only because the screen on my 1520 broke.

It's Pro, Still no update is showing

How much time it takes to install? I'm on a tight schedule here.

Don't install it right now then. It will go through the whole process of installation again like it did when W10 was first made available to the public

Is it 10586.3? The same as the Insider?

Yes it is the same version as the current build of Insider Preview.

The Insider Build version was 10586.0. There's an update for 10586.0. Once you install the update, the Build version changes to 10586.3.

Downloading as I type this, EN-GB version

RTM version, Machine is up to date...Hmmmm still on 10240.... No Preview on my primary desktop

Stuck at 32% preparation for the last 30 minutes. Typical ms progress bar.

Hahah u r lucky too see 33%.. I many times see no progress 0%. Then all of sudden after few hours I see "Restart your pc to install updates"

Yep finished after two hours. Rebooting now.

Wanna download it, waiting the iso :3

For me no updates yet(brazil) :(

this update will not make me upgrate from my windows 8.1, placeolder for onedrive still not in....

Placeholders might be coming back in Redstone. At least that's what some rumors say

People still care about OneDrive after the reduced storage scandal?

Are they ever going to get favorites syncing working for Edge? I've been running Build 10586 for about a week now, and Edge still refuses to sync my content despite all the Windows Sync Settings being turned on.

I realized that I already have the 10586 with insider build..... will I have the Fall update anyway ?

Nope. 10586 is what is rolling out to the masses. So no me build. Some Day 1 delta updates maybe but that's it

I'd love to get a colpete ISO of this build, so that I don't have to bother with existing retail one, it's kinda obsolete now.

Why doesn't Edge update independently? Why does it has to update only with a new build? Posted via the Windows Central App for Android

Amazing that they keep expanding Cortana to countries even with supported languages. I guess most of the work is in localization. Looking forward to get this on all my PCs.

is somebody here asked when in India already?

Installing already from Kolkata

No update for me. I have pro version build 10240 and it says it is up to date. :(

same here in CA on 10 pro.

Grrrr im waiting too long for that fuckng w10m update!!

The update doesn't show up for me yet

Do these show up on WSUS as well?

I'm also wondering about this. I have WSUS set to sync every hour and nothing has come through yet for approval.

Is this update only the build 10586 can u tell?