Windows 10 November Update - Features, changes, and improvements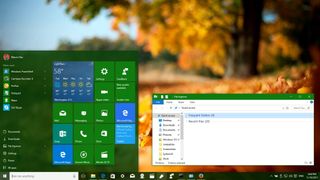 It has been just three months since the general availability of Windows 10, and Microsoft is now rolling out its first major update. Previously known by its codename as "Threshold 2" the "Windows 10 Fall Update" (or November Update, or even Windows 10 1115) looks to bring some new features and improvements to the fledgling universal OS.
During the development of the update, users part of Windows Insider Program had the chance to get hands-on with the new features, changes, and improvements, which now everyone will be getting shortly.
Since July 29, 2015, Microsoft released six Windows 10 Insider Preview builds, all of them made through the Fast ring of updates. Only Windows 10 build 10565 and build 10586 were made available through both, the Fast and Slow ring.
While all the builds brought something new to the operating system, we could say that only three builds, including 10547, 10565, and 10576 packed the most number of changes and improvements. The first two builds (10525 and 10532) only introduced improvements on memory management, desktop, and Microsoft Edge. And with Windows 10 build 10586, Microsoft focused mainly on fixing bugs and polishing the operating system to get it ready for the official roll out to the public.
As the development of the new update comes to an end, we can now get a closer look at some of the new changes found in the November update for Windows 10.
What's new in Windows 10 November Update
Start menu
In the Windows 10 November Update, Microsoft is focusing on tweaking the user interface, adding new features, and improving the overall experience. The Start menu is one of the areas getting some treatment.
The November update adds a fourth column of tiles, which allows you to fit up to four medium or two large Live Tiles per group. Also, support for tiles on Start has been bumped from 512 to 2048 to give you plenty room to pin apps to the menu.
Microsoft is also updating the context menus inside Start for a more consistent look across the operating system -- though there's still a lot of work to be done. Now, you'll find new resigned wider menus for Live Tiles with a new "More" submenu.
And the "Resize" submenu that has been updated to help user change the title size more easily.
Tablet mode
Users who use Tablet mode on a daily basis will notice that Microsoft is bringing some Windows 8.1 familiarity. Now inside Task View on Tablet mode, users can snap apps, swap apps already snapped and swipe down to close apps.
Context menu
Since the operating system launched, it's been very clear that Windows 10 has very inconsistent context menus. The Windows 10 Fall Update doesn't completely address the issue but brings improvements toward a solution. Above, I have already mentioned the updated context menus on the Start menu, but the company is going even further.
In the November update, users will also get updated context menus throughout the operating system, including redesigned Power User, Taskbar, and Desktop context menus. Right-clicking the desktop or items in File Explorer will unveil a new light gray menu, and using the Power User or Taskbar context menus will unveil the new dark menus that match the dark color scheme in Windows 10.
Cortana
Microsoft's digital assistant, Cortana, gets some important changes and improvements, such as handwriting recognition. In the Windows 10 Fall Update, users will be able to use a stylus to create reminders based on locations, times, and numbers Cortana can recognize from your digital annotation.
The assistant now can also track your booking for movies and other events by scanning your email confirmations. Then two hours prior the event, Cortana will provide directions, and it'll give you the option to get a car through the Uber livery service.
Microsoft is also enabling Cortana to alert you about missed calls from your Windows phone. Even more, you can reply the missed called via text message right from the notification. It's as easy as writing and sending the reply, and then your phone will receive the text, and it'll complete the task by sending the message to the recipient. All you have to do is make sure to enable Missed call notifications from Cortana's settings.
Desktop
While the desktop environment remains pretty much the same, the Windows 10 Fall Update adds some noticeable changes. For example, there is a new colored title bar on the desktop that brings File Explorer, desktop, and Windows apps, a little closer together.
However, it's worth to point out that you will see the colored title bar only when you go to Settings > Personalization > Colors and you have enabled Show color on Start, Taskbar, action center, and title bar option.
Windows apps, including Settings, Store, and Microsoft Edge now show a solid color background while starting that matches the profile color scheme, and apps have the same closing animations just like desktop applications.
Another very interesting addition that multitaskers are going to appreciate is the ability to resize the adjacent app at the same time you're resizing a window. If you don't have the feature enabled, go to Settings > System > Multitasking.
Alongside the updated context menus and other desktop changes, Microsoft is also changing some of the old icons for new modern ones. For example, you'll see new icons in Control Panel, Device Manager, and Registry. We can still see a lot of the old icons, but it's good to see new ones incorporated into the operating system.
Settings app
Perhaps one of the areas Microsoft is adding the most number of improvements is in the Settings app. Not only the software giant is moving elements from Control Panel to the new unified Settings app, but it's also adding new interesting features.
System
In System > Display, you can adjust the scaling settings without having to click the Apply button. Just move the slider and see the changes.
In System > Multitasking, as I mentioned previously, users will be able to resize any adjacent snapped window simultaneously, when you resize the other snapped app or window.
In System > Power & Sleep Surface and perhaps other battery-powered devices will see the Save me power when Cortana knows I am away.
In System > Storage, Microsoft is finally enabling the ability to install apps on a secondary storage device e.g. micro SD card.
In System > About, a new Windows 10 logo appears, and it changes color with the current system color scheme.
Devices
In Devices > Printers & scanners there is a new feature that lets Windows manage which printer is set as the default. When you switch the Let Windows manage my default printer option, your default printer will be the last printer you use.
In Devices > USB there is now an option to alert users if there is an issue connecting to USB devices.
Personalization
In Personalization > Colors there are no new additions, but as I mentioned previously, the Show color on Start, Taskbar, action center, and title bar now enables the colored title bars on apps and windows.
In Personalization > Lock screen, Microsoft is bringing Windows Spotlight to Windows 10 Pro. This feature changes the Lock screen wallpaper periodically and is available under "Background." Also, the software giant is now letting you disable the sign-in screen wallpaper with the Show Windows background picture on the sign-in screen option.
In Personalization > Start, users will see two new options: Show more tiles, which now allows to include a fourth row of tiles on the Start menu. The other is Occasionally show suggestions in Start, which let users decide if they want to see Store apps suggestions in the Start menu.
Accounts
In Accounts > Your email and accounts there are no new features, but there is a new central location that allows users to add email, calendar, and contacts accounts.
In Accounts > Work access organizations will be able to easily to connect to Azure AD and enroll the device using the device management (MDM).
Time & language
On Time & language > Date & time, you can set the time zone to adjust automatically.
Privacy
In Privacy > Call history, users can let apps access their call history. It's important to note that this section is new to the Windows 10 Fall Update.
In Privacy > Email, users can control whether apps can access and send emails. It's important to note that this section is also new to the Windows 10 Fall Update.
Update & security
In Update & security > Activation there are some noticeable changes. In the Windows 10 Fall Update, there is a new Product Key field that indicates the activation method "digital entitlement" or "product key". You can also click the "Get more info" like to understand your activation type.
In Privacy > Find My Device, similar to the Windows 10 Mobile feature, users will be able to configure this feature if they want to be able to find their device if it ever gets stolen or misplaced. This feature works in combination with a user's Microsoft Account.
Microsoft Edge
The new default web browser for Windows 10 is also getting some changes. Alongside bugs and improvements, Microsoft is adding Tab Preview to allow users to hover over open tabs, getting a small preview of a particular web page.
Microsoft Edge users can finally sync passwords, bookmarks, and Reading List items across devices.
Cortana assistance in Edge gets more productive in this release. Now users can highlight text and research content from PDF files.
There is also the ability to launch multiple instances of the web browser, and F12 tools for developers now docks to the main window.
Microsoft adds Object Real-Time Communication (ORTC) API that allows real-time communication without having to install plugins.
Windows 10 Fall Update enables Cast media to device, which similar to Google's Chromecast, lets users cast videos, pictures, and audio from Microsoft Edge to any Miracast and DLNA device over the network. There is no setup required. Simply visit a website with compatible content (e.g., YouTube, Facebook, or Pandora), go to the main menu on Edge, and click Cast media to device.
The new update doesn't change the look of the browser, but it does include many improvements that make the browser good enough for daily online surfing. Unfortunately, browser extensions are not coming until early 2016.
Apps
While the software giant has been updating many of its built-in apps, such as Mail and Calendar, Photos, and Groove Music, the updates have been available without the Fall Update. However, Microsoft is also including several new apps, such as Sway, and the new messaging apps powered by Skype.
After installing the Windows 10 Fall Update, users will see the new Messaging, Phone, and Skype video apps installed on their systems. The new apps are very basic, and they feel like a work in progress, so expect bugs and things may be hit or miss for usability. Luckily, they can - and are - updated frequently through the Store.
In the Messaging app, users can send text messages to other Skype contacts, but SMS isn't yet supported. There are support or emoji and access to basic settings.
The Phone app is another straightforward app, you can call other users on Skype, view History, and access Speed Dial, but there are no settings at this time.
The Skype video app doesn't include too many features. You can make a video call to any of your Skype contact, access to some settings about contacts and notifications, and a basic setup. You can also disable your video camera to make just audio Skype calls.
Under the hood improvements
Although the software maker isn't adding many new features, the Windows 10 Fall Update includes a lot of improvements under the hood that makes the operating system overall more stable and smoother.
Among many of the changes and improvements, Microsoft is including an updated Memory Manager that has a new feature called compression store. The idea is that when memory is needed, unused pages will be compressed in memory instead of writing them to disk. This new concept should help to make computers faster, in general, but more on low-end devices with minimum hardware.
Those using virtualization will appreciate that Windows 10 Fall Update includes the ability for nested virtualization, allowing users to run Hyper-V virtual machines inside of virtual machines.
The update will also make changes to the "Reset This PC" feature to allow users to restore their PCs to the Fall Update instead of the Windows 10 (build 10240). Also, with this change, users who upgraded from Windows 8.1 will lose manufacturer's customizations, but this won't be the case if the computer came with Windows 10.
The first major update for Windows 10 enables a new Intel technology called Speed Shift that comes built into the sixth-gen Skylake processors. The feature allows the operating system to delegate certain tasks, such as frequency and voltage to the processors to make the computer more responsive and with the ability to better control the power management.
Finally, Microsoft is also making some changes on activation. In this new release, users will be able to activate Windows 10 using a genuine Windows 7, 8, or 8.1 product key without the need to go through the tedious process of upgrading first. And if the activation fails, users should be able to go directly to Settings > Update & security > Activation and "easily" change the product key.
Wrapping things up
The Windows 10 Fall Update brings much-needed improvements and changes to the operating system. Although there aren't many new features, there are a lot of tweaks and many enhancements under the hood that should make Windows 10 more stable and reliable. However, there is still a lot of room for improvement. Perhaps we will see more when "Redstone" (the next major update) arrives in mid-2016.
What do you think about the Windows 10 Fall Update? Tell us what you think and what would you like to see improved in the operating system in comments.