Windows 10 November Update - Features, changes, and improvements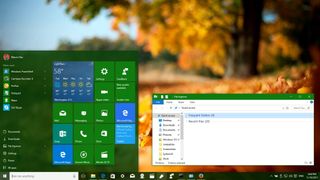 It has been just three months since the general availability of Windows 10, and Microsoft is now rolling out its first major update. Previously known by its codename as "Threshold 2" the "Windows 10 Fall Update" (or November Update, or even Windows 10 1115) looks to bring some new features and improvements to the fledgling universal OS.
During the development of the update, users part of Windows Insider Program had the chance to get hands-on with the new features, changes, and improvements, which now everyone will be getting shortly.
Since July 29, 2015, Microsoft released six Windows 10 Insider Preview builds, all of them made through the Fast ring of updates. Only Windows 10 build 10565 and build 10586 were made available through both, the Fast and Slow ring.
While all the builds brought something new to the operating system, we could say that only three builds, including 10547, 10565, and 10576 packed the most number of changes and improvements. The first two builds (10525 and 10532) only introduced improvements on memory management, desktop, and Microsoft Edge. And with Windows 10 build 10586, Microsoft focused mainly on fixing bugs and polishing the operating system to get it ready for the official roll out to the public.
As the development of the new update comes to an end, we can now get a closer look at some of the new changes found in the November update for Windows 10.
What's new in Windows 10 November Update
Start menu
In the Windows 10 November Update, Microsoft is focusing on tweaking the user interface, adding new features, and improving the overall experience. The Start menu is one of the areas getting some treatment.
The November update adds a fourth column of tiles, which allows you to fit up to four medium or two large Live Tiles per group. Also, support for tiles on Start has been bumped from 512 to 2048 to give you plenty room to pin apps to the menu.
Microsoft is also updating the context menus inside Start for a more consistent look across the operating system -- though there's still a lot of work to be done. Now, you'll find new resigned wider menus for Live Tiles with a new "More" submenu.
And the "Resize" submenu that has been updated to help user change the title size more easily.
Tablet mode
Users who use Tablet mode on a daily basis will notice that Microsoft is bringing some Windows 8.1 familiarity. Now inside Task View on Tablet mode, users can snap apps, swap apps already snapped and swipe down to close apps.
Context menu
Since the operating system launched, it's been very clear that Windows 10 has very inconsistent context menus. The Windows 10 Fall Update doesn't completely address the issue but brings improvements toward a solution. Above, I have already mentioned the updated context menus on the Start menu, but the company is going even further.
In the November update, users will also get updated context menus throughout the operating system, including redesigned Power User, Taskbar, and Desktop context menus. Right-clicking the desktop or items in File Explorer will unveil a new light gray menu, and using the Power User or Taskbar context menus will unveil the new dark menus that match the dark color scheme in Windows 10.
Cortana
Microsoft's digital assistant, Cortana, gets some important changes and improvements, such as handwriting recognition. In the Windows 10 Fall Update, users will be able to use a stylus to create reminders based on locations, times, and numbers Cortana can recognize from your digital annotation.
The assistant now can also track your booking for movies and other events by scanning your email confirmations. Then two hours prior the event, Cortana will provide directions, and it'll give you the option to get a car through the Uber livery service.
Microsoft is also enabling Cortana to alert you about missed calls from your Windows phone. Even more, you can reply the missed called via text message right from the notification. It's as easy as writing and sending the reply, and then your phone will receive the text, and it'll complete the task by sending the message to the recipient. All you have to do is make sure to enable Missed call notifications from Cortana's settings.
Desktop
While the desktop environment remains pretty much the same, the Windows 10 Fall Update adds some noticeable changes. For example, there is a new colored title bar on the desktop that brings File Explorer, desktop, and Windows apps, a little closer together.
However, it's worth to point out that you will see the colored title bar only when you go to Settings > Personalization > Colors and you have enabled Show color on Start, Taskbar, action center, and title bar option.
Windows apps, including Settings, Store, and Microsoft Edge now show a solid color background while starting that matches the profile color scheme, and apps have the same closing animations just like desktop applications.
Another very interesting addition that multitaskers are going to appreciate is the ability to resize the adjacent app at the same time you're resizing a window. If you don't have the feature enabled, go to Settings > System > Multitasking.
Alongside the updated context menus and other desktop changes, Microsoft is also changing some of the old icons for new modern ones. For example, you'll see new icons in Control Panel, Device Manager, and Registry. We can still see a lot of the old icons, but it's good to see new ones incorporated into the operating system.
Settings app
Perhaps one of the areas Microsoft is adding the most number of improvements is in the Settings app. Not only the software giant is moving elements from Control Panel to the new unified Settings app, but it's also adding new interesting features.
System
In System > Display, you can adjust the scaling settings without having to click the Apply button. Just move the slider and see the changes.
In System > Multitasking, as I mentioned previously, users will be able to resize any adjacent snapped window simultaneously, when you resize the other snapped app or window.
In System > Power & Sleep Surface and perhaps other battery-powered devices will see the Save me power when Cortana knows I am away.
In System > Storage, Microsoft is finally enabling the ability to install apps on a secondary storage device e.g. micro SD card.
In System > About, a new Windows 10 logo appears, and it changes color with the current system color scheme.
Devices
In Devices > Printers & scanners there is a new feature that lets Windows manage which printer is set as the default. When you switch the Let Windows manage my default printer option, your default printer will be the last printer you use.
In Devices > USB there is now an option to alert users if there is an issue connecting to USB devices.
Personalization
In Personalization > Colors there are no new additions, but as I mentioned previously, the Show color on Start, Taskbar, action center, and title bar now enables the colored title bars on apps and windows.
In Personalization > Lock screen, Microsoft is bringing Windows Spotlight to Windows 10 Pro. This feature changes the Lock screen wallpaper periodically and is available under "Background." Also, the software giant is now letting you disable the sign-in screen wallpaper with the Show Windows background picture on the sign-in screen option.
In Personalization > Start, users will see two new options: Show more tiles, which now allows to include a fourth row of tiles on the Start menu. The other is Occasionally show suggestions in Start, which let users decide if they want to see Store apps suggestions in the Start menu.
Accounts
In Accounts > Your email and accounts there are no new features, but there is a new central location that allows users to add email, calendar, and contacts accounts.
In Accounts > Work access organizations will be able to easily to connect to Azure AD and enroll the device using the device management (MDM).
Time & language
On Time & language > Date & time, you can set the time zone to adjust automatically.
Privacy
In Privacy > Call history, users can let apps access their call history. It's important to note that this section is new to the Windows 10 Fall Update.
In Privacy > Email, users can control whether apps can access and send emails. It's important to note that this section is also new to the Windows 10 Fall Update.
Update & security
In Update & security > Activation there are some noticeable changes. In the Windows 10 Fall Update, there is a new Product Key field that indicates the activation method "digital entitlement" or "product key". You can also click the "Get more info" like to understand your activation type.
In Privacy > Find My Device, similar to the Windows 10 Mobile feature, users will be able to configure this feature if they want to be able to find their device if it ever gets stolen or misplaced. This feature works in combination with a user's Microsoft Account.
Microsoft Edge
The new default web browser for Windows 10 is also getting some changes. Alongside bugs and improvements, Microsoft is adding Tab Preview to allow users to hover over open tabs, getting a small preview of a particular web page.
Microsoft Edge users can finally sync passwords, bookmarks, and Reading List items across devices.
Cortana assistance in Edge gets more productive in this release. Now users can highlight text and research content from PDF files.
There is also the ability to launch multiple instances of the web browser, and F12 tools for developers now docks to the main window.
Microsoft adds Object Real-Time Communication (ORTC) API that allows real-time communication without having to install plugins.
Windows 10 Fall Update enables Cast media to device, which similar to Google's Chromecast, lets users cast videos, pictures, and audio from Microsoft Edge to any Miracast and DLNA device over the network. There is no setup required. Simply visit a website with compatible content (e.g., YouTube, Facebook, or Pandora), go to the main menu on Edge, and click Cast media to device.
The new update doesn't change the look of the browser, but it does include many improvements that make the browser good enough for daily online surfing. Unfortunately, browser extensions are not coming until early 2016.
Apps
While the software giant has been updating many of its built-in apps, such as Mail and Calendar, Photos, and Groove Music, the updates have been available without the Fall Update. However, Microsoft is also including several new apps, such as Sway, and the new messaging apps powered by Skype.
After installing the Windows 10 Fall Update, users will see the new Messaging, Phone, and Skype video apps installed on their systems. The new apps are very basic, and they feel like a work in progress, so expect bugs and things may be hit or miss for usability. Luckily, they can - and are - updated frequently through the Store.
In the Messaging app, users can send text messages to other Skype contacts, but SMS isn't yet supported. There are support or emoji and access to basic settings.
The Phone app is another straightforward app, you can call other users on Skype, view History, and access Speed Dial, but there are no settings at this time.
The Skype video app doesn't include too many features. You can make a video call to any of your Skype contact, access to some settings about contacts and notifications, and a basic setup. You can also disable your video camera to make just audio Skype calls.
Under the hood improvements
Although the software maker isn't adding many new features, the Windows 10 Fall Update includes a lot of improvements under the hood that makes the operating system overall more stable and smoother.
Among many of the changes and improvements, Microsoft is including an updated Memory Manager that has a new feature called compression store. The idea is that when memory is needed, unused pages will be compressed in memory instead of writing them to disk. This new concept should help to make computers faster, in general, but more on low-end devices with minimum hardware.
Those using virtualization will appreciate that Windows 10 Fall Update includes the ability for nested virtualization, allowing users to run Hyper-V virtual machines inside of virtual machines.
The update will also make changes to the "Reset This PC" feature to allow users to restore their PCs to the Fall Update instead of the Windows 10 (build 10240). Also, with this change, users who upgraded from Windows 8.1 will lose manufacturer's customizations, but this won't be the case if the computer came with Windows 10.
The first major update for Windows 10 enables a new Intel technology called Speed Shift that comes built into the sixth-gen Skylake processors. The feature allows the operating system to delegate certain tasks, such as frequency and voltage to the processors to make the computer more responsive and with the ability to better control the power management.
Finally, Microsoft is also making some changes on activation. In this new release, users will be able to activate Windows 10 using a genuine Windows 7, 8, or 8.1 product key without the need to go through the tedious process of upgrading first. And if the activation fails, users should be able to go directly to Settings > Update & security > Activation and "easily" change the product key.
Wrapping things up
The Windows 10 Fall Update brings much-needed improvements and changes to the operating system. Although there aren't many new features, there are a lot of tweaks and many enhancements under the hood that should make Windows 10 more stable and reliable. However, there is still a lot of room for improvement. Perhaps we will see more when "Redstone" (the next major update) arrives in mid-2016.
What do you think about the Windows 10 Fall Update? Tell us what you think and what would you like to see improved in the operating system in comments.
Windows Central Newsletter
Get the best of Windows Central in your inbox, every day!
Mauro Huculak is technical writer for WindowsCentral.com. His primary focus is to write comprehensive how-tos to help users get the most out of Windows 10 and its many related technologies. He has an IT background with professional certifications from Microsoft, Cisco, and CompTIA, and he's a recognized member of the Microsoft MVP community.
Are those apps on secondary devices Win32 or just store apps?

Store apps...Win32 application (eg games) can be install to other storage partition out of the box.

Not really. Since Win32 Apps aren't sandboxed like on OS X they often install components to places outside of thier own app directory, like your user folder, Windows System folders, etc. Also many Win32 apps don't perform well on slower storage volumes. Universal Apps are like smartphone apps. The platform was designed to run decently off slow SD cards and the like, because cheap smartphones and tablets often use that for their internal storage.

However, when you have a 16GB tablet with just 2GB available after WIndows updates, you can install x86 software on a microSD card, if your microSD card is class 10 there should be no performance lag, that is nice for kids since they can install desktop drawing software or other software outside your hard drive.

Problem is, I have a 16GB tablet with 3GB free *before* Windows updates, so it won't let me update to 1511. Microsoft have been saying they would take these little tablets into consideration. No such luck.

We are on the same boat. Did you find any solution ?

I dont think it will effect performance when store in the same disk different partition or SSD with same grade

R/W times are slower on my UHS-I SSD compared to internal storage on the tablet I was using until a Reset rendered it useless (touchpad drivers weren't reinstalled after reset, I threw it in the trash). There was no comparison between the two. The internal storage was about 4x faster than the mSD Card, even Bitlockered (vs. unencrypted mSD card). The performance of SSD has more to do with the class of the SD Card. The quality of the controller, among other things also affects performance, the size of the app, the amount of data it has to work with on the mSD Card, the number of R/Ws done to the mSD by the app, etc. all affect performance. mSD Cards are simply not on par. They're slower than 5400RPM Laptop Drives by a significant margin, and even those feel like molasses compared to even a cheap/slow SSD drive in a computer. Most Smartphones (almost all) and Many Tablets will not top out the max transfer speeds by an SSD. The controllers are either tuned to save power, or they're lower quality components in the device (saves money). My Dell Laptop has over twice the performance Reading From/Writing To the mSD Card than my Tablet, and even that is over only 1/4th as fast as a SATA2 5400RPM PS4 Drive that I'm using in an $20 external USB3 case from Best Buy, and 50% Slower than the eMMC storage in the tablet itself, 4x slower than the 5400 RPM drive in my iMac, and exponentially slower than the Intel SSD that I have in my Dell Laptop. Additionally, storing things in the same disk different partition won't magically make a drive perform faster. I don't even understand the rational behind that. Most Windows Tablets have eMMC storage, not SSD. Only the very high end tablets have that, and with an SSD for swtorage, the performance delta between internal and external (mSD) storage will be much much larger than what I'm seeing on a tablet with eMMC storage.

When are we going to grow up?

If you need a friend Don't look to a stranger...

"In System > Power & Sleep Surface and perhaps other battery-powered devices will see theSave me power when Cortana knows I am away." Did anyone else switch to an "Pirate" accent when reading the line above?

Nope Posted via the Windows Central App for Android

Was a joke, son. Plainly you didn't get it.

Falling off all those cliffs, and also being squashed flat so many times, it has affected your perception.

AKA "shiver me timbers" power.

Swab the desktop, arrr, arrrre, arrrrerr matey.

Aaaarrrrggghhhh! These sons of biscuit eaters should walk the plank and feed the fish! Now weigh anchor and hoist the mizzen, Cortana!

That tinnie tiny tablet mode paragraph...

I noticed that also. Redstone, for that and complete connection to phone services, hopefully.

Improvements to Mobile and connectivity with Win10 PC is planned for 2017 if team gets time /s Don't worry, Its Coming Soon. We WP users are used to waiting few years until its time for another reboot...

As small as it is, it had made using 10 on a tablet far better. I use it on my DV8 Pro, and wouldn't go back.

So you know what we're gonna ask. Where do I get that beautiful wallpaper?

Second that. Need beautiful wallpaper.

How did he have that green tile bar?

Seach the article for "Settings > Personalization > Colors"

Didn't work here - still white despite the setting being.. set.

Autumn wallpapers are the best.

Found the wallpaper, I used TinEye reverse image search on one of the screenshots above. Download it: http://pic1.win4000.com/wallpaper/1/5423aff4a1da4.jpg

So where is it? Wasnt it supposed to be released today? Great rundown of all the new stuff BTW.

We reported that is should come on the 12th.

Daniel, Does the Fall Update add swipe forward and backwards gestures to the Edge Browser? I really miss it in Windows 10 on my Surface 3 but on my Toshiba Encore 2 8 inch tablet I reverted back to Windows 8.1 to use Modern IE because I like the swipe forward and backward gestures.

No, unfortunately it does not. I still prefer 10 over 8.1 on my Stream 7 though. :)

Try Touch Me Gesture Studio off the app store, AWESOME little app which allows you to map lots of things to swipes with multiple fingers. You can do 2 commands for free, but it's well worth paying the money to get unlimited commands. I've got my SP4 set up with 2 finger swipe left is browser forward, right is browser back, up is brightness up, down is brightness down, 3 finger rotate (think rotating a knob) left is volume down, right is volume up. This is the one app which finally pushed me over the edge (no pun) and allowed me to feel halfway decent about ditching windows 8.1, which IMO is far superior to win10 on tablets. Along with Ad Fender for ad blocking in Edge and not TH2 giving us favorites sync, I feel pretty comfortable with win10 despite it's tablet shortcomings.

Wow, that app looks great! Thanks a lot for the tip! I'm going to give it a try. :)

spinedoc...what is the gesture engine that the store mentions? The description said the app is just for setting up your files, but then you have to use a seperate engine to run them. To others that are reading...here is the online store link for the app: https://www.microsoft.com/en-US/store/apps/TouchMe-Gesture-Studio/9WZDNC...

This is the exact feature I'm waiting for a browser(any browser) to gain before I upgrade to Windows 10. I would go insane if I lost that. I always have my keyboard attached to my SP3, but I rarely use the trackpad. I much prefer using touch/swipe. No swipe on browsers =no Windows 10 for me Edit: I've just seen spinedocs comment about Touch Me Gesture Studio. I'll keep that in mind to check out one day..

Amazingly, the feature works in Chrome. Google's Chrome supports touch better than Microsoft's Edge, I don't know understand Microsoft.

Though chrome does that, its touch support sucks. Scrolling, touch events, etc are almost unstable compared to Edge.

Please, no. Touch is way better on Edge, simply because it's a UWP app (if you ignore the swiping to go forward/backward feature, of course).
I've had chrome crash on me many times while I was using it with touch.

Outside of swiping to go back, the touch support in Chrome is awful. I find websites pretty much unusable in just touch on Chrome. In any case, I personally find that one specific feature to be a small issue to keep you back from an entire OS update. You can still use your finger to tap the back button... so I mean... you can still use touch...

Ah, thanks! I guess I missed that.​

Thursday is the (yet unconfirmed) date.

No Actionable Notifications??

Aren't those already there?

Nope. I can't reply to my Skype messages from the Notification Center. It was to be initially released with RTM build but was delayed. Is it also delayed for Redstone?

Actionable notifications are already there, it's up to an app to make use of them.

Are you using the Skype Desktop app? Or the new messaging app

Skype desktop (I'm on 10240).

Win32 (desktop apps) can't use UWP APIs, like actionable notifications - right know.


is there any Universal App making use of this feature. Coz last I remember Microsoft postponed this for fall update. When Microsoft was posting video ads for 10 reasons to update to Windows 10, in one video it showed the Action Centre with some app using Actionable Notification feature. Windows Central pointed that by taking a screenshot and it clearly said that Microsoft let out some features that won't be available with the RTM build.

Cortana reminders, alarms and text messages use actionable notifications.

Is there anything new/different than what you can do when a reminder shows up than in Windows Phone 8.1

Well, you can swipe it away to show up in the Action Center, plus developers can present three buttons for the user to choose from instead of just two (although Cortana and alarms don't do this).

Yes that is what I haven't seen with any app. http://www.windowscentral.com/microsoft-lets-slip-image-upcoming-messagi... Well in that article WC was talking about Messaging app and not actionable notifications (my bad). But beside that there's also a Facebook notification for an event. I don't get three options as shown in the image.

Yes, there are actionable notification. Messaging+Phone added that. When a Skype message comes in from the new app (not desktop) it will show a notification that you can reply from. You can also reply from the action center by clicking the down arrow. Readit also supports replying from the notification, though I still prefer ReddHub. So, it seems that it is up to the developer.

The Xbox (Beta) app is using it. I sent a reply to someone using an actionable notification.

Also Facebook Beta and Readit use it. I've been able to reply to comments and accept friend requests from Fb just using the action center.

Sorry but I couldn't find Facebook Beta app for PC. Could you share the link?

This is why I enjoy OS X. Too much fragmentation within Microsofts ecosystem bits too messy. This should have been there 4 years ago like Action Center and other obvious features.

Well the complete Windows 10 OS is what Windows 8 should always have been. This is nothing new with Microsoft. First they make mistake and then they rectify it and the cycle goes on. Thankfully it ends on Windows 10 which is on the positive side of the cycle. Now that Ballmer period has ended and Nadella is taking company in the right direction I can say I'll be enjoying Windows 10 like Apple users enjoy OS X.

Already exists. Rey setting a Cortana reminder or alarm

Cortana reminders and alarms are different things. They work they same way as they did on Windows Phone 8.1. If there's something new then please let me know.

On w10 desktop and mobile, if you swipe a reminder or calendar reminder away, it will go hide in the notification centre. Unlike wp8.1 where all reminders were a separate entity and had nothing to do with the notification centre. Then when you go to the notification centre and you see that reminder which just popped up, you can click on the down arrow and action the notification. This is actionable notifications working right there. Cortana and reminders do not work the same way they did in wp8.1. In wp8.1, the reminders and Cortana alerts had nothing to do with the notification centre. They were a different type of alert which looking at it now doesn't make aby sense. What MS have done now with these reminders and alerts is logical nd integrating them with the notification centre as actionable notifications makes much more sense.

Its already present, the problem is that even Microsoft don't use this feature much. On Messaging apps there should be a reply box for example. But yeah, its baffling that even Microsoft don't use this extensively. Mail notification for example can have some actionable notifications. It will take a while before more apps will take advantage of this. Majority of apps still are not updated yet for new Windows 10 APIs.

Don't talk about majority when even Windows Central hasn't updated its app using the new features. I don't know if they would make an Universal App. About MS, its busy promoting its apps on other platforms and making it more functional. They have left the Windows Phone 8.1 as it is for more than one year now. I can only hope that Windows 10 Mobile is released with no bugs or unfinished software.

Released with no bugs or unfinished software? That a first in the world of software.

I was talking about one which is stable enough that it can be released to manufacturers. People have been waiting for so long and if they experience early troubles then you can only pray WP won't die.

Google and Apple have issues too as per the link for example. http://www.bing.com/news/apiclick.aspx?ref=BDIGeneric&aid=5021FF6D1971DE... As W10 is new there will be issues no doubt, but all round I'm loving W10 on my 930 and SP3 - this update will make it even better!

That's why I said majority of apps on the Store is still needs update to support new features which feels like 98% are still WP8.1 and W8.1 apps. So this will take a while, even Windows Central is still pretty much an old app, even the comment system is still jerky too. Windows 10 Mobile will likely going to be released with quite stable ones on new devices like from X40 or X30 series. About bugs, its always present on the world of software but I'm afraid too that W10M might still be released some several noticable bugs especially on older phones. In terms of unfinished software, well sorry to say but we can safetly expect that like 100%. There are still some works to do which can be only fixed on updates (not the no changelog updates that do nothing visible to the user). I already thinking that Redstone will composed of re-implemented features from WP8.X and some few new ones. Basically majority of the features isn't new to Windows and only few totally new features will be added. Interactive Live Tiles is one example of completely big new feature which is still speculative at the moment unfortunately. So what I see about Redstone is little bigger than TH2 but not really that big as we want or needed to be. Its not yet the complete new update of Windows 10, it might be TH3 in disguise.

Windows central is working on a windows 10 universal app. That explains why they haven't been worming on the current app. The windows 10 windows central app is still in private beta AFAIK

There is a reply box with the new app.

There is already a reply box for the messaging app. It's actually one of the only, if not the only app taking advantage of actionable notifications

Yes. Try tweetium. You can respond DMs and Tweets in the notifications. IT IS AWESOME. Hopefully other apps and programs will make use of these.

I use Twitter official app but I don't find anything like that. Also Microsoft showed actionable notifications for Facebook in the video but its still not there. Are you guys talking about the latest insider build or the 10240 build?

That's because Facebook hasn't brought the feature to uts public app. W10 build 1240 has actionable notifications. It's just that hardly anything uses it

Will win10 education get this?

For all versions of Windows, but not all versions of Windows will necessarily get all the features.

I'm hoping so. I installed education because of the features (having more than pro edition), but didn't realize that you cannot join insider on education build. I've been stuck on 10240 for awhile. Posted via the Windows Central App for Android because I am unfortunately with Sprint

I have no trouble joining Insider using Settings on Windows 10 Education. What I do miss is, however, Windows spotlight. I hope it makes it to Education as well. Education is supposed to be a superset of Pro features.

can't you use download an insider build straight off the web and kickoff from there? i don't think you need to start off with a specific version of Windows...

Wow, but I want also aero theme:( transparency with blur :S

Ah where exactly do you want it? You already have it in the Start Menu and Action Center.

They removed it from the full screen Start Menu and the taskbar due to "performance issues." And there my PC was, running the entire Aero Glass theme like a champ, and now they're scared it can't handle a simple blur effect on the taskbar?

Blurred transparency already exist but the actual skeuomorphic AERO aesthetics will not come back sorry to say. Its been retired since Windows 8. Though I know the current Microsoft Design Language is still needs alot if work to do (really unpolished many areas).

Cleodesktop.com
Don't use the ribbon remover tool. You will get Aero theme from here. wp ez lub msft ez lub

Previously reported as the 12th of Nov (unconfirmed at this present time).

Cortana for India (English) is long time available..

Currently, It's available in technical previews only.

It's available in India after getting this November Fall update..
Speech Language : English India
Device Language : English India

awesome, cant wait for the update!!!!!!!!!!!

Microsoft again got late with edge and fails again. Ppl are switching to chrome and Firefox again

Yep. Waiting for extensions.

Long time Chrome user switched to Edge for a few days, and went back xD Until they actually get cross device syncing and extensions or addons or whatever they'd like to call them, I'm out.

Cross device syncing is coming with fall update.

Well they can always switch back, it's not like they are just going to change to chrome o/s just to use chrome :P.

People were already using Chrome and Firefox. Quit making it more than it really is. I use both ie and edge now. Haven't reinstalled Chrome. Edge will catch up but already has many useful features for collaboration.

The average home user does not care about collaboration, and add ins on other browsers meet and exceed what Edge is able to offer - which is not much to begin with. I use I.E. On Windows, but admittedly I've bare touched it for web browsing since OS X got Content browsers for safari. Browsing on Windows is a waste of performance and battery life compared to that. Microsoft should have improved on TPLs and offered them in Edge. Just that one discrepancy makes it useless to me as I don't like running add-in/JS based ad blockers (many of which sell white lists to advertisers).

I don't even think many people switch to Edge to begin with. Majority stayed with their Firefox or Chrome, heck maybe even IE. The problem with Edge isn't just because it doesn't have extensions, its really because its not solid browser itself no matter what they say. It lacks several features that we just taken for grant on web browser for years. - Edge still have poor Favorites and History management.
- There is no Tab syncing.
- No list to reopen closed tabs. Syncing is quite basic, only what mentioned on the article (I don't even know if Password syncing even works, I didn't even experience it).
- Drag and drop functionality is still limited.
- No tab muting
- No manual Full-Screen mode
- No chromeless browsing mode like from Metro IE, especially useful for tablets and small laptops.
- No session recovery
- No progress bar on the desktop
- No smart data compression like from WP8.1
- Web Notes doesn't sync
- No Auto-Translate page
- No download confirmation, still downloads immediately which can be a huge potential security risk.
- Dark theme isn't fully implemented, example on New Tab is still use the bright theme.

For tablet use I switched to Edge. Chrome and Firefox are simply awful on tablets, very rachety scrolling and zooming, imprecise swipes, horrible unfriendly touch UI. I swore off them long ago when I realized they wouldn't produce a tablet friendly browser. Of course nothing, absolutely nothing compares to the beauty of Modern IE, man I will miss that browser. For desktop I use IE11, which I've been using for years and am used to, but don't particularly love or anything.

Chrome and Firefox is still unfortunately not great for tablets at all, I really wonder why they still not redesign the browser to fit those needs. They don't even really need to make Universal Apps if they don't want to but makes more sense if the do make one. Though I don't expect Google to make one but at least Firefox will and they actually did but abandoned it which I hope they will try again. But on the desktop use, Chrome and Firefox is still one of the best browser you can have (others too like Opera). I still don't count Edge but I can count IE at least for best everyday browser, the only problem is the brand is already tainted for so long. This is why Edge has to catch-up fast before people realize and conclude that its another "IE failure" on new brand. Modern IE is indeed the best touch browser for tablets I've ever used. Its not full featured but its already on the right direction. Again the only problem for people because its brand is IE but hey about feature, UI and usability its still great. At the moment Edge is the closest we can get but still far from great. Really if they at least pick all of those Modern IE DNA to Edge, those swipe gestures, chromeless browsing, full-syncing, etc. Edge will be respectable browser and best one at least for tablet use. Edge for desktop in reality is going to have a hard time catching up but it needs to be at least as good as IE feature-wise.

Most people will just NOT use a Windows Tablet since Safari and Chrome both blow edge away on that form factor. They will simply choose an alternative if they are heavier browsers. Edge is is terrible for the reasons mentioned above, and then some. They hyped it up and really it isn't better than Internet Explorer in function, only in name and only because IEs name has become a running joke. As a Windows Tablet user you're already in the minority. Chrome and Firefox are designed predominantly for desktop browsing. Anything more is just icing. Also, hasn't touch events etc. been a source of infighting among various browser makers? It's not surprising that Microsoft using their own choices in touch implementation via their APIs have delivered better touch performance on their own platform. But that is not enough to make this browser usable considering the massive amount of feature disparity between it and IE, and especially Chrome and FF. You get a better browsing experience on any Linux distributions out of the box than you do on Windows 10, which gets a ton more development and probably has thousands more paid developers working on it. The entire situation is nothing short of embarrassing.

@n8ter#AC: i doubt there are 'thousands' of developers working on Edge. Moreover, Chrome is about 7 years old and Firefox is about 9 years old. Edge is about 4 months old. I'm not counting initial development on any of the browsers as its difficult to get that information. In any case, the only mistake Microsoft is making is trying to push it so hard right now. Beyond that, its clear why its a little behind. In terms of the amount of development that has been put into browsers, Edge is far far younger. So, its not nothing short of embarassing. I see why they wanted to make it the default due to its inclusion of Cortana, but aside from that, they should make it easy to switch to IE by default instead. After that, if you're switching to Firefox or Chrome, you probably would have no matter what anyway. Edge is a solid browser for no frills browsing. I get that many people expect more than that though and that's OK too. I just don't think the situation is as ridiculous as you make it sound.

It would be 100% worse if development was rushed and plug-ins crashed often.

I use firefox since i cant "save as" with files in the edge webreader. thats such a basic feature that im not sure how they forgot to have that one! I liked the design otherwise, but it doesnt make up for no adblock and basic features. Maybe they add that "save link/file as" when they add extensions next year.

Does anyone know how to get the digital keyboard to automatically appear when you focus a textbox like it used to in windows 8.1? I hate having to manually hit the keyboard icon in the tray ...

Settings/Devices/Typing and enable "show the touch keyboard when not in tablet mode" (Its the last option at the bottom)

Enabling tablet mode is another way.

Tend to agree. Will need to see if it is any more reliable. Functionally, it seems underwhelming.
The skype stuff, despite all the wait, hype, etc seems only halfway there. Still no OneDrive placeholder fix. Even without extensions, Edge gestures would surely have been an easy fix? No 'bridges' to bring new apps to the app store.
No doubt the engineers are working hard. Hopefully will feel it in the overall experience, which for me has been a step backwards overall from 8.1.
Always jam tomorrow...

Skype contacts don't show up ; they are all on my W10 phone but not the PC. So messaging app is pointless

Also, no quiet hours when busy in calendar...so MS can shove it :P

Look back at the update to the new build article there was a bug that dropped all of your contacts it shows how to get them back.

Wait for the thursday update, should be back to normal

Seriously, new icons really shouldnt be a highlight of a new OS update.....

In some ways it's a big deal, because a lot of these icons have been the same for a long, long time - To some people it seems trivial, but to others interesting and welcome

Icons are part of the design experience and therefore need to reflect the new, modern Windows 10.

Everyone flipped their #@$%when Apple changed their icons. Icon changes scare people Posted via the Windows Central App for Android

It's not a matter of being scared, it's how long we have to wait to have these things completed. They've been updating icons since the early builds going back to January.

They're not, but some people nerd out on stuff like that. And a lot of nerds read these articles :)

Yes, simplified upgrade process! I have an unused W7 pro licence lying around that I don't want to reinstall W10 home for, but I'd like to have some of the pro features I am used to with my SP3.

Last time an article said cortana will be available in India ..... What about that ?? No mention in the article .....
Will cortana update me of the missed calls if my phone is on windows phone 8.1 ??

No. It'll only work with Windows 10 Mobile. Incidentally, this should be available for your Windows Phone 8.1 device very, very soon. :-)

Depending on the carriers of course.

Not at all for W8.1 ( Mobile )..
U shld get W10 ...

You can do that with Skype messages

The new wide context menus look... Awful. For mouse users.

It's a compromise and a step in the right direction of having a unified design through out each mode.

Unified... Like one size suits all, trucks, cars and bicycles? /sarcasm

Unified so there's not that radical change that everyone whined about in 8 going between Start menu and desktop.

That was not the problem that everyone complained about with Windows 8 (and 8.1). The problems were: 1) The start screen was for desktop users as well as tablet users 2) The distinction between the two modes was not based on if you were in tablet or desktop configuration. It was based on if you were in a win 32 app or a store app. What Microsoft needs to do is make more distinctions between the two modes. If not there is always a compromise.

If you use the mouse, show the original menu, if you are using a pen or touch shows the wider context menu... It's so cool

Its still inconsistent context-menu, what they only did is tweak a bit and change color. I don't get it why they cant make it pixel perfect to match all context-menu as possible. Theme makers can even redesign the looks of it on downloadable themes with their free time.

The scales do change depending on if you're using touch or mouse. So there is a slight change in how they look depending on how you do it. For mouse, i've had little issue with it.

So will Edge have the F11 full screen feature?

It doesn't in the current build, but oddly enough file explorer does.... so odd

File explorer and IE does this for ages. Only Microsoft Edge still cant implement this feature for some reason. I still miss the Immersive Mode/Chromeless browsing from Metro IE. I really want those even for non-full screen and windowed state, reducing the clutter.

Aaargh this was deemed too advanced, might scare doofus users away, so it was done with

Is that different that win+(up arrow)?

Win + Up Arrow is maximize, really different

November update for me means there is still a lot of major and minor work to be done. Already looking forward to Redstone and other updates between now and 29-7-2016. For me the OS is still not well rounded and polished for use as a daily driver. Still waiting for milestones of interactive live tile, more OneDrive inking and ink to text experiences and further evolution/merger of tablet mode/desktop mode. ​

You say the OS is not well rounded or polished enough to use as daily driver and then as examples of how it is lacking you mention things that no other OS is able to do. I mean we all want to see the things you mention, but I don't get how you are better off waiting to upgrade and staying on an OS that will never have those features.

I've lowered my expectations for the milestones, but I still think it's worth waiting for the polishing of current features sets in windows 10. Interactive tiles is also worth waiting for (out of the box experience) as microsoft already clearly announce they are coming in the shortterm in this years build keynote. But waiting will mean the polishing of the OS will most likely improve with time improving the out of the box expereince and "loving windows". The foundation of windows 10 is there, but I am still noticing too many issue with OS, apps and productiviy features to make windows 10 a smooth experience in my workflow, enough to disrupt my day. I simply go back to another device running windows 7 or 8.1 and things work as they should. I think windows 10 is going to be wonderful, but its not there yet. And we still have over 6 months left to do the free upgrade and still have two major upgrades coming to continue the polishing of the OS. It is suggested that interactive tiles will be pard of redstone. Immersive inking I think is still on Panay's agenda (he's passionate also about the stylus experience), but Satya made it clear its business first, so that means mouse and keyboard first. That's fine. I can wait. But the love is growing.

@Wevenhuis: Do you have any specific examples of why its not as good as 7 or 8.1 (where things work as they should supposedly)? After Windows 10, I couldn't stand going back to Windows 7 and especially not Windows 8.1. I find the experience mindblowingly better than those two OSes, so i'm always confused when I see people who think its not worth the upgrade. I'm just wondering if certain people just use it differently or if its a niche thing or what.

Hi pjhenry1216. Thanks for asking. I think it is a mixed back of current issues and expectations that is bringing me back to windows 8.1 and windows 7. I'm coming from using windows 8.1 on my surface pro frist generation. The system has grown on me but the system has also improved in time. What I've noticed is that I used windows 8.1 mainly form the startscreen and hardly useds the desktop. Apps made sense, even opening legacy programs and desktop programs from the start screen ore search. The applist page provided a great full page overview, scrollable and filterable at a glance. Practically I notice I'm missing a lot of stability an workflow issues with windows 10 compared to windows 8.1. Admittedly I'm running the insiders program, so I am a bit confounded, Things like extremely slow loading times of links in emails to Edge, missing simple things like folder and rule managment in outlook mail and running issue with syncing folders from yahoo in outlook mail windows 10 compared to windows 7 and 8 regulalary makes me go back to my windows 8.1 and 7 devices. Third parrty YouTube apps seem to crash more often and I'm having download issues of preloaded youtube videos in windows 10 compared to windows 8.1. I'm still not sure if this is a youtube, windows 10 or app developer issue. Because I work completely from the start menu in windows 8.1 and have grown accustomed to plan my workflow of glancing info and opening apps via the live tiles. Natively winodws 10 is desktop first and tablet mode second. I am happy with the option of tablet mode, but the tablet mode always on is still buggy after login, live tiles still disappearing or blank in the start menu. It's buggy in the fact that windows starts off with and empty desktop background at every login and it takes a windows key press or turn on/off tablet mode to start the full screen startmenu. A minor issue in the grand scheme of things but a daily pain as a daily driver. Calendar and mail tiles are having issue with regularly updating tiles info, especially mail and calendar. On windows phone I use the calender live tiles a lot to see my next appoitment at a glance. I use Chronos+ app. It has a great array of live tile choices. I miss this upgrade in the outlook calendar app. I was also hoping that microsoft would push for more and larger tile size to accomapny a larger overview of appointments. The large tile helps a lot, but I was expecting a greater array of live tiles with the evolution of windows 8.1. to 10 to optimize my workflow in windows. I hardly use the desktop environment. Even more I think the evolution should have been that live tiles play a more pivotal role in the windows 10 experience. Live tiles offer more flexibility and functionality for apps and files than the icons and shortcuts of the desktop. Futhermore I was experiencing a more consistent experience with windows 10 for phone and pc/tablet. But windows 10 mobile starts with a start screen/menu. Windows 10 starts with the desktop by default. The action center is to the right in windows 10 for pc, but from the top in windows 10 mobile. The app list is from the left in windows 10, but from the right in windows 10 mobile. I'm missing a coherent experience. It doesnt feel as different from the current windows 8.1 and windows phone 8.1 experience, it makes my think the value of upgrading to winodws 8.1. I understand the rewrite of the core, but eventually it is about the user interface for me as the daily driver of things. My desktop is still running windows 7 on my quad core desktop tower. The system is stable, things work, no issues with peripherals monitors and printers. I'm hearing to much feedback that there are still major printer driver issues. It's been a major pain to reinstall my printer as windows 7 upgraded update packs and I had to reinstall the software. Everything works fine. I don't trust windows 10 enough right now to replace my windows 7. I want more assurances. With windows 10 I was expecting an evolution of windows 8.1. I wanted to see the live tiles grow (in development), to have office apps (realised) and a more immersive pen,handwriting and inline ink-to-text experience (on the microsoft roadmap).

Is this update worth using as a daily driver?

Been doing that since it hit the fast ring.

This one is not an Insider Version. It's more like SP1, and will be treated as such, coming through everyone's Windows Update, there is no option not to take the update for usual consumers.. It's the new standard version of windows 10. Up from Windows 10.1507 to Windows 10.1511 this OS Build (10586) is the version going to OEMs etc.

Oh okay!! I been wanting to upgrade but don't know coz I keep reading how users are not happy because the OS still has bugs and it does not operate smoothly?

For the most part, the issues that do exist in Windows 10 are in the new stuff that you don't have on your older OS anyway. So even if they have major problems (which they mostly don't) you still aren't really missing anything. For example, Edge is still pretty basic, but IE still exists in Windows 10.

Well thank u. I'm happy with Firefox as I been using it for years. I don't really want to use any apps from the store either. Or use live tiles and stuff in the start menu. Just want it to be simple. I prefer the usual software...since the apps are really not in full effect yet to me.

No build of Windows past 9879 is worth using as a daily driver yet. I'd say wait, or stay on 8.1 or 7.

Im on 8.1 still trying to make up my mind.

How do you figure? Build 9879 being better than every single build after?

Installing apps on a Micro SD? Great!!!!

Yes great, cue the 1 star reviews for slow loading and crashing apps because someone has a slow ass memory card. I hope Microsoft include some sort of detection utility that can tell people their memory cards are too old and slow.

That would be handy but even then people will over react. "OMG!!!! Microsoft is now stealing data off my sd card!?!?!?!?!??!". I imagine will be one of the responses lol.

I know right. I mean why does Windows need to access my SD card anyway?!? What possible reason could there be for the OS to talk to hardware other than to steal my data. /s Lots of really clueless people out there.

The only thing that makes me mad is when they connect data that shouldn't be linked. E.g., in Groove, it will grab music from separate folders and mash them into a super album, mixing artists and tracks. Blending all genres together. It's a mess.

Is there an option to choose which folders Groove looks in for music - in settings?

Will this work with exe programs too?

This was always possible. Look for those custom install options during setup and specify another drive and path.

You can install a traditional program everywhere you want, like it's always been possible

He/she most probably meant store apps.

I meant legacy apps, like apps brought over from 8.1. I had a brain fart

Yes. That feature was added in Windows 95. :)

Wasn't expecting them to do enable it this soon, so not getting my hopes up even now, got to see it first.

So new Xbox and phone and mobile builds all update on the same day? Nobody else think that is rather ambitious?

It's just an update, what could go wrong :)

It's Windows 10, so everything can go wrong. And nobody would complain.

It is "Windows 10 Version 1511" not 1115.

Lol, that would be an amazing regression :P.

Don't remember this one being mentioned, Cortana let me know today that I missed a call on my phone. (both on latest fast ring builds)

Can't wait for Redstone 1 (PC) : ​I need: Skype/Xbox/SMS messaging all within the Messaging app. Label virtual desktops Different backgrounds for different desktops Extentions for MS Edge

Virtual desktop presets would be cool. Launch a preset desktop, all the apps open with it.

I'm using the Messaging app a lot, and mostly just load up Skype Desktop when I need to send a file or image and this is working well for me - However, it does seem a little premature to release this to the general public. So far I've not been able to get notifications working again except for right after the app was released to insiders, and there's obviously still bugs as well as UX issues such as no icon on the taskbar to indicate there is an unread message (This is a general issue with UWP / Store apps IMO). Still, it works well for me, I just hope it doesn't give a bad impression to the average user (if they even realise it's there)

First, they remove the "modern" Skype app (seriously, how am I to use it on a tablet?), now, they bring it back (yay!), broken into three separate incomplete(?) apps (oops). Good job, Microsoft. So far, I really like Windows 10, but I wonder what you are going to amaze me with next time.

Facebook did it with messenger. People unfortunately grow accustomed to changes like these.

I was really hoping they bring add on support to Edge :(

Alas there is no handwriting options available for Australia/Cortana as yet.... GRRR

Do we even 100% know for sure that Cortana Australia is coming with the offical release? I'm sure they won't but I'm not seeing anyone in Australia make a song and dance about her upcoming release.

If it is in current fast build (which it is) it will be in the update for consumers

Damn bro this is a really thorough article. Excellent job.

Mehh w10 still needs at least a year to grow up and probably 2 years to truly shine, that is if they don't fuck it up like with OneDrive. Now w10 has too many bugs and all apps are lacking. And the UI it's still a chaos.

Guess I'm not too picky. I really like 10 even without the update. In fact, I would say this is the best, most productive Windows I have ever used. And I'm old as dirt--started with 3.0!

Indeed, if they keep playing their cards right and don't fuck up. The best optimistic view we can get is at least around 2 years.
The biggest factor here is when the app ecosystem problem will catch up. 2nd factor is how W10M will polished overtime. Currently W10M have slight similar situation of Android several years ago. W10M is aesthetically no direction, unpolished, bit on the buggy side, inconsistencies everywhere and many apps feels like a beta.
They really should avoid another OneDrive fiasco because if they did, the mobile platform is finished.

The funny thing is, the longer they worked on W10, the worse it got. They could have taken a build from last November, added Tablet Mode and a new browser or something, and released it then. But nooo, we need this.

"Microsoft Edge users can finally sync passwords, bookmarks, and Reading List items across devices." Yeah! I have been waiting for this.

But still no Save target as... ?

Wrong, it's there in build 10586/

Yeah, this is all nice, but still wondering when they will add cortana support for all languages specially for small countries world wide. To be honest cortana availability market is really limited and small, this means only big countries will have that ability, no word for small.

This is a problem with Cortana currently, even in most developed nations Cortana isn't available. This is a biggest issue that prevents the adoption and market share of Cortana. They really need to act fast since Google is integrating Google Now more deeply on Android devices and gaining more features. There is no slack for Cortana. Siri though currently is not much compelling about it, it still a potential threat. iPhone is still very popular and Siri only needs integration on OS X, by that time Siri will play on the same level field again.

There are no "developed nations", only developed countries. To call a nation developed or not is pretty racistic, don't you think so?


Localization is difficult. I've pretty much given up hope for my native language of Dovahzul. Pisses me off since there is already a translator.
https://www.thuum.org/translate.php

Yeah, but they could just release it in English for countries / languages like yours. I bet google isn't doing it any different with Gnow ...

So will this update just bring the general public to where the ppl with preview builds are at this point or is it an upgrade for everyone?

I'm guessing the RTM release will be the latest version for everyone, including Insiders. Those who remain Insiders will get the later Insider builds after RTM and the non-insiders will get the normal updates.

Is it possible to resize the leftmost "All Apps" column in the start menu? I have a lot of Microsoft developer tools installed and they are indistinguishable because all their names start qith Microsoft Visual ... I really wish they enabled Start menu resizing inthis way.

BUT WHY WOULD YOU WANT TO? Obviously the longest name you'll have is 'Groove Music' or 'Flappy Bird,' right? Who needs to get real work done?Universal apps! Yeah!

yeah this would be useful. the only current fix I know of is to rename the shortcut .. but that only lasts until some update happens to the software (and it creates a new shortcut with the original name)

So how sure are we that build 10586 is the final RTM Threshold 2 Fall Update?

It's reported but there has been no official confirmation to date. But all points to 12th Nov....

I am getting an update now KB3105210. This is the second cumulutive update for today....is this possibly the fall update? UPDATE - The update failed and when I retry, it now says there is no udpate availabel....so not sure what this was

No, that was not the Fall update. I also had that update successfully installed and it has no option to show color on Start, taskbar, action center and title bar, the Settings app was still the same and there are no major changes to Windows 10. I think the Fall update will have another KB number or it will be a unumbered update on Windows Update, just Windows 8.1 from Windows Store was to Windows 8.

Hope the (excessive w/Win10) battery drain issue got some attention. Many noticed upgrading to Win10 from 8.1 caused battery life to really take a nose dive, 50% in some cases. For me, 8 hours turned into 4 on my tablet. And yes I tried all the "solutions". None worked.

The best solution I could find was going into Settings, clicking Update & Security, hitting Recovery, and downgrading to Windows 8.1. Working great!

I was having the same problem on my SP3. There were a couple of system processes that were consistently using 40%+ of the CPU and sucking down the battery like crazy. I had to do a full wipe of the system and reinstall everything and now it works well, although I now can't get back into the preview program because of some bug that I've never had before.

Need more tablet features.

Such as? I'm seriously asking :).

Bringing back the swipe actions from W8.1 would be a good start. I think they went too far with W10 taking away the good stuff of 8.1.

Snapping more than two apps, swiping support, no ugly taskbar,etc.

Still People app is garbage looking app. Messaging, Skype Video, Phone, and People app are now belong to the apps of needs attention and extensive polish needed.

All I wanted was metro internet explorer back for my tablet. Guess that ain't happening. Edge sucks on my hpstream7

Swiping backwards and forwards is so much easier!

To Microsoft, "Universal" means something that sucks on tablets AND desktop computers. One or the other, MS, one or the other.

Edge is very much still in beta. I have so many problems with it that I never had with IE. I've had to install Firefox because too many times Edge won't load a site or things on a site won't work with Edge (even simple hyperlinks sometimes).

4 significant changes for me - 4th column on start menu, Cortana in India, mail and messaging app, and installing apps on SD card.

I keep waiting for swipe typing to make it to tablet mode. Is this a "never gonna happen" situation? Posted from this here device.

I'm really wanting that too. Posted via the Windows Central App for Android

I'd love it with pen support too.

So have MS actually committed to a date for TH2 going out to all Windows 10 users?

I use Skype for podcasting with a custom audio setup. If it doesn't work after this update I'm throwing in the towel on Windows and going Mac. I really just need things to work at this point. I have no more time to mess with these little issues. I was really hoping 10 would be great but so far constant issues with explorer.exe crashes, and that damn taskbar keeps getting either stuck open or closed. Posted via the Windows Central App for Android

You probably have some hardware issues, not Windows.

Dark theme for Cortana when? Windows 12???

Whatever version runs the computers on the starship Enterprise.

1: Have they improved handwriting input? Does the empty area progresses as we reach the end? Can we choose the default input method? Can the auto correct be disabled for handwriting?
2: Is cortana available worldwide now? If not, can we use the those features like silent hour, alarms, reminders without cortana?

You can make the active Explorer window stand out from other Explorer windows, however by standing out you're just blending it in with every other screen element. Boy as plans go that's a Swiss watch Microsoft!! Tablet mode slowly brings in features of what actually makes 8.1 a great choice for tablets and perhaps by the fall 2016 update they will actually extend the majority of Cortana's functionality (and voice) outside the US.

I don't see that Windows logo from my About page. Does anyone else? Is there some special registry setting to make it visible? .

It's on mine. Are you on build 10586?

I'm assuming the cumulative update is not the same thing as the fall update.

Assume right you do - in a Yoda voice :)

Hope the adoption rate will again rise dramatically..performance wise build 10586 is like 99% of 8.1

Nice! Looking forward to this

Wow....I think I just wet myself. lol

They have pills for that :)

When I upgraded to W10 at the beginning of August, my Surface Pro 1 wouldn't geo to sleep anymore and the fan was almost always on, no matter what I tried, so I went back to 8.1. Is this fixed? I've read other Surface Pro generations had similar issues? And: Could I roll back to 8.1. a second time or is this only possible once?

Those issues do not exist on my SP3 - disable the Windows Help and that should improve battery life. I'm on the normal Windows 10, not the Insider.

I was having the same problem on my SP3. I had to wipe the entire machine and reinstall everything and now it works. But that's rather a drastic action for something that should be a simple update.

Santa will be delivering on Xmas day :)

Wait, what? These updates are not included in today's monthly updates?

Thank you for the article. Much better than those "an app was updated today; don't know what changed". :)

Hope this brings Edge - and thus Cortana - back for me!!!

What does the article mean by "will also lose manufacturer customizations"? What sort of customizations are we talking about here?

At the risk of being given a simple work around, I'm hoping that this build will allow the use of blank passwords when joined to a domain. Does seem that one or two others are suffering with this, personally using the Education SKU in school environment.

Sounds like a pretty decent update to me. Looking forward to it. One picture at a time -- LG V10

"""""""In System > Storage, Microsoft is finally enabling the ability to install apps on a secondary storage device e.g. micro SD card.""""""" , update completed on my Surface PRO3 , But this feature is not enabled, and also changing color to task bar ,

Is anyone else not getting this update, Surface Pro 3.....?

So many cool looking features but the PC I use 99% of the time is my work PC, which whill be on Windows 7 for quite a while and I'm sure when we finally move to Windows 10, a lot of the features, mainly Cortana, I'm sure, will be disabled. *Sigh* first world problems

You know what this needs? The level of consistency and stability that the first tech previews had. You know, where the start menu wasn't a Universal App but an actual system component, and you could drag icons on and off of it, and installed programs actually showed up in your All Programs list. And the Start Screen was still available and easy to enable by simply checking a box in a dialog. Where the taskbar icons weren't 24x24 and poorly scaled. When tiles were multicolored and you weren't forced to use the Settings app. If someone could deactivate the timebomb in build 9879, that'd be great.

I just want 2 things: 1.- Decent search, windows 10 serach is horrible! I can never find anything! (i can in windows 7 and 8). Also if you click outside cortana/search space the search is gone/lost 2.- Get facebook sync on people hub, is so depressing to see all my contacts without face... BAD!

Multitasking/Snapping is improved too, not just for tablet users, but desktop gets the resizing bar between two apps. When you snap two apps together, move the mouse to the divider, and it shows the bar allowing you to resize both apps at the same time.

Still needs to support more than two at once in tablet mode.

Today is the 12th and I clicked update and nothing :-\

PST/PDT Timezone, it's 10:44 pm 11th atm

Waiting for the update.... Posted from my awesome BlackBerry Passport

It seems available to everyone now. I am installing ...

That memory manager is not new! I've been seeing the system app using a lot of memory on 10240 as well. That didn't happen in 8.1.

After installing this on the Surface Book if you check for updates again afterwards it will install an ID update and the 11/02 firmware/driver update

From where i can download windows 10 with threshold 2 update as iso file??

still no sign of this november update, here on my windows 10 pro desktop pc. My mum's tablet with windows 10 home is downloading the update...is the update for pro version coming later today?

It's all coming at random intervals. Haven't gotten mine yet, but it should show up soon

For "Tablet mode" - this isn't well described: "swap apps already snapped". Does this mean they've brought back Windows 8/8.1's ability to "swipe in from the left" to switch between apps? That, to me, would be much better than the current behavior.

I've always wanted to be able to swipe between two+ sets of two snapped apps.

windows has a problem with this update? KB3105213 because I can't install

Regarding skype they should focus more on signup with mobile number like whatsapp rather than email. Everyone in my phone contact list has skype but cant chat with them in skype coz they don't appear in skype contact as I don't have their email address. If MS wants to increase skype user engagement it should act more like WhatsApp or viber. I really want to use just skype as it's now integrated in windows and uninstall whatsapp and viber.

And btw I cant change my lock screen in windows 10 pc. Hope this update will resolve the issue.

Microsoft should better get windows 8.1 mode back with tablet mode. It would be the best.

Why does Mauro only get 4 rows of tiles when I have 6?

Can you enable the 8.1-like snap extravaganza without using tablet mode?

I got an error at 99% of the progress and when retry it says im on the latest, but clearly not. I already restarted my laptop, still nothing.

Does anyone know where can we get a link to download the ISOs for the November Update?

https://www.microsoft.com/en-us/software-download/techbench

When does this become available for the USA?

Clean install or not -_-// I've new 1 month old machine :/

Haven't received the update yet here in India !!!

Ehy guys my pc found the update, downloaded it all and then all of the sudden disappeared..now my pc says it is up to date. It didn't install the 10586 at all..dont know what to think

Do a Windows 10 factory settings reset. Just kidding Use this link: https://support.microsoft.com/es-es/gp/windows-update-issues/en-us This should fix windows update issues, I used it when I could not upgrade to Windows 10 in July 2015.

Gabriel, i used this tool and it fixed the registration that was corrupted or missing. But how long will it take to install the update?

Bro i need help too. I already downloaded Thes 2 update but then it ask me for 5+GB on C or 10GB on D but when i select on D which i have more than 26GB free it ask me again for addt'l 4.8GB on C. Any suggestion pls is highly appreciated. I only have 1.5GB avail on C. Thnx.

Same here, contacted MS Support Desk and they advised to wait. Supposedly is working on the background.....

Does anyone know the size of the Fall Update?

Great, now I can install my daughter apps on the microSD card since her tablet just has 16GB of storage. This is awesome news. I just have to get an external 16GB USB empty drive and use the OTG USB cable and the USB 4 port dock so I can upgrade to WIndows 10 while keeping the tablet powered. Doing that this weekend.

And Skype still doesn't support Animated Emojis that it has on iOS/Android for years....

how about cortana? i read on how to geek that you wont need to login with your microsoft account to use her now. fianlly about damn time. thing is that is theo only site where i read about that.

Great article. I'm going to upgrade one of my non-essential PC's now and give it a shot, having skipped 8 and 8.1.

Guys follow Windows Phone topic on Quizup. It's new and fresh.

Still didn't fix Edge not remembering which monitor you closed it on when using multiple monitors... other apps seems to remember but not Edge... strange.

Hm stiiiil no update for me :(

Hp pavilion 2 10inc 2 in 1 stuck at 40 % installation

Just found th we answer thanks to later post on windows central thanks

Anyone know how big of an update this is? (Edit: as in size of the update itself... gigabytes, megabytes, etc.)

"Find My Device" doesn't seem to be available for me. I'm in the Spain region. Is this working outside US or do I have to do anything to activate it? Not that anyone is going to take away my heavy computer case, mind you.

upgrade from media tool went smoothly. but sleep is still totally broken on my SP3 so that's just grand.

I upgraded from 7 Ultimate, but when I try fresh install from USB it won't accept my license. Is it because I'm coming from ultimate?

Finally we get Cortana in Australia! (Yes I know she was available previously to this thriugh insider builds, not all of us can afford to install an insider build on our primary PCs)

How do you get cortana to use that handwriting recognition feature?

When I first upgraded my toshiba laptop from 7 to 10 my webcam, mic, screen resolution, setting, mouse use touch pad essentially everything had malfunctioned and would not work at all and had to use a external usb powered mouse to make the mouse work. so i decided to try and give it a day or two and try and fix everything that had malfunctioned and when i set the settings to what i had originaly was using that was at factory settings with using windows ten it still was not working properly so what i did was downgraded back to windows seven. so with this new update would it correct ALL the setting and problems that i had once had back to work perfectly with out any flaws. i want to use windows 10 but dont want to go through the trouble please help.

whoever wrote this really seems to want "Fall Update" to catch on.
I think it's a dumb name. It's a global update and fall is only happening in a small section of the world this month.
Not only that, but us outside of the US call the season Autum. "Fall" is an English word that people outside of the US don't necessarily associate with a time of the year. As for the update itself, it doesn't seem worth installing. Like we have a choice anyway.

I don't like new context menus in Start. It just requires more clicking. Why, oh why?

There is no cast to option for me in Edge.

Ok so got the update. I thought my weather live tile problem will resolve on this update.

Still no update to add custom notification sounds to different apps/events...?

What should be an appropriate sd card to install apps?

Just installed and general first impressions were good so far. I am very happy with this upgrade :)

Please tell what is file size

this new hover option for edge is nice although i dont use Edge, you can see a small preview of a site lol. doubt i would use phone or messaging app since its all skype integrated and i havent used skype for a while now. i like the new control panelcons. looks good and the taskbar dark menu is sexy too. and is this even legit ? Cortana no longer requires a Microsoft account, so you can use Cortana even if you're logged into your PC with a local user account. Cortana can also understand inked notes, track movies and other ticketed events, warn you when you miss a phone call, and sync your messaging and call history. Cortana can also power itself down when it knows you're not using your computer that is from howtogeek. i still see yo need to login with your microsoft account lol

How is the fall update treating y'all?? Is it improved enough for a daily driver!

I miss charms bar, they should really bring it back

Grrrr, still haven't received the update yet.. Win 10 Pro.. anyone else still not getting it?

Me too no update yet, W10 Pro in UK

I can't find the update too (W10 Pro IT)

No update here too Windows 10 Pro

Fall upgrade issues so far: Desktop icons kindly re-arranged for me by Microsoft. Thanks. Windows Explorer settings re-arranged for me by Microsoft. Thanks. Probably most other of my time consuming, painstaking, custom settings re-arranged for me by Microsoft. Thanks. ASUS Smart Gesture touchpad controler/app broken again by Microsoft's upgrade. This fault was widely reported 3 months ago so it is surprising MSFT have still not bothered to fix it when updating W10. For anyone with ASUS notebook/laptop using Smart Gesture that has been screwed up by the latest W10 'upgrade' I fixed mine by finding Smart Gesture in Programs/Features, right clicking it and selecting Repair. After being notified about other programs trying to install SG and canceling those, the repair went ahead and fixed the problems. Other people have had to uninstall/re-install SG. Thanks Microsoft for messing this up - again. Also I thought the new Edge Browser's 'cast' feature might be useful so gave it a try with some You Tube clips. Unsurprisingly it did not work at all on either my Toshiba DNLA TV or Roku Streaming Stick. No helpful suggestions were provided as to why it did not work of course and as I have better things to do than forever trying to make MSFT software work, I'll wait for a year or two until MSFT figure out how get it working properly, meanwhile back to Chrome browser.

I also notiiced after the update, that Candy Crush Saga is installed by default??!?! I didn't install it, and all of a sudden its there, anybody else get this installed for them automatically?

hm my laptop downloads update but on the desktop it doesn't show up waht should I do? both uses windows 10 pro

Great article! The only feature you missed is one of my favorite ones - you can now run different instances of Edge on different virtual desktops. This is great because I can truly have a work and play desktop without having to be switched between the two.

I cannot see the messaging app after the fall update for Windows 10 on my PC.

Just got the update. Checked while it was "Preparing the updates" and once again... Microsoft downloaded a slew of drivers from Windows Update - versions older than what's on my Notebook and printer drivers for a printer that I don't own just becuase it's on the same WiFi network as my PC. All that stuff that I hid before starting teh upgrade was automatically unhidden, downloaded, and queued for installation by the setup application. I force shut the PC down (hold down power button for several seconds). I will wipe it clean and install RHEL WS over the weekend. I have to pay $200+ for it, but at least it won't make my life a living hell when using it (I've used it before, so don't waste your opinions on me ;-) ). I can't deal with these issues every time they push an upgrade out. It takes way too much time to troubleshoot unless you're specifically looking for it. At this point, Linux upgrades are a cake walk compared to Windows, and it used to be the one area where Windows was 100 miles ahead of Linux. I'm replacing Windows 10 Home with OpenSUSE Leap on the Laptop I have to send back to my mom, as that's also an AMD machine and will cause her too much grief with driver issues, etc. everytime the OS upgrades like this. I'm done with it. It's just too much f*****g trouble. Feels like I have installed a community Linux distro on my PC with a Windows KDE theme. They have to have a better way to upgrade people's PCs, and I cannot use this OS as long as Windows Update works the way it currently does. It breaks the system far too often, and far too severely.

Hello, how to write notes (handwritten with pen) at Cortana to create reminders? (sorry for my bad English)

In the first paragraph, the built number mentioned is 1115. This is incorrect. The build number of the Fall Update is 1511 (OS build number 10586.3).

I installed the update in the wee hours of the morning. I haven't messed with it it much, but I have been able to cast stuff from websites like Youtube via Edge to my Panasonic VT60, which is pretty cool. Unfortunately, it does not seem to work for HBONow, which is a bummer. With regards to HBONow, it does seem to play full screen after the update, which is something it would not do prior to the update. Previously, when I tried to play HBONow full screen in Edge, the video would only display in the upper left quadrant of my monitor. Now it plays full screen, most of the time. I'm having a heck of a time typing this message though. It's almost seems like some of my keyboard strikes are not being recognized.

Major problem, after installing this update, all my 3d games are not running correctly, with messed up colours I've gone back to earlier build, and my 3d games are running fine again Nvidia GTX 660 card

For such a minor update, it sure took forever to download & install on my PC. Then, after the post-install restart, it hung on the "there's new changes", etc. splash screens for quite a while before actually letting me use my PC. #underwhelmed

What is approx size of this update

Got the update this morning, took forever to download and install, I ended up leaving the room (desktop) and let it do its thing. Then come back only to discover it re-loaded and installed a boatload of bloatware, games, a 3D maker for a 3D printer I'll never own, XBox and music player and video player I never use. I don't have a microphone nor a camera so I don't need voice calling, Skype and the other stuff. Took me 1/2 hour to go through and delete all the junk. Kind of ticks me off that Microsoft feels free to install junk crapware I don't want on my computer. I mean really -- I can see an update, but not installing new junk on my computer, they should at least ask if I want it and give me a choice. Yeah, I know, W10 is free. But you know what? At this point, I'd be willing to pay them $200.00 or even more per year if they'd just license me a "clean" copy without all the junk and spyware. I think they're missing out on a big opportunity here, I bet they'd make more $$ from selling clean versions than they do with the current strategy.

Version 1511 is a horrible update/upgrade and I wish I could undo it. MS Outlook 2013 absolutely doesn't like the upgrade and neither does the Photo app. Passwords get screwed up and my machine (i7 4770 @ 3.40GHz with 24GB of RAM) seems to be running at half speed. Very noticable lag between selecting something and the action actually taking place. Hope MS unscrews this pooch with subsequent updates.

Did a Reset on a Windows Tablet after installing Windows 10 because the Universal Apps would all crash immediately after startup. Groove and Movies & TV could not be run at all (for playing video files or listening to any music/sound files). They'd crash immediately or throw a runtime error 100% of the time. Turns out, the 1511 update completely wrecked the permissions for virtually all the files on the system, so apps couldn't even access their own data. After resetting the Tablet, it booted up with no Touchscreen drivers, so it's completely useless now. Tried installing from USB thumb drive, but the Windows setup application does not load Touchscreen Drivers. The Tablet is virtually unusable, so I took the mSD Card out and I'm using it in other device. I'm planning to replace Windows 10 in my Dell with something else. I've literally spend more time troubleshooting the machines I upgraded to Windows 10 than actually using them. It's pretty frustrating, but everytime Microsoft puts an update out Drivers, Permissions, Apps, etc. get completely wrecked and I'm forced to do Resets, and now even that isn't working proper, and is breaking things at the most fundamental levels. I just cannot deal with it anymore. The tablet wasn't super expensive, so I don't feel like it was that big of a loss. But I can't use this OS anymore. It is way too Beta-quality for a Daily Driver OS, IMO. Something is seriously off when even the Recovery Mechanisms in the OS breaks the machine.

-Received in Egypt on my ASUS transformer T100TA. -All minor gliches and major ones are now gone. -Amazing battery life improvement -Well done Microsoft!

Odd. All I do with my PC was play flash based games on Facebook for a few years now. The sad part is i've made in-game purchases. With the update, I can't play any games at all. I tried edge, IE, Chrome and Firefox. All of which does not play Facebook flash games anymore. I used my windows 8.1 laptop and there were no issues with flash games. Any idea if there's a fix for this for windows 10?

I have insider build 565 and cannot update to 586 can I use the media creation tool to do this or some other means?

I have insider build 565 but 10586 will not install -- can I do this with the media creation tool or what other means? Thanks.

When did automatic save of screenshots (pressing print or alt+print) arrive in Windows (actually OneDrive)? Anyway, I love it.

Where is the update? It's been a week and I see no updates available. Do I have to download it from somewhere else than the update centre?

upgraded via automatic update , firstly camera was not working , brightness was not working , updated the drivers and its fine but auto rotation is broken in tablets . If any one have suggestion how to fix auto rotation issue , there is no tile or option of auto rotation.

The November update installed automativally despite my PC being set to notify so that I could let it update at a convenient time, not in the middle of working. It then reset my browser to the appalling Microsoft Edge and lost wireless network keys. What else has it changed without my permission? At least it left StartMenu X as my menu system.