Windows 10 build 10565: Everything you need to know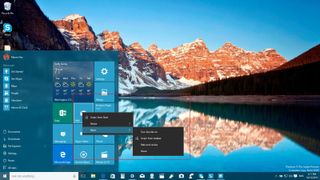 On October 12th, Microsoft began rolling out Windows 10 build 10565 to the Fast ring. The newly released build includes new changes and improvements on the Start menu, desktop environment, Cortana, brand new apps, including the Messaging, Phone, and Skype video apps. Also, there are new enhancements for the Microsoft Edge web browser and a lot more.
It's also worth to point out that not too long ago, a new leak of Windows 10 emerged on the internet, giving us a glance of the progress the software giant was making for the operating system. However, as we have done in the past, we're going to focus on the official changes that appear in Windows 10 build 10565 since build 10547. This way we can keep official and unofficial changes apart, even though some of the changes found in the leaked version of Windows 10 also appear in the new official release.
We're expecting all the new changes to be part of the Windows 10 Threshold 2 update, which should arrive sometime in November. Now without further ado, let's dive deep into the changes.
Windows 10 build 10565
Start menu
In the new pre-release version of Windows 10, the company is keeping the Start menu intact, but it's improving the context menus. In build 10565, you can now right-click a Live Tile or an app from the left side to see the new wider context menus with new icons.
As we have seen in the leaked version of the operating system, the File Explorer button on Start includes a new updated Jump List with a "More" menu with different options.
You can now also pin contacts to the Start menu as well.
Cortana
Cortana, Microsoft's digital assistant, gets updated with a few nifty features. In this new build, Microsoft is adding the ability for the assistant to recognize your handwriting. If you have a touch-enabled device, you can launch Cortana, click on Reminders, and now you will see a new button. It allows you to use your stylus to write on the screen and set new reminders based on locations, times and numbers that she can understand from your digital annotations.
Another change might not be obvious, but many users will appreciate the addition for Cortana that helps you track movies, event reminders, and other entertainment related events. In the new update, the assistant will track your booking for movies and ticketed event through your email confirmations.
Even more, two-hours prior of the event, Cortana will provide useful information to get to the venue and even an option to get an Uber car.
Under Cortana settings, users will also see two more options. It includes Missed call notifications to allow the assistant to notify you if you have missed any calls from your phone and Device search history, which lets Cortana improve search on devices where this option enabled.
It's worth noting that there is a new Save me power when Cortana knows I am away option that appears on Settings > System > Power & Sleep. It's still unclear if the option will be available for everyone, as the option only has appeared on Surface Pro 3.
Taskbar
We're not exactly sure if this is a permanent change, but the new build goes back to the previous minimalistic white icons instead of the more colorful icons for apps we have seen in Windows 10 build 10547.
In the notifications area, you will also notice a new icon when connecting and USB peripheral.
Desktop
In Windows 10 build 10565, Microsoft is making some improvements around the desktop environment. Now, File Explorer and apps have a more prominent color in the title bars that matches the rest of color scheme from your current theme.
Slowly, but surely, Microsoft continues replacing old icons. Now there are new icons for the Registry; mouse, sound, keyboard, and Devices and Printers in Control Panel.
Settings app
Microsoft is also including some improvements for the Settings app. In this new official pre-release of the operating system, we continue to see that Microsoft is moving more elements from Control Panel over the Settings app.
System
In System > Display, users will notice that Microsoft is testing to save and apply settings automatically. In the new build, if you need to change the DPI scaling settings, you can simply use the slider to set your preference. Changes will now apply automatically without you needing to click the Apply button. You will still need to sign-out and sign back in to complete adjusting the settings.
Also, when you open Settings (Windows + I keyboard shortcut), and navigate to System and then About, you will notice the "Windows 10" logo, which changes colors as you change the system color scheme.
We have seen this change in a leaked version, but it seems that Microsoft will finally allow users to install new apps on an external storage. Insiders can see the setting enabled when going to Settings > System > Storage and under "Save locations". We're still unable to move existing installed apps to an external storage, but we might see this feature in future updates.
There is also a new option on System > Offline maps. In build 10565, the software maker is adding the ability for users to choose the default location to save offline maps -- but on my test installation, the feature doesn't seem to work.
Devices
On Printers & scanners, Microsoft is introducing a new option called "Let Windows manage my default printers," which is a new option to make your default printer the last printer you use. The option is enabled by default, but you can always go to Settings > Devices > Printers & scanners to disable the option.
Microsoft also said that it has removed the ability to set a default printer by network locations.
Accounts
Also, we can see that some of the changes we have seen in the previous leak from the operating system regarding accounts management are coming to the official public release. In Settings > Accounts and under Your email and accounts, you will now see that Microsoft is adding a new Email, calendar, and contacts section.
In this new section is a new centralized location for users to add different accounts they want to access email, calendar, and contacts with the Windows 10 apps. This feature is similar to adding a new email account inside the Mail app.
The Other accounts you use section has been renamed to Accounts used by other apps, which makes more sense for users to understand the purpose of the option.
Update & security
Perhaps the section with the most interesting changes is happening in Security & update.
Windows Update: In Windows 10 build 10565, Microsoft is adding some changes to "Security & update". For example, in Windows Update > Advanced options, users will find that option to change your Windows Insider flight has been updated with a new slider, instead of the drop-down menu.
Activation: The Activation section now has a Product Key entry to show how devices are activated. If you're taking advantage of the free upgrade offer, you will see the message "Windows 10 on this device is activated with digital entitlement".
Also, the new status message is not all that Microsoft changed in this build. After some feedback, the software maker is now making it easier for users to activate Windows 10 using the free upgrade program.
Starting in Windows 10 build 10565 and later versions, users will be able to activate Windows 10 using their Windows 7, Windows 8, or Windows 8.1 product key that they have previously used to activate the operating system on the same computer. Additionally, if Windows 10 doesn't activate automatically, users can now easily go to Settings > Update & security > Activation, and click the Change product key button to enter the product key and complete the OS activation.
Furthermore, you can also do a clean installation of Windows 10 by using a bootable media. You can now enter the product key you used to activate Windows previously in the qualifying devices.
This is a welcome change for users, as this is how activation should have worked from the beginning.
Find My Device
Similar to the Windows Phone operating system, Windows 10 for desktop now offers the Find My Device feature. The new feature (with permission from the end-user), will allow Microsoft to save periodically the GPS location where the device is being used. That way, if you lose your device, or your computer gets stolen, you will be able to see the last known location in your Microsoft account.
To enable this feature, you need to go to Settings > Update & security > Find My Device, and click the Save my device's location periodically to turn on the option.
It's important to know that Microsoft is still working on this feature, as after I have configured my computer, the option to find my device doesn't yet appear in my Microsoft account.
For developers
This section remains practically the same. The only change Microsoft is adding some new description for each of the options.
Finally, there is also a new color splash screen when launching Settings that matches the current theme color you're using.
Apps
Windows 10 build 10565 also introduces a few new apps that Microsoft plans to release as part of Threshold 2. In this new build, Insider will finally get the messaging apps powered by Skype. We have been waiting a long time and the Messaging, Phone, and Skype video apps are now part of the operating system.
Although, we have seen the apps on leaked versions of Windows 10, the early preview of the apps works a little bit better.
You can launch the Messaging app and send text messages to anyone in your Skype contact list. You can include emoji, and send photo or video, a picture using your webcam, share your location, and even send a voice note by pressing the paperclip icon when you're typing a message. However, at this moment, there isn't a section for settings.
Another important feature is that you can send quick replies when you get a toast notification of a text message. You can even send a quick reply from Action Center.
There is also the Skype Video app, which is part of the messaging solution the software giant is pushing on Windows 10. When you launch the app will automatically start your webcam of a yet pretty basic user interface. One thing I notice that making a video call now has a slightly different Skype sound.
Users will find the first preview of the Phone app also powered by Skype. It's still a pretty basic app, and it's not working very well. In fact, all three apps are still in their early days and users will notice a lot of crashes and lack of features.
Finally, in build 10565, Microsoft is bundling Sway, which is a storytelling app for work or school that makes fast and easy to create and share presentations, reports, and more with other people.
Microsoft Edge
The new Insider build for PCs also brings improvements to Microsoft Edge. The version has been bumped to 23.10565.0.0 and includes the new Tab Preview feature. It allows users to hover over open tabs, getting a thumbnail preview of a particular web page.
Another interesting addition is that now Microsoft Edge syncs Favorites and Reading list items across devices. You will find the new option in the browser settings, under Sync your content.
Other small changes include:
New icon for the web note button.
Now clicking on any of the buttons on the top-right corner of the app will be underlined.
The F12 tools docks into the main window, just like Chrome and Firefox.
"Favorites" gets a settings page.
There is a new Change button to change the default search engine.
If you're wondering, this build doesn't include an early version of extensions.
Extras
Finally, in build 10565, background audio should work when you minimize Groove music, and the Windows Store apps should now update apps automatically. For more info on the things Microsoft fixed on his build, check our previous article.
Wrapping things up
Microsoft yet again is releasing a new build of its operating system that includes various good and significant changes. All the new improvements we're seeing today are also part of the Threshold 2 update, which should arrive in a few weeks.
Although, this seems like a great build, it's important to understand that Microsoft is pushing build 10565 through the Fast ring of updates, and it includes some known issues.
If you want to see more, don't forget to check our video tour of Windows 10 build 10565 as well!
What do you think about the new changes? Tell us what you think in the comments below.
Windows Central Newsletter
Get the best of Windows Central in your inbox, every day!
Mauro Huculak is technical writer for WindowsCentral.com. His primary focus is to write comprehensive how-tos to help users get the most out of Windows 10 and its many related technologies. He has an IT background with professional certifications from Microsoft, Cisco, and CompTIA, and he's a recognized member of the Microsoft MVP community.
It's confusing to have Skype for business and regular Skype. Are all these new Skype integration features only for the personal edition?

Not just trying to criticize here, but honestly: why don't they skip the 10 articles they do 5 mins after release ("Microsoft releases build xxxx";"Here's what's new in build xxxx"; "Here's what's fixed in build xxxx"; "Here's what's improved in build xxxx"; "Here are the known issues in build xxxx";etc, etc) and just take a little more time and do this article right up front, including what's new, fixed, and wrong? IMHO it would make much more sense, and I would maybe actually read the articles (this is the only one I've even opened out of their slew from this build.)

Because you people complain about everything, lol. Seriously. We're damned if we do too much or 'take our time', so you get it all. Sorry, just have to accept it.

Have you ever ​tried ​it? Like I said, I'm not trying to "complain", as you put it. It's just that anyone who really cares has probably already read the post from MS, so I thought it makes more sense to lump it all into one. Not saying stop reporting the stuff. It's just that the articles are usually only a minute or two apart, so why not stick it all in one. It's your site, do what you want! It was just a suggestion... And sheesh... I see I got downvoted for it... That's pathetic.

We have taken time to do bigger articles/video tours with more in-depth stuff and skip the small stuff....people said they were going to other sites/we're slow/'OMG what are you guys doing' in comments. I don't' get the big deal if we just do, like, everything. Simple rule here, folks, if you see something that does not interest you, just skip over it. If you want our full-featured what's new, just wait 24 hours. We can't be everything to everyone, sorry.

Yes, I do skip over it. It's just mildly annoying when my Twitter feed keeps popping with 20-line articles. So that's why I wondered. Thank you. That's exactly what I was looking for-- an explanation. (Not a downvote :P )

I open the app a lot during the day, to see what's up and do a quick read and maybe comment, because of work I can't read long articles or watch a video, with that said, I do appreciate those quick articles they keep me inform during the day about the stuff I care about ;)

Yeah downvotes are pretty easy to catch around here... :)

you are simply the best site. and yes we have seen those comments, every now and then, someone in the comment section will feel smart and that he has a cure to cancer, and he shares it imediatly. just a normal day here at windows central. on another, more important note, this build is very buggy, im getting BSOD every time i run a game. also thurrot was saying that there is an issue in some small devices like the venue pro... for some reason i think its the same issue i am facing with my laptop.

I didn't say I have the cure to cancer... It was an honest question as to why they do it the way they do. If that's "feeling smart" then I don't even wanna live on this world anymore.

I'm not talking about your comment specifically you do know that?

@taymur Ok. It just sounded that way, seeing as you posted it in response to mine...

Tab preview doesn't always work in edge. Often shows a black/blank preview.

I've noticed that Edge will sometimes lose what's in a tab, and when you first navigate back to it, it reloads the whole page - I think this is why the tab preview doesn't always work. Do you notice if the tab preview doesn't work that the entire tab reloads when you actually click into it?

As long as you show and tell, how EVIL CrApple is, and how far they are behind other brands, with their overrated products, and how they COPY everything from others(like they LOST a lawsuit against Wisconsin University for stealing their ideas, and have to pay nearly $1 Billion, and how they LOST so many more in Europe, Japan, and other Asian countries........), and pretend it was all their idea...... I'm good.

It takes time though. They posted this about 24 hours later, which IMO is impressive. Yesterday was the alert that it was coming/here, then there was the what's new, what's broken, which I think needs to be communicated faster than the deep dive like this article. Because of the "broken" post, I decided to go back to slow ring, so that was needed for me... Just my 2 cents...

Hmm... Good point. Though that's what I meant couldn't they wrap up the "What's New, What's Broken", etc. into one post since all they're doing is copy / pasting the MS post. But like said, it's not my site; it doesn't get run how I think it should.

You're doing a great job in my opinion, that's a great example of listening to your customers but filtering the crappy feeback at the same time....

Beacausee unlike you and many others, they don't know it all immediately. Always fun to listen to someone make a statement like "not to...(fill in the blank)" only to have them proceed to do just that.

That's it. I'm done. If this is how people are gonna respond when I ask a serious question, I'll go somewhere else.

Dont make a fuss over it. keep calm and just read what you like

Dont plan on reading anything here anymore. I'm ticked off right now. 1) Ask an honest question that ive been wondering for a very long time. 2) Get a bunch of downvotes by people who say you think you know everything. 3) Those same people downvote a bunch of your other posts because they cant stand that you asked a question. its absolutely pathetic.

Hey man, just my take. Perhaps the reason why you got downvoted is because people liked the way the staff runs things on this site. Just chill. You really need a thick skin on the internet so I suggest you grow one and try not to take things too personally and don't be afraid to call out someone if you think they've missed your point. OK?

Well I ​did tell people they were taking my post wrong... And got downvoted for that too. Ok, that's when, IMO, you say you disagree. Not downvote. Don't worry, I've participated in many, many communities. My point was simply this: out of all the communities I've been in, the best ones are always the ones where 1) Questions are answered politely, 2) constructive criticism is accepted, and 3) voting is not based on whether or not I agree with you. So what I was saying is that if this is a community where votes are dependent on whether or not I like what you said, not on the quality of the post, I have no interest in being part of it.

A downvote is to void posts like your which are ment in the forum not on the artical, talk about the product not about your worries and comlpains XD

As you probably know, "every mind is a world", Writers and editors can't make happy everyone. For me, a different article for every subject is perfect. As a non-native english speaker, it allows me to find exactly what I want to read without having to look for specific text that maybe I don't even know how it was written.

There are good and bad aspects to both methods, and questioning the use of one over the other does not merit downvotes.

More articles = More views = More ads views = More Money Is really that hard to understand?

I personally don't want them to change a thing. I appreciate the different writing styles and separation of impertinent content. Great summary of the latest build as usual!

@Esbe118, maybe put yourself in their shoes... Smh... They ain't super human.... Jeez.

Nor do I ask that they be. I was merely wondering why they do it how they do, not suggesting that they change. Maybe try putting yourself in ​my shoes rather than ignoring all my other posts explaining what I mean????

I still haven't received this build and I'm on the fast ring :(

I literally just started to download it 20 minutes ago, after a ton of Office updates came down to my Surface, this then appeared. None of those were appearing at all during the day at the office though - I think it's just taking a little longer than usual, but you should get it soon

Same, no matter what kind of troubleshooting I try, it absolutely will not show up.

I had to revert back to 10547 from 10565 due to my realtek Ethernet drivers didn't work. It wasn't recognizing it. Stayed on Limited.

Those colored taskbat icons look great... I hope they return.

Ehh.. I've gotta disagree. IMO They looked childish and legacy. I think these monochromatic icons look much sharper and more professional.

Yeah the colored ones blend too much. Like if your theme is red and even icons are red it's like you got one giant red screen. But there is good use for the colored ones when your taskbar is black. Posted via the Windows Central App for Android

We already have the minimlaistic tiles for them. I think it would be redundant and a bit dull to have the same minimalism displayed ont he taskbar. It would be nice if they wouls still have colored counterparts on the taskbar. They are not childish and in fact its nothing too exagerated: there are are 2 tonesof colours and still flat so still modern. I used to like most of them besides photos, and calculator. File explorer and Edge are already coloured so it doesnt get consistent at all.

"They are not childish." Still gotta disagree. An icon so simplistic with just several bright colors looks extremely childish.

Has anyone had any issues with the Xbox App bug? It seems like it could be a deal breaker for me, but curious to hear anyone's experience.

You mean where it can't sign in?

No, I guess there is a bug that if you have any x86 games installed, it can take gigs of memory when the app is open. Closing the app releases the memory, but... I use the app often to stream on my SP3 and am curious to what the impact is for having it open for long periods of time.

Ah, that one. Can't confirm atm.

Yep happening to me. Already reported it, it freezes the whole system here...

Ok, thanks for the heads up! Slow ring I stay then.

A couple things for people with Surface Pro 3's to try: - If you select "Show More Tiles", does it actually show more? For me, with more tiles off, I see three columns. With it on, I see two. - If you select "Switch to tablet mode automatically on sign in", does it obey the current keyboard state? For me, it always goes into tablet mode, regardless of keyboard state. - When you sign in, in tablet mode, does the start screen show or do you have to hit the start button? These seem like pretty big regressions, so I'm wondering if I'm the only one seeing it (i.e. I had a bad update along the way)

I am surprised there was no talk about "cast media to device". it seems like it's bringing what was available for immersive IE on windows 8.
Anyway this build seems g​ood. I hope this updates are released to people soon. especially the Edge updates.

As far as I can remember, that option has been around for a few builds. Thanks,

"and the Windows Store apps should now update apps automatically." Was it not already? :S

......Hopefully the Start Menu is more stable. And maybe I'll get my Store Icon and Microsoft Edge icon back........... >:O

"The Privacy remains pretty much unchanged with the exception that Other devices, now includes one more section: Ultra. According to the notes -- "these settings help to control which apps can use and communicate with devices and other apps around you"." There is nothing new here, Ultra should simply be the name of a device you've connected to your PC.

Little tidbit of information: It appears that the Windows 10 logo in Settings changes depending on your accent color. On the computer that's running Build 10565, my accent color is magenta, and in Settings, the Windows 10 logo is also magenta.

You're right, now that happened to me too. It just happened that my wallpapers have blue accent colors. Thanks,

Hi guys im new to windows central... But I use to reading updates... I have a small doubt... Why windows 10 releasing build versions still... It means windows 10 doesn't complete still or else what?

Erm... By "use to reading updates" do you mean you read about Windows 10 a lot? If so, is this a serious question?

It doesn't complete... It evolves.

Similar to previous Windows versions having Service Packs or Updates (Update 1) or versions, Windows 10 will grow with improvements over time. Who knows, maybe in a couple years it will still be called W10 but look very different. A bit extreme but nothing's improbable when increasing efficiency.

Windows 10 is out, but it'll never be completely finished. Something will always be changed. And we get builds to test it before others. Gives Microsoft more data. When all is well and ready, everyone gets an update for Windows 10 - I believe an update is coming in November (Threshold 2), and an even bigger update coming next year (Redstone). In short, Microsoft gives us builds, we give our feedback, Windows gets improved, people receive important update, everyone is happy. Except, you know, those that aren't...

Skype video app just crashes over and over again. Minor update to it came through but still just crashes.

Installing apps on external drive + install windows on external drive = new kind of flex working :D

The live tile for the People app is finally working!

From the Microsoft post on the new features, I got the impression Cortana would recognise potential events from my normal notes in OneNote too, and suggest appointments from meeting notes, like if you made a note to "Call Dave tomorrow morning to confirm" this would show as a suggested reminder, as well as actually writing directly into Cortana.

The best feature in this build is the one that prevents the release of any new mobile builds...

This build will not work an my Dell Venue 8 Pro. I saw it listed under the known issues on another site but not until I tried to install it. Something about the way it reports the display size. It did roll back very gracefully though after a couple of blue screens.

My Stream 7 was doing that, start the upgrade with the device in portrait mode and it works.

I have this build on my laptop, but Edge seems a little buggy - crashes easily. I can't get it to update on my Tab 8. Gets about 50% through, blue screens a problem and restorers 10547. I have seen a thread that many are having that trouble, so hopefully a fix coming soon.

This build is way better than 10547 (had no end of troubles with that aweful build) but there's still a few things that are just aggravating​ to no end. Half the time if you right-click on an app in the task bar you get...nothing. It's like you didn't even click. Groove will stop playing local music every few songs and complain about some xbox account. What the heck. Why do I need an online account to listen to my local music? There's still absolutely zero Favorites management in Edge. You can't edit favorites, you can't re-order them, and God save you if you accidentally drag and drop a shortcut into a folder on your favorites bar. (but hey, at least your irreparably screwed up favorites will be synced to ALL of your devices now). This is to say nothing of the 3-10 second delay before your favorites bar even displays when you first launch the app. This wouldn't be so bad if Edge would actually get updates between builds, but thanks to EdgeHTML being baked into the OS, that will never happen. (one engineer tried to claim they use Windows Updated to update Edge...haven't seen one of those yet either). And all of this is packaged nicely in an environment that is just way more "crashy" than the RTM build. I have to use the latest and greatest build for work, and because of my obsessive need to see what the latest and "greatest" is like...but man I wish it were more stable and usable. It's like death by a thousand paper cuts right now.

Hopefully they add OneDrive placeholder feature to Windows 10 as I had to downgrade to Windows 8

New Feature: Dynamic Window Resizing in Desktop Snap I just discovered my favorite new feature of Build 10565. Now, if you have two windows snapped side-by-side in Desktop mode and you resize one of the windows, the other window dynamically resizes just like in Tablet mode. It uses the same handle-bar UI, which appears when you hover the mouse pointer over the edge of the window. This greatly improves the usability of Snap in desktop mode!

That feature first appeared in Windows 10 since build 10547. Thanks,

That is an awesome feature! Posted via the Windows Central App for Android

We're still unable to move existing installed apps to an external storage, but we might see this feature in future updates.

Actually, you can do that in this build. Under "Apps and Features", you can show the list of apps installed globally, or filter by drive, and you can click any Windows Store app and click the "Move" button to move it to another drive. (Traditional Windows applications appear here as well, and the buttons that appear are instead "Manage" or "Change" and "Uninstall", like you'd see on the classic list from the "Programs and Features" control panel.) Just like on Windows Phone, some apps won't allow you to move them to a secondary drive, but the option is there.

My windows update is not finding this new build

EXTRA PADDING IN FILE EXPLORER IN DETAILS VIEW WHEN IN TABLET MODE!!!! WHY HASN"T ANY WRITER COVERED THIS YET?????

A lot of these things were in the last build, weren't they? People app crashes as soon as I open it and messenger app won't even download.

My mail app hasn't gotten any new mail since Thursday (Gmail) and Friday (Outlook). Not sure what is up with it. I thought maybe the new build would have fixed it but no.

Exciting times ...continual updates thanks to re-doing windows in XAML

I need to know why it doesn't install on my Surface 3. It's failed installation 3 times now :(

i have noticed one more things - apps, that were designed to launch full screen are now full screen without the windows menubar (problem is, that some applications do not work then - e.g. dungeon hunter 5

So messanger is coming back or what? #skype is horrible

When MS will release a new build for mobile?

The most recent feedback to insiders from Gabe is that the current build is doing well in internal rings, and MAY be released this week - That's not a "promise" though as so many Twitter users (Not aiming this at you) seem to believe.

Can't use edge until there's an adblock. Sorry MS. IDK why MS is always so late to the game. We need extensions, Facebook has beaten Skype to the messaging thing, and when are they fixing onedrive. My tablet is currently useless.

Technically speaking I love the direction Microsoft goes and the services they offer, even if I leave privacy concerns aside. It is always surprising to see which features they come up with and how they implement new technologies. I am grateful for this and other articles written here, to keep me up to date on developments. My biggest gripe though is, that in spite of numerous complaints from all around the globe about the region-language combination that is imposed on us in order to use Cortana, Microsoft seems to steadfastly avoid any comment. Not even a statement that they do not want to do it differently. Just plain zero. Put yourself in my shoes.​ I am German, but live in Italy. If I have my pc and phone set to German, I miss out on local content and news. If I set it to Italian (which I do speak okay), and run into technial issues, finding solutions in Italian is terrible. Don't even let me go to the fact that many features and functions of Cortana are not implemented outside the US, and even the Bing webpage outside the US is quite barebone. For someone like me who cycles through 3 different languages daily, region-language lock is terrible. Therefore I find it hard to be ecstatic about new developments, as long as I will always be forced to walk 3 steps behind US residents. I do understand legal and content issues across the globe, but for me that's all the more reason NOT to couple the OS language to the content and region. It might work well for a huge region like the US, but for Europe it is a royal pain in the... (you may guess the last word ;-) )

Those colourful icons in 10547 were looking good. Why change it again?

They were trying them out for feedback, so definitely log some saying you want the colourful icons back - The first windows feedback notification that popped up when I launched the Mail app was asking how satisified I am with the icons in the taskbar, I think an obvious prompt to see if people respond asking for the colourful icons back

It always gives me to the blue screen of death at exactly 75% on my Surface Pro 3. Does anybody know why this would be...?

Doh! My Stream 7 is now 'bricked' using 10565 I did the install with the device in portrait mode and everything seemed fine. Then I enabled rotation lock and now it BSOD's on reboot; looking at how to recover...

Please let me know if you figure it out. I've got a similar problem, but on a large device. F8 and "holding SHIFT" won't get me into SafeMode.

I just saw someone mention that you can perform a forced-shutdown right as the bubbles-circle shows up beneath the Windows icon to get to Repair options menu on the next boot attempt. Can't verify this works yet, but I recently had a tablet locked up in a loop attempting to restore previous version during Windows 10 upgrade and wish I'd known about it then - if it actually works, of course. Saw it in a comments section somewhere (if I run across it again, I'll post a link); so, attempt to use at your own discretion and please let us know if it works of not, if you do. Update: found the tip here (in Step 7): http://forum.notebookreview.com/threads/m11x-r1-hybrid-optimus-driver-windows-10.781121/

Anybody else missing the new button to write a Cortana reminder by hand? I also don't have Uber or LinkedIn accounts under Connected Accounts. Almost as if my Cortana isn't getting updated as they've been released.

Good job from Microsoft,
bad job from Lenovo regarding the ThinkPad 8. The ThinkPad 8 is a terrible machine when it comes to insider builds.
BODs, rollbacks, corrupt Qualcomm WLAN and Bluetooth drivers (old drivers, not updated).. Would have expected better from Lenovo.

Nice to hear how Cortana is improving, would be nice if this Major selling point existed in New Zealand, so we're stuck with something inferior.

AND...Where is information about DRAG AND DROP as a new update in Microsoft Edge???

Can this release send sms via my phone?

I love that wallpaper! Where did you get it from?

What is the activation key?

Good job m$, but lets face it, Windows 10 wasnt really ready for release for another 6 months, they are still adding finishing touches and tidying it up, when released it was basically a stable beta.

Why are they making skype into two separate programs??? It was one... Instant msg and video. Now they are doing a separate program for video. Why, why, why???????

Now when I double click Microsoft Office files, windows explorer instantly closes and does not let me open the programs. Anyone experiences the same problem?

Im the only one that lost many of his Edge favorites items after this upgrade? Hmm what to do?

I have a very mini Skype window I can't resize. It's getting annoying when you "update" something only to break it. But hey, calculator is working just fine! Okay, Windows 10 is retail now. If this is what the preview program is going to offer then I'm ready to bail. More power to you guys who are willing to operate and tolerate multiple pc's for the sake of this supposed developmental program.

hmm, But I need edge to be touch optimised as well. I have favourites baer enabled, now everytime I try to tap the address bar, I end up opening a favourite site. I liked how IE metro worked, hover to preview the tab works fine for desktop use, tablet mode, how I am supposed to hover, either use the surface pen or mouse for this?? Pinning tiles on the start screen still sucks, no images just the "e" on them, makes it ugly. Full screen mode? I don't suppose it is there.

Anyone have issues with this build on the Surface Pro3 when docked (connected to two external monitors)? Once I installed this build I experience the following issues: Start Menu fails to launch or launches very slowly Windows explorer constantly crashes Edge is useless, no longer does anything, it will launch but its stuck Store launches but is stuck on the loading page Cortana does not launch I can't be the only one experiencing this issue? Unless there is a specific application on my surface that triggers it, so far everything works as expected when not docked.