Windows 10 build 10565: Everything you need to know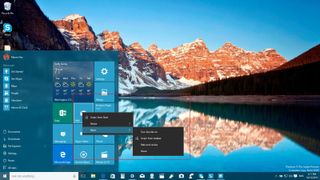 On October 12th, Microsoft began rolling out Windows 10 build 10565 to the Fast ring. The newly released build includes new changes and improvements on the Start menu, desktop environment, Cortana, brand new apps, including the Messaging, Phone, and Skype video apps. Also, there are new enhancements for the Microsoft Edge web browser and a lot more.
It's also worth to point out that not too long ago, a new leak of Windows 10 emerged on the internet, giving us a glance of the progress the software giant was making for the operating system. However, as we have done in the past, we're going to focus on the official changes that appear in Windows 10 build 10565 since build 10547. This way we can keep official and unofficial changes apart, even though some of the changes found in the leaked version of Windows 10 also appear in the new official release.
We're expecting all the new changes to be part of the Windows 10 Threshold 2 update, which should arrive sometime in November. Now without further ado, let's dive deep into the changes.
Windows 10 build 10565
Start menu
In the new pre-release version of Windows 10, the company is keeping the Start menu intact, but it's improving the context menus. In build 10565, you can now right-click a Live Tile or an app from the left side to see the new wider context menus with new icons.
As we have seen in the leaked version of the operating system, the File Explorer button on Start includes a new updated Jump List with a "More" menu with different options.
You can now also pin contacts to the Start menu as well.
Cortana
Cortana, Microsoft's digital assistant, gets updated with a few nifty features. In this new build, Microsoft is adding the ability for the assistant to recognize your handwriting. If you have a touch-enabled device, you can launch Cortana, click on Reminders, and now you will see a new button. It allows you to use your stylus to write on the screen and set new reminders based on locations, times and numbers that she can understand from your digital annotations.
Another change might not be obvious, but many users will appreciate the addition for Cortana that helps you track movies, event reminders, and other entertainment related events. In the new update, the assistant will track your booking for movies and ticketed event through your email confirmations.
Even more, two-hours prior of the event, Cortana will provide useful information to get to the venue and even an option to get an Uber car.
Under Cortana settings, users will also see two more options. It includes Missed call notifications to allow the assistant to notify you if you have missed any calls from your phone and Device search history, which lets Cortana improve search on devices where this option enabled.
It's worth noting that there is a new Save me power when Cortana knows I am away option that appears on Settings > System > Power & Sleep. It's still unclear if the option will be available for everyone, as the option only has appeared on Surface Pro 3.
Taskbar
We're not exactly sure if this is a permanent change, but the new build goes back to the previous minimalistic white icons instead of the more colorful icons for apps we have seen in Windows 10 build 10547.
In the notifications area, you will also notice a new icon when connecting and USB peripheral.
Desktop
In Windows 10 build 10565, Microsoft is making some improvements around the desktop environment. Now, File Explorer and apps have a more prominent color in the title bars that matches the rest of color scheme from your current theme.
Slowly, but surely, Microsoft continues replacing old icons. Now there are new icons for the Registry; mouse, sound, keyboard, and Devices and Printers in Control Panel.
Settings app
Microsoft is also including some improvements for the Settings app. In this new official pre-release of the operating system, we continue to see that Microsoft is moving more elements from Control Panel over the Settings app.
System
In System > Display, users will notice that Microsoft is testing to save and apply settings automatically. In the new build, if you need to change the DPI scaling settings, you can simply use the slider to set your preference. Changes will now apply automatically without you needing to click the Apply button. You will still need to sign-out and sign back in to complete adjusting the settings.
Also, when you open Settings (Windows + I keyboard shortcut), and navigate to System and then About, you will notice the "Windows 10" logo, which changes colors as you change the system color scheme.
We have seen this change in a leaked version, but it seems that Microsoft will finally allow users to install new apps on an external storage. Insiders can see the setting enabled when going to Settings > System > Storage and under "Save locations". We're still unable to move existing installed apps to an external storage, but we might see this feature in future updates.
There is also a new option on System > Offline maps. In build 10565, the software maker is adding the ability for users to choose the default location to save offline maps -- but on my test installation, the feature doesn't seem to work.
Devices
On Printers & scanners, Microsoft is introducing a new option called "Let Windows manage my default printers," which is a new option to make your default printer the last printer you use. The option is enabled by default, but you can always go to Settings > Devices > Printers & scanners to disable the option.
Microsoft also said that it has removed the ability to set a default printer by network locations.
Accounts
Also, we can see that some of the changes we have seen in the previous leak from the operating system regarding accounts management are coming to the official public release. In Settings > Accounts and under Your email and accounts, you will now see that Microsoft is adding a new Email, calendar, and contacts section.
In this new section is a new centralized location for users to add different accounts they want to access email, calendar, and contacts with the Windows 10 apps. This feature is similar to adding a new email account inside the Mail app.
The Other accounts you use section has been renamed to Accounts used by other apps, which makes more sense for users to understand the purpose of the option.
Update & security
Perhaps the section with the most interesting changes is happening in Security & update.
Windows Update: In Windows 10 build 10565, Microsoft is adding some changes to "Security & update". For example, in Windows Update > Advanced options, users will find that option to change your Windows Insider flight has been updated with a new slider, instead of the drop-down menu.
Activation: The Activation section now has a Product Key entry to show how devices are activated. If you're taking advantage of the free upgrade offer, you will see the message "Windows 10 on this device is activated with digital entitlement".
Also, the new status message is not all that Microsoft changed in this build. After some feedback, the software maker is now making it easier for users to activate Windows 10 using the free upgrade program.
Starting in Windows 10 build 10565 and later versions, users will be able to activate Windows 10 using their Windows 7, Windows 8, or Windows 8.1 product key that they have previously used to activate the operating system on the same computer. Additionally, if Windows 10 doesn't activate automatically, users can now easily go to Settings > Update & security > Activation, and click the Change product key button to enter the product key and complete the OS activation.
Furthermore, you can also do a clean installation of Windows 10 by using a bootable media. You can now enter the product key you used to activate Windows previously in the qualifying devices.
This is a welcome change for users, as this is how activation should have worked from the beginning.
Find My Device
Similar to the Windows Phone operating system, Windows 10 for desktop now offers the Find My Device feature. The new feature (with permission from the end-user), will allow Microsoft to save periodically the GPS location where the device is being used. That way, if you lose your device, or your computer gets stolen, you will be able to see the last known location in your Microsoft account.
To enable this feature, you need to go to Settings > Update & security > Find My Device, and click the Save my device's location periodically to turn on the option.
It's important to know that Microsoft is still working on this feature, as after I have configured my computer, the option to find my device doesn't yet appear in my Microsoft account.
For developers
This section remains practically the same. The only change Microsoft is adding some new description for each of the options.
Finally, there is also a new color splash screen when launching Settings that matches the current theme color you're using.
Apps
Windows 10 build 10565 also introduces a few new apps that Microsoft plans to release as part of Threshold 2. In this new build, Insider will finally get the messaging apps powered by Skype. We have been waiting a long time and the Messaging, Phone, and Skype video apps are now part of the operating system.
Although, we have seen the apps on leaked versions of Windows 10, the early preview of the apps works a little bit better.
You can launch the Messaging app and send text messages to anyone in your Skype contact list. You can include emoji, and send photo or video, a picture using your webcam, share your location, and even send a voice note by pressing the paperclip icon when you're typing a message. However, at this moment, there isn't a section for settings.
Another important feature is that you can send quick replies when you get a toast notification of a text message. You can even send a quick reply from Action Center.
There is also the Skype Video app, which is part of the messaging solution the software giant is pushing on Windows 10. When you launch the app will automatically start your webcam of a yet pretty basic user interface. One thing I notice that making a video call now has a slightly different Skype sound.
Users will find the first preview of the Phone app also powered by Skype. It's still a pretty basic app, and it's not working very well. In fact, all three apps are still in their early days and users will notice a lot of crashes and lack of features.
Finally, in build 10565, Microsoft is bundling Sway, which is a storytelling app for work or school that makes fast and easy to create and share presentations, reports, and more with other people.
Microsoft Edge
The new Insider build for PCs also brings improvements to Microsoft Edge. The version has been bumped to 23.10565.0.0 and includes the new Tab Preview feature. It allows users to hover over open tabs, getting a thumbnail preview of a particular web page.
Another interesting addition is that now Microsoft Edge syncs Favorites and Reading list items across devices. You will find the new option in the browser settings, under Sync your content.
Other small changes include:
New icon for the web note button.
Now clicking on any of the buttons on the top-right corner of the app will be underlined.
The F12 tools docks into the main window, just like Chrome and Firefox.
"Favorites" gets a settings page.
There is a new Change button to change the default search engine.
If you're wondering, this build doesn't include an early version of extensions.
Extras
Finally, in build 10565, background audio should work when you minimize Groove music, and the Windows Store apps should now update apps automatically. For more info on the things Microsoft fixed on his build, check our previous article.
Wrapping things up
Microsoft yet again is releasing a new build of its operating system that includes various good and significant changes. All the new improvements we're seeing today are also part of the Threshold 2 update, which should arrive in a few weeks.
Although, this seems like a great build, it's important to understand that Microsoft is pushing build 10565 through the Fast ring of updates, and it includes some known issues.
If you want to see more, don't forget to check our video tour of Windows 10 build 10565 as well!
What do you think about the new changes? Tell us what you think in the comments below.