Video tour of what's new in Windows 10 build 10565 for Insiders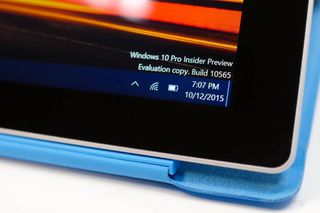 Earlier today, Microsoft released a new update for those on the Insider program for Windows 10 PCs. Build 10565 is now available for those on the Fast Ring and after a few hours, we are taking a look at what is new.
Interestingly, like other builds, this one contains many smaller changes not officially listed by Microsoft. You can see some of those in our video preview though for brevity, we'll add those to our changelog list below.
Windows 10 build 10565 – What's new and fixed
Cortana power savings: Found under Settings > System > Power & Sleep there is now an option for Save me power when Cortana knows I am away. We're not exactly sure what this feature does. However, it certainly sounds interesting. We should also note our Samsung ATIV Book 9 did not have this available although our Surface Pro 3 did.
Cortana Missed Call Notifications: Found under Cortana > Notebook > Settings there is not an option for Cortana to show you missed calls from your Cortana-enabled phone. This feature is obviously not working yet since it requires a Windows 10 Mobile update, but it is a nice sign of what is coming next
Skype messaging, calling and video experience - This is the previously announced ability to send and receive Skype messages from the new Universal Messaging app. Likewise, you can make video calls via the new Skype Video app.
Tab Preview in Microsoft Edge: In Microsoft Edge, you can now hover over your open tabs and get a preview of what's on those websites. Check it out and let us know what you think
Syncing Favorites and Reading list items in Microsoft Edge: In this build, you'll see a first look at the new syncing feature in Microsoft Edge that lets you sync your Favorites and Reading list items. We are still working on refining it, but definitely check it out and let us know what you think.
Cortana improvements: Cortana is able to intelligently understand your inked notes – setting reminders based on locations, times and numbers that she can understand from your digital annotations. We are also rolling out new features in Cortana to help you keep track of your leisure time, including movie and event reminders. Cortana will keep track of your bookings for movies and ticketed events through your email confirmations. Two hours prior to the event start time, you'll get helpful information to be sure you know where to go and get there on time, including an option to book and track an Uber ride directly from Cortana.
More vibrant title bars: Thanks to feedback from Windows Insiders, with this build you can now enjoy your title bars with a full color intensity that matches the rest of your theme. Title bars will now appear darker. You can adjust the color by going to Settings > Personalization > Colors. Colored title bars will appear only if "Show color on Start, Taskbar, Action Center, and Title bars" is enabled.
Improved context menus on Start: You will notice we have made some adjustments and improvements to the context menus on Start including new icons for tile adjustments.
New icons: We know Windows Insiders love new icons – this build has another batch of new icons for devices (check out Device Manager). Registry Editor finally gets a new icon!
Device activation improvements: We have received a lot of feedback from Insiders on making it easier to activate Windows 10 on devices that take advantage of the free upgrade offer to genuine Windows by using existing Windows 7, Windows 8 or Windows 8.1 product keys. If you install this build of the Windows 10 Insider Preview on a PC and it doesn't automatically activate, you can enter the product key from Windows 7, Windows 8 or Windows 8.1 used to activate the prior Windows version on the same device to activate Windows 10 by going to Settings > Update & security > Activation and selecting Change Product Key. If you do a clean install of Windows 10 by booting off the media, you can also enter the product key from prior Windows versions on qualifying devices during setup. Refer to the Insider Hub for more information on these activation improvements including requirements.
Managing your default printer: We are introducing a new mode that makes your default printer the last printer you used. This change helps ensure the best printer is preselected in inbox print dialogs. You can manage this behavior in Settings > Devices > Printer & Scanners to change this to the previous way Windows handled default printers. The ability to set a default printer by network location has been removed.
Drag and drop for file upload is now supported
You can now pin contacts to the Start menu from the People app: Yup, just like Windows Phone and Windows 10 Mobile, you can now pin individual people to your Start menu for quick access. Comes in handy for Messaging and Skype experience as those are linked to the People app now.
Background audio playback works again when apps like Groove are minimized - This was an odd bug where if you were playing music in Groove and minimized the app, the sound would go away. Thankfully, that is now fixed in this release.
Windows Store apps should now be updating automatically - Another annoying bug of the last Insider preview is now fixed.
There are likely many other smaller new things we have not come across yet in this new build, so if you see them shout out in comments.
Once again, many of these features should be available to non-Insiders in a general rollout expected in the coming weeks. Microsoft should also be updating Store apps for core services likes tonight's Photos Apps, which will deliver new features as well.
So far, we're quite happy with this latest release, but it will take a few days of testing to see just good it is. Let us know what you think in comments!
Need more? Head into our Windows 10 and Windows 10 Insider Preveiw forums to share your experiences, or to our Windows 10 help and how to page for more tips and tricks!
Daniel Rubino is the Editor-in-chief of Windows Central, head reviewer, podcast co-host, and analyst. He has been here covering Microsoft since 2007 when this site was called WMExperts (and later Windows Phone Central). His interests include Windows, Microsoft Surface, laptops, next-gen computing, and for some reason, watches. Before all this tech stuff, he worked on a Ph.D. in linguistics and ran the projectors at movie theaters, which has done absolutely nothing for his career.
Join in a insider program.

This is really annoying. It absolutely will not show up as an update in my Windows 10 VM. All it does is show definition updates for Defender. Are they rolling it out slowly or what? It's starting to piss me off.

same here. Posted via the Windows Central App for Android

omg that's terrible, I would die if that happened to me /s It must be the worst day of anyone's life.​

My real laptop isn't seeing it yet either. So must be a slower rollout.

same. been trying to get the fast track for a week now after rebuilding a laptop but I never seen any updates

aaaaannnd as soon as I post this, I see the update.

I've seen mine since around 1pm

Anybody know why i don't see this update on my device? I'm running Windows 10 Education, my insider build is set on Fast and i still cant find the update. Posted via the Windows Central App for Android

Wow, some great updates in this build, enough to go Insider.

What about download files in an specific folder?

Cortana has a music identify button once you've pressed the mic to get her to listen.

Definitely looks like the phone will soon link to the laptop for a combined call/text experience. That will be most useful. Hope you can seemlessly take a call on the PC and then pick up the phone and flip to it and walk away.

So they didn't fix the mobile hotspot yet?

Yes mobile hotspot was fixed in the latest mobile update. This update is for the desktop side.

Awesome!!! Finally the long awaited Skype apps is already here, pretty basic at the moment but finally its here to be tested even its little late for any new features. People app is finally been featured in the video too!! XD Sadly its exactly similar to RTM version with only pinning people is the only new features as I've seen based on the video. Seriously, they need to nail this down before TH2 release and updated People app massively since it still looks alpha-ish, especially visually. http://microsoft-news.com/wp-content/uploads/2015/01/Skype-People-App-In-Windows-10.jpg
Ink support for Cortana is awesome too! I hope we will have more substantial ink support around the OS that has been not updated for new useful improvements for a long time. Lastly the negative one is that, I don't get it why as basic as full window animations is still not present to UWP (only close animations as I remember) while traditional win32 animations works just expected. It still jarring that UWP opens as if it was on Windows XP (no animations at all) or as if the animations are turned off.


So, I am on the offical path, upgraded my dual boot system to 10...so when will some of these features come down the retail channels ? When 10 was in the preview/beta, I didn't mind dual boothing but, when it's final, I want a stable version and not worry about bugs. SO, 10 is still buggy here and there and Edge is a POS, when will we get fixes/updates for the feature set/bug fixes from the newer builds ?

No one really knows though there have been reports of later this month or in November.

looking forward on using sync in edge.

Those colored Titlebars look so meeeh. I would rather if developers just started to color their titlebars properly instead of waiting for WIndows to do it, I mean it's not hard, and it would look nicer, why titlebars have to be white if something like blackmagic Fusion or Davinci UI colors are dark gray or "almost black", or back? interfaces like after effects, or premiere or lightroom, or Maya, etc... why can't they just take time to color the title bars to match their software? of course not all apps on store have colored titlebars matching the UI like xbox app, but it looks better when title bar matches like groove or mytube and others.

I'm also hopeing to soon see system wide Dark and Light options. At least MS are making it an option to have colored Title bars for those Developers that are too lazy to code their own business color into the app.

I like it. It's an adjustment. Like it bothers me a bit, but if it's gone, it bothers me more. Idk. I'm ocd. Posted via the Windows Central App for Android

It should be noted that the OS ignores those settings if you have your device configured for full Tablet Mode (which all my devices are). The Task Bar remains black and title bars gray. Personally, I don't care, but some might be disappointed.

can't wait for SMS and call function on my computer!!! to reply quickly via notification center with keyboard while working would be GREAT! I always ignore the sound signals, and then forget to reply for hours :D

Yeah that's what I'm looking forward to too and it looks like it's coming soon :-D

And taking or making calls on your pc, but going through the phone will also be awesome.

hey Daniel, the mug is so nice, is there any site where I can buy one of those? or is it like a special for editors

Got it from the Microsoft employee store online.

found it, there're more!! I'll order some. Thank you very much man!

Will Linkedin & Facebook integration be coming back to the people app? Still dont see the linkedin option in Cortana connected account section. Looks like good things for phone integration.

It's already there... I see my Linkedin and Facebook contacts in my People app (both on Mobile and PC). You need the Facebook app installed for facebook contacts, and for Linkedin it needs to be added to your 'connected accounts' on http://account.microsoft.com (It's like this because LInkedin ddidn't update their app in ages).

But I don't see my Facebook timeline nor Twitter in People app.

Finally the update is downloading, must have pressed "check for updates" 50 times!!

idk about any of you, this build is so much faster than the last on my aging hardware.

Cool stuff. Particularly liking this Cortana inking support for setting up reminders.

Can u explain why start menu context menu is still different? Posted via the Windows Central App for Android

On a Surface pro 2 (likely others) there is app that tells about warrant where to start with windows 10 etc for surface line.

The messaging app just keeps crashing when I try to open it... Frustrating because it is the part I was most excited about.

The update didn't go through on my SP3, and had to be reverted back my old version two times. Hopefully this goes through properly this time....because those changes seem nice.

I'd wait and see what people say about this build. This build was nearly unsuable for me on my laptop (and it isn't exactly underpowered or old, either). I won't risk my Surface Pro 3 being so unusable (see my post below regarding my experience). It could just be me! But, I suspect not. I go through all of the riggamarole to ensure clean installs, etc, when these occur. Even if this wasn't ISO, it was as clean as I can imagine.

So far Edge gets worse with each build causing my Surface 3 to randomly freeze up. I'd prefer it to crash instead of constantly freezing up the whole operating system.

As much as I'd hate to admit it, I agree. Edge is presently unusable for me in most cases where just before the past two builds I was able to use it exclusively (almost). Now, I'm reverting to 80% IE 20% Chrome (for work). %

Safely Remove Hardware icon in the System Tray has been updated too.

Well Done. Thanks for the build Wrap-Up. #ProduceGreatThings

I was really looking forward to testing some of the new features. Unfortunately, after upgrading my system ground to a near halt with disk utilization at 100% for hours. I went away for dinner and no improvement. I stepped away because I saw that Windows processes appeared to be indexing stuff for Cortana's use. I saw all kinds of file access that looked random enough to be indexing (process and files accessed had "cortana" infixes as well as frequent access of searchindexer). Unfortunately, it made the system unusable. Finally, it settled down somewhat enough for me to rollback. Many pinned apps were still present but their icons were empty and apps I tried to start such as Calc, Store, Groove just didn't do anything visually. I saw them in process explorer, but they didn't load up on screen for use. I installed 10565 on an Alienware 18 with i7-4910MQ, 32GB RAM, 1TB HDD, OS and cache on SSD. I reverted back to 10547 and in as soon as it finished (took a long bath reading news) the system was back to it's responsive snappy self. I would have liked the OS fix that allows background playing of music, it's a bummer apps like Groove can't play due to this bug. But, I just had to install TP. I might even revert to RTM over the weekend just to prevent these hassles. It's amazing how settled you get with new stuff once you have it - even if it isn't fully functional yet. Decisions, decisions. I hope others have better luck with 10565 than I had today.

I'm able to change where apps are saved to now. Wasn't able to do it before..

Are we going to send SMS over our computer? if our phone is connected with the computer by bluetoth? greetings Otto

It's looking like it's going that way , but wait for confirmation before looking forward to the feature. Missed call notifications make it seem promising, but it could just end up being notifications only

There is no reason we shouldn't be able to......... There have been apps on android that can do this for years now......all we want is a native way to do so without having to download and install a strange application from a third party developer..... All on our Windows 10 phones and pc's

The gorgeous full coloured icones (store, mail & calendar, groove, etc) now are gone ! :c

I know I'm disappointed that they are gone. The plain white ones look out of place since most apps have color in them.

Interesting, my try this in a VM as really don't want to mess up my o/s install again lol.

Hope cortana will be released to wider region when the actual updates come to Windows 10

Future of the left :) Go on Dan!!!!

Does drag and drop work on every Windows Store app or just restricted to Edge?

How do you mean? A developer can implement drag and drop in general, but I assume you mean something more specific like dragging and dropping a file into an app?

Exactly! Like playing music by just dropping files into VLC or attach an image to an email in Mail!

It works in every app now, but the Developer has to enable it (just like with regular desktop apps).

Very nice. I was looking for this since Windows 8.

I hope the new power saving option will save me a lot of power while I'm asleep, given that this comes to the mobile as well. Now I always have to keep my phone plugged in to be sure it has power in the morning. How about giving me a notification that I need to plug it in before going to sleep if it's not going last until the morning, not just when the power is below a certain percentage like it does now.

If it could also integrate with your MS Band,for those that have one, it could know when you've activated sleep mode and turn off notifications (except alarms) and enable battery saver so it's not syncing various things overnight that aren't needed

ouch those pinned contacts still look so wrong on the starmenu...

Wide and large tiles are now supported for websites pinned to your start menu. At least, some.

The phone connection features is what I'm excited about!!!

Not seeing this update yet unfortunately. Recently, for a few days I got tons of notifications about needing to verify my Microsoft Account, which I did each time. Hopefully not related to that. Those messages seemed to stop a couple of days ago and all working

Why isn`t Cortana available in India, even tough it was available in the previous build ? Now it`s showing Cortana not available in your region

Because they are making updates to the languauge packs. Gabe tweeted it's coming today.

Unable to install this build on my HP Envy running RTM. Keeps throwing a System Handler Exception error and restores the previous version. Any suggestions?

I've noticed that tapping the edge icon in the start menu while it is already open now brings up a new browser window in snap view. Any idea how to make it bring up the already open window instead?

Hi does anyone else have a problem with the sound on Asus notebooks after upgrading from Windows 7 to Windows 10. I got an Asus U32U and the quality of the sound is horrible and so low comparing with the sound on Windows 7.

Pinnable developer tools in Edge!!

How much it is, the approx. size of this build

I like that they've added extra padding to File Explorer's 'details' view when in tablet mode. That alone makes this upgrade worth it for me.

Updated to this build, and the first thing I noticed is that rightclick options open up deadslow from the start menu. It takes appr. 5-6 seconds to open up the rightclick menu for a tile. In the previous build I had no issues like this. Anyone else experiencing slowish right clicks from the start menu??

Another major update - Drag and drop has FINALLY been activated for universal apps (including Edge and Outlook Mail)

Really excited for these updates!

And it seems my whole Start Menu is going bonkers. It looks like I have the same issues again with non-responsive stuff, slow app starts and more. Luckily I can still restart the pc by right-clicking the Start button. Also, the CPU goes up to 100% when the Start Menu is non-responsive like this :-\

The new color change is a welcome.. uh.. change. I dont't like the old neon like theme colors.

Every device I've upgraded, the 'preparing to install...', 'restart now' sequence has hung. Had to manually reboot the device, go back to Windows Update settings and tap 'restart now'.

Edge now has the option to Cast to Device. Edge now has a nicer quick note icon. Start menu now has jump lists for tiles!... Really awesome!

My HP Stream 7 didn't take 10565, failures on reboot and it auto rolled-back to 10547

I'm having problems upgrading from Insider Build 10547. Update is stuck @ 95% then starts over. I'm trying to circumvent the problem by uninstalling 10547 & going back to RTM then try downloading 10565 again. Unfortunately, that requires resetting the PC. I'm currently @41%. I will update once everything is done.

I'm now at the installing windows screen with the blue ring...15% finished so far. Hopefully, I get to finish before I have to leave for work in 4 hours.

I'm still stuck in Build 10547. I always get an error after downloading the update. How to reset Windows Update?
Windows Central Newsletter
Thank you for signing up to Windows Central. You will receive a verification email shortly.
There was a problem. Please refresh the page and try again.