Windows 10 leaked build 10558: Everything you need to know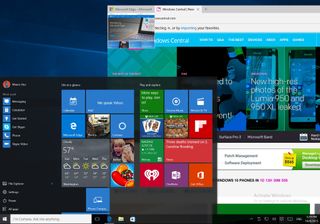 While we're not expecting Microsoft to release a new public preview of Windows 10 before its huge hardware event on October 6, from New York City. It's not stopping internal builds from escaping the walls of Redmond.
On late Saturday, Windows 10 build 10558 surfaced in the internet unveiling a number of features, changes, and improvements, that Microsoft is planning to roll out with the Threshold 2 update. That update is likely to arrive sometime in November. We're expecting Windows Threshold 2 to be a significant update, but we're not expecting to bring big changes. Instead, that is likely happening next year when the company rolls out the Redstone update.
This new leak of the two-month-old operating system finally includes an early version of the Messaging app powered by Skype. Additionally, Microsoft Edge gets new features, the Start menu gets a few improvements, the Settings app incorporates new options, and there are some new tweaks.
It's important to note that Windows 10 build 10558 is an internal preview that has been unofficially made available, but it's not ready for anyone to download and install on a primary computer. This means that it's not supported by Microsoft, and we don't recommend you use these kind of pre-releases.
Now, today we're going to go through the changes and improvements in Windows 10 build 10558.
Start menu
The Start menu in this leak remains pretty much identical to the version we see today in build 10547, but with the difference that Microsoft continues to work on the context menus. In build 10558, you will find an updated version for the context menu on Start.
Now right-clicking a tile on the left or right side will unveil an updated menu. This new menu is wider than before and integrates icons for the pin and for the resize options.
The File Explorer option on Start (above the Settings) also include a new updated Jump List, and with the addition of a new More menu with access to: "Manage", "Properties", "Map network drive", "Disconnect network drive", and "Don't show in this list".
Settings app
In Windows 10 build 10558, Microsoft is also adding a few new changes to the Settings app, which eventually will replace Control Panel in the operating system.
In the new leak, we're starting to see that Microsoft is bringing some elements for the old System properties. Now if you open the Settings app, navigate to System, and then you go to About, you will see the Windows 10 logo above "PC name".
Perhaps one of the major changes in this build is that Microsoft is enabling the option to install apps on an external storage in the Storage settings section. This option has been in the works a for a long time. We were expecting to see this feature with the release of Windows 10 back on July 29, but the company felt that it wasn't ready for everyone to use due to performance issues. You could see the option in the Settings app, but there wasn't a way to enable it. However, things are now changing, and starting build 10558, users can choose to install apps on an external storage.
This is a welcome feature. Users with tablets or laptops with limited storage space will be able to insert an SD card (when supported) and use the new storage not only to start data but as a way to get access to more apps as well.
When you go to Display, you're also going to find a new change. In build 10558, Microsoft is testing a new way to apply changes. If you use a display that needs to have the DPI setting adjusted, you can now use the slider to change the size of text, apps, and other items. You will see the change automatically without you have to click the "Apply" button. You will even see an addition link to sign out and sign back in for the settings to take effect.
We can also see some new changes when navigating to Accounts, and going to Your email and accounts. In this page, Microsoft is adding a new section and renaming another. Now when you go to "Your email and accounts", you will find the new Email, calendar, and contacts section. Here, you can add all the email accounts you want to have access to the email, calendar, and contacts. Adding a new account in this area is the same as adding a new account in your Mail app.
Then there is Accounts used by other apps, section that has been renamed from "Other accounts you use". Now this section is explanatory and users will be able to what it is for.
And under Update & security, it seems that there is a new Find My Device option. When enabled it allows users to track their device if they lose it, which is a similar feature we see today on Windows Phone. It doesn't work right now, but it should in the next build.
Image credit Twitter @gus330000
Desktop
The desktop in Windows 10 build 10558 remains pretty much unchanged, but users will notice that Microsoft continues to update the icons. You will see new icons in the Control Panel, such as the case of Devices and Printers, Mouse, and Sound.
Also, the software giant finally has updated the icon of the Registry.
Microsoft Edge
The new default web browser for Windows 10, Microsoft Edge, is also incorporating a few new changes.
The new version of the browser includes the new Tab preview, which is a feature that allows users to preview web pages without having to switch tabs making the experience a little better.
In build 10558, we can also see a new icon for web note feature, as you can see in the image above.
In the settings menu, we can also see that the "Favorites" feature has its own settings page. Just click the View Favorites settings to get access to the available options. Currently, you can enable or disable the favorites bar and import settings from other web browsers.
Changing the default search engine has also changed a bit, you now don't have a drop-down menu anymore, now you need to click the Change button. Other modifications include the ability to dock the F12 tools; you can open different instances of Microsoft Edge. Finally, in "about:flags" there is a new option: "Visible Render Control Characters" under Styling.
Messaging app
Yes! We finally get a first look at the Messaging universal app for Windows 10. In build 10558, we see that Microsoft is including the new Messaging app powered by Skype.
The version found on the leak is 1.9.26001.0. This app is an early build and it looks the same as the app for Windows 10 Mobile.
When you first open the app, it looks very plain and straightforward. If you want to start a new conversation, simply click the "+" button, then find and select one of your contacts, and start the conversation. You can also easily delete or find previous conversations.
Also, it appears that in the future there will be support for file attachments, as you can see the text message box there a attach file icon. Oh! And there is support for emoji, and when you receive a new message alert, you can reply to the message from the toast notification, just like you can do now though the Xbox Beta app.
Then, when you're in a conversation, you can click the button on the bottom right corner to start a "phone" or "video" call. Either button will start the new Phone and Skype Video app, which you can also start independently from the Start menu.
The apps appear to be very buggy as they crash quite often.
Phone app
Finally, late last night it was discovered you can install the Microsoft Phone app from Windows 10 Mobile on to Windows 10 PC.
Is it just a bug or a future coming feature to the OS? We're not quite sure yet. However, there are a few possibilities, including:
Windows 10 PCs may use your attached phone for calls and SMS
LTE-enabled tablets may be able to make phone calls
It is just for Skype Video calls
Right now, the app simply makes calls through the Skype Video app. However, Microsoft may tell us more tomorrow, October 6. We'll have to wait and see!
Wrapping things up
Windows 10 build 10558 has a few significant improvements since build 10547, which Microsoft recently released to insiders, and these are changes we're likely going to see when Threshold 2 rolls out to everyone. Microsoft is also planning a big event on Tuesday, and there is a chance the company will show off some of these new features as well.
How do you like the new changes? Let's know in the comments below.
Mauro Huculak is technical writer for WindowsCentral.com. His primary focus is to write comprehensive how-tos to help users get the most out of Windows 10 and its many related technologies. He has an IT background with professional certifications from Microsoft, Cisco, and CompTIA, and he's a recognized member of the Microsoft MVP community.
Perhaps tomorrow MS will release build 10.600 to both PC and phones.

It's unlikely there will be a jump in build numbers as that is typically reserved for releases or new development branches. But Gabe Aul did tease on Twitter that they would "have builds after the event next week" with build 10559 in the internal fast ring now, so that could mean as early as 11:30am EDT tomorrow or as late as Friday afternoon. I'm hoping sooner than later!

Putting the word Perhaps at the beginning of the sentence pretty much means this is something he is hoping for and not something he knows.

This build looks like threshold 2. Which leads me to believe Windows 10 mobile RTM will be threshold 2 for PC

Are you sure about that....

can you bring back peoplo hub syc facebook and twitter plesp

Can you please bring back Age of Empires? I miss it alot. Thank you Microsoft.

can you bring back zune for the ten of us that had it k thnx

The problem MS had with hubs were that the vendors like Facebook would be rahter hostile to these types of apps since they want you using theirs so they can monitize on your interactions and data. MS just finally gave up, and you can't blame them.

It would be nice if we could link gamer tags in People. I message people that way sometimes.
Also will there be a move to SD card function for apps? Or will I be forced to uninstall and then reinstall?

Sounds like a good idea to me too. Make sure you're submitting these kinds of suggestions through the Feedback app and upvoting similar suggestions!

I'm really hoping that the new messaging app pairs with windows phones and allows sending, receiving, and synching of messages including SMS across all devices.

Just like iPhones, iPad, and iPod which is great.... sometimes you need to copy.

Lol even my Nokia could do that with the Nokia suite.

Microsoft really need to try to be ahead of the curve and not behind it. Though I admit it is not a cakewalk.

Cool! That means if Microsoft implements it, it is not copying Apple.

Correct me if I'm wrong, but isn't iMessage only for communication between Apple devices and is not actual SMS?

Yes iMessage not actual SMS when using data between iOS/OSX devices. Just integrated into the same conversation UI.

I've been writing a Universal Windows app that does just that using the Bluetooth message access profile. I've already got the basics working, just fleshing out the UI, integrating contacts and trying to get background notifications working. Although it would be awesome if Microsoft integrated this functionality, it would be kind of disappointing for me since it means I've been wasting my time writing this app...

Sounds great. Looking forward to your app!

I started on a similar app. You are going to run into a problem with telephone calls as I found the API incomplete in this regard. Also keep in mind that hopefully Microsoft allows third party programs to integrate with the Messaging App, the same way that Skype has. That is the design they are going for, as it being a sort of central hub for chat services. Dont go too far down the rabbit hole as it seems like alot of stuff is still coming together in Windows 10.

Cool...Let me know if you need any beta testers

Bring back placeholders in OneDrive. It's pretty useless without it on limited storage devices, which is most devices these days, and goes completely against the cloud paradigm.

I want them back too, turning them on for very low storage devices can be a problem though. Think a 16GB tablet when you have 1TB+ of stuff in OneDrive - The placeholders start to take up a fair amount of space by that point....Not that I personally have that much data in OneDrive. Looking forward to placeholders coming back in general though.

I still don't see anything new for tablets that would make it better in tablet mode, Windows 10 has been terrible on tablets....bring back Windows 8.1 in tablet mode. There is nothing more stupid than a taskbar and a star menu on a tablet!

I've been using the regular desktop mode with multiple desktops and snap. It's better than tablet mode and since I have 8GB of RAM in my tablet(Dell Venue Pro 11), It works pretty well. You might want to try doing the same if you have enough RAM. Personally, I don't mind the task bar since I pin my most used apps, but I agree that the Start Menu is a pain on tablets.

Hide the start menu and pin your apps and it will work great as a tablet. I agree that the start menu is stupid even on a desktop. How is scrolling through a narrow list of apps better than seeing it across the screen and seeing a lot more apps without the need to scroll?

I cannot agree more. One of the many things keeping me from embracing Win 10 on the Surface 3. I'm still waiting for all the annoying glicthes to iroend out too.

The pace of bringing Edge up to speed is astonishingly slow. I'll begin using it again when it supports things like Lastpass.

LastPass integration (or any extensions for that matter) is the exact reason why I'm not using it as my daily browser.

Edge has a password manager. Is LastPass better in some way?

Edge doesn't sync passwords/favourites/reading list across devices at the moment. I don't use LastPass

The find my device is a much needed feature provided the devices also have that!

Is OneDrive fixed in that build or is it still running the downgraded Windows 7 sync engine??

Well it's not necessarily running the Windows 7 sync engine - That version was just the basis for the Next Generation Sync Engine that is shared/will be shared across OneDrive and OneDrive for Business. They haven't re-added placeholders yet though, I think we are looking at early next year for that.

Urgh, I hate that the Os is too white for me, on wp8.1 the light theme looks great and probably better than the dark theme, but on the desktop white or grey or whatever color it is, doesn't please my eyes.

There's a registry trick for maiking it a dark theme - works like a charm and looks great!

Are the emojis animated like they are on iOS and Android?

Probably not.... Are you nuts demanding apps parity from Microsoft on their own apps/services?? /s It will probably arrive next year as part of their Coming SoonTM update for Windows10

I for one can wait. I only hope the spinning emojis will be easy to turn OFF!

Hmmm. Looks like worthwhile changes. Things I am looking for: 1. Extensions for Edge -- I won't use it until it has them 2. Easy way to send/receive text messages for IOS device (I am an Iphone user) and Android. 3. Improved OneDrive Synch with placeholders -- Not really a big deal for me as OneDrive currently meets my (limited) needs. But reading about problems others are experiencing would make it worthwhile.


For point 2 I think we could see this for Android considering the open nature of the OS. I would say it would be good to have that work across all the platforms, but others will say it should stay as a Windows 10 Mobile feature only - I think they'd be better off continuing down the road of offering things cross platform. it's not enough of a feature to pull people into using Windows 10 Mobile, but it's a good feature to get people on iOS and Android using the features of Windows 10 in general
Obviously Apple restrict their similar features to iOS devices only, but Microsoft aren't Apple - I do think it will/should come to Windows 10 Mobile first, but the cross platform thing is going to work long term. I'm a Windows Phone user and don't have any intention of switching. Microsoft services going to other platforms don't both me.

The Phone app on a pc looks intriguing. I'd like to be able to make calls from my pc through the connected phone.

Or possibly with a headset from your Xbox... X-D

That would be cool if you were in the middle of a game and the call comes through directly to the Xbox. Don't expect to see it anytime soon though, but really hope things like that happen. I really want that seamless experience across my devices.

You needed to blur out "Ignore, just testing the messaging app"? We're on to you Windows Central crew!

What about giving Edge the possibility to save to another location rather than only the default folder?

I think I saw that mentioned in another article recently - The fact that Save as had been added (I think)

Any possible update to send attachments from file explorer by right click->send to->mail recipient.

i hope the Phone app will allow users to make phone calls using cellular data from their W10M Devices just like the same way apple does in OSX that's will be a great addtion to the OS don't you think ?

When will it be available for public???

Edge was supposed to include extension support, too if I'm not wrong.

For a while it was always going to be further down the line - Supposed to / will support existing Chrome extensions too

What would really like to see: flat explorer iconography, adjusting to the systems accent color.

On a side note, I notice you can now double click Videos in the Movies and TV app to enlarge the screen. Not sure when that came in but very welcome detail. My Mom, would love an option, to put text labels under the "buttons" in Skype and every other app that requires one to know what the buttons do. So many older folks just do not understand what the buttons do. It would be such a small thing that would accomplish so much.

It'd be nice to be able to make phone calls on LTE enabled Windows tablets. I'd like to be able to just make a call while I'm working on it on a table perhaps without having to grab my phone.

Windows 10 PCs may use your attached phone for calls and SMS

#Hype! This would be a KILLER feature for me.

Anyone, please tell me. Can user change system login background in this build? Or in previous builds.
Yes that blue Window to another picture!!!
Windows Central Newsletter
Get the best of Windows Central in in your inbox, every day!
Thank you for signing up to Windows Central. You will receive a verification email shortly.
There was a problem. Please refresh the page and try again.