Windows 10 build 10547: Everything you need to know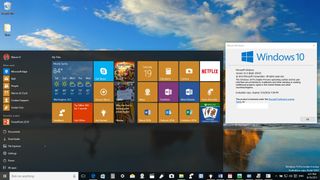 On September 19, Microsoft released yet another preview of Windows 10 (build 10547) to the Fast ring of updates for PCs. This release is the third build the software giant releases to Insiders and the one that shows more significant changes and improvements to the Start menu, Tablet mode, Lock screen, Microsoft Edge web browser, and more.
Recently, we have also come across a few leaks that gave us an early sneak peek on the progress Microsoft is making. These changes will be included in the Threshold 2 update that is likely to roll out sometime in November. However, today we're going to focus on the changes that appear in Windows 10 build 10547 since build 10532. These changes give Insiders a better picture of what has been altered after they have upgraded from the official pre-release build that Microsoft rolled out back in August.
Below you'll find the list with all the changes incorporated in Windows 10 build 10547:
Windows 10 build 10547
Start menu
As I have done previously, I'll begin with the changes in the Start menu. For the Threshold 2 update, Microsoft is working on improving the Start menu. Currently, users can have three columns of medium sized tiles, in build 10547 the software maker is allowing users to have a 4th column of tiles.
This is a similar option also found in Windows 10 Mobile. The company is now bringing it to the desktop to allow users to fit up to 4 medium sized or two large Live Tiles per group. This feature is optional, and it can be enabled by going to Settings > Personalization > Start and enabling the Show more tiles pill switch.
This new feature is available when using the normal sizes or the full-screen version of the Start menu. It's also a welcome addition as many users had complained to Microsoft about the waste of space when using the full-screen version of the Start menu.
Windows 10 build 10547 also increases the support of tiles on Start from 512 to 2048, so you can pin plenty apps to the menu.
The Start menu also includes an updated context menu for Windows apps. For example, right-clicking Maps or other apps, you'll notice the More menu that includes the options to: "Turn live tile off" and "Unpin for taskbar", and "Rate and review" and "Share", which are two new options, but they don't seem to be working at this time.
Tablet mode
Tablet mode (Continuum) is also getting a few improvements in build 10547. In this build, Microsoft is bringing additional familiarity from Windows 8. Now, when you use Task View on Tablet mode, you can now snap apps, replace apps already snapped, and swipe the app down to close, which will be very useful for those using tablets, in particular those using a Surface Pro 3.
You can view how this feature in action and some of the other changes in our hands-on video highlighting the most important features on Widows 10 build 10547.
Lock screen improvements
In this preview, Microsoft is rolling to Windows Insiders improvements to the Lock screen. When the operating system released back on July 29, the sign-in screen featured the default background Microsoft created featuring the Windows logo made out of light.
The wallpaper was well received, and it was also featured in the desktop, but after some time everyone will just get tired of looking at the same image again and again. This complaint is one of the reasons why we have themes and the ability to change wallpapers. Unfortunately, you could change the desktop and the Lock screen wallpapers, but you couldn't change or disable the sign-in screen image.
In the new build, Microsoft is adding a new option that allows users to disable the sign-in screen background. Disabling the experience, you will end up with a solid background color that comes from your current color scheme.
Nonetheless, you still can't change the images for anything else you might like, but it's just a preview, chances are the company will include the ability to set your custom image in later builds.
If you want to disable the sign-in screen image background go to Settings > Personalization > Lock screen and turn off the "Show Windows background picture on the sign-in screen" option.
Taskbar on Windows 10
While the Taskbar on Windows 10 remains virtually unchanged, Microsoft seems to be making a few improvements on app icons. In the new build, you'll notice that the software maker is re-designing the Taskbar icons for a few of its built-in apps. This is a move from a monochrome to a multi-color design using a light-gray instead of a white color.
It's worth to point out that not all the built-in apps currently feature this new type of icon design.
New icons
While we have seen new icons in Windows 10 around the desktop environment, Microsoft didn't replace every icon in the operating system. You still can find older icons introduced back in Windows XP.
In this new version, you'll find new icons in Control Panel insider Device and Printers, in the network adapter properties, Device Manager, and other areas.
Context menus
Windows 10 has been very inconsistent on the context menu design throughout different areas of the operating system. Since Microsoft launched Windows 10, we can see different context menus in the Start menu, on Microsoft Edge and the Outlook Mail app, in the Control Panel, and in many other areas.
Since Windows 10 build 10532, the company is trying to address this issue and in the previous build, Microsoft introduced improvements to context menus. Officially in Windows 10 build 10547, we continue to see improvements. For example, now we can see that Windows 10 is moving from a white background color to light gray color, which is similar to what we see today on the context menu found in Microsoft Edge.
Apps
We have seen in leaks, but now it's official, starting build 10547, Microsoft is bringing the same opening/closing animations from desktop applications to the Windows Store apps. This change further improves the experience between the modern and desktop user-interface.
In addition, Microsoft is releasing updates for some of its built-in apps, such as Photos, Xbox app on Windows 10 with a number of features and improvements, and Outlook Mail and Calendar apps.
Control Panel
We know that Microsoft is slowly moving away from the Control Panel in favor of the Settings app. However, the Control Panel in build 10547 includes a change. Now you will notice that the Theme options are back in the same way you used to be able in Windows 8 and Windows 7.
Settings app
Interestingly enough, the Settings app in Windows 10 build 10457 gets a good number of changes.
System
On System, there is a new difference for Multitasking. Under Snap, users will find a new a very interesting feature. Now, you can configure snap so that resizing an app will also re-adjust the size of the other app -- very useful for those working with multiple apps at the same time, and it works with desktop and Windows Store apps.
The option is called "When I resize a snapped window, simultaneously resize my adjacent snapped window" and default disables the option.
Devices
On Devices, the software giant is adding the new USB page, which enables a notification if there are any problems with a USB-connected peripheral.
The option is called "Notify me if there are any issues with the USB devices connected to my PC" and default enables it.
Personalization
In the Personalization section of the Settings app there some changes to the Lock screen and Start.
Inside Lock screen, we can now see that Windows spotlight is back in Windows 10 Pro. This is a feature that will let Windows 10 automatically change images on the Lock screen using Bing images and letting you provide feedback if you like what you see on the screen.
To enable the Windows spotlight, you need to go to Settings > Personalization > Lock screen and under Background change the option from the drop-down menu to Windows spotlight. (Refer to the previous image)
Inside Start, we now see that there is a preview area just like the other Personalization tabs, and in this section is where you can enable the Show more tiles option. As I have mentioned before, this option will add a fourth column to the group of tiles to fit up to two wide or large Live Tiles in the Start menu. (Refer to the previous image)
Finally, the "Occasionally show suggestions in Start" makes a comeback in Windows 10 build 10547. (Default disables the option.)
Accounts
In the Accounts settings, there aren't changes for home users. But if your computer is part of an enterprise, school, or another organization, you will notice that now there is a section to make it easier to sign in to Azure AD and there is a new "Enroll into device management", which you will use if your network administrator recommends you to enroll your device into MDM.
Privacy
We have seen the following features in one of the leaks of the operating system, but now they officially incorporated in Windows 10. I'm talking about the Email and Call History settings.
Starting Windows 10 build 10547, users will be able to control which apps can access and send emails or access your call history. You can enable or disable these settings globally or per-app. (Default globally enables the settings.)
Update & security
In Update & security, there is a new change under the Windows Update options. Now, when you go to the update Advanced options, you're not only going to find the option to stop getting Insider builds, but you will also find the Microsoft account you're using to get new builds, and you now have the ability to swap accounts by clicking the Change button.
You can change the account for one that it's already in your system, or you can add a total different Microsoft account.
Microsoft Edge
The default web browser for Windows 10, Microsoft Edge, also gets some important improvements. Perhaps the most talked about fix is the inclusion of support for Object Real-Time Communications (ORTC) API. Technology developed by Microsoft, Google and many other companies that allow real-time communication without having to require a presence of a plug-in on the web browser.
You can read more about this feature in our previous post.
If you want to demo this new feature, you can visit this webpage. But remember that you can only call US phone numbers and only for five minutes.
Other changes include a new option in the main menu that allows Microsoft Edge to cast media to devices.
There is an easier way to access to proxy settings from the "Advanced Settings" section of Microsoft Edge that open the proxy settings in the Settings app. In the advanced settings section, there is also a "Hide my local IP address over WebRTC" option, which was available in the leaked version of the operating system, but now is available for everyone. And the web browser gets bumped to version 21.10547.0.0.
Navigating to the about:flags (experimental features) users will also found a new Media Source Extensions section that allows to enable "VP9", which will let users play videos using the open source codecs developed by Google.
Text input
In this build, there are improvements in text input panel. Now the panel expands as you write providing more space in Latin languages, and the text input panel no longer opens automatically when you're not on a tablet.
Wrapping things up
Since Microsoft released Windows 10 to the public back on July 29, users have found many different issues. The company has been proactively working to fix many of the problems by releasing new updates as soon as they were ready. This ability is the Windows as a Service model.
Now the software maker is also working a more significant update, which currently we know as Threshold 2. The changes we're seeing today and more will part of the big update that is likely to roll out to everyone sometime in November.
The company has also addressed various issues in the operating system, which you can read more about in our previous write up.
What do you think about the new changes included in the new build? Tell us in the comments below.
More Resources
Need more help? Here are some articles and our forums to get you started!
Windows Insider Program - All you need to know
Get the Windows Central Newsletter
All the latest news, reviews, and guides for Windows and Xbox diehards.
Mauro Huculak is technical writer for WindowsCentral.com. His primary focus is to write comprehensive how-tos to help users get the most out of Windows 10 and its many related technologies. He has an IT background with professional certifications from Microsoft, Cisco, and CompTIA, and he's a recognized member of the Microsoft MVP community.