Hands-on with Windows 10 build 10547's three new features!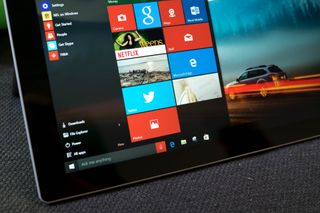 Earlier today, Microsoft released Windows 10 build 10547 to those Insiders on the Fast Ring. With the update, comes many new fixes, improvements and even a handful of new features. Even Edge got many new improvements, which are listed in a separate changelog.
Check out our hands-on video to see three of the new features in this build of the OS. They include:
Show more Tiles – Users can now show up to four columns of Tiles on their Start Menu (or two wide tiles side by side). This feature is familiar to Windows Phone users, and now those on Windows 10 can see more tiles, which looks great
Better app snapping in Tablet Mode - You can now snap apps to left and right, replace a previously snapped app with another (Teeter) and swipe down to close an app. This improvement should help out those on tablets, although our teeter would not work on the Surface Pro 3.
Disable Login Screen Background – Although you cannot customize the Login screen's background – yet – you can now disable it. Doing so sets the login screen to a single color that matches your Accent one Overall, this update looks to be quite solid. We still need to use it for a few days though to see if there are any major issues. As usual, Microsoft has listed what they already know is broke, and you can find that resource and others below.
Sound off in comments what you think of build 10547 so far!
More Resources
Need more help? Here are some articles and our forums to get you started!
Windows Insider Program - All you need to know
Windows Central Newsletter
Get the best of Windows Central in in your inbox, every day!
Daniel Rubino is the Editor-in-chief of Windows Central, head reviewer, podcast co-host, and analyst. He has been covering Microsoft since 2007 when this site was called WMExperts (and later Windows Phone Central). His interests include Windows, laptops, next-gen computing, and for some reason, watches. Before all this tech stuff, he worked on a Ph.D. in linguistics, watched people sleep (for medical purposes!), and ran the projectors at movie theaters because it was fun.
IMO they should have waited until the original October release date to release rtm instead of trying to hit the back to school buyers.

That's what I'm really thinking since, it would be more "complete" than what we have with RTM. Too many things are not done which feels beta. Now before we go to "Windows will never be done" marketing speak, thing here is the proportional between the new features and changes plus how many things have been removed from Windows 8.1. Many of these features that introduced aren't new or even a 'groundbreaking', since these are features that should've been remained and not removed at launch. This is why Windows 10 looks not too significant from Windows 8.1 because of feature regression. Yes, there are indeed improvements and that's the fact, but it balanced out because of missing features thus making it so-so. Now I'm glad that some of the few features removed are coming back, still have long way to go but yeah at least its a good step right now.

Windows 8/8.1 aren't MSFT main users targets, Windows 7, XP, etc are (Desktop users aka Windows8 haters). However MSFT have Cleary stated & explained during Build 2015 and on them official sites/blogs Windows 10 milestone, so we know exactly what we're gettin in released date and we'll mostly get in FALL Threshold. Do you know that many if not the majority of Windows 8/8.1 those who had registered for free upgrading still haven't received the upgrades yet. Anyway I like what they're doing that to let loyal, enthusiast users & MSFT fans help them build Windows 10, heck we're getting what we want, like and asked for.

That is why I'm already sad when I get that news before, where they bring back features removed. This is why Windows 10 is mainly what it is since its first introduction (Task View, Snap Assist, new Start menu/screen, Windowed Modern Apps) minus Action Center, Cortana and Continuum, which we're the only major things that added later. Still great features, really do. Now even TH2 is almost there, not all. OneDrive Placeholders for example is missing, Start screen experience is just a literally glorified Start menu and You can't snap more than 4 quadrants (Win8.1 can snap more apps horizontally, though only for Modern Apps). TH2 animations is still incomplete and when on Tablet Mode, the Task View animations as shown in the video is kind of not right, awkward. Fade when accessing Task View and they don't have seamless zoom animations as the desktop mode do, which is weird really but not even surprising since they even manage to forget basic window animations at the first place. Speaking of window animations, only close animation is present while opening is still missing. Heck even Windows 7 feels really complete at its state, fully animated and virtually consistent everywhere. So looks like TH2 based on the schedule, still won't reach being completely poslished and returned features removed. At least they did some but not all. So there will be a long gap which will be the Redstone, which looks like the messiah we've been waiting for which may finally get removed features returned (hopefully even better), completely polished (virtually every UI issue that are obvious down to not-so obvious, except things that are really deep in the system which we don't even know exist), and of course another completely new features especially some long awaited ones like Interactive Live Tiles. At least we get Insider Preview program which is awesome. Though I hope they will organized the Feedback app soon, still looks mess and hard to discover some feedbacks.

Windows 10 added so many features that honnestly exccept for few "half empty glass" users (which will always find a reason to feel frustrated) it doesn't really matter. Win10 is worth the upgrade from 8.1 just because the application management is the same for Metro apps and legacy apps, which makes things so simple and efficient for Matro apps lovers. This alone changes everything, because it makes Metro Apps finally easy to use for everyone, while so many users complained for not being able to understand why some apps where in full screen and managed in one way, and other apps where only in the desktop the old school way. The only real issue I have with this new OS is battery consumption on mobile devices even if it is better than what it was.

A step in the right direction. Next step : allow as many tiles in a group as a user wants.

The nation wants to know why need unlimited tiles?

More customization, what else?

So that there will be no limitation on how we configure Live Tiles? There are some cases that you need less (3) or more (let's say 8 if you got large ultra-wide monitor).

It would be really cool if we can have different tile groups with different lenghts. This could be easily achieved by having an option to insert/remove separators - the way we used to customise the toolbars in some win32 applications. And this should be under an advanced settings dialog, so that the average Joe isn't confused.


This would be a problem with syncing the Start layout with Windows 10 mobile in the future.

They'll just have to rearrange it, like WP8.1 currently does when you turn off "show more tiles".

Synching Start Layout with mobile is stupid anyways, as there are Mobile apps that aren't (and shouldn't be) available for Tablets and Desktops, like WhatsApp for example. If you have that pinned on your phone, what is Microsoft supposed to do with that spot? Just pretend the app isn't pinned there and Sync a jumbled-up layout to your other devices? A lot of people never synced their start screen between PCs in Wnidows 8 becasue depending on the PC, you could have 3 or 4 row-high start screen which completely broke your layout if it was synced to a device that differed (i.e. a large display with 1080p resolution would have 4 rows while a 768p 15.6" laptop would only have 3). So people kept it turned off, anyways.

They've already stated that Start screen syncing is never going to happen.

and i dont see why considering 8.1 did it just fine.

Wait. Why shouldn't WhatsApp be available for Tablets or Desktop PCs?

Because Whatsapp is not working on those devices.

but whats wrong with the case lets say...your phone paired with or in the same network with your tablet or pc and you login to whatsapp and use it from you pc? it should work just fine. why should i use my phone, when im phone and i do my everything else work on my pc?

Well Start layout is stupid since instead of fixing the problem, now they just outright removed it altogether. If there is an app that are not available between W10M or W10, then well yeah those won't be pinned, thus it will be blank space that maybe Live Tile beside it will just fill that space. I think to solve this, the syncing should be bit smarter. The layout are synced across your devices that have sync enabled but after they synced, your desktop that don't have the app will be still missing and there should be an optional auto-layout to fill the gaps, if turned off then its just a space. While your W10M will have same exact layout even you change something on the desktop, since the server knows that your Desktop doesn't have the app on the first place, thus won't be synced specifically that area. This would apply also if there isn't a mobile app version of an app. Another thing to solve is when you want different rows which is indeed have different screen sizes and different column configuration (Phones will have from 2 to 4 tiles while tablets and desktops will depended on screen size and resolution). This is really tricky since normal will just literally broke on either of the devices. So this can be solved by the server, so it will decide which specific layout will be synced for your all devices, which is already doing in MSA. This is not trying to sync the whole layout, rather it syncs per group (if W10M got one) and Live Folders (if available also on desktop). Then if Tiles can't fit inside the group because its got smaller column configuration, it will make try to make the tile smaller and refill the gap with other Tiles below in the same group. This is indeed difficult to solve and requires alot of "IF ELSE" scenarios which will be done on the back-end. In short Sync should be smarter and Start should be really fluid and flexible.

Well literally if we think it will be same implementation, yeah its an issue. This is why Start menu/screen should be smarter and flexible when managing its layout, not fixed. Also this is why we need both Grouping and Live Folders on both Windows 10 and W10M, so that syncing issue reasoning would be invalid. Example if one group of Live Tiles have like 8 medium tiles configuration. So on your W10M when synced (if enabled) and the device setting on your Lumia only got 3 medium tiles configuration, those 8 will reflow into 3 but still same Tile Groups and in same order as expected. What will happen is that you will just get longer Start screen in result, which its really up to the user how he\she arrange it or you can turn off the sync. Vice versa, from 2 medium tile configuration from phone, it can be synced to the desktop and make it 10 (if you really want to span across the ultra-wide monitor). So Start syncing is perfectly possible, we just need to rethink how it will work. Problems can always be solved as technically possible.

Would you ever use more than 200 tiles?

Indeed, its much more sensible to have flexible grouping than fixed 4 or 3. Also since I'm not upgraded to new preview build, I wonder if this won't leave with another huge space from left and right just like from earlier insider preview. This is a problem with 4 tiles configuration, which been solved by just making it 3 (which then limits the possible configuration alot).
I wished they will go further to that in TH2 (I doubt really). Also I want to add that the customization on Login screen background based form desktop wallpaper is really needed, and Login screen really needs tidying up and polishing since there are still alot of rough edges. Another thing those animations in Task View in Tablet mode, it really needs to have similar seamless animation from desktop mode. That fade and exapand from center animations really looks like Task View is in early stage of developement that feels not ready for public. Thing is very few suggesting this but I think its as important to make Windows 10 more complete as a whole.
Anyways, I wonder why the heck your comment is downvoted? Its actually postive. :/

new features are good and they Microsoft is going great!!! ​

I'm glad tablet mode is coming along. Intersted to see how that continues to evolve.

Hows trackpad gestures in Edge? Any improvements?

A few nice improvements. Also: Some apps now have a Jump List on the Taskbar (Edge, Photos), the Start icon is a bit larger in Tablet mode and Edge has a "Cast media to device" feature right in the app menu. Also a lot of built-in apps have new icons on the Taskbar like Calculator, Photos, Store and Mail. Colorful icons! Interesting but I don't like the actual colors they are using. Especially yellow for mail doesn't really fit IMO.

Nice! Slightly off topic, but I'm really enjoying how often updates are coming to the core apps independent of the OS. This is why I'm not worried that Mobile is not getting new features before RTM -- because that only refers to the core OS and not all of its apps.

Yes it's pretty much the most brilliant of all the advancements they have made on windows so far! The idea of decoupling as many components as possible from the core OS has practically liberated windows :-)

I've been able to have four medium tiles on a row for a long time.... Is this another A/B testing thing?

Must be the most I could do was 3

I think you will find HOME version allowed 3 and PRO version allowed 4 tiles. The 4 tiless makes it so much nicer using the start screen. Looks like they also have the 4 tile option in Win10 Mobile for lge screen devices so hopefully in the future we can sync our PC start screen with Mobile.

No, I have Pro and never had 4 columns. May be A/B testing as Benjer suggested.

Likewise. I had it at one point during the Tech Preview, but it went away in one of the builds.

Even in RTM? Yeah that's a long-time bug that hasn't been fixed, which basically allows you to retain the 4 medium tile configuration that has been introduced in earlier Preview Builds. So if you just updgraded from early builds with same User Account, yeah most likely you will still get the 4 medium tile configuration. Honestly they shoud've try to find that bug and fixed it since it could be a deep issue with new Start menu/screen that might get worse in the near future. For now it doesn't look serious. So in short that's not A/B testing, its a bug that hasn't fixed. So this new feature just reintroduced the old 4 tile configuration from earlier builds.

Implement interactive live tiles.... We were shown it 2 years ago!

I really don't want to get too much hope but I think we will get that in Redstone or worse after Redstone. It really required new API and Live Tile frameworks for developers to take advantage to their apps. About its how it will be implemented or how flexible, we still don't have any idea but so far we're basing the concept from Microsoft Research 2 years ago, and its already a high-bar so we got high expectations here. I hope they will not dare to dissappoint since they have a long time before Redstone, unless somebody from higher up decided to release earlier making the development and end-result rushed.

how about tiny blurry 24x24 icons in taksbar?

Change your Taskbar properties to show large icons.

I'm glad to see the tablet mode improvements.

I knew it! Daniel and Mark are really the same person ;-)

I didn't see the swipe to cose in the video... :c

Same. That's what I wanted to see because it seems like a weird thing to implement considering how open apps are laid out in the task view (two rows. One over the other)

the article on the main page reads "Windows 10 Mobile build 10547 is here! Not an Insider?" I can download the desktop version but there is no sight of the mobile version. I assume it's a typo?

When will Microsoft fix OneDrive??!!! It needs to be fixed for the November release. I need those online only files to show up on my laptop and I won't do that trick WinCentral posted here because it should be available officially.

Never. According to MS it is not broken. Works as intended. What you want may be introduced as a feature some time in the future, but right now, no fix, not broken. (PS, I agree with you. The loss of 'placeholders' is a terrible regression)

Indeed, its terrible. They really should make the return of it in TH2 and have the improved, btter version on Redstone. This is annoying feature regression that the only reasoning is because some users are confused using it (its optional), causing issue when opening files in some apps (fixable) and some using too much space of placeholder files (fixable and optional). Seriously the Placeholder feature can be turned off, they can make it optional really during OneDrive setup.

All the confusions with placeholders (and most other things) can be solved by adding a tutorial at first launch. It would have been easier too than to rewrite the application/framework/whatever it is. On a side note, I hardly remember anyone complaining about getting confused with placeholders, but am sure seeing a lot of people complaining about it's demise.

Now if we could just get Windows Spotlight for Win10 Pro.

It's there in this build! :D

I wonder why the PIN keypad still looks like a Windows/Phone 8.1 keypad. I'm not a huge fan of the Windows 10 Mobile keypad though either. It would be a thousand times better if Microsoft met us halfway. The Windows 10 Mobile keypad with thin lines dividing the numbers.

Yeah, it bothers me that those are still different, even though they're the same feature. I also desperately want support for apps updating the lock screen image like on Mobile.

@Daniel Rubino If i upgraded to windows 10 when it was available to me, can I still be apart of the windows insider? Or will that conflict?

Yes you can continue to be a part of the insider program, or join it, after Win 10 sortaRTM. I have one machine that I took out of insider, for stability, and one I left in for fun.

Next allow split screen in portrait

Top and bottom, or side to side?

Top and bottom would be nice and such an improvement.

Yeah, on porttrait the Top and Bottom snap is logical since you got more space vertically. This is a limitation we got since Windows 8 and we need to take advantage the portrait orientation. Not every case we need to stay on landscape.

Top and bottom is the best choice.

I think it makes the OS feel a little smarter... =P

Can you add live wallpaper to app screen

Chrome 32 bit I had installed didn't function after upgrading to build 10547. Downloaded Chrome 64 bit and it's working again.

Use Edge, Chrome eats your pc memory and your privacy.

Neither are great if you're paranoid about your privacy.

It looks like the spacing to the left of the tiles has been greatly reduced, is this only when you show more tile or is that in both modes?

I tried to enable it but HTML5Test still flags the WebM support over VP9 as not supported, that feature is still under development and I think it will be at least another couple of weeks before we can try it out. I mean, they just told us they were working on it a few days ago, so that's fine :)

How do you get the soft keyboard to only show the numbers when asking for a Pin? Mine shows the entire keyboard.

If you set a pin it will only show numbers.

@Daniel You can also choose the lockscreen Spotlight feature,which was absent from the Pro versions of W10. They might have activated it in the previous build but I just noticed in this one

Nah dude, spotlight wasn't in the previous build! They finally brought it over!!!

App snapping just sounds like a return to 8.1 like usage not a new feature. Next step for hte login should be to stop masking the user photo and make it bigger, hell just put it back the way it was damn it!

Sick of all these updates and bugs still in the os of win10, am away to roll back to win8.1

This is looking a lot better every build they release. Hoping to see more improvements (rather than new features) in the coming months so the experience could start to be like it should be in the official release.

Glad they brought back show more tiles. Next we need is horizontal scrolling back.

I cant get the update, check updates but nothing shows up :( (i just switched the insider previews on)

Same happened to me the other day, took a few hours before I was able to get the previews

The primary focus should be on reducing app loading time and a much smoother UI. And almost all 90% of the apps crashes on wp?

I have one new feauture.....BSOD.

BSOD is new for me in this build.

This build has made all the text in the hamburger menu/ all apps list comically huge when using start full screen. It looks awful, am I the only one having this issue?

The tiles didnt align after resizing. Cool feature!

In what way is double wide live tile in the startmenu new? I just checked with my screenshots of previous builds of windows 10 insider's on my surface pro, but 4 columns side by side was already available/standard well before build 10240 and is even present on my current build 10532.

I don't get any right click menu on the desktop now. Was that removed?

Anyone knows does Windows 10 Enterprise RTM (Build 10240) also support getting Insider Preview Builds. Tried it, but won't show up.I have all requirements passed (legally avtivated copy from MSDN, Insider Program Member, Turned on Get Previews from Windows Update section and also in Fast ring.

I received a secure boot error on my Dell Venue 8 pro, it said it was an invalid signature. I had to turn secure boot off in order for it to boot. Yes I got my download direct from Microsoft.
Windows Central Newsletter
Thank you for signing up to Windows Central. You will receive a verification email shortly.
There was a problem. Please refresh the page and try again.