Hands-on with Outlook Mail and Calendar's new dark theme for Windows 10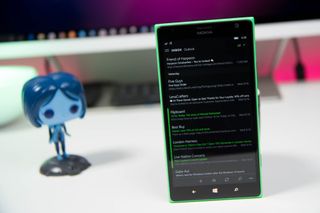 Microsoft has finally delivered a significant update to their fledgling Outlook Mail and Calendar apps for Windows 10 Mobile. The desktop version is also updated for Insiders and we have screenshots of that one too!
We have spent a few minutes with both apps, and you can check out the new dark theme and accent color options.
Additionally, besides the theming changes, Microsoft has also moved some things around in both apps. Here is what we have noticed:
No longer linked – For some reason, the apps no longer link to each other. Whether this was because no one used it, or it is just temporarily gone, we're not sure. For now, you'll need to launch each app individually
New Options – Outlook Email now features Digital Signature, S/MIME Encryption, and the ability to automatically download external images and style formats
Menu changes – Settings are now found in the ellipsis menu instead of being buried in the hamburger one, making it easier to find
Animation – Now, opening a menu the bar slides out instead of pushing the whole thing
Action Icons moved – In an opened email, the Forward & Back buttons are moved to the right, swapping places with delete Respond and Delete; Under the Compose new email, the delete icon is now to the left instead of being in the middle, swapping places with the Attachment icon; In the main menu Search and Select have changed places too
Outlook Mail for Desktop
The Outlook Mail app for Windows 10 PC is also updated with some unique changes too. However this is only for those on the Insider program! Here is what we have noticed under the new Personalization menu:
Background – You can now set it for the entire window instead of just the blank space; Ther are now images to choose from in addition to Browse
Themes – There are the same light and dark themes along with accent colors to choose
Blue Menu – The menu area (extreme left) is now default blue instead of white
Robust Menus – Your accounts are now listed under an Account heading
We are sure there are other changes to be found throughout the app, as this is a rather large change. If you see any other changes, let us know in comments!
Daniel Rubino is the Editor-in-chief of Windows Central, head reviewer, podcast co-host, and analyst. He has been here covering Microsoft since 2007 when this site was called WMExperts (and later Windows Phone Central). His interests include Windows, Microsoft Surface, laptops, next-gen computing, and for some reason, watches. Before all this tech stuff, he worked on a Ph.D. in linguistics and ran the projectors at movie theaters, which has done absolutely nothing for his career.
Poll time! Who used the button to take you into the calender from the email app and vice versa?

I think people tend to use Live Tiles. :D

I actually got in the habit of using that to get to the mail app from the calendar to hit the refresh button in mail so it would update my calendar. Here's hoping they'll finally add a refresh button in the calendar too.

The best thing MS can add to W10M before it releases is ADD SEPARATE COLOR OPTIONS FOR THE START SCREEN & THEME COLORS...... Sometimes a theme color just looks awesome, but it just won't work for a start screen.. And, visa versa....
This is a no brainer.

Yes please!! Also the new update for Outlook apps is adding official support for different theme both accent and background,so maybe it is becoming System wide soon (tm by Microsoft) Posted via the Windows Central App for Android

@rodneyej, use the feedback app lol and then share the link :).

You read my mind. MS please do this. Posted in feedback app...

I know you sent this into the feedback app. I'm also up voting this!

Agreed. Have same issue with Phone. I like transparency at about 15%, just enough to outline the tiles.
Perhaps we could have an outlined transparent tile instead, very faint.

I'd like it (and have suggested in the Feedback app) if it could copy the Windows 10 desktop and take it's own colour from whatever background image is being used. I agree, the accent colour looks horrible on the lock screen if you have a random image like Bing each time.

Me! Though admittedly I don't use it as often but simply because I don't generall check my calendair from Maill app and vice versa. But for me its unreasonable to removed features they've just introduced and pretty sure some people use it or going to use it soon. The feature is quite new and not alot of users are used to it, which will take time. So for me I hate generally when they removed features which isn't that bad at all (worst if was totally useful). They really should not literally based of their decision from their telemetry data. It doesn't mean few people use the feature, it doesn't mean they should remove it. Some features aren't really a common task for everybody, but nice to have one when its needed.

I didn't use that. What kills me is how bad HTML mails still render. Its absolutely awful. The emails support hardly any HTML5 markup. Go compare what HTML emails look like on Android and iOS and they are light years ahead of us. The new Outlook 2016 is equally as bad not to mention the Universal Outlook app for Desktop. Why can't they use the rendering engine from Edge which has so much goodness?

They really touted the word engine as what was being used. For outlook originated email, it is just fine. Thus it is good enough for the business world where most email is sent and received via outlook.

For some reason on a 920 you need to expand the toolbar to see it in mail (was previously visible but cut off), so pretty useless

For get the calendar anyone missing the ability to link different email accounts.

I have 3 accounts and can switch between them on my 1020

on my Lumia 920, the calendar button is half covered by other button... not sure why, nope, I prefer to use the live tile. I think they better keep it simple rather then try to cramp all features into 1 apps.

wait what? we had a button and all this time i was unknown of it? i feel like i am living in dark galaxy!

I did actually. Yet another change I don't like is if you open up an event the edit option went from being immediately available at the bottom, to the menu.

I don't. I hit start and access the calendar tile :D

I never used that option...

I did use that button regularly. One option I would also like to have back is the week view from wp8.1 calendar. It's a classic view and much more convenient to me, because you see much more information without scrolling.

i did. scenario: im not a calendar guy(like many, actually) so the point of having the calendar pined was missing. but mail? i use it quite often. so i only had mail pined to my start screen. and while opening mail app for calendar sounds strange, for me it worked. i would have refreshed my inbox(why not, if im already in the app) hit the calendar button, finish the job in calendar, back to mail to see if i have anything new. then close the app. see? a simple scenario like that was indeed good. i was accomplishing 2 tasks (one was not mandatory - checking for email) every time i needed the calendar (thats very rare).

I used it, but the UI always cut part of the icon off on my 930, so maybe they're considering ways of making it display properly and will then bring it back. It would work under the new accounts/folders section of the hamburger I guess... I found it quite useful rather than having to go back to home and then into the other app, but managed without it forever too, so no biggy!

I never used the button to switch between calendar and mail. Those are two different things that I access for different reasons at different times.

I really want Windows 10 mobile soon.....

Yes, so do I... W10 mobile is looking great, and it is still getting better!!! ('o')

We got a new build 3 days ago and people are already demanding more. Poor Microsoft just can't win with fans like these. I never want to work there as long as customers behave this way.

I don't think he means a new build. I think he is just excited about the final product

Wow, I didn't see any "demanding"... I saw two posts that were enthusiastic and encouraging. I think you need to turn down your angst meter.

Because there are still many annoying bugs, Especially THE LONG "Loading" Time still appears.

The loading screen when accessing People is a joke!!

Opens instantly on my 1520

Low RAM devices doesnt work like that..

1 GB ram has the loading in people app. but i guess is a bug. no other ms app has loading on my l535. but some apps DO have splash screen to hide it. but i prefer seeing a splash screen -since the apps open fast anyway- than a loading screen, even if that takes only 0.5 seconds. i guess that seeing loading so often in wp 8/8.1 made me hate it even when i see it this much. i think id rather see a splash screen for 2 secs than loading for 1 sec, lol.

For me, the issue is that this is supposed to go production in a few weeks and its still really rough. I like W10 so far, not 100% on everything, but overall, I like it. I'm worried by the state of the current previews though. I would think they should be ironing out minor tweaks at this point, not major instability issues.

Hopefully it will release within two months. You're in for a big treat, trust me. I got into the preview and I'm loving it, though I don't recommend it right now for the bugs and unoptimization. When it's done, it will be amazing.

Dark theme makes me hate it much less.

I wouldn't say 'much' it is an improvement though

It needs a tonne of work done, most of the screens are still inconsistant. This email update shows the dislike for formating, i.e. going to the hamburger to change accounts or access settings, both of these are now available by expanding the toolbar. Account switch needs to be on the toolbar if shared inbox isn't going to happen.

i guess account switch will remain on the hamburger. the philosphy is this: elipse menu for other options that didnt make it on a button on the app bar, AND settings. hamburger is for navigation insider the app. so in the mail app, folders AND accounts are staying in the hamburger. even the settings in the elipse is a compromise, since the settings is another page in the app, so its navigation, so it really belongs to the hamburger. anyway, smart compromises for users benefit are always welcome.

White/Dark themes, Accent Colours, Background (All Optional) - Must be mandatory in all Microsoft made core UWP apps and strong encouraged to 3rd party developers. Look how beautiful they seem!!!

I wish the windows central app would be the first to lead this option. As it is it's really horrible for the visually challenged and it lacks accessibilities features. Specially font size options. Make it like the one they have on the Android platform. it has dark or light team option as well as font sizes.

You can choose an accent color, there is lots of options.
You can control the font size via a toggle and also on the go by pinching with two fingers...
Only lacks light or dark theme option. Posted via the Windows Central App for Android

and polls, videos, photos and everything.... wp central app is good only for text. its really a way too simple app. maybe a uwp app is coming.

They need as many options as possible to get a bit of color into the interface

These options are mandatory!

I did. But what I really would like to see is this personalization option to select theme and color applied to more apps (stock and others). It's really helpful for visually challenged and a great accessibility feature.

Can't get the update on Desktop :(

It's for insiders... are you a Windows Insider before?

The landscape mode (Folders View) is broken for me (Lumia 830).

I want black theme back, beside the grey one. It's better for OLED screens.

completely agree, windows phone looks amazing because it looks like there are no bezels when you use the dark theme.

Yes, I agree. I love the Lumia 920 and 925 OLED display, and somehow it still look crysp and clear even sit beside my Galaxy S6.

L920's screen is IPS LCD..

Yes,it really makes it wonderful... Like the interface is floating. Posted via the Windows Central App for Android

Yes, agree, black gives that floating effect and it is awesome. So black, not gray, it must be.

Yeah! Though honestly all black isn't all look that good, some little bit accent of dark gray or accent colors is better for me, something looks more professional. Thing is before Metro Design Language take advantage Typography heavily as their UI and aesthetics, which is not anymore with new Microsoft Design Language (a boring new name) which brings back the chrome, borders, shadows, and other traditional UI elements. New design lanuage needs more UI elements since the typography is more conservative and lacks heirarchy, so text are mostly all look similar size or weight (thin to bold).

but dark theme and not completely black is still good for oleds. the pixels also reduce energy consuption when they can (dark colors). they are not only shuting down for black.

The outlook app looks pretty refined. The listing of accounts was much needed!

if only they could bring that unified inbox faster......and maybe improve a little the email rendering engine

Is that a Cortana Funko Pop?

Selection counter now displays when you select an email, least in mobile app

Really nice update to the apps, but I'd love to see alot more progress with the mobile OS as a whole.

But when will we get a goddamn unified inbox?

Well said. Also, the accounts themselves used to be listed on the left in pc8.1, together with unread count.
Doesn't look to be properly fixed based on screenshots.
Still seems a major regression since 8.1.

what do you mean? isnt the pc app, in the screenshot above, showing the accounts on the left AND with the unread counter? isnt this what you want?

Should be optional. I for once have no desire to see work emails over the weekend in my inbox.

All I want is a damn consistent UI, or at least a settings icon.

Lay off the Five Guys Dan, don't ruin your new biking regiment!

Why does the reading pane not continue the dark theme, design-wise it makes no sense to have a dark theme in the calendar and inbox then to suddenly switch to a white background when I open a message.

Same thing in Cortana too. The dark theme doesn't go all the way. It should be possible as the dark theme for Cortana did it in 8.1 without issue.

Is better in cortana tho, since it is like pieces of paper... At least on interest it makes kind of sense, but white suggestions not so much and then white Web search results are a definitive NO. White search result should be black and suggestions while typing should be grey. At least that's what I THINK. Posted via the Windows Central App for Android

You can't force the dark side onto incoming mail. The html in the content will override this.

Force....darkside....is that you Yoda :)

It can be done. The mail client on WP8.1 did it. Not all email is specifically styled as such, it just tends to be the default. Same thing with Cortana results in WP8.1. There was html content deleivered but rendered in the system's theme. I have a Chrome extension that also convers web sites to black backgrounds.

STILL no "SELECT ALL" button /check box!!!

Is that really required? On the competing apps out there, there is also no option to select all.

For me it should be there, its pretty useful when you needed to select all items for some actions. It doesn't mean the competition doesn't have one, Microsoft follows? There is a reason why this action existed even in Windows 8.1 and WP8.1.

I want this too. Not using Win 10 mobile yet but it bothers me on Win 8.1 mobile and Win 10 desktop. When I have several old notifications (news alerts, Facebook, etc) I want to select all and delete. Or give us the option to empty a folder like we can on Outlook.com.

Agree that either select all or empty folder is required. It is available in Outlook online, so should be an option on the Desktop and Phone.

Windows 10 Mobile is feelings better and better. shaping nicely. and while a dark theme doesn't seem like much, the truth is, I want it more than a white one, so it looks better and it's not a secret battery would work better on a dark theme.

Calendar won't open on 1520 now. :/

Calendar won't open on my 640... Omg... Looks great but this is a big I can't deal with. I need my calendar.

Won't open on my 925 either

Here the same, Calendar won't open on my 930

Same with 1020, calendar splash screen then back to start.

Weak. That's gray not black like we had in WP. The background should be total black so with AMOLED screens you get that nice effect of text floating on the glass and the screen blending into the bezel. Even when MS gives us what we had before they screw it up somehow.

It's dark, not black. No one said it was black.

Not on TP yet but agree with your comment, totally. It MUST be black and CANNOT be gray! I too love the floating text illusion with curved screens, it is essential that the black theme is BLACK!

I really like it. Although I did like being able to get to the calendar through mail.

Is the App icon new from this version or did it always have that pop of accent color like the Store App?

It also seems that the Store and Mail app got new icons in the taskbar! They are using the accent color now as well.

So we are one step closer to being as good as the 8.1 mail app

I can not find where you go to change frequency to check email server. I looked every where.

If you did the update, try this from inside the Outlook app Tap the 3 dots then tap Accounts Tap your existing account, assuming Outlook. Then tap Change mailbox sync settings.

Not real nuts about losing quick access to the calendar. I hope this is temporary but these things are inextricably linked. For business purposes where email and appointments are joined at the hip, I hope this is temporary. I could lose interest in this OS quickly if this is the move. I doubt that it is but this would be a very ill thought out move. Edit: I do have to say, I like the dark theme but kinda odd that the message is not dark too.

The message content are either in HTML or text form, so... that matters if its content is still white. But I also hope that they will update to adapt the content with their theme option.

Personally I rather like the "dark" theme as the date banners are the same colour as the settings and the message background is some what darker. It enhances readability imo. Not fan of the removal of link to calendar either it was a handy shortcut to have.

How do you get an 8 tile wide start screen? (also have a 735 but can only have 4 or 6 wide)

It's a Lumia 1520, has room for 8 wide. It was the first phone to allow a third column of medium tiles if you remember. Everything else is limited to 6.

My outlook app always crashes since the update! Please fix it!

Thanks Daniel - question..I noticed the same sort of "white flash of background" when opening both apps right before it shows the dark theme which occurred on mine as well. I realize this is a preview build but it seems very unpolished and quite jolting. I also have noticed this when opening other apps on W10 Mobile like News...etc. Do you think this is just temporary and will be addressed? It just seems like if this is not a platform issue of some kind that this would be addressed at this stage of the evolution of the apps.

Great! Much needed polishing is coming (not almost), it looks way better now especially the command bar animations is back. Animations which makes Metro Design Lanuage looks beautiful and looks lively, which is being scaled back currently with Microsoft Design Language. Especially like that on the video when you open the email, it lacks nice seamless transition from 8.1. Simple slide doesn't cut it, still better than none but not as great as the former. Just enough to convey the actions which is very average animations these days. They really need to bring back that shortcut to Calendar/Mail since its really useful when you need to switch between them, a seamless experience. Also that new Mail app is suprsingly got more aggresive with personalization, looks nice but quite a rough edges I think. The Hamburger pane is too transparent to the background image which makes it too messy, it needs a less transparent approach. Also the new personalization even looks more unfinished since the titlebar isn't transparent to the background image. The back titlebar stands-out too much now. So yeah it needs more work about the personalization option.