Outlook Mail and Calendar nabs dark theme, new personalization options on Windows 10 Mobile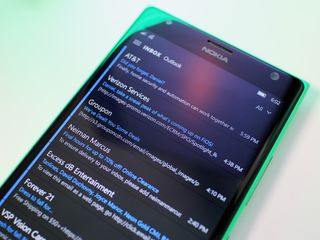 Outlook Mail and Calendar has gotten a pretty significant update on Windows 10 Mobile this afternoon. Changes included are a new dark theme — hooray! — along with some notable changes to the menus and a number of new personalization features. The build goes from 17.6216.42272 to 17.6221.42282 suggesting there should be a few fixes in this release.
Onto the big change first: a new dark mode is here, which always tends to be a highly requested feature among fans. As you can see in the image above, the theme looks pretty darn slick, and should cut down on eyestrain if you're checking your email in the dark.
Also included in this massive update are a couple of changes to the Settings menu, along with some new personalization options. For starters, settings are no longer contained in a hamburger menu, having been moved to an ellipses menu instead. Inside, you'll find a new "Personalization" section with options to switch between dark or light themes, along with the ability to customize things by matching the accent color to your system.
Of course, these new options are also included in Calendar, which you can see in the screenshots below. Strangely, however, it appears that the shortcut to get to Calendar from Mail has been removed with this update.
This update clocks in at version 17.6216.42272, bumping up from version 17.6208.42002, so be on the lookout for that. Also worth noting is that Microsoft Messaging has also scored an update, but there's nothing notable included in this go-around. For version numbers there, we're looking at a move from 12707 to 12713.
We'll have a quick video tour up on the changes later, but for now you can go ahead and grab the updates from the links below.
Thanks to João M. for the tip!
Windows Central Newsletter
Get the best of Windows Central in in your inbox, every day!
Dan Thorp-Lancaster is the former Editor-in-Chief of Windows Central. He began working with Windows Central, Android Central, and iMore as a news writer in 2014 and is obsessed with tech of all sorts. You can follow Dan on Twitter @DthorpL and Instagram @heyitsdtl.
They also gave a way to turn off conversations. Hallelujah!

I'm loving it...so happy we have this meow

Please Help! Since installing build 10536.1004 on my Lumia 930, the Store cannot update any apps. What should I do? Currently I have 20 apps to update and they're all stuck at Pending.... and then a few minutes late will say " ERROR. SEE DETAILS". If I click that it takes me to a blank website on Edge

Very, very, very good news :)

Why not the dark theme setting on winmob be general setting on all the apps? We need to change them one by one

We don't.
You have an option, which is on by default, which makes the app adapt to your Windows Phone settings.
I opened the app and it was set to dark. Why? Because my general settings a set to dark.

Maybe it's just me, but post update the calendar won't open. Nokia 1520.

Mine won't open either...even after rebooting.

It works on both of my AT&T 1520's.

yup , I can't open calendar , 640Xl

Same! Glad I'm not the only one. Already sent feedback to MS...hope it doesn't take them too long to fix, I'm an avid calendar user!!

No you're not my friend, it crashes for me too.

Yeah me too, would you mind to upvote this? (I don't know how to put special link in this comment):
Windows-Feedback:?contextid=260&feedbackid=043eb0ad-5e6b-4544-b567-e301be782569&form=2&src=2

Yep. Calendar will not open for me and I live on my calendar daily. This needs to fixed.

Unable to launch Calendar after this update.

Still no unified inbox (when the FFFF are we gonna get that back? Jeez) and the colors don't seem to be account-related (so one for all). This seems a bit odd, colors would seem to me to be very handy for accounts to easily identify where it came from. Anyways, on desktop i won't be using the mail app since the unified inbox is still missing. And i don't think the request on the uservoice page is having too little votes to implement in a rush)

MS seems to hate unifying inboxes lately. Windows 8 never had one and Windows 10 doesn't either. Hell, even outlook for office doesn't have it. One of the most widely requested features and still nothing. I fear it won't happen.

Yikes. Still running 8.1 and afraid to upgrade to preview. Making a stable OS takes a while.

I guess it is because the point of having multiple inboxes is to keep them separated :) . It should be on their low priority list. If you need everything in one place just put some redirect rule to your main mailbox.

I'm glad to not be alone in this opionion. I like the way WP8 email client works and...well...I'm little afraid about future W10M upgrade. In PC W10, I got rid of modern app email client and used good old live essentials 2012. Maybe it's shame for MS, but it works better. No space wasting, not too much simple (and cutted) options... BTW. As a Insider, I was voting and noting about it.

Can you link the uservoice request so we can vote on it? My bing-fu is weak tonight and I can't find it.

Why the need for unifying inboxes? How do you know which box the mail comes in if the box is unified? Much better to have it seperate...

Wrong. Much better to have the option. In most cases, I don't care where the email came from. Or, it's obvious by the context.

Yes, I want the option back to go to the linked inbox or unified in box. Am so used to it with WP8.1 that not sure I can got back

Yeah mail is a big thing keeping me on W8.1(M). Hopefully it will be ready by TH2...

I put my company account alone, and link all other email accounts together

Color codes. Cyan for Gmail, magenta for Outlook, yellow for yahoo. Posted via the Windows Central App for Android

Desktop apps are updated too, with dark theme and quite a few UI changes.

I suppose the update has only rolled out to Insider builds so far, just as with the photos app short time ago so it seems MS is using the Insider Program to test app updates as well as new builds. I suppose non-Insiders will get these updates soon after when they have verified everything's running smoothly.

you were right. Insiders only, for now. But, boy, what am update! looks great now, especially with that blurry background and the new colors. Even better, it feels way snappier and you can finally see unread mail counts for other accounts. Until unified inobxes are implemented this helps a lot!

Yes. I just checked for updates too in the Store and I noticed the same updates and changes on my desktop apps. Great work! I looove the Mail desktop app.

Have w8.1 denim update.
Downloaded window insider.
Signed in with MS id.
Option pops up, slow n fast ring.
I tried with both, bit it just says, your phone will reboot in 5,4,3,2,1... And then it gets crash.
I did a hardset and also tried reinstall of Windows insider . Nothing worked for me.
Kindly guide me.
Ty :-):-)

Wait for the final version.

You didnt specify what device you have.

Holly Crap! Cool cool cool Microsoft! Now you're listening. Now why not make it bug free and make it a better app function and performance wise or as good as android and iOS counterparts.

Now why not make it bug free

Yes Microsoft - just snap your fingers already and automatically solve problems.

Some of the comments here are painful to read.

I'm reading articles and tweets about Outlook client not functioning properly as of lately from MJF and Brad Sams both on Windows 10 RTM and Mobile Insider preview. Performance is as much importance as aesthetics. Microsft is a productivity software company, it is their job. And a mail client is a bread and butter of it. It wasn't criticism for the sake of criticism but go on, your criticism of fellow Microsoft loyalists is gonna help them more, right?

Dark mode on email is very welcome.

Works on my 1020.
Pros: Dark theme! Unread counts in Account list, setting moved to ellipse menu
Con: Account selection still in hamburger, though universal one hand mode helps with this.

Would have also have liked them to be consistent in dark theme. The inbox is in dark, but then the reading pane reverts to light.

Also the settings, which otherwise behave very fluid with a soft fluid animation. I keep forgetting about holding the start button, thank you. When you select another account in the hamburger, it throws you to the inboxand out of the hamburger, then you have to open the hamburger again to select a folder. Shame. The app is shaping up very good tho. Posted via the Windows Central App for Android

Where is the print function?

Where's the features for groove?
Like I said before, mail is bringing features users want, whereas give is sitting on their asses. I hope that at least Mail keeps this steady pace of adding features after RTM...

Well they just did finally add back the radio function... Though it can't see all my old stations.

The app themes should just change between light and dark based on the system theme instead of requiring the user to change individual apps. I guess some people might want different themes but I think a more consistent visual experience is better.

That option is quite clearly there, actually "Use my Windows theme". They simply give you the option to override that in apps.

Oh good! It sounded like that option wasn't there (I don't use the preview)

Mail>settings>personalisation. There is an auto setting which is default.

You will notice that that is the default setting for Outlook. It just allows you to override the default if you want.

After update, Mail is OK but Calendar unable to launch.

Looks nice, but still defaults to white on the settings screens which is like a torch in the eyes when using it in the dark.

What happened to the shortcut to calendar in the mail app? I though they wanted us to be able to have a seamless transition between the two.

Does the live tile show new email or does new email at least show on the lock screen with this update? Not having that basic functionality led me to roll back to WP 8.1.

Nope. Still no live tile or lock screen notifications. You have to rely on banner or sound to know you've gotten mail. Maybe this is next. I really hope so.

Mine works. I've new mails in live tile.

Yes i have always been getting live tile notifications.

What phone are you using? I updated a Lumia 735 and did not see any mail notification on either lock screen or live tile. I did get notifications in notification center and knew from other devices when mail had come in as a test.

I have always been able to receive tile and lock screen updates

Just curious what device you are using and whether you did a build on build update or a an update directly from WP 8.1? I tried a W10M 10536 update from WP 8.1 on a VZW Lumia 735 and had the same result of no live tile or lock screen notifications of email. I received both types of notfication on another WP 8.1 device this morning and nothing on the updated device.

Wow, was not expecting something this miraculous. Perhaps contacts will have working notifications and history next.

Wtf how hard is it to make a consistent UI with the rest of the OS. Settings icon, the fact that there are icons in the ellipses menu, and the ellipses icon itself are all different from the rest of the OS. C'mon outlook team, get it together.

Really? Wow. :( One can just hope it's just the last thing they will polish before rtm. Posted via the Windows Central App for Android

The thing is, it's the same way in the desktop version! So frustrating! It looks like the outlook team build the menus from scratch and did their best to get them to match the built in ones but they didn't quite get it, so the mail and calendar apps just look off.

NOT a dark theme! This is grey theme. It's pleasing for eyes, but compared to old WP8.1 black theme everywhere, this doesn't help reducing battery usage on OLED screens. Personally, I miss it a lot. It was one of advantages of WP. Hope that they bring real black everywhere, including keyboard. As option, of course.

Dark grey is the new black

This!!!!! Grey is just stupid for oleds. And it doesn't even look good! This is really pissing me off.

Grey still consumes less battery on OLED screens than white does, so that can be considered progress.

Could be, but is degrade from old black theme for OLED displays.

To each his own... I personally like the gray.

I like it also, but black is better for OLED. Don't mind the grey, just want black too.

Well aside from battery and personal taste, one of the great things about oleds is deep black, not having a theme that takes advantage of the oled is plain stupid. If they wanted to introduce grey theme, well yeah make it optional. I really think that the grey leaked out from the list elements to the empty spaces and they'll fix it... or at least I hope so.

It really looks like an LCD screen now when that app is open. Washed out black, it really sucks.

the desktop update is even more awesome!

Dark theme does look great... But yeah calender is busted. And I STILL don't have a working live tile. Am I the only one??

Anyone know why the calendar app will now not open?

Has anyone noticed how show now the windows central app since update 10536. Lumia 1520 and 930.

Yep, though it's off topic here

Its been there since build 512

Even in Desktop version Calendar is not opening.
N.B. Dark theme (in mail) is too good !

It's really looking good on desktop :-)

I just have to emphasize that it's looking pretty damn good on desktop! Windosw accent color + dark theme is pure bliss!

Wow, this is so much better. I have three email accounts and it was a pain to navigate between them and different folders!

Calendar live tille does not show today's date. Had this problem all along. Just thought I'd mention it now.

It will not show date if Birthday reminders are there.

Thank you for commenting but could you elaborate. Because when I roll back to windows 8.1 calendar live tile shows today's date.

Even i was feeling the same. But when there were no birthdays I saw the live tile showed the date and day with big font and it was very cool. If birthdays are there then the date is shown in the bottom of the live tile which is very tiny. Am talking about the windows 10 mobile.

Update made mail app much smoother!! Nice! Still hope!

A very good update, too bad some people seem to be having issues with the calendar app (I don't). This is why MS is rolling these updates to Insiders first so they can catch those errors at a smaller scale and fix them. I hope non-Insiders will get these updates with the corresponding fixes soon, maybe next week (I don't install Insider builds on my PC, only my phone).

The update also brings options for S/MIME encryption and signatures.

Only the inbox has dark theme. When a mail I opened, the usual white bg is seen. So, Dan's words doesn't hold good on this. He said it will reduce straining of eyes.

This would be far more complicated and messy to implement. By 'convention', mail content is generally assumed to be on 'paper white' background. Images, font colors and so on assume the recipient would read the mail on a 'white' background. Imagine font color highlights in red, green, blue and so on suddenly placed on a dark background when the mail sender placed them on white. The result would generally be chaotic IMHO!

Dark theme isn't really the big deal for me here. The implementation of S/MIME and showing the number of unread mails for other inboxes too (if you have multiple) is WAY more important for me.

It'd be nice if I could personalize mail to have a damn unified inbox.

Thank you Microsoft. I was eagerly awaiting dark theme functionality! Posted via the Windows Central App for Android

Calendar working on 1520. And although accounts aren't merged, it appears one click less to jump between them. Pretty nice imo. :)

Finally fixed the crashing when starting the app. It's been doing this for the past two weeks on all my computers and wp.

Finally! Now if only they'd implement a system-wide dark them, which could automatically apply to all apps which support the setting.

Submitted this a while back. Feel free to up-vote. Windows-Feedback:?contextid=114&feedbackid=f22a6b63-1568-4574-831f-9cc771e32eb6&form=1&src=2

FINALLY! What a day what a lovely day =D

just got the pc update and it looks great

Running a 1520 att/unlocked can't open my calendar. One up two down.

off topic, but how to install apps on windows 10 mobile from a pc, like one was able to push an app install on a phone from web on wp8.1 but I am not able to do that for windows 10 mobile the moment i click an app the desktop store opens. Is there any other way?

No, there's no other way. That feature has been removed in W10...

That was a useful feature, too bad it has been removed. Cheers anyways.

Why don't you go ask that question in the forums?

Also looks like you can pin folders to the start screen now. Maybe this was fixed a while ago and I missed it in prior updates.

I've been able to do that since I downloaded 10512 a month ago.

Cool. I just gave up trying since the beta started up.

Yeah, but you don't get notifications in the folder.

- Did you notice that now you have the accounts one level lower so that when you hit the hamburger menu it's already there?
- And about the labels on the right side of messages you sent when on grouped emails (saying [Sent Items])? - And the number of unread messages on the right side of the account on the menu? - And Digital Signature, Encription, External Content on Options page - AND Pin each account individually on Start Nice little things :)

Indeed, It feels really good like that. What left now is to add a way to select all messages... It's getting better and better...

Still missing the print option in the mobile app.

... they still need to give us option to choose which alias to send or reply to email.

Love dark (or dark gray) theme ! looks excellant.. also navigation to diffrent account is faster...

Can docs be attached yet?

Whats up with Dan and Forever 21... metrosexual?

Omg, outlook just got amazingly fast and beautiful at the same time :-o

As opposed to the windows central app that is painfully slow on the new build...

Huge improvement! Looks so much better and the action/settings location changes make things feel much more intuitive.

wow you get alot of spam..

Windows 10 version also got dark theme.. People with the registry option enabled for dark theme can enjoy the new beautiful mail and calendar black theme.. ;) Posted via the Windows Central App for Android

Omg, this freaked me out when I saw it, looks pretty damn awesome! I love it... =D

Calendar app keep crashing after update.

me too, would you mind to upvote this? (I don't know how to put special link in this comment):
Windows-Feedback:?contextid=260&feedbackid=043eb0ad-5e6b-4544-b567-e301be782569&form=2&src=2

Month view? Posted via the Windows Central App for Android

Ok, its definitely getting better but still no option to set it as default view. :( however, unless I am mistaken, the way the drop down month view works has changed to showing the current week at the top (i.e. Does not show weeks of the month that have already passed). I am not sure if I like it not... if there was a month view, I would definitely not like it, would prefer it to move back and forth in whole months. And, scrolling the drop down month view is a pain in the ass... does not snap into next month!
Posted via the Windows Central App for Android

Still few key things which is an issue for me. 1. Notifications on emails for subfolders >> toast/audible notifications 2. Selective folder sync - pick up folders i like to sync 3 Tiles >> they dont update sometimes showing unread email ( however those emails are read / deleted ) General slowness in app > thats more of windows 10 issue than anything. I think we owe apology to andriod users where we said lagroid / laggy OS.. now windows 10 mobile is adding all those features to OS and becoming laggy/ same as andriod how it was 2-3 years ago. Andriod has overcome that issue by adding powerful specs. But given windows 10 hardware out there currently 90% of handsets are low end devices , unless microsoft does something extra ordinary to get rid of slowness is OS this is going to even move users away for windows ecosystem. Some may argue slowness is due to telementary data or its beta we already know from last 2-3 builds no more features are being added, they just doing bug fixes.

F-Yeah! Now they just need to get it on desktop and finish this dark theme in file explorer.

Still useless. Doesn't sync at all

Loving the new look and feel in outlook mail. Can't tell you about the calendar as it crashes everytime I try and open it post update (Lumia 640xl) :'(

When Can we expect Select All option. Is that a big change ? :(

Would be great if someone with a twitter account could kindly send Gabriel Aul a tweet asking about a fix for the calendar app that doesn't open after updating. L930 here. Thanks!

FINALLYYYYYYY!!!!! my upvoting has counted for something. Thumbs up MS now i only need a unified outlook system to be happy with the mailing app. But i appreciate what you have done, Thanks alot

You can now also pin individual email accounts to the start screen, now we just need distinct notification sounds for each account. It's getting so much better!

Dear WC, what you have missed: a) in settings, options, we can now block remote content (bottom of the option list) b) S/MIME settings are back c) we can see the number of unread messages in all accounts in the "account view" It's not only a dark theme update obviously ;)

Hmmm right after update my calendar is now broken. I cannot be launched and i have tried to restart.

Calendar is probably the worst app from microsoft...

I want blue theme, red and green. All sorts of colors. Why only black or white?

Calendar no longer works on lumia1520 will not load. I have reset as well

This is off topic but this is long overdue, how to pin the outlook mail (email inbox) to home screen? I have setup 3 email boxes on my phone one of them is outlook, this is also the account I use to setup the phone. I don't see the outlook option in "Accounts" option, maybe I am missing something

Also broke my calendar app what a mess.

Yeah same here. My 1520 calendar won't launch anymore. I don't get it...

Help! Since installing build 10536.1004 on my Lumia 930, the Store cannot update any apps. What should I do? Currently I have 20 apps to update and they're all stuck at Pending.... and then a few minutes late will say " ERROR. SEE DETAILS". If I click that it takes me to a blank website on Edge

Anyone having the calendar issue, I did a hard reset, then went to store and updated everything and now it works great on my lumia 830!
Windows Central Newsletter
Thank you for signing up to Windows Central. You will receive a verification email shortly.
There was a problem. Please refresh the page and try again.