Here's what's new and improved in the Windows 10 PC preview build 10547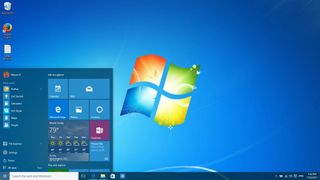 Windows Insider testers on the Fast ring can download a new preview 10547 build of Windows 10 for PCs and tablets right now. Microsoft has offered up a list of what's new and improved in this build.
Gabriel Aul, the head of the Windows Insider program, outlined what Windows Insiders can expect from Windows 10 build 105347. One of them involves the Start menu, which will offer users a couple of additions:
Tablet-based Windows 10 build 10547 users will see some changes as well:
Aul also went over some more additions and features in the new build, along with Windows 10 app updates that have already been released
Many app updates: We've released many updates to our apps in Windows 10. For example – we've updated the Photos app to introduce a folder view that makes it easy for you to see your OneDrive and PC folders. The Xbox app has also received a pretty big update. And many other apps such as Groove, Mail and Calendar and Maps have also received updates. Make sure to check the Store for updates, and send us feedback on these updated apps.
Other improvements: You can now turn off the Windows background picture in the sign-in screen if you want by going to the Settings app > Personalization > Lock screen and turning off "Show Windows background picture on the sign-in screen".
Object RTC in Microsoft Edge: For developers, this build also includes a preview of Object RTC in Microsoft Edge. The ORTC APIs enable real-time audio and video communications directly inside Microsoft Edge without the need to install any plugins. You can learn more about how ORTC will work with Skype and Skype for Business over at the Skype blog, and developers can learn more about using these APIs at the Microsoft Edge Dev Blog.
Text input panel improvements: The text input panel now expands as you write to provide more space in Latin languages. The text input panel also no longer opens automatically when you are not in tablet mode or have an external Surface keyboard attached. Additional punctuation support has been added to the suggestions bar to make entering punctuation characters easier. Lastly, improvements have been made to help the suggestions be more relevant.
More Resources
Need more help? Here are some articles and our forums to get you started!
Windows Insider Program - All you need to know
Source: Microsoft
I think it's great that so many ppl upgraded to W10 so soon but I'm glad I waited. I would rather wait until I can do one singular update and get most of these changes.

Word flow would be interesting...

no reason in waiting too long. It's not really going to stop..

Never mind. This comment was supposed to follow another comment but the website put it here. Time to reboot...

You are waiting for nothing, these kind of small incremental changes are the nature of Windows 10... there won't be any big update anymore and a period without any updates, it will be continuous,

TH2 is meant to be a pretty big update. I'm recommending that most people wait to upgrade until after that's released. Windows 10 is great and I love it, but there's still fine tuning and a few features coming that will make it great for normal users. And that's Microsoft's plan after all, needing Windows to wanting Windows to loving Windows, not everyone will love it right now but every update helps more people love it.

TH2 won't be too big. The thing is - difference between now and past is that you can become Insider and see the progress of updates, while if you aren't Insider you will get those updates ever 3-6 months as a bigger package.

If you keep waiting you will never get W10. W10 will just keep changing most of the time, as they have said. So either install the last stable build, or go for the insider slow build, or if you feel adventurous, go foth fast ring, but don't wait, you are missing all the fun.

While that is possible, its only to a point. Windows 10 will not stop changing for many years. Think of it more along the lines of an app that never makes it out of beta. I'm not saying its unstable or a POS like many beta products, but I highly disagree with this release style and think it will greatly impede support and an understanding of which features one has, esp since windows updates dont have any descriptions... How the heck are we ever going to know when things are fixed, enhanced, or redesigned?

You're just delaying your W10 experience. The update is going to be "endless". You're just missing the fun.

W10 will never be finished, it will always be getting these changes.

Such improvements will keep on coming. You can say this dialogue even after 6 months and still would not loose its meaning.

You cam update to Windows 10 and will all the features of build 10240 and at some time in the future, all these features will be made available in one update.

If only I could actually download Insider builds. Even though I'm in the Insider programme, builds do not show up for me to download. Yes I have set to Fast ring.

By any chance do you get the message "Get Insider Builds" in the Action Center? Check if there's an option called "Fix Me" in the Windows Update options section, it requires sign in verification to determine if you are an Insider... Only then you will receive Insider Builds slated for the Fast Ring. Posted via the Windows Central App

Done all that, no new builds available, didn't get 10532 either Posted via the Windows Central App for Android

Nice more tiles is very good

Can someone show how show more tiles looks on tablet please. On my DVP8 too much blank space and I hope this fixes that. Plus one more tablet improvement as well, nice. Now just needs to make the Task Bar notification area larger to click on things like sound or Wifi. Top bar in apps could be larger as well, don't make me swipe, then hit the hamburger, then hit the three dots, put those things always out and again, larger. Can we get to the desktop in tablet mode? I have just been cylcing back and forth and that is stupid. How do I clear my recycle bin? See my onedrive status? Still a little messy...

Pin the recycling bin to start.

It is not a live tile, so is it empty? Full? You don't know.

Why is there a Windows 7 wallpaper on the screen?

Likely the result of the person taking the picture having installed and set the picture as their background.

Hahaha you are so smart wow!!!

installing now...*fingers crossed*

Awesome. Hope the issue stopping my SP3 updating is solved (without disabling hyper v). Gabe had said on Twitter the other week it may be solved in the next build. Will find out shortly!

Yes! Really excited about the tablet mode improvements, they're starting to bring back what I miss from 8.1. This is the right direction, let's keep it up.

I don't do preview builds; it looks like this might be saying that regular users got an update in the photos app showing folders instead of just by date and albums? Am I reading that right? Because that is my number one want right now for 10.

Yup, that update applies to all Windows 10 builds, RTM and up.

SWEEET!!!! Thank you sir!

At last the three tile limit is gone. Now I can pin 2 large files besides each other. That limitation was really bugging me. Woohoo!

Yeah, I like the large/wide tiles for a few apps where I frequently check the tiles. It was taking up way too much vertical space/too much scrolling as a result.

Gabriel Aul, the head of the Windows Insider program, outlined what Windows Insiders can expect from Windows 10 build 105347. One of them involves the Start menu, which will offer users a couple of additions: FIX IT

And in case the comment above was not clear, the build number needs to be 10547 (not 10534728895238475). :)

A sollid update. Although stability updates are the most crucial at this stage. Posted via the Windows Central App for Android

Two much needed update for start menu. Nice. Although just raising the limit to 2048 might work as a stopgap, but they should try to remove any kinds of limits altogather. If that's not possible, then at least stop items inside folders from adding towards the limit.

I know a few of my customers are going to appreciate the improvements in 10547 when it's finally brought to production, particularly the folder view in the Photos app (finally!), and turning off that garish background in the login screen.

Have they fixed all the SP3 issues? My battery drains really fast even in sleep mode. It's contantly running out of memory because the system is hogging more than 90% of the memory. And I'm only running OneDrive and Edge. I already tried to turn off the Windows Tips in the settings but it has not helped like others have said. The fans are running fast all the time. On Edge every time I want to search for something using the address bar it gives me an error. I have to try 2 or more times to make it search.

They should really let you put as many tiles in one group as you want.

Agreed, rather than "Show More" it should just let you set the number you want. Default it to 3 tiles and let the user customise if they want. It makes sense on the phone because as soon as you add more the tiles get smaller. But on a desktop with a large monitor you should have flexibility to have as many as you want.

When will they add the capabilty to resize the Action Center? Right now it takes the whole right size from top to bottom of the screen, whether you have 1 notification or 100. We should be able to customize and resize the AC similar to how we do the Start menu to better suit our needs or style.

These updates are exactly the sort of things I've been waiting for. I'm especially excited by the prospects of 4-medium-wide columns and closing apps from the app-picker by swiping down.

Start menu improvements are wonderful.

Many welcomed improvements, thanks Microsoft for listening !

more tiles!! yay, embrace the live tiles people, before apple copies it and call it interactive icons or some shit like that and claim it their innovation

Store and Mail icons are now colorful...they look pretty awesome...side note is anyone else having the issue with the really thick borders around windows and thin borders around the flyouts like Cortana and action center??/

I'm running Build 10532 and switched to Slow Ring as soon as it was done updating (which is nearly equivalent to opting out of any more builds). This build seems like good leap forward and it's almost enough for me to jump to Fast Ring to update. I'll wait for the next build though. After all the updates I've already done in the name of Windows Insider I'm taking a break.

Finally there are some useful improvements.

My favorite is show more tiles.

Bring back change log please Posted via the Windows Central App for Android

White taskbar and start menu?

Worst user experience to date applying this update. USB mouse didn't work initially Network adapter had all protocols unchecked so no Internet access until I added them again. Hyper-V - all my configurations for VMs has gone. The drives are there but I need to add them all back in.
Windows Central Newsletter
Thank you for signing up to Windows Central. You will receive a verification email shortly.
There was a problem. Please refresh the page and try again.