Microsoft Edge in Windows 10 PC preview build 10547 updated with new features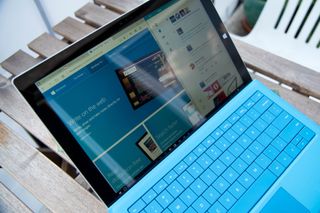 If you are downloading the newly released PC preview version of Windows 10, with the build number 10547, you are also getting a new version of the Microsoft Edge browser. There are some new additions in this release, including the addition of support for the Object Real-Time Communications (ORTC) API and download attribute on links.
The ORTC API was developed by Microsoft, Google and other companies so that web browsers could support real-time communications without having to use a plug-in. In a rather technical blog post about this new Microsoft Edge feature, the company said:
You can actually demo this feature on a Microsoft and Twilio web page. Note, you can only call numbers in the U.S. and calls are restricted to five minutes.
The new download attribute on links feature is rather interesting as well for website creators. Here's what it supports, according to web browser developer David Walsh.
You can get the full change log for Microsoft Edge on Windows 10 build 10547 at the link below.
Thanks to Jonathan Sampson for the tip!
Source: Microsoft Edge Dev, Blogging Windows
More Resources
Need more help? Here are some articles and our forums to get you started!
Windows Insider Program - All you need to know
Are they going to update Edge on Retail keys ? Or just for preview users ? On 10240 (my desktop is not staying in the preview program), Edge is a buggy mess and would like to see some fixes for it to make it usable..

Maybe some bug fixes but probably no major features until TH2 in November.

Edge really needs performance improvements and fixes first, and then more features. Something they are doing on the Mobile OS's preview right now.

It's the opposite, first they have to include new features and then fix bugs. Whenever a new feature is introduced new bugs come out.

but then how long you can bring them all to beta testers ? How can MS make it on time for Win 10 release like in 10124 ?

What about favorite syncing and create shortcut on taskbar and/or desktop

You can always create a shortcut to a website on the desktop, haven't tried on the task bar though.

I'm trying using edge but is so so so so so so so so buggy they need to polish a little bit more :S

Edge needs full screen mode, inline translation, FAR more reliable performance, bookmark sync...and....EXTENSIONS!
It is ridiculous that Microsoft are waiting until the W10 update before adding that feature.
They need to stop firing people....they need more devs.

Building a new browser is not easy :|

I agree but sometimes I think they should have just waited until the original October release date for Windows 10 and they could have had a lot of these things finished especially Edge. I will keep using 2 browsers until Edge is finally finished then I will switch mostly to Edge. But I know a lot of people that have already switched away from Edge and since they don't keep up with all the changes like we do, they may not ever switch back. I saw somewhere that although Edge usage stats were way low compared to Win10 market share stats so I wonder how many of the nearly 100 milion Win10 users have tried Edge but then changed. Microsoft had an incredible chancew to get these people back and they still do but they need to get Edge finished fast.

I can understand that one. I'm using Opera and now Firefox, myself.

Addons and Sync are the key things that are missing.

That calling is Working for Indian Numbers also. Just prefix 91. Cool :)

Hii I want to know how much gb it will take for upgrading my Lumia 540 to windows 10

I am not touching edge until ad blocking is integrated.

Why? If you go to a site, and like the content, then you should turn off your ad blocker. If you block their ads, they don't get any money from you going to their site, and therefore making it hard for them to make quality content.

Yea but sometimes the websites you like choose to stuff popups down your throat.

Yes, if it's one little ad, but if it's videos all over the place and 20 ads per page, it drags down the page load, and uses up resources in your computer. Take wc for example. Using edge the website is damn near unusable. In ie with ads blocked, it's fast and smooth. So until the ad block is put on, I'm not using it.

I thought the purpose of edge was to decouple the browser from the OS. I thought it was a store app to be updated straight from the store. It sure looks like a store app but...

...but it seems to only get new features with new Win10 preview builds!

yes, it can be updated independently, but it's getting features that are still unfinished, essentially, these are also beta builds of edge, so they are pushing the... beta builds of windows.

I think the purpose of Edge is to be the #1 browser for downloading better browsers.

You already have the best browser. Ie. Ad blocking in it is better than chrome, ff and others.

I thought they said simething about wanting to place it in the store, but it not being ready for it.

Just notice "Cast media to device" in settings - is this new?

It needs to stop freezing and be more performance!
Windows Central Newsletter
Thank you for signing up to Windows Central. You will receive a verification email shortly.
There was a problem. Please refresh the page and try again.