Here's what's been fixed and what's broken in the Windows 10 PC preview build 10547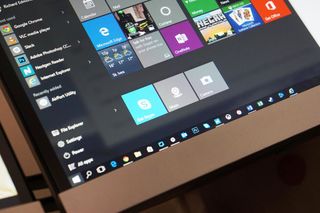 Windows Insiders on the Fast Ring can download a new PC preview build of Windows 10 with the version number 10547. Microsoft has fixed some issues in this build compared to the older 10532 version, but there are also some known issues that remain as well.
Windows Insider head Gabiel Aul detailed what's been fixed in the 10547 build:
We have fixed a lot of the underlying causes of the critical error dialog Insiders were seeing with Start. And search should work more consistently now when interacting with Start.
The notification icon for Action Center should no longer light up even though there weren't any new notifications.
We fixed an issue where the Battery fly-out text was truncated in certain languages.
When choosing background shuffle, we've enabled the ability to shuffle backgrounds randomly instead of the order they appear in the folder.
You can now use Cortana with local accounts as well as with a Microsoft account.
We have fixed several issues with audio – including issues specific affecting Realtek audio devices.
Aul also listed the known issues with the 10547 build
Languages packs are being published, but will be rolling out to the update servers throughout the day.
Windows Store apps may not update automatically. To receive app updates, open the Store, click on your profile picture at the top right, choose "Download and updates" and check for updates manually.
Using Notepad.exe from the command line to open files when using only a file name, such as 'file.txt', will fail with a permissions error. This will be fixed in a future build, but this can be worked around by using a full or partial path, such as '.\file.txt', or using File->Open options in the UI. Clicking on the system icons in the notification area quickly can result in Windows Shell blocking the launch of fly-outs like Audio, Networking, etc. This can be resolved by rebooting your PC.
You will see a warning message in the Settings app > Update & Security > Windows Update regarding preview builds. Don't worry about this – It is safe to ignore for now. We're adding some new functionality to help you diagnose what's going on if a new build isn't getting to you, but it's not fully implemented yet.
More Resources
Need more help? Here are some articles and our forums to get you started!
Windows Insider Program - All you need to know
Source: Microsoft
i have problems with build 10525 i cant install this build or roll back, if i download build 10547 iso can i upgrade my pc ? if yes do you recommend to install it on my main machin ?

He's not off topic so I don't see a problem with him posting here. (Although he probably would get more help in the forums.)

No big deal - installing now!

"You can now use Cortana with local accounts as well as with a Microsoft account." --- Yaaaaaayyyyy!!!!

What's the difference between local and MS account? I noticed them two days ago

local accounts are old type user accounts found in win7 and earlier.

A Microsoft Account involves a Microsoft Account or a Gmail or other email client connected to a Microsoft Account that gives you access to Microsoft services like OneDrive and ties all of your Microsoft services together into one account. A local account is an account that has no attachment to these services unless you sign in individually to each service and information is kept locally on the machine.

Currently facing problems with language on my screen

Ohk it already written on discussion

I'm out of battery so now I have to wait till I get home :(

The audio bug is what I was waiting for...

It doesn't shows up in update just reactivated insider preview

Finally the ability to use Cortana with a local account. That's neat. Also, welcome the start improvements and the option to finally change the hero logon image.

The Cortana one seems great.

Nadella finally found the way to mess with Notepad.

Does anyone know if a machine running 10240 Pro with Trend Micro Maximum Security v. 10.0.1150 installed can successfully install 10547? I was unable to jump from 10240 to 10532, presumably because of Trend Micro. Do I need to uninstall it before installing 10547 and reinstall it afterwards?

It's generally advised you disable antivirus and firewall programs prior to installing any new programs. If you suspect one or both may be the cause, simply disable it and try. There's no harm in that. If that makes no difference just turn then back on. Now wasn't that easy?

Hoepfully it fixes the SHOW WINDOWS SIDE BY SIDE bug. 1) Open 2-3 windows 2) Right click taskbar and choose SHOW WINDOWS SIDE BY SIDE 3) Insanity

Lol, just tried it. Hilarious.

Just tried that... wow... you're right... stacking windows and placing side-by-side is more than just a little broken in build 10532. Seriously, folks, take a look at this disaster before it's fixed. It's quite impressive.

At least cascade works alright...maybe the snap is interfering with the stack and sides options, Feedback away! =p

Lol! This is like a troll functionality in Windows 10. Seriously Microsoft, have they fired all their testers?

Cortana with local accounts! My customers will love that! Hopefully that will make it to mobile as well.

Received an email from Microsoft community re feedback to restore option for 4 column tile start screen. Apparently this is now in build 10547 with plans to include for TH2... Yayyyyyy! This 3 column layout is super annoying! http://blogs.windows.com/bloggingwindows/2015/09/18/announcing-windows-1...

...still....installing...1 hour later on my SP3....damn slow work WiFi. *now its installing HA*

For the first time I got an error when upgrading to this new preview build. The error happened while the system rebooted after downloading the update. Error was, "All boot devices failed secure boot verification." I binged it and the only thing I can think of to try is to turn off "secure system boot" in the bios setup, which I just did. This has so far allowed me to get passed the boot error, and get to the Windows 10 upgrading screen. Hopefully everything will work. Anyone experience this problem and any further suggestions? I guess I should turn "secure system boot" back on after this upgrade finishes?

main thing ive noticed so far is new icons for mail/calculator and store :)

Still no mention of the Broadcom WiFi driver issue. I guess Microsoft really doesn't give a crap how many devices they broke with the last build. Hopefully they snuck a fix into this one and just forgot to mention it.

I just installed on an Asus T100, and Broadcom issue is resolved for me.

Major keyboard issue where the return key does not work after a short while here.. provided feedback to MSFT but rolled back to 10532 where it's fine

Excited! The last build was not very kind to my laptop. Hope this fixes things again!

Wait, what kind of code causes a regression bug IN NOTEPAD?? Granted, a high majority would never run into that one but holy frijoles! I never thought there'd be a bug associated with notepad.

Yea, it seems as though the windows dev team is failing really badly when it comes to impact analysis. All of these inside builds seem to break seemingly random functions.

After installing, mine was keeping the activity light going and I couldn't open anything. I restarted and now after logging in it goes to a black screen.

"You can now use Cortana with local accounts as well as with a Microsoft account." Hohoho! That's very welcome by me, looks like I'll be using Cortana after all...

Is it just me or is NIC teaming broken again?

Broken for me, unable to have 2 cards enabled.

Jeesh I wish these were the only issues I'm having with this build... Its taking forever to boot. Once it boots, I can't open anything, no edge, no music, no store, nothing. My icons are all messed up looking again. I feel like with every build the experience gets worse instead of better :(

Anyone notice that Origin and Office 2016 apps have no icons in the "All apps" menu? Origin in particular is annoying because it's a black square which doesn't get an icon even if you pin it to Start (the Office 2016 apps get their icons when you pin them to Start).
Windows Central Newsletter
Thank you for signing up to Windows Central. You will receive a verification email shortly.
There was a problem. Please refresh the page and try again.