Phone app gets installed to leaked 10558 Windows 10 PC builds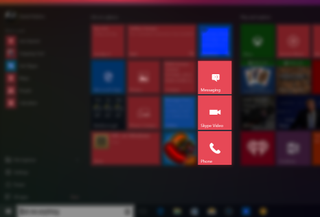 File this under possible bug, or perhaps something more interesting, but for those running Windows 10 build 10558, which leaked onto the internet yesterday, you may find the OS installing the Phone app from Windows 10 Mobile.
Indeed, we were tipped off about it and when checking our Store for an update Phone app build 1.9.30000.0 installed to our PC running the leaked beta OS.
So what does it do? Truth be told, not too much yet. The app can call people but simply routes itself to the new Skype Video app. You can also have favorites selected. Trying to call them any other way, of course, does nothing as the OS – to our knowledge – does not have telephony built in. However, since Windows 10 Mobile and Windows 10 for PC share so much of the source code, anything is quite possible.
Is this the lead up to being able to send text messages through your phone via your PC? Will those rumors about a Surface device that can make calls to become a reality? The crazy thing is with Windows 10 almost anything is now possible.
Alternatively, we could be just looking at a fluke with the Store. Crazier things have happened, after all.
We'll have to just wait and see what Microsoft tells us, hopefully, this Tuesday.
Thanks, Justin F., for the tip!
Daniel Rubino is the Executive Editor of Windows Central, head reviewer, podcast co-host, and analyst. He has been covering Microsoft here since 2007, back when this site was called WMExperts (and later Windows Phone Central). His interests include Windows, Microsoft Surface, laptops, next-gen computing, and arguing with people on the internet.
Phone specific apps are definitely weird, but would be REALLY awesome if they worked seemlessly in a properly set up PC.

Hopefully they add not only the ability to dial and answer calls from your desktop PC, but also the ability to play and save your voicemails to your desktop PC.

Definetly possible for desktop users with a GSM phone since there is a blue-tooth API for a connected device to use the other device's SIM.

Considering that this app was already in the build actually (first thing I noticed after installing the build, since it was "promoted" in Start), I'm sure something is in the works... Taking into account that the Messaging app is already the same between Mobile and PC, I'd guess that as long as both devices are connected to the internet, you could send an SMS from the PC. Phone calls - that would be a bit trickier, I guess. Then again, there is something going on with the ways a Windows phone connects to a PC (USB EEM, Bluetooth have both undergone changes in Windows 10 Mobile), so we should wait till tomorrow and see.

SMS doesn't use the Internet. Unless you mean the message you send from your PC gets routed to your phone through the internet before it gets sent over the cellular network, then I agree. Posted via the Windows Central App for Android

Here in Canada, a few of our mobile service providers (the three main players that DOMINATE the market) give customers the ability to send SMS via their websites. So....?
There also was the ability to send an e-mail to a cellphone. I haven't used that feature for a very long time. So, I'm not sure if it's still provided. Perhaps.....?

SMS doesnt, but if Skype becomes more like iMessage, Skype could.

What they need to do is make Skype VOIP and messanging FREE..........like every other free service out there (see Viber, Whatsapp, Line, Google Hangouts).............if they keep charging to make calls with Skype, its never going to get users to message with it for free. Let me call landlines from my PC with no charges associated, and maybe id use it. Or at a minimum, allow me to connect to my phone via. Bluetooth, and then make the calls and SMS from my computer - that seems more realistic.

BUT HOW I DONT KNOW HOW TO USE IT

I think this for tablets with a sim or if you use a W10M device you can call from your computer instead of using your phone

Yup, one way it could happen.

I have no idea why you can't already connect to phone via Bluetooth to make calls and send SMS. Seems basic.

indeed, my old Nokia Symbian phones used to be able to send messages and take/make calls from the PC when connected via USB.

Yup, Nokia PC suite plus symbian phones was nice combo for sending/receiving calls and sms.

wow i so didnt know that. Thats amazing they did that so far back.

I used to send SMS from my PocketPC using the IR port on my old Nokia phone.

It's all about IP , not something that MS or any others can't put right into OS when users ask, IP game kills user experience!!!!

That's half the story. The reality is that if it were not possible get patent protection, effectively protecting the inventor's right to own his or her invention for a relatively brief period of time, there would be a lot less innovation. Companies, VC's, and others pour lots of money on ideas before they are commercialized, because they believe they will get a return on that risky investment. Many of them fail, and those investments are lost. But with a patent, the patent owner can charge higher prices or license to others (and get money from those license fees), generating a return on the investment. In most cases, that return is then reinvested in other nascent ideas. In short, while there are patent trolls who don't really add any value, the patent system as a whole is one of the greatest drivers of innovation ever devised.

Damn it can u guys or Bennett fix your app that I paid for? So slow to open new page the worst and most recent bug.... Pathetic... How can anyone take your opinions seriously when your own tech is rubbish... The app on windows phone btw.... Thought it migjt be a w10m thing but nope after wprt its still present.... Takes 10-15 seconds to open new page... Click on menu topic...... Press back..... All takes forever... And this is on two 930s, 532, 530, 920 and 1020. This bug is definitely on your end.. And u guys complain about ppl not updating wp apps.... Broken ass crap. Funny how your android app works flawlessly and has heaps more features... Show some respect to the 100k followers and esp those of us who paid to support u guys.

you know it works fine on windows phone 8.1..... so who to really blame here..... or we all just be quite for now...

Ya its true after latest windows 10 mobile update windows central app take too long to open article... Hang in blank screen for almost 5-10 seconds. Also back to list take same amount of time...

You want to be constructive? Don't be a gimp, submit the feedback to the developer, you clown.

He is a clown for pointing out an annoying problem? Are all the other apps on your phone having the same issue? no they are not. Windows'Central' needs to do better than this

He's a clown for doing it in the comment section of an article which may or may not even be seen by someone who can do something about it. Submitting it to the dev is the proper channel. Think of it like staying in a hotel. If you wanted more towels would you ask for via an email to the hotel website or a call the front desk directly?

given it takes 5-10 seconds to open a post, he probably did it at the first post he got :)

Wrong place to do it. Instead of hoping that the developer reads teh comment and fixes the issue, submit feedback to the developer directly.

Even in WP8.1 not all comments are shown. Major bug in paid app. Android app just works I suppose.

Working fine on Android ;-) Posted via the Windows Central App for Android

What do you mean the Android app has more features? I'm using it right now, have been for about 6 months and is missing features windows phone's app has. Updates fix problems like that, that is why they want people to update. Smh Posted via the Windows Central App for Android

It has some problems, but its functional and doesn't drain battery. Last I heard, he was hard at work on a beta. (presumably for 10)

Is this PC or tablet or laptop or. I don't care anymore.:V

It can't be a simple bug, pcs can't run ARM just like that, it means more synchronization and consistency across devices, a dream coming true

It's a universal app, has nothing to do with ARM.

Well you do have to Build for ARM to deploy to a phone, but you're right in terms of there not being any need for code changes. If you're in Visual Studio developing a UWP app and you choose "Device" as your debug target for example, then you need to be building ARM (Based on the default settings in VS at least)

I would still expect the app to crash or something if it wasnt designed with a PC in mind. It should be looking for hardware or something if its meant as a phone only app.

With any luck. It's ridiculous that only Apple has this functionality at this point.

They innovate every now and then. Like one every 10 years, but give credit where is due lol. They were the first to have a GUI. That has to count for something lol Posted via the Windows Central App for Android

You have to give them credit for combining numerous other, disparate ideas to create the iPhone. And it's hard to argue with its impact.

I think Xerox was the first ones with a GUI. I don't know what they actually made first as a company.

And Blackberry...only Blackberry works over Wi-Fi or LTE, which is infinitely better than Apple. Can't make calls though, only text, email, and BBM

Like how the Palm Pre and HP Touchpad could send/receive texts and audio/video calls on either device...

I'm intrigued, I think this is all part of Microsoft's new take on computing. More mobile centric, if they make the right moves I think there is so much potential. I've been debating getting a Windows Phone. Maybe now is the time. Posted via the Windows Central App for Android

Allow to place calls from PC when connected with a Windows Mobile device? Dreams, but maybe one day.

just replace windows mobile with ios and your dreams may come true

Yeah, but not in your mac Computer...

But then I would need to use an Apple device, I don't want to do that.

But what about people like me who are ditching Macs and moving back to Windows? Yeah, seriously, my whole family are, and even my Linux brother!!!

Any Nokia symbian mobile can do this.

thats if you like ios and their eoc system. Personally even after 6 years on iphone i still think windows 8.1 mobile is my favorite mobile experience. Theres features i have that the iphone doesnt, its little things like a full functioning none restrictive nfc lol and gestures beta which i love. Not to mention cortana,pivoting menu system oh and a little game changer for me called live tiles, that alone makes any static icon based os look old fashioned. I know im in the minority thinking this way and i just dont get that.

Right there with you buddy - people are so set in their ways, and afraid of change. Looking at something different is confusing to most people. Remember when MS hid the start button in the original Windows 8.............the backlash from that move set the entire ecosystem back probably 2 years. You have to take baby steps in computing / Technology, or else people will never switch.

Hopefully they add not only the ability to dial and answer calls from your desktop PC, but also the ability to play and save your voicemails to your desktop PC.

Things Google Voice users have been doing for years. Maybe someday Microsoft will catch up. Posted via the Windows Central App for Android

Is that not VoIP calling rather than calling through sim / network?

I'm pretty sure it's VoIP calling, but I've not used it to confirm - Same thing Skype can do on multiple platforms... The more and more I see people skimming over Skype features (That have been there way before Microsoft even bought it) the more I realise Skype really didn't and doesn't get marketed very well. I know a lot of people that use it, but they are mostly technical users, like other Developers

I'm not a technical users or developer and I have used Skype out for years to call either abroad or local premium number that are not included in my call plan.

SKYPE charges $ to make VOIP phone calls (Only Skype->Skype calls are free) - thats the main difference - all the others are free. I guess, if people are paying, then why not, but look how many users Viber has, or Line...........Skype predates all these services by many years, and for some reason, its now been completely surpassed..........just like most MS services - due to a lack of focus by MS.

Nope, on the other hand Nokia was doing this in 2005 and maybe even earlier

As a PC giant trying for success in mobile space, Microsoft should work on integrating the two. I mean, very much. Like, WiFi Direct, handling calls and texts on the PC while on the same network etc etc!

Exactly! Apple already does this I think. I would love this feature.

Windows 10 is going to be so great in so many devices

being able to not have to touch our phones once we start using our PC's is a no brainer feature, so I'm sure this is (hopefully) part of that experience

MICROSOFT really work hard with Windows 10.. One OS to rule them all..

Daniel, can you confirm the Google apps rumor that many Microsoft watchers have been talking about on Twitter?

The original source of that is not someone, to my knowledge, has a good or respected reputation. I have no knowledge of such an announcement and TBH, such a high-level declaration would likely be only know by the execs who are unlikely to leak anything. Confidence in that rumor: 3/10. I mean hey, in this day and age of Microsoft, anything is possible.

If I am able to use my PC to access all functions and apps on my phone while my phone is connected to my PC... This alone would be a good enough reason to buy a windows phone.

@Daniel.. You might want to change the line.. " does nothing a the OS"

People that do this always use a 1520...

Probably you'd need to connect your phone via Bluetooth to make calls?

This should be too hard to do especially with a w10m device but surely with a PC connected using cable or Bluetooth. W10 codes are almost the same the PC should only need access to the sim on the phone or in some other way communicate with the phone.

My goldfish eats peaches.

You should hear what your cat says about you!

Its about damn time. Been waiting on this feature

woooooo now we are talking make this reality then people in windows ecosystem definitely buy windows phone :) i was wondering waiting for this feature from ages ... if this becomes reality win 10 will be way head of ios,mac os etc.....google cant do this ..... way to go microsoft :)

Google has been doing this for years... Posted via the Windows Central App for Android

Nokia has been doing it for decades...

Not in the same way or integrated as such. It's been around and Microsoft needs to do it. But it's not the same. And it's never been done on WP, which many prefer. No one is making an "Apple" claim that Microsoft invented this or revolutionized this. Just that it may be in Windows 10.

The way google has done it is hardly seamless.

This is a great time to have a Windows 10 phone! Hopefully they add not only the ability to dial and answer calls from your desktop PC, but also the ability to play and save your voicemails to your desktop PC.

Stop spamming the same comment, it gets annoying.

That really would be awesome. Then, when working, you can just leave your phone alone and just work with your magnificent Windows 10. One headset for listening music, making Skype for Business calls and now even the phone calls. Waiting fo it!

Daniel, how did the universal app looked on PC? Was it somehow adjusted to high resolution screen or just looked the same as in the phone? If looked differently, them probably Microsoft developers really tried to do an app that works on PC as well, otherwise, it'd look the same.

Noticed Cortana had call options still months ago in like march build. Or whenever she first worked. Could be a bug like clicking volume up and down three times in a row.

I'd kind of forgotten that being able to call and text from your phone via your PC want a confirmed feature! Was excited to see the apps turn up but wasn't surprised as it's been expecting them for months, lol. Hopefully that functionality is coming then. If I'm using my Surface and my phone gets a text/call, I'd very much like to be able to read and respond to the text/answer the call from my Surface without having to grab my phone... Fingers crossed it's not just Skype...

Use Google Voice then. This capability has been available for years! Posted via the Windows Central App for Android

Been available on Nokia way, way before Google?

Tue but largely irrelevant as almost no one uses Sambian phones anymore. Posted via the Windows Central App for Android

Google Voice isn't the same as a fully OS integrated app. If google played nice and released apps for Windows then maybe I would give it a try... Nah who am I kidding, I'd rather not have the feature than take it from google.

Does Google Voice support Windows Phone? Is it available in the UK? If the answer to either of those is no it's a no go. Sorry. And before you tell me "get Android or iPhone" I do not want them as I prefer Windows Phone. I don't care what Android or iPhone has to offer I'll stick with Windows Phone and pressure Microsoft to get the features I like added to Windows Phone.

I would like to be able to call via my PC sometimes while at work. The PC could, in theory, route the call through my Lumia. I would like that scenario. Posted via the Windows Central App for Android

Well if we all want this feature....dan can consult/notify Gabe (?) and we all can just vote for it!!! MS seems to be listening

I wish it was that simple.

It's already a planned feature in development there's no need to up vote the idea. Personally I will only make use of SMS, no interest in calling from my PC. For business it might have more relevance but not for a few years since nearly all companies use specialised hardware and software for "land line" calls. The best we have at the moment is our phone system is integrated with Lync so we already have the functionality for making calls through desktop but not SMS.

Yes please Microsoft, Telephone calls/texting on PC through Windows Phone!

It's for Surface+LTE Devices, running Windows 10

Or for the new Surface Phone running on Intel in 2016. If that's the case, it may be a further clue that a Surface Phone would be capable of running a Desktop apps as a full PC. THAT would be absolutely awesome/stellar!

Cool! Bring on the phone and messaging sync between all windows devices.

Looks like Skype call may be for PC!

What's hilarious is that if you visit the link to the Microsoft Phone app that was in Winbeta's article (not trying to say that one's better than the other) in a web browser that doesn't open the Windows Store the name of the app in the URL is "Have fun Windows Insiders." It's almost like they knew it would be discovered. https://www.windowscentral.com/e?link=https2F%2Fclick.linksynergy.co...

It would be good if we get these features for win10 tabs.

The cool thing will be if it's an option to call and text message on your PC using a bluetooth connection with your phone.

I think it is some kind of bug

Its weird that no one asked about the wallpaper in the screenshots.. LOL..

How does Continuum work when it comes to sending SMS messages and making calls? I assume once docked / connected via Miracast you can access SMS and Call functionality.

With continuum while your phone is docked you have full access to the phone on the large screen. From what I saw the "desktop start menu" is literally the phones start screen so you would just click on the messaging or phone tiles and away you go.

This looks really interesting to implement if it were real.

How can it be "accidentally" pushed to the Store? I mean, we all know that Universal Apps are not the same binaries, and thus, someone has explicitly compiled this Phone App for PC, and then pushed it to the store. It's not the "mobile Phone app" which has slipped, accidentally, on the PC store, in other terms. After all, Twitter has a UWP, but only the PC binary is available so far. If there's a Phone app running on PC, it's all but an accident to my eyes.

The accident part is the fact that it wasn't marked as internal but public instead. Or it's already made public for this leaked build since the build is not meant to be public yet and this is a new feature coming to the next insider build. I agree it's impossible for this to be a phone build since you are right about the binaries. But accident or not it makes no difference, this is a feature being worked on and will likely be available in TH2.

Probably Surface Pro 4 will be a calling tablet.

My guess is that this is pretty simple... you have a PC and a phone, and they talk to each other thru the app. So now this new PC app provides integrated messaging that can allow you to communicate over skype, facebook, and SMS. So in essence, the new app uses your phone as a SMS portal, and Microsoft will probably write apps for iOS and Android that will also allow them to do similar, or if that is too low-level for an app to access, perhaps it will be Windows Phone only, thus differentiating the Windows platform from the others.

Wasn't there a rumor a couple months ago that the Lumia 950 (XL) will be able to connect to a computer and you'll get calls and texts on the computer from the phone?

you can do it today on phone and desktop but you have to pay a monthly subscription to some third party, its actually been around a long time now.

I think this app is to add a voip app as the "phone" on Windows (like Skype/skype for business).. If they are replacing skype with separated apps they need an app to make/receive phone calls trough Skype...

Would be a nice addition for sure. It gets really annoying sitting in front of your pc and constantly having to pick up your phone to do basic stuff. For now, i'm using mightytext in chrome and on my android phone, works pretty well for getting sms/mms on the pc.

Syncs with phone? Posted via the Windows Central App forvAndroidbon Windows 10 mobile

wow if i can answer and call people on my pc via my phone that woulkd be the cherry on top. Would be possible one of the most useful things they have ever done, i hope so anyway. This would certainly be the big stand up wow thing tomorrow if it is coming.0

Reminds me of good old Nokia PC Suite that I used frequently to send text messages through my N97 mini. It has its own keyboard, I know, but it's really convenient sending texts through PC. If they add the calling functionality, which I'm sure they can, it would be really amazing.

I would love to be able to send SMS through the computer. So convenient to just type a message and get back to work without touching the phone. I can't wait to test Continuum when the phones come out

Can't you answer iPhone phone calls on a Mac already? If this app provides such functionality (through Bluetooth maybe) that would be cool.

Why is everyone assuming this is for a PC to make calls through the phone? That may be the case, but it may also be in preparation for a full Desktop OS on a future phone, the Surface Phone in 2016 running on the new Intel processors about to be released? Imagine a Surface Phone with Continuum that will run legacy x86 apps! That would be the ultimate use for this.

This is what I'm waiting for!!

I can't help but wonder if the mobile version will have (for devices that support it) will have an ability to "link" the phone mechanism to a PC or tablet. In other words, I could imagine a gimmick where you have the phone connected to the PC via the USB C cable and be make or receive a hands-free phone call. Or it's a bug.

Skype Video
Microsoft Phone
Windows Messaging Why are 3 related apps using 3 different brandings?

FaceTime Apple's Phone iMessage I don't know...

Hope i can sms without touching the phone simply texting with pc connected phone over ms account and it sending sms itself

Is their any way by which we could get calls to our pc when were using PC heavily. Or at least notification type something that you're getting a call. I mean that feature would be great.

Remember dialer.exe? Its the Windows 10 version of that XP app! :D

The features for this app list "Record your phone calls—cellular, Voice over LTE, or Wi-Fi—for future use and playback (requires consent from all parties on the line)." Is recording calls new to this build, or has W10M had that for a while?

no theres no call recording currently in the beta so yeah that would be a new feature

interesting... trying to install or trigger the latest vesion of Skype with translator at the weekend, i managed to update to a later version of skype than that i had, and when it was being setup, i prompted to confirm that phone calls would be OK to be used in Skype.... this appeared to be a windows 10 prompt and not a skype prompt... wonder if this is a sign of things to come?

Seriously Daniel? We already knew this was coming, it's not a bug, Skype will be split into three seperate apps, chat, video and phone.

If we truly are going to have one Microsoft OS, it would only make sense that you would eventually be able to make/send/receive calls/texts from your computer/tablet, etc. and continue on another device.

I think it'll allow us to take calls of our phone on the PC(if PC is what we're currently working on). & this Microsoft Phone app will show us a notification in the Action Center (maybe) that we're getting a call on our phone. But if we click on our Windows 10 tablet/laptop so the call will be transfered here from phone.

i really hope this is a feature to take/make calls and recieve/send messages (SMS) from PC when phone is tethered to PC.As Satya quoted they are focusing on mobility of experience,i think this is one of them....anyway we will find out soon
Windows Central Newsletter
Get the best of Windows Central in in your inbox, every day!
Thank you for signing up to Windows Central. You will receive a verification email shortly.
There was a problem. Please refresh the page and try again.