Latest Windows 10 Insider update may have enabled Intel's Speed Shift technology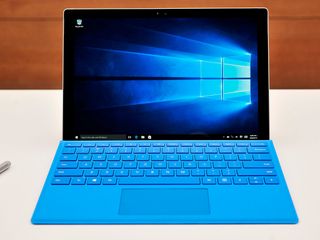 If you are running a new Surface Pro 4, Surface Book, or any new PC using Intel's 6th generation Skylake processor, you are in for a small treat. These new processors bring a revamp to Intel's Speed Step technology now called Speed Shift.
This technology is not enabled right now in Windows 10, but it is coming in a fall update. Even more, from our tests it looks like build 10586 flips the switch.
What is Speed Shift?
Over at AnandTech my friend Brett Howse has written an in-depth analysis of Speed Step and its new iteration with Speed Shift. They had early access to an Intel patch to enable the technology and published their results, which you can find below:
AnandTech - Examining Intel's New Speed Shift Tech on Skylake: More Responsive Processors
I encourage you to read that as not only does it explain how it all works, but Brett also does some before and after benchmarks with the Intel patch.
>
The gist of Speed Shift is that it lets the processor – and not the OS – determine operating frequency and voltage. Previously, the operating system would take care of this by ramping up and down the processor based on PC tasks. This ramping is why modern processors have peak speeds and baseline ones. Running full blast would result in very short battery life, so the OS puts the CPU down to a lower idle speed when not in use (this also explains why battery tests are task relevant).
Speed Shift pushes this function to the processor itself without the need for the OS to interfere. There are two potential benefits here that immediately become apparent:
No change in battery life due to more efficient ramping up and down of the processor
A more responsive system as the processor can ramp up to max speed quicker than the OS
Without a doubt this is what AnandTech found in their numerous benchmarks with Howse concluding:
The biggest gains were seen in using a test called WebXPRT 2013 (26% gain) and WebXPRT 2015 (20% improvement) with Speed Shift enabled.
This discussion all leads to the question does Windows 10 build 10586 have Speed Shift enabled for Skylake CPUs?
Surface Pro 4 with build 10586
In speaking with AnandTech's Brett Howse, we were able to verify that in Windows 10 build 10586 there appears to be an enormous jump in performance using WebXPRT 2013 and 2015. This conclusion was reached by comparing our Surface Pro 4 (Core i5) results to his pre-Speed Shift ones.
Indeed, our tests even beat out his scores on a Surface Book with a Core i7-6600U (versus our Core i5-6300U):
Swipe to scroll horizontally
| Category | Core i7 (Speed Shift) | Core i5 (Speed Shift?) | Core i5 (No Speed Shift) |
| --- | --- | --- | --- |
| WebXPRT 2015 | 414 | 425 | 326 |
| WebXPRT 2013 | 1831 | 1979 | 1396 |
What is fascinating – and surprised us both – was not only did my Core i5 scores in the middle beat the non-Speed Shift Core i5, but it also bested the Core i7-6600U with Speed Shift enabled.
Howse believes that the Microsoft Edge browser, which we used in all the tests, has been further optimized with the latest Windows 10 build. Combined with a presumably enabled Speed Shift tech and the WebXPRT scores look very favorable for those waiting for next week's Fall update.
Microsoft has yet to confirm Speed Shift is enabled, but the results presented here lead Windows Central and AnandTech to believe that Skylake users will see these results.
Seems more responsive
So the takeaway? For those on newer PCs running Intel's 6th generation Skylake processors, you're about to get a slightly more responsive system. These improvements should be seen in short-burst activities like loading a web page, which ramps up quickly (during the loading) and ramps down to idle when reading.
Head to AnandTech to read their full write-up. Thanks to Brett Howse for this assistance with these tests.
Windows Central Newsletter
Get the best of Windows Central in in your inbox, every day!
Daniel Rubino is the Editor-in-chief of Windows Central, head reviewer, podcast co-host, and analyst. He has been covering Microsoft since 2007 when this site was called WMExperts (and later Windows Phone Central). His interests include Windows, laptops, next-gen computing, and for some reason, watches. Before all this tech stuff, he worked on a Ph.D. in linguistics, watched people sleep (for medical purposes!), and ran the projectors at movie theaters because it was fun.
no need to upgrade from i7 Sandy Bridge

For a moment I read it as speed sh*t technology.. Lol..

You should head on over to City Wok for dinner, then... ;)

Or he could dine at the new sodosopa

Gotta say it... ... Seems faster.

Very cool. I can't wait to get this update on my SP4!

Really enjoy such articles, keep them coming. Love to learn new stuff about hardware and software everyday.

Cool stuff. It's great to see that computing industry is innovating quickly in wake of fierce competition.

I guess Hasswell and broadwell processors are way too behind skylake processors.

Skylake run xp? Haswell does. Google 'haswell xp'. Look for Guy Fawkes patina.

Does the M benifit from this as well?

Yup, it should. Same architecture.

Oh no, you didn't write anything in this article about how Speed Shift is linked to OneDrive is destroying people's lives. Some people are going to think that you are in cahoots with Microsoft in a cover-up.

Your flippant comment doesn't change the reality. OneDrive was a very big hook into the Microsoft ecosystem. There is now literally zero reason why an Android/iOS user would begin using OneDrive as cloud storage. & when it comes to Windows Phone vs Android, the latter now comes with triple the cloud storage right out of the box.
If you cared about the progress of Windows Phone/Mobile, then you should also be pretty concerned about Microsoft's ridiculous decision.

He comment was not defending Microsoft regarding OneDrive fiasco. What he did was, attacking some ignorance person who said that Windows Central is doing a cover-up operation by not cover the OneDrive fiasco news when any other sites does, eventhough WC actually does cover the news (which is why I said that person is ignorance).

Translation - OMG OneDrive is destroying my life. There is no reason for an Android user to use OneDrive or iCloud, there is no reason for an iOS/OSX user to use OneDrive or Google Drive, and there is no reason for a Windows user to use iCloud nor Google Drive. Each OS has been integrated with the cloud storage from the respective company to where using one from another provider does not make sense. The whole thing has been over played. While there are some genuinely frustrated users out there who do not like it, if you do a little research many of the people making the biggest deal about it are people who are not users. There is one guy here on this forum that makes sure he posts over and over about how horrible it is. But then you poke around in his history, and a few weeks ago he goes on a rant about how he would never use OneDrive because Microsoft is using his data, that is why he only uses Google Drive (because, you know, Google never uses your data for marketing purposes).

Not so... I'm a long time onedrive user, since they were Windows Mesh, and I'm very disappointed in their recent announcement. Microsoft is clawing their way up, they've done some phenomenal things these past couple of years. I own a SP3 and just bought a SP4, I'm a huge Microsoft loyalist. I somewhat dropped OneDrive before this announcement anyhow though, since they got rid of placeholders which was one of the two reasons to use onedrive the other one being having more space than its competitors. Ironically they axed placeholders because they took too much space, I wonder if axing storage space was there long term plan. So why bother with onedrive? No more placeholders, and otherwise the product is no more compelling than the competition otherwise. Oh by the way, there are MANY reasons for using onedrive cross platform. I've always used onedrive with my ios and android devices. I also use google drive on my work PC's in a HIPAA environment, I actually used sharepoint for a while but ditched it because it was the most god awful pile of steaming... I ever had the displeasure of payning for. Anyhow, it's very short sighted to say that people don't cross platforms when using cloud drives, it's like saying that people don't use Office cross platform, and obviously a large part of Microsofts business is based exactly on this cross platform use in the cloud.

In all you are pissed off because they should have left it unlimited for those in that category to pack their cars, house and kitchen sink in that cloud storage. Folks like you and who uses that to threaten about that is why windows phone is not going anywhere and why you are going back to android and iPhone clouds because they offer free unlimited storage... (Oh, bad, they don't) please go ahead. Your threatening tactics does not move me, I will whine and bit$% like a sailor about MSFT devices and features' short comings as I see fit, but I am yet to see anything stopping me thus far to keep on enjoying windows based devices or that of their OEMs. Shoiks, to most Apple fans, Apple have never done anything wrong in their lives, even when you prove any shortcomings to them, they will gladly tell you, Oh, What I love about apple product, features etc is evrything else that they enjoy (What ever that is, my wifeunfortunately is one of them, while threst of our house love windows like you will not believe 6 to 1)

I got it over quicker than I thought I would. Life goes on. Still undecided about the Lumia phone. My number is on Google Voice and I have the $8/month Google Music subscription that comes with YouTube Red now. I wish Google would support Microsoft's platform like Apple's. Having to buy certain hardware to get certain services just sucks.

It looks like a cool technology, and I'd like to see what gains my new laptop gets from it. But one thing seems fishy- the i5 beating out the i7. Just seems off to me.

That's because the Core i7 was on build 10240 with a patch; my test was on build 10586. The one difference? Edge went from version 20 to version 25 and that can have an effect on what is, after all, a web test.

Maybe that's why Edge has suddenly stabilized for me on this build. I was having so many crashes on the last build that I was ready to quit using it. I haven't had an Edge crash since I sintalled 10586.

Just ran these tests on my i7 Surface Book using 10586 w/Edge 13. WebXPRT 2015 is 490.
WebXPRT 2013 is 2285.

that's even faster with the latest build, his test was on build 10240 w/ patch included, so... there you have it: your Core i7 processor is still faster.

I love to read articles from Arstechnica (more back when "Hannibal" Stokes used to write about CPUs) and Anandtech (before Anand started to focus so much on apple). Now if you can get that level of technical articles here I would love WC even more... I'm just saying, if it stays like this I won't mind but to me if the technical level gets higher the better. Take care!

How much of this is just improvements in Edge's performance though?

is this fonna resolve the freezing while using edge and battery life?

ZOMG OneDrive is destroying my life!

The only things I've noticed from the new build is that a bunch of stuff that worked is now broken. Mail no longer opens. This seems to be a persistent problem, every other build or so and Mail won't open at all. The CPU now runs at 60%+ even when I'm not doing anything and the fan screems like a banshee trying to keep up. Jus opened task manager and I'm at 94% CPU usage typing this post. A bunch of Microsoft services chewing through the CPU. Battery life as a result is now terrible. I'm getting 3-4 hours at most when just doing basic web browsing. And the SP4 keyboard no longer works. Every time I start the machine I have to remove and reattach the keyboard, the trackpad gestures no longer work. Key strokes oftentimes aren't recognized. And even the Caps Lock is sometimes inverted, where I have to turn caps lock on so as not to have every key in caps. Particularly the keyboard issue has made using my SP3 a hassle. Not the type of experience Microsoft is going for at all.

Mine goes stuck on build 10525, with no choice other than doing a clean install from USB as doing an upgrade (even clean install) from Windows itself led me to an error that says: "Something happened: Windows 10 installation has failed." with no reason wht it happened. Done the CHKDSK and it doesn't even resolve the problem. Maybe it's time for me to do the clean install then, starting on build 10586.
Windows Central Newsletter
Thank you for signing up to Windows Central. You will receive a verification email shortly.
There was a problem. Please refresh the page and try again.