Microsoft says 669,000 phone, tablet and desktop apps are in the Windows Store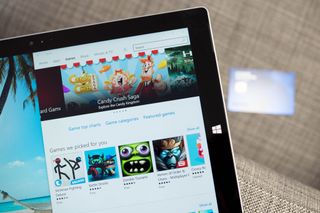 Microsoft is revamping itself in a lot of ways, and its By The Numbers site is no exception. The site, which previously had a Start menu-like user interface, has recently gotten a makeover that includes cute cartoon-like icons and pictures.
The website shows a number of selected stats for various divisions of the company. Perhaps the one that is most interesting says there are currently a total of 669,000 phone, tablet and desktop apps currently in the Windows Store. This stat does not indicate which apps are just for Windows Phone device, which are just for PCs and which one are "universal" apps that work on both platforms.
Another stat shown on the By The Numbers page is that 16 million apps have been downloaded that were created by well-known Windows Phone developer Rudy Huyn. Huyn has a number of popular unofficial third-party apps for popular services, including the Instagram-based 6tag and the unofficial Tinder app 6tin.
Source: Microsoft (opens in new tab)
its still a very small number

Its very very very small and in those some apps are just crap

And still 31000 less than 700000

Even 1000 apps would be enough if they were quality apps. What we have here is quantity over quality.

This is really not true. Both quality and quantity are needed. Quantity is needed because of the "long tail" problem: Almost everyone can probably have almost all their needs met by a dozen or two apps. That said, almost everyone also has a special interest, business requirement, hobby, or other need for a few apps not covered by those two dozen. And those are very unlikely to be the same few apps for very many people. And so, the actual number of required apps is enormous. And, of course, if those apps suck, and nearly all of them do, then the platform also suffers.

A good example of MS approving everything. There's an official Line CubeHeroes game from Line Corporation. Someone releases a rip off and calls it Line CubeHereoes. Same icon and everything. How in the world does MS approve that. Just sad really. I did report it just now.

This! We need official apps. All of them!

Yes official apps are important.. Than 3rd party with low quality Posted via the Windows Central App for Android

I think people want number first... if not they say no apps go die...

Meanwhile Microsoft is busy creating iOS and Android only apps like Send.

As a Windows phone owner does that make you nervous? Posted via the Windows Central App for Android

And play store has 6,690,000

Um no. It's around 1.5million for android and iOS.

...and 6.5 million rubbish apps.

Actually, I saw that number 2-3 months ago on 'By the Number' and they never updated. 2/3 of that number is for WP.

And the big question is how many are universal apps, unless the developer makes a a universal, nothings changed. It will still an APP for pc's, tablets then an APP for phones. Reality is you can't force a developer to make a universal APP. So where stuck in a time warp going no where.

There's alot of APPS I would like to see on PC'S that's only on phone. Or vise versa.

None are universal. At least not until Windows 10 comes out for mobile and APIs are finalized. Most are typical download separtely on each device and no sync or anything between them.

Yeah. Well done Microsoft!

Gamelion, Backflip studios and many developer games are missing

I hope that more developers and companies get interested!

I assume they are awaiting this "bridge" for Android and iOS apps once Windows Mobile becomes fully realized? I mean, everyone was so pumped about this during BUILD...and Windows 10 came out and still no converted apps via this bridge...sure, the "apps" are more for the phones but they can be Universal and run on the Windows 10 machines and tablets. Just wondering what the delay is on this...

Project Astoria is still in private preview and Islandwood is I imagine is still being improved upon (dogfooding).

I think Windows 10 Mobile needs to roll out with at least 50 popular apps converted via ​Astoria and show it running on a PC/Tablet and the phone. This NEEDS to happen.

I honestly can't think of 50 apps from iOS or Android that I would want for Windows.

The problem is that many potential users can think of 1 or 2 and that can make it a deal breaker for that user.

Exactly...serious...we Windows Phone fans have workarounds for missing apps but the common user asks for 1-2 and bam, deal breaker. LIke when I used to try to sell people on the AMIGA...because it wasn't IBM Compatable (which is was with some work and investment), they didn't give it second thought.

It doesn't help that Intuit has yanked the universal app for Mint from the Windows 10 store. This is, I hope, temporary, but no one seems to know.

Wow! Didn't know that...and I used this app...wow.

Actually, those apps can't be universal.

Did not know that...makes sense now that it still isn't out. But it NEEDS to come out...us Windows Phone fans can't keep fooling ourselves and say it isn't about the apps because it is for the common person.

Of course, this is why I have so little faith in W10M. It's going launch without those compilers available, meaning the app situation will still suck, possibly for another year.

I think developers like myself care more about the number of users not the number of other apps. That being said, when the number of competing apps is low it does make it easier to pick up more users. I think it's interesting that nobody points out that for a small app developer to come to iOS or Android stores it's incredibly difficult to get noticed in the sea of apps already out there, without something really unique or very high quality / different features it's unlikely to get more than a few downloads. I created an Android app a few years back to help me log my working hours, there were a few other apps doing a similar thing, my app was the simplest to use and looked fairly modern at the time, after 4 years in the store it got 60 downloads and 3 purchases to remove adds. So my net profit was like -$20 after paying $25 to publish it. True I didn't dedicate much time to it and only updated it a few times but when there's so many millions of users you would normally expect at least 100s of downloads and a small profit right? And that's exactly where the thinking goes wrong. The same app on Windows Phone 8, in less time has gotten 2000+- downloads and about 40 purchases to get rid of ads. When its something like Facebook it's clear there are more users on iOS and Android because everyone will get the Facebook app regardless of what OS they are on so for companies like Facebook that's where the money is. For small developers I think the money is in Windows, the problem is small developers don't have the resources to create perfect apps which is why Windows has so many low quality apps and not enough high quality ones.

I was waiting for this answer. Thank you Dev!

That's all well and good, but what does that matter off the lack of apps then pushes customers from WP, leaving you with no one to buy the apps in the future? You benefitted on WP because of a lack of established developers and apps. That reality should hold, to an extent, if others join the platform when more apps come. Of course, when you openly admit being partially negligent with updates on Android, it's easy to see why you might not get as much attention.

In this case, we have quantity over​ quality. I'm going to guess 50% of the apps are spam and abandon-ware.

Sorry but a high majority of those apps are pretty low quality. The store is still a baron landscape of useful quality apps.

The majority of the apps on iOS and Android are also low quality crap too. At least the Windows 10 Store has Minecraft: Windows 10 Edition.

Minecraft? Are you like six years old? I feel bad for the mother who gave birth to you.

Making fun of someone because of a game they play? I feel bad for the parents that raised you to be a complete nitwit.

I'd like to see a 6-year-old master Redstone circuitry and then create a working 16-bit computer with a functional hard drive inside Minecraft. Or, hey, you're probably older than six, so you should be able to do it, right? Post a link here.

Sounds like your playing Mineceptioncraft

Humans are pretty amazing: we invented the wheel, farming, pulleys, computers, then used those computers to create a game, and then in that game we created computers.

Indeed. I have so far not identified a single app of any importance in the store.


If you haven't found a single app in the windows app store that has importance you either aren't interested in apps or need to look a lot harder. I have approximately 3-4 that I use every day, and a few that I find to be incredible indisposable that I access at least once a week.

I still feel that the number of missing apps outweighs the number of ones I use daily. The only things I use a lot are MLB.TV (whose streaming lags heavily in the app), IM+ (which In only use because Trillian doesn't have an app), and AccuWeather.

That may very well be, and different people are going to get different reults depending on what they look for in apps. But for someone to say they have not found ONE app they consider to have any importance is very difficult to believe, unless they haven't actually looked.

I don't think it's difficult to believe. The catalog is that bad. As far as I can tell, there isn't a single high-quality app of any import availble for Windows 8.1/10. Sure, there's some nice games, and there's some nice 3rd party apps for social networks (but not a single nice first party one). But I am unaware of a single thing -- even one -- that can be accomplished better using a store app than using a browser or desktop app equiavlent.

As I said, someone that hasn't done any due dilligence (and raises the bar in the middle of the discussion) is certainly going to have trouble finding apps to use. Makes me wonder why you have a smartphone to be honest. On a daily basis I find myself using Mint, Fidelity, Twitter, MyTube, Bing Rewards, Microsoft Health, Phonely, Smartglass, Spotify, Pandora, MyFitnessPal. At least once a week I find myself using Enpass, Remote desktop, Amazon, eBay, Stocard, SimpleCalander, Facebook, and none of that counts apps that I rarely need but still use at times, like Cozy, the Nest client. Every one of them work with minimal issues, if any at all, and are usually more convienient, or more functional than using the browser.

We're not all going to need the same stuff. Me, I hate music streaming so the only music app I use is the horrendous Groove Music for my local library. I use TouchTube, but something is wrong in W10M that won't let it update, and I can't uninstall it. I don't need many apps because I don't live on my phone, so when something is missing or broken, it hurts me more. That MLB.TV doesn't steam smoothly is terrible. That I don't have Trillian sucks. Trillian would be over if my most-used apps if it were around, but I'm stuck on the mediocre IM+. I'm big into fantasy sports, so not having Yahoo fantasy apps is irritating. Part of why I'm so independent from my phone is app availability is so poor

You know what, I think the confusion is between phone and PC users. I really meant on Windows 8.1/10 there is nothing. I do use a lot of apps on Phone. On PC, however, all those things you list are probably better done in a Browser... That said, I nearly every one of those phone apps is pretty terrible compared to what is available on other platforms.

Of course, that depends on the user. For me, I only use a desktop for PC access, so I don't CARE about Windows Store app quantity or quality. It's still easier (and less storage-intensive) to go to the browser and do something, rather than sort through 8 billion apps to do anything.

The issue isn't doing due dilligence. THe issue is that some people actually want high quality apps that are supported as well as the iOS/Android versions and have feature parity with the iOS and Android versions. A lot of the apps you listed, simply aren't there. The updated Twitter app is still pretty bad compared to the iOS and Android versions. The OS X Twitter client is superior to the Updated Windows 10 client, even. The Facebook app hasn't been updated in ages, except to add some stickers. It's still buggy as hell as well. Cannot even retain settings across runs 90% of the time. There is no 1st party YouTube App. That's a significant failing as Google is constantly changing YouTube and that puts users of 3rd party clients consistently behind the curb. Is Instagram out of Beta, yet? Alien Blue isn't on WP or Windows 10. All the Reddit clients are terrible. I've tried all teh good ones, but a lot of that has to do with the platform. The design language is terrile for apps like that. No Playstation App for Windows 10 or Windows Phone. I heard more peopel have Playstations than Xboxes. That kind of matters. A lot of games have companion apps for iOS and Android. Those are AWOL on Windows Phone or Windows 10. Destiny Companion, for example. I think the new NBA Live 16 app won't be available on Windows Phone (but will for iOS and Android). Entire Ecosystems (like Google's) are practically AWOL on Windows Phone. There is no 1st party Flickr App on Windows Phone, unless you count the one that hasn't been updated since, what? Windows Phone 7.5 or something? When was the Vimeo app last updated? What about Tumblr? I think a lot of people are completely clueless on how deep this issue is. The issue of apps that go practically out of support, are blatantly dropped, stay in beta for ever, or sit with critical bugs for SEVERAL months before they are addressed - if ever. This is why the App issue is a big problem. Not because the apps are "there." It's not hard to write a web wrapper and deploy it to the Windows Store. The issue is the quality is extremely poor compared to iOS/Android and the Support is horrible compared to iOS/Android. For people who want the best user experience, this involves more than having a different UI. It means they want apps that are well-developed and well-supported. With iOS and Android, people have peace of mind, with Windows Phone, I always tell them not to bother becuase I've been through it with the platform and it's honestly as bad as a lot of people say it is. It is not [yet] worth the trouble. It's a double edged sword. Keeping users off the platform doesn't really help the platform, but the platform isn't really helping to draw the users by allowing shit to pile up in the store just so they can talk about a bigger number. We are well past the point where most people give a shit about how many apps you have in your app store, Lol. The point is, people could buy a Fire Phone and get better apps, more apps, and better supported apps than they can on any Windows Phone right now. It's a serious problem for Microsoft. Even their own apps are often sub-par. This was an issue on Windows 8 (Metro Apps) as well.

Especially ones made by MS. Like Facebook.

Thanks, I'll let my auto correct know. ;)

well, you know it could be true, a landscape full of barons that dominate could very well be the case lol =p

Notice how many people who are making these quality complaints have no phone/device/computer listed in their profile? But this is the same-old-same-old arguments we see from the iOS/Android fanboys, in order of progression: -There are no apps on the store Number of apps is 669000 -The iPad Pro will have a million apps, how many does the Surface have? Estimates are over 16 million -Those don't count Then iPhone apps on iPad Pro doesn't count -There are no quality apps on the store Shows the number of quality apps on the store -App X is not on the Windows Store App X appears on the Windows Store -But there are no exclusives Look at all the exclusives on the Windows Store, even though the argument is counter to the one before. -Look at all the web wraper apps on the Windows Store A large number of the apps in the top 50 of the Android/Apple stores are for web sites wrappers -Yea, well, there are no apps in the Windows Store. Wash, rinse, repeat. All you haters are getting really boring.

Good job Ms Team ...
Wish it will reach 1m before the end of 2016.

What I want to know is how many of those are Universal Apps? If we are going to push for this strategy we need to get as many developers on board as we can. Microsoft should lead the drive with high quality universal apps and work with as many developers as possible to push for the same.

They most certainly do need to do this. Every Microsoft app should be a universal app.

How many of them are universal apps?

"This stat does not indicate which apps are just for Windows Phone device, which are just for PCs and which one are "universal" apps that work on both platforms." There is no break down, otherwise they would have most likely been included in the article.

And...668,000 of those are fake and otherwise junk. I'm still waiting for them to make good on their promise of cleaning up the store.

So there's definitely only one good app, which one..? =s

And 5 phones to install them on. Yes I'm being dramatic. Posted via the Windows Central App for Android

You mean 5 BUDGET phones. Still waiting on those flagships.

This is true Posted via the Windows Central App for Android

We get to a million apps and then Microsoft kills the Lumia line.

Many of those apps aren't updated or fake apps or are of no use!

So what, it's the same story on Android and iOS.

The difference is that there aren't giant feature gaps in the other marketplaces.

The difference is, on android and ios, the REAL app is there. on MS, only the fake exist. I can think of at least a dozen apps on android which are real high quality apps that I want on my MS products that I cannot get. The ones I do have, are never updated and so much better on android. Its a shame. MS has winners in all forms in their OS, but the lack of the apps people use, causes them to not be able to gain market share.

I agree but I'm surprised by the number of my friends jealous of my having Nextgen Reader on their androids.

New official,yahoo mail app for W10. Basically a web app with live tile and notifications. Hopefully sign of things to come. Even if many here don't use it, yahoo still a big name on platform.

It's easier to just put my Yahoo account into my e-mail accounts on my phone. I'd rather get Yahoo fantasy sports apps.

How many of them are any good? Productive? Being on w10 m and then we're cooking!

If they are looking to make business phones, square up would be nice to have, otherwise I have to leave wp

Yeah, that's all fine and dandy until your boss, who is a small business owner, uses square up. He was in fact a windows phone fan, but ran into to many small business woes that windows phone could not provide, so he went android. I've had windows phone since the beginning and it pains me to have to switch. I still think it is a little bizarre to have to use 2 phones this late in the game in order to get what I need done, done.