Microsoft says 'innovation will suffer' if Epic v. Apple ruling is upheld
Microsoft joined 35 states and the U.S. Department of Justice in criticizing the original ruling of the Epic v. Apple case.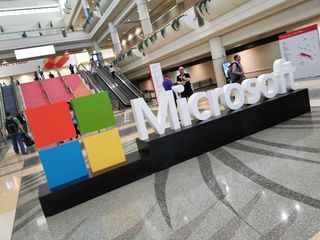 (Image credit: Daniel Rubino / Windows Central)
What you need to know
Microsoft, 35 states, and the U.S. Department of Justice have submitted filings to the U.S. Court of Appeals for the Ninth Circuit regarding the Epic v. Apple case.
Generally, the filings claim that the original ruling revolved around a misinterpretation of the Sherman Act, which is a law that bans monopolies.
Apple and Epic Games have also filed appeals to the original ruling.
The Epic Games v. Apple saga continues, now with added input from Microsoft, 35 states, and the United States Department of Justice (DoJ). All of the aforementioned groups recently submitted legal filings disputing the original ruling of the Epic v. Apple case (via ZDNet). The arguments of the filings center around the belief that the original ruling by District Judge Yvonne Gonzales-Rogers misinterpreted the Sherman Act, which is a law put in place to prevent monopolies and anti-competitive practices.
"The district court's holding creates a paralyzing paradox: Once a firm acquires market power and unilaterally imposes a contract, then it is no longer subject to Section 1. Affirming this paradox would gut the Sherman Act and prevent the Amici States from enforcing antitrust violations by large firms that harm their citizens," said the filing by the attorneys general representing the 35 states.
The filing from the DoJ made similar arguments, claiming that the original ruling "committed several legal errors that could imperil effective antitrust enforcement, especially in the digital economy." The DoJ added that "if upheld, [the ruling] could significantly harm competition and consumers by allowing a minor benefit to condone a major harm."
"Apple uses its control over an essential component of modern communications technology — now the phones, rather than the phone network — to interfere with how its customers may deal with third parties in other markets," said Microsoft in its briefing (opens in new tab).
Microsoft's briefing also argues that Apple has already done damage. "Consumers and innovation will suffer — indeed, they already have. The district court's reasoning failed to give sufficient weight to these immense competitive risks and, if broadly affirmed, could insulate Apple from meritorious antitrust scrutiny and embolden further harmful conduct."
This is just the latest development in a case that's had countless twists and turns since its inception. Check out our full rundown of all the biggest Epic v. Apple bombshells to drop from the case to find out how Walmart, Nintendo, and other companies have been roped into the legal vortex.
Windows Central Newsletter
Get the best of Windows Central in in your inbox, every day!
News Writer and apps editor
Sean Endicott brings nearly a decade of experience covering Microsoft and Windows news to Windows Central. He joined our team in 2017 as an app reviewer and now heads up our day-to-day news coverage. If you have a news tip or an app to review, hit him up at sean.endicott@futurenet.com (opens in new tab).
I don't really buy the liberals' case against Apple. Apple sells lots of smartphones because, not in spite of, the locked down nature of the OS. It's part of the package. You get software from the App Store and you know it's safe and will work on your device. Consumers could easily switch to Android and get a similar experience; it's just that for the average consumer, Apple does it better and consumers are willing to pay a premium for it. That's a far cry from a company that is manipulating the market by undercutting competitors (which is itself a problematic concept). Sherman and other antitrust laws are centrally about actions that create monopoly, not actions that take advantage of market power that is due to a successful brand. If the latter were the case, a company designing products that privilege their own accessories, for example, would be illegal. But it's not.

I don't think this is really a liberals vs. Apple issue, since 35 state attorneys general are siding with Epic over Apple here, and I'm pretty sure that liberals don't comprise over two-thirds of all the state AG's.

Is this the same Microsoft who self preferences all over the place in the most prominent desktop/laptop operating system? Let me know as soon as I can unBingafy my Windows 11 install.

Well does developer pay 30% tax to MS? Does MS disallow chrome or firefox to be installed on windows when MS feel like it?

Why is it that Microsoft wants the govt. to manage Apple but they don't want the govt. to manage Microsoft? (whiner's lament)

One more time. 🙄 You can NOT have a "monopoly" on your own product. Monopolies exist in MARKETS, not PRODUCTS. Apple is not a "monopoly" in any market it competes in. PCs? Please. Phones? Nope. Music streaming? TVs? Headphones? Tablets? No, no, no and no.

The argument (afik) is that Apple's app store has grown to become a market in and of itself, namely: iOS and MacOS devices which make up a massive portion of the larger digital device market. (think: Oil as a sub-market of Energy) Through the Apple app store, it is quite literally providing a marketplace for vendors to sell their products, and exercising their control over that marketplace to enforce rules in favour of apple. (e.g. restricting payment processors) Microsoft, Linux, Android, and other major operating system platforms allow for the bare minimum of side-loading software from third party marketplaces.
Windows Central Newsletter
Thank you for signing up to Windows Central. You will receive a verification email shortly.
There was a problem. Please refresh the page and try again.