Microsoft says there are 450,000 'highly active' Windows 10 preview users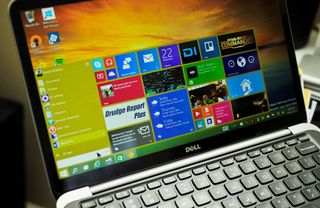 Microsoft is reporting there are now about 450,000 "highly active" users of their Windows 10 Technical Preview, out of 1.5 million users who have signed up for the Windows Insider program. Those folks with the "highly active" label are using Windows 10 every day.
Microsoft's Gabriel Aul wrote today, "Windows Insiders are using Windows 10 preview builds more actively than participants in preview/beta programs for any prior release of Windows." Since the launch of the first public build of the OS preview October 1, the Windows 10 team has fixed "almost 1,300 bugs", according to Aul.
Microsoft's current official Windows 10 preview build, version 9879, won't be updated to a new build number until sometime in early 2015. However, a leaked version of a 9901 build hit the Internet a few days ago. Aul has an explanation as to why Microsoft won't be rushing out a new public build of Windows 10 before the end of 2014:
There have been a number of patches and hotfixes for Windows 10 build 9879 since it was pushed out, including one that was released Tuesday, to fix a few issues that have popped up since its release. Aul said, "We're confident that this will get smoother as we evolve how we do this, but we do apologize for the bumps and thank you for sticking with us!"
Source: Microsoft
Cool. Can't wait for January 21. Also, its my daily driver.

It is mine as well. I use it on my Lenovo X1 Carbon as my primary machine but my SP3 is always opened next to it to complete those tasks that aren't working as well as I'd like it. Eg, Cisco AnyConnect doesn't work for me so I use my SP3 for such matters.

Yeah me too, it's my primary system because I believe that that's the only way to fully learn what is good and what should be improved

Same here, been doing my daily routine on my computer with very few hiccups.

Same here. Best OS I've used in the last 15 years already.

To be honest I loaded it up on the laptop I was using before I got the surface pro 3 and its fantastic but I just use my pro 3 more. Then yesterday I couldn't even turn on the laptop anymore which means it's prob dead for good :( never will I buy HP again.

You might want to check the ac adaptor or the battery.

Let me guess an NVIDIA chipset?

Windows 10 preview has been very good so far. I have received the explorer.exe issue a few times but overall this has been the best pre-release version of Windows so far.

Ditto. And great to see these updates come from Aul on a regular basis

Yep and thank you Microsoft! :D

Thank YOU for being on this adventure with us!

Yeah! All for the sake of volunteering to test and knowledge ;)

For the past 2 weeks it was the only way I could get online, beware from where you download something. I usually am and I got a virus so I used Windows 10 exclusively. Has anyone had apps that would not update?

Yes. OneNote, reader And the mail. Deleted OneNote and reader. The mail app i have got updated with powershell commands

I used the published powershell commands to fix the updating with Mail, OneNote & Reader. I am good to go now.

I had a small issue with the mail app, it didn't download mail automatically or have live tile updates. Turned out it had notifications and live tile turned off by default after install. Had to turn them on in the settings.

yes those are the ones I let them the info and have not seen any replies

I'd be more active if I could reach the flipping feedback app. My system got messed up after the last update and several metro apps ceased functioning. Sad days.

My first-party apps won't update since the last TP build. Namely OneNote. Reformatted and reinstalled twice, still no good.

Did you try this workaround for OneNote? http://bit.ly/1rHWDta

So that's in line with another solution that I had found. It seems I need to remove and re-iinstall almost all the modern apps. This includes the feedback app. I was able to force remove some other apps, and reinstall them from the store (once the store itself was fixed), however some, like the feedback app, I can't do the same with.

I'm one among those..
Greatest preview release ever...
No problems till now..
Hope Windows 10 takes Microsoft to top both in PC and mobile division..

Lol. It's on my main machine, haven't looked back.

Would love to try Windows 10 but using Mac now, not worth the hassle installing boot camp and all that. With that said, Yosemite is beautiful and battery preserving, but boring as hell, I miss Windows

Windows 8 is more efficient than Yosemite at least from what I've been hearing. If Mountain Lion was Apple's Vista, Yosemite is Vista SP2.

Should've hackintoshed a pc

Just hoping that it'll do good for both mobile and PC.... They should also focus on mobile as currently 8.1 is too unpolished and has too many glitches and resuming and loading screen...

It would have been 450,001 if my stupid old PC didn't have an incompatible AMD chip that does work with the 32 bit or 64 bit version.

I was one of them, ran into a few issues though (just general bugs nothing out of the ordinary) and was using as my main daily driver so currently back on 8.1

I wonder how many of us are actively HATING Windows 10? I can't stomach using it daily, as disgusted as I get just forcing myself to wrestle with it every couple of days.

I am not among that group. I am very happy with 10 so far.

I'm SUPER happy with 10. Best OS ever.

I love it. Can't wait for the updated interface and features in a few weeks <3

I went back to 8.1 after the update that tanked the way I've come to know and enjoy using OneDrive. After seeing the tweet from Gabe Aul that they're not upset by people using the leaked build though, I'm back on Win10 with 9901. I really like this build but am still really upset about the OneDrive change. I'm trying to get used to it, but cannot get beyond the feeling that this is yet another of the things that I've been happy with from MS that they kill.

I'm Using Windows 10 near 10 hours a day...

This is about the technical preview, right? The consumer preview and the FINAL product are still yet to arrive, am I correct?

I am one of them. But very very disappointed. One drive changes is unacceptable

If I may ask, what are the OneDrive changes??

This article gives a good explaination. http://www.computerworld.com/article/2847703/microsoft-updates-windows-1...

Thanks for the link. Yeah this is unacceptable :-(. Come on, is the OneDrive team trying to drive us to dropbox or google drive??!! If dropbox can implement this on windows without any issues, there is absolutely no reason why MS cannot deliver this on their own OS. I really don't care about whatever technical 'difficulties' they are alluding to. Please there is no reasonable excuse, dropbox proves it is doable. This will not fly OneDrive team!!

Yeah, if Microsoft doesn't go back to the place holder syncing for One Drive I will not be upgrading to W10. It's unbelievable that MS says this was a necessary change for THEM even though their CUSTOMERS don't like it. derp derp

I just installed windows 10 on a different hard disk and I have both windows 8.1 and windows tech preview

Been using it as my primary OS.

I went ahead and installed 9879 on my daily driver laptop, and my server/desktop. I figured ... what the heck ... It's Microsoft Windows. I just hope I can keep it when the "real" version comes out.

I was using it as my primary OS until 9879 killed it for me as I'm on x99 and get the BSOD on boot everytime now. If I keep trying enough I occasionally get it to boot, but ill keep using my dual booted 7 until that's fixed.

Fast question, and than You can beat me :] Is it possible to install w10 "on" w7 so i can dualboot them? like it is obviously possible with Vista on Xp or 8 on 7 ?

It is in fact possible to dual boot. I'm doing that now with 7 and 10!

I was using WTP10 Professional for several weeks until I decided I could no longer deal with a particularly annoying issue. Every night I had to login remotely (remote desktop from home to the work PC with WTP10), I would come to work the next day only to find a mouse cursor and nothing else functional. Only a cold re-boot would allow me to get to the login prompt and login. :( I eventually had to uninstall it. All of this is to say, is that if this issue gets resolved I'd love to jump back on. Submitting feedback is important and what better way than to use the software.

I am one of them using this as my daily OS...

i. deleted Windows8 on my desktop..im all in to w10

Will the Windows Insiders get the full version of Windows 10 for free?

Mmm. Everything was good, until I have 9879. Now the suggestion link does not work, PC settings does not work, store app does not work. So for the new version I won't be able to install it since you need to go to PC settings.... Really frustrated. Running in a virtual machine.
Windows Central Newsletter
Thank you for signing up to Windows Central. You will receive a verification email shortly.
There was a problem. Please refresh the page and try again.