Microsoft should make a Lumia 925 successor now before it is too late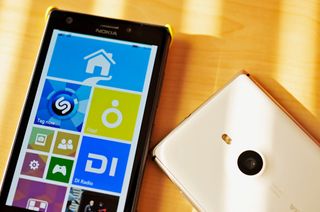 On Friday, Windows Phone Central broke the news about 'McLaren' being cancelled by Microsoft. Not much was known about the flagship Windows Phone except it was to feature the first instance of Microsoft's new 3D Touch UI. Although prototype phones likely get cancelled on occasion, the absence of McLaren causes a potential problem: what is going to the next Windows Phone flagship for the fall?
With the lack of high-end, high-profile Windows Phones for this November Microsoft may be in a bind. However, there may be a way out, and that involves making an updated Lumia 925.
The case for a new Lumia 925
Of all the Lumia Windows Phone released in the past, the Lumia 925 was the least controversial in addition to having all the hallmarks of a "classic" Windows Phone for the masses. The Lumia 925's only issue was being released not too far after the Lumia 920, causing some mixed messages to retailers, customers, and carriers.
The big selling point about the Lumia 925 is that it is thin, light, and it has the appearances. No one ever complained that the Lumia 925 was too big (Lumia 1520), too bulky (Lumia 920), underpowered (Lumia 720) or its camera is too niche (Lumia 1020).
I am again noticing these benefits after writing my recent Lumia 1520 article on why I enjoyed that phone eight months later. Although I like the Lumia 1520, I am the very first to admit it is not for everyone. The Lumia 925 though is that device for Windows Phone. However, this is not to say that in mid-2014, the Lumia 925 still plays that role - it doesn't but if an update existed...
Why they need a Lumia 935 now
The Lumia 930, although arguably the best Windows Phone right now, it is not necessarily the best smartphone on the market. The Lumia 930 is nice – very nice – but its design is uninspiring since it is based on the Lumia Icon from nearly six months ago. As such, although I like the Lumia 930, I do not see it accomplishing much for Windows Phone market share.
Instead of a McLaren, Microsoft should play it safe and choose the Lumia 925 as a template for a new, flagship Windows Phone. This Lumia does not have the best camera, nor does it poses the largest display, but it is the best overall Windows Phone that appeals to the majority of users. Here is what Microsoft would need to do to make a Lumia 935 an ideal candidate:
5-inch 1080P display (LCD if AMOLED means surrendering Glance)
Snapdragon 801 or 805, Quad-core processor
16 or 20 MP PureView camera
32 GB of internal storage; or 16 GB internal with micro SD expansion
Qi Wireless charging
Keep it thin!
What makes the Lumia 925 so appealing – even today – is just how light, nimble and elegant it is when compared to other Lumias. Is there anyone who does not like the Lumia 925's design? If there are, I have not met them. The most common complaint I heard back in 2013 was "I already have a Lumia 920, and the Lumia 925 is not an upgrade," which was very true at the time.
In fact, the Lumia 925 reminds me a lot of a high-end Lumia 720 – another favorite Lumia in my collection. My problem with the Lumia 720 is strictly internal: lack of RAM and a slower processor; but its design is top notch.
Microsoft needs to combine the best design elements of the Lumia 720 and Lumia 925, make a compelling and competitive Lumia 935, and they should do it quickly. I am not even talking a radical departure from looks; just update the specs for 2014, toss in Windows Phone 8.1, launch it everywhere. In doing so, there are fewer arguments that the phone is too niche, too expensive or too mid-range.
Conclusion
I honestly have no idea what Microsoft's plans are for the fall. According to a leaked internal letter first reported at the Verge, Microsoft is announcing "other high-end products…very soon." The problem is, no one knows if they are talking about Windows Phone, tablets or something else. If they are phones – which I am not convinced – we do not have any details on what those devices possess for specifications, or if they meet the rank of 'flagship' (as opposed to mid-range). The same report also notes that Microsoft (and the old Nokia team) are shifting "...flagship engineering efforts towards new flagship products timed with the next release of Windows and Windows Phone." Although that sounds promising, this next release is not expected until spring 2015.
I do not think a Lumia 935 is coming anytime soon, despite my arguments for such phone. My gut tells me the Lumia 1520 and Lumia 930 are going to be it for a while, and that is bothersome. High-end Windows Phones do not necessarily sell well, but they do bring media attention. Microsoft needs to figure out how to make a device that appeals to the masses, is competitively priced and launches everywhere at the same time (or within weeks, at least). Otherwise, they are going to have a tough time going forward.
Agree or disagree? Let me know in comments.
Daniel Rubino is the Executive Editor of Windows Central, head reviewer, podcast co-host, and analyst. He has been covering Microsoft here since 2007, back when this site was called WMExperts (and later Windows Phone Central). His interests include Windows, Microsoft Surface, laptops, next-gen computing, and arguing with people on the internet.
Agreed. The Lumia 925 is probably my overall favorite Lumia.

Love the 925. I think it's still the best-looking Windows Phone. It definitely needs a larger hard drive and/or expandable storage. If they could make even thinner and lighter, even better! The 930/Icon just doesn't do it for me. It's too boxy.

925 is the best for me! I was waiting 1.5 year for such kind of phone in the Windows ecosystem. All the others had something that I didn't like.

5-inch 1440P display (AMOLED) Snapdragon 805 or 810 16 or 20 MP PureView camera 32 GB of internal storage with micro SD expansion Qi Wireless charging Less than 8mm Thickness

Why a 1440p display? Wouldn't you rather have a lower, but still highly crisp 1080p display and better battery life?

about 7 years ago some people said that 540x960 is so high screen size is matter now. 2 small pixel = 1 big pixel in a lower resolution display the bigger drain battery more we are just splitig pixels. you may don't find diffrenes between 1080p and 1440p but you find between 1080p and 2160p.

Years ago there was a noticeable difference between 960x540 or whatever. Now there's not. Its not not just splitting pixels. There's over twice as many pixels as before so now the processor has to do that much more work when the screen is on. Your eyes can barely perceive the difference when the foot is a foot away from you? Why not save that extra energy in the form of more battery power?

I find a good option for you Nokia 105 it has 128x128 display and 800mAh battery with 840 hours standby time future phones use solar display to harge batteries you don't need to charge your phone. Adreno 430 will be awesome on 2K display display is a part of quality.

Yea you're right, display IS a part of quality..up until a certain point. the human eye can only perceive so many pixels, and at a certain level the benefits don't outweigh the costs. It's called the point of diminishing returns, and we're at it with 1080p screens. I recently got my hands on the (2K) G3 and when I put it side by side with my 1080p HTC One, close to my face, I could not tell the difference between the two screens. I bet you couldn't either. So what's the point then? So your phone can have a higher number than my phone? It's dumb.

They do need a flagship this fall and they need a big one. Seeing how advance the SP line is cause of the stylus, I'm surprised that hasn't been introduced to WP yet

Here a complaint I had with the 925: it's only got 16g of storage.

So far 16 has been perfect for me. :)

I loved the 925 too but the lack off storage became far to much of an issue. I also had the black one which scratch easily so the design was marred after a while. Lack of qui charging meant a plastic backing which further ruined the design so touted in this article. It didn't stand out. The 930 on the other hand is a head turner and I love the aluminium casing, bright colours, qui built in, better screen and extended battery, plus improved processor and far superior camera. This is the 935 being promoted, with the possible exception of lightness and thinness. Still, I've always preferred my devices to feel solid and wouldn't touch a plastic feeling Galaxy S for love nor money. The 930 seems to be selling like hotcakes here in the UK and can be picked up for around £100 less than everywhere else from EE stores or EE online (less the wireless bundle). Couldn't be happier except to say the only other reason I went for the upgrade early is in lieu of the cancelled McLaren (I was soo looking forward to the 3D touch). If they produce a phone with 3D touch, I'll upgrade again and donate my 930 to my girlfriend who's just inherited my 925

+1. I use the space for music on long flights.

mine was a vodafone from eurpoe so it had the 32GB, but unfortuantly i broke it last week. I also have a 930 and 1520 but I would love a newer 925 style phone.

I would've gotten it if it had 32GBs. Went with the 920 instead and it's full. The 1520 is perfect for me.

Vodafone here in Europe has the exclusivity of the 32gb,I think that its a big mistake that they will not repeat with future products.

It was fortunately unlocked - so I bought one (the Vodaphone DE 32GB) for my fiancee.

i hate these 'exclusivity' way of blocking other potentional customers.

Yea, I really like it but 16 GB was always a non starter.

The 925 was a solid phone. I was all about it but the 16GB storage was a bit of a concern for me as well. Went with the 1020 because it was available on AT&T roughly around the same time the 925 crossed over to AT&T. I completely agree that Windows Phone needs a hero product in the European and North American markets that can give high end Android and iPhone users something to think about. With all the buzz generated over WP8.1 Microsoft has to strike while the iron is hot. Rumors over an additional hero phone in the works seems to have been forgotten. I've forgotten the project name but McLaren wasn't the only thing in the pipeline for MSFT. I fully expect Microsoft to drop something this fall - they know they can't afford to be still in this space or they will have spent all that time and money on developing the platform for nothing. HOWEVER, don't forget there are confirmed 3rd party OEMs making phones that could come out later this year. Should one or two of them be hot handsets then the pressure can be released on the Lumia line temporarily. Samsung carries the crown for Android and it's not even their platform - something that can certainly occur in the WP space with the likes of Sony, HTC and LG all reportedly working on hero devices. I'm still dedicated to the WP platform for the time being, but I'm also seeing Android take strides in optimizing in the software area to be a better performer and thus it has a little more appeal than it did two years ago when I dumped the platform.

I own it and as much as I love it my first love was the 920 and the 1020 was as if my first love got even sexier!!

Snapdragon 801 though? Nvidia Tegra K1 would be a better choice.

Oh yes. But I think they have contract with Qualcomm anyways..

WP only run on Snapdragons
That's why you don't see a WP with Exynos/Mediatek/Tegra
The same with RT, it only runs on snapdragon or tegra powered devices

WP runs Windows NT, and can run on X86, X64 and others ARM.
btw, you can use the .vhd of emulator and run to boot on PC..

Sam what the hell does the word 'niche' mean? People have been using a lot on WPCentral!

A niche market is one that caters to a specific, smaller market (Phablets, 41mp cameras).

"niche" means a really small and specific audience. When you say "it's a niche phone" it means that it is a phone that has characteristics that are aimed only at a small group of people and not at the general consumer. So, the 1520, being a phablet, is a niche device because it's size is aimed at that small group of people who like phones with really big screens. The 1020 is niche because it's monstrous 41mp camera is aimed at the small group of people who are really into mobile photography.

Judging by the sales of the 1520 and the Galaxy Note line, I don't think the phablet market can be called "niche" anymore.

Present the sales of the 1520, please.
Also, the sales of the Galaxy Note's are good...but still inferior to those of the normal Galaxy S line.

MS hasn't released the figures, only for the 520. All we can go by is that AT&T and India both sold out on their preorders. iPhone still sells more than Galaxy S in the US. Is the Galaxy S a niche product? There is strong demand for phablets. It's not so niche as people would like to believe. For such a "niche," you have MS, HTC, Samsung, LG, and more OEM's on the way to get a cut.

Try to remember that there's an entire World outside the US ;)

thanks for pointing out that, I wonder why some people think US is the whole world!!!. If someone can gives us the statistics of how many phones are sold out there outside US against those sold inn US, maybe it can open the eyes of so many. With this mentality of asuming that the whole world is US, MS would not progress much against Google, and partly Apple, there are few things that you see Google saying US only if any.

It's still a Niche because sales of non phablets are far bigger than phablets sales.

You can, outside of the US where very few countries have carriers that subsidize phones (it wasn't a success in India AFAIK), I have to yet see someone who actually owns a phablet or a very niche product like 1020 be it of any kind. The cost is too damn high, without it getting subsidized. If my Carrie started subsidizing it, I bet guys here from India would have on an average multiple flagships/ higher end with them.

I see 1020s more than any Windows phone. The fact that the camera is cool. But the rest of the phones capabilities are great too.

It means that it fills a very specific need. Like the 1020 would fill the specific need of a awesome quality camera on a phone (but the audience of not to big for niche phones)

I don't have a 925 but I have a 928 and I love it, I hate that Verizon Windows Phones only come in black and white that would be my only complaint with it and I guess that would be Verizons fault, anyway I agree a 925 successor would be great

Mine too! I had to get one myself because I knew it would be one I'd be happy with for quite a long time if I couldn't afford an upgrade. It's the everyman of mid-high-end Windows Phones. I agree with all the specs suggested, except the 5" screen. I think that would exclude a fair portion of its audience and place it almost into the 'too large' category. 4.7" is a sweet spot for the majority audience who aren't techies: a decent size, but not quite unwieldy. If they could make it a 5" screen with no bezel, then I'd be more inclined to agree. But they would be making a mistake to make the diagonal from bottom corner of the phone to top corner of the screen any further than it is now.

Personally my reading of the overall consensus is that five inches or potentally slightly larger with no bezel is the ideal. I also tend to think the consensus will solidify for some time at that 5-5.2 range.

thanks for pointing out the 5". i prefer 4.5"

Yes, 4.5 with no bezel, perfect! I don't want a laptop in my pocket. I can see why a bigger screen is better to use your phone as your handheld pc, but it's not a tablet, it's a "phone". Remember the appeal of the motorola V3, it was small and light (and beautiful). Big screens?, you already have the 930 and the 1520. Get us a true replacement for 920/925, please MS!!!!

Yes, love my 925. The upgrade should be called the 935. Make it 5" in size and put in microSD slot with the latest snapdragon. These should be bare the minimum.

Agreed! But also make it look less like a box and more like a Lumia device!

Nokia made the lumia a box when they, not microsoft introduced the icon and 930.

Same here. Well I never owned it, but it's my favorite design. I would have bought one (and stayed with T-Mobile) if it had been available with 32GB. No clue why it wasn't!

Hey Mike, Yea, I think T-Mobile made a big mistake not having two SKU's for the 925, one at 16 and another at 32. It's been around seven or eight months since I jumped ship from T-Mobile (HTC HD 7/Lumia 810/HTC 8X) to AT&T for my Red 920. I was just sick of T-Mobile's poor decisions and treatment of their WP customers. On the other hand I really appreciate what T-Mobile did here in the states as AT&T was always too expensive before T-Mobile started to shake things up here.

I agree, I have a hot 925 potato and it's the best phone I ever used

It does get hot, but I also love it when you pick it up on a cold day or to switch it on.. It just feels so.. well cool and techy, in a cool way.

But it only gets hot in the games or sometimes when browsing. And it only burns in the aluminum xd

Until Microsoft starts releasing radically new tech and features that competitors don't have, WP sells aren't going to increase. The 3D touch seemed like a differentiator with the ability to to power on the device by just squeezing the frame and zooming in while taking a photo or raising the volume by sliding your finger on the frame as well. Although I really want to upgrade my 920 when my contract expires in November I will probably wait when Threshold is released so i don't get screwed again like I did from the 925 and especially the 1030 being released a couple months later.

You know you probably will be right in waiting for Threshold as any Nokia flagship product released this Winter is LIKELY to be a placeholder of sorts. However you are also potentially much more patient that many others. My intuition is telling me not to expect a retail launch of Threshold/Win 9/WP 9 in April 2015, but rather June 2015 at the earliest.

There are no more Nokia flagships until 2016, mate. Thought you knew that ;)

There's not going to be any "Nokia" flagships in 2016 either. I, and no doubt a lot of people, say Nokia and mean Microsoft Mobility. Oftentimes I post it as MM/Nokia.

And you know that? Yup. You don't. Don't be so hasty in saying that, mate. Remember: Nokia still has all the tech, the patents, the R&D...nothing is set in stone. Let us wait and see. Also..."Project Crystal". Remember this codename ;) By the way, it's "Microsoft Mobile". "Mobility" is Motorola =P And people should refer to it as Microsoft, really. Specially given the fact that half the employees of MM will be fired and the rest will probably be finally merged into Microsoft.

Didn't Microsoft get a big chunk of their tech, patents (I remember China being concerned that the merger would lead Microsoft to become a patent troll, so they must've gotten patents), and R&D, no? If not, what the hell did they spend $7 billion on?

Didn't Microsoft get a big chunk of their tech, patents (I remember China being concerned that the merger would lead Microsoft to become a patent troll, so they must've gotten patents), and R&D, no?

Haha nope. Still all Nokia's

If not, what the hell did they spend $7 billion on?

So far they've spent $7 billion for the privilege of paying another $1 billion in restructuring fees. And the privilege of owning a division that loses roughly $100 million every 30 days. Clever for Nokia. Not so clever for Microsoft. It was about saving Windows Phone. The risk of Nokia going Android would have been a humilation, and likely the end, of Windows Phone.

I also agree Daniel but I can't imagine there is nothing in the pipeline. Maybe Microsoft got more Apple like in keeping things out of sight and under the radar?
I definitely hope so because of you are right and there is nothing coming soon they lost a very important opportunity and wasted a lot of marketing funds spent on their Nokia product lines and I can't imagine mobile first strategy is forgotten already

+925 It would be even better if they announced and had it on the streets no more than one week later. Announce and Wait kills motivation to buy.

Agree. Even my mom wants a 925 from her 920, even though it is 99% the same internals (besides Qi).

To be honest,when I got my first wp8 which was 920, 925 was a great and of course thin phone. Even my iFriends told me that this is great and light one BUT UNFORTUNATELY,THE 16 GB KILLED THE DEVICE FOR ME considering my 920 was having 32. But still, sold my 920,saved it the one and only....1020

Have to agree (writing this from my loved 925)

Yeah! Agreed! Though I can't imagine why they would give you a 32 GB version only on certain carriers! :/

I agree 100% with that. Outstanding phone.

Agreed, 2015.. is too late they need something to bridge the gap and I had an inkling it was going to come to this :(. I just hope they use a lower f. stop for the camera or the same as the 925 / 920.. using f/2.4 on the 930 and 1520 was just silly.

Well, Jo Harlow said to Tom Warren on The Verge, a HIGH-END Lumia is coming very soon. Let's hope it to be real. Posted via Windows Phone Central App

I love my L925, the best Windows Phone I've ever had! My wife who's a die-hard Android lover is jealous of my phone!

Looks great, but I didn't choose it due to the measly 16GB storage, no wireless charging and AMOLED screen.

I agree. Lumia 925 is the best wp produced

Daniel wrote thin, which I like, but we also like light!
I don't care for wireless charging, so it doesn't matter if there is or not. I think to maintaining thinness and lightness, it should not be included, and instead have a covet like the 925. And either 64GB of internal storage, or 16GB with microSD!

Agreed! The 930's lack of Glance and the small Battery (come on, only ~2400mAh with 5" and FullHD?! who came up with this??) makes me not to buy it.... I'd love to see a device as described by you, 5", Full HD, 20MP, 32GB, Glance, etc

Exactly the reason I will not buy the 930 it's just a step back in the design compared to the 925..... As it stands Sony has the best hardware and I might just have to go for the Xperia Z2 since all Microsoft services are available on Android..... Can't we just get the perfect phone ? (Xperia Z2 with OIS, Wireless Charging and Windows Phone 8.1 and in purple please !!!!) .....

This proposed 935 would certainly fill the bill. I would buy one, assuming the battery life was worth a damn. And it was available in that neon green we saw on the 1520 Elop was waving around on stage.

I agree. There was an article a month ago or so that asked for our dream WP, and basically it was a 925 form factor with newer hardware options. Everytime I'm out people either compliment the pictures my phone takes or just how good the phone looks. Keep it slim.

I actually just upgraded to a 925 from a Nexus 4 yesterday, and I have to say it is probably the most beautiful device ever. Sure, it has what would be considered modest specs for a smartphone now, but it still performs beautifully and looks stylish doing it. The camera is also nothing to sneeze at. My only qualm is the lack of MicroSD, otherwise I would say it is almost a perfect device.

+1 Only reason this is not my daily phone is storage. Would love to see the next generation with up to date specs

I agree! So glad I jumped when the 925 appeared for the cut rate prices. IMO the 925 in a new upgrade version would mean another notch in Microsoft's gun handle.

Agreed just needs a bigger battery and a 4.7 inch screen and slightly smaller bezels it would be the perfect phone. I had it for a year but switched to Verizon :-( Posted via Windows Phone Central App

Must agree here. I currently use the 925 as main phone, and my only complain about it is the lack of an SD card slot (obvious at that launch time) because the 16Gb are too little space for me. Note: I'm following your comment call even when neither Sam nor Mark nor you (Daniel) reply my messages anymore. :S

So... Since the 1520 is just a large, all-plastic 925, let's get a 925-sized all-plastic 925! (Which is essentially that fake leaked 1520v from a while back.) Bam.

Thats why they have the 1320

That's not a high end/flagship phone...

this I'd like to see, a sort of 1520 "mini," no larger than 5"! It would essentially be an updated 925 minus the aluminium band (then again I kind of really like the black (on black) band on it). Though because of size it would loose battery capacity and resolution, but that kind of evens out; and it would have all those quad specs you kids love...

I disagree. They should instead maintain the looks and materials of the 925, increase the size to 5", put in a microSD slot, and power it with the latest snapdragon. These should be the barest minimum so they can call it 935. Love it already - as much as I love my 925!

I like my 920s design the best.

Me too.. Minus 2 mms and 20 grams.

I have had one since day one, but it is too thick and too heavy for many, considering phones are EXTREMELY thin now adays.

Ha ha ha ha been on holiday and this has made my day on my first evening at home. After all the people stating us 930 takers should wait for the next best phone and the McLaren I'm so glad I went with the 930. Sorry all I told you it was not confirmed to come and its probably just a concept phone I'm going to enjoy my 930 while you carry on waiting for that phone that's not coming!!!

You missed the point of the article. It's not about consumers making the right choices about which 920 successor to buy, It's about the fact that without a true top-end Windows Phone for Fall, Microsoft is shooting themselves in the foot and risking falling further behind in the market.

But think about at&t...they have no 930 to upgrade from their 920s....Microsoft really dropped the ball this year with the exclusive Icon deal AND cancelling McLaren, which would have been amazing even if the 3D Touch was a gimmick.

From what I've seen at the AT&T website and their community forums, they don't give a damn whether or not they have new Windows phones, as evidenced by killing Qi charging on any products they sell.

Agree, I'm thinking of going to verizon just because of the Qi issue

Microsoft dropped more balls than you can imagine.

But that is the point its the consumers that are buying the phones, it does not however help ms make new high end phones if so many people keep looking up ill miss out on this one and wait for the next handset. Sales for previous handset are so low why bother making a new one? High end phones are not as popular as mid range for example so people need to stop crying over what is to come in 6 months time and support what is here now not wait wait wait

Go read the reactions on that post: hilarious! lol

Enjoy your 6 month old phone with no glance. Why have you gotta be a Dickhead?

I'm making a valid point, I'm happy with my purchase and the added extra wireless bundle is an added extra. I will enjoy my 1 day old phone whatever the specs while you dear sir wait for the next best thing and go around calling people offensive things like a child. Sticks and stones big man!!!!

Huh, now I feel like the only one who doesn't like the 925's design. I'll take the 920 over the 925 any day.

I thought I didn't like it either, until I saw it in person. Then I ended up buying one. It's so sleek and so much lighter than the 920.

The 925 looks a lot better in-person than in photos.

I felt the same way about the 920 (red). I use 925 now because I broke my 920 but I still think the 920 looks better and that wireless charging thou

I too felt this way until I bought one super cheap from HSN. It is so light and svelte. The ONLY negative is the lack of built in Qi charging and the scarcity of accessories. If you have a chance to play around with one. Do it. It may change your feelings about the device.

I did play with it, quite a lot actually. I for one do not care about how light a phone is (I know that makes me a minority, but well). I really like the colorful and usually "bulky" Lumia designs and the curved aluminium finish, in my opinion, does not adhere much to those. It is probably the only Lumia that 'doesn't really look like a Lumia', and the only one of them I really don't like. I'm happy with my bulky, heavy but playful 820.

I agree with the first part. The 925 is the least Lumia of them all!

Nope! You're not alone! 920 FTW!

I had no compulsion to trade my 920 in for a 925. The 925 sacrificed functionality and form (in my opinion) to appease the tech reviewers. I'm obviously one of those elusive people who didn't like the design.

Agreed!!!! Although I prefer the 1020!

I definitely agree, I'm not a fan of the 925 design at all.

You're most definitely NOT alone.

Didn't do it for me either. Maybe its one you have to see in person to appreciate (like the old Nokia e71)...but in pictures and videos I've seen....meh. Definitely like the looks of my 929 way more.

You are not alone. When I bought it I received mixed reactions from friends; some found it to be sexy while others thought it ugly.

Agree. I have felt up the 925 on multiple occasions. While I liked the thinness/lightness of it and it felt nice in the hand, I always disliked the way it looked. Something about the aluminum next to the polycarbonate just looks very strange to me. I would much rather have a 5" version of the 1520, as has already been suggested here (with a faster processor, 32GB of memory, and Qi of course).

I'm really disappointed that MS allowed AT&T to castrate the 1520. 32gb & Qi charging would have made it a perfect 1+ year phone for me. I do have one now w/128gb SD. I will always want max storage!

The first time I saw the 925 ads, I thought its design was unappealing and massively overpriced (compared to the 920). When I finally decided to upgrade from my Lumia 900 and went to the store, and got the chance to hold it, I ended up buying it. As per the article, I think it is going to take something very special (design-wise) to convince me to upgrade from my 925. I have no plans to buy the 930 (too big and boxy).

That's what I was thinking too... 925? Why?
I would much rather they just give the 930 a screen capable of glance. I think that's the only major thing missing. SD Card would be a good add too.
Personally, I want a 1030 with a dedicated imaging chip and SDCard. I think it's still worthwhile to develop high end phones... if there are no models to aspire to, is a definite morale buster. Someone may be buying a 635, but they are probably eyeing the high end and thinking "hopefully next time"...

Form of the 920 trumps the 925 all day for me, though build quality could've been better on the 920.

I have a 925 but I have to say 920's design was unique. It was easily recognizable as a Lumia phone. But it's problem was the weight which many users complained about.

You kidding me!!!!! 925 is the sexiest!!

No, you are not alone. I think the 925 is the ugliest Lumia every - really don't like the design of the casing. I would always prefer a uni-body design like the 920, 1020, 1520. Or maybe a "boxy" design like the 930.

Yes, me too. The only one what could possibly make my think about upgrading would be a 1030.

I would much prefer a sucessor to the 1020.

that is definitely what I am waiting for. Otherwise I'm perfectly happy with my 920.

yes, 925 sucessor can wait, 1030 is what we need now, if someone wants an elegant metalic framed lumia can go for a white or black 930

Youve to wait for it a bit longer

No humps... Like everything but the camel hump on the 925 and the missing QI charging. Otherwise why not. 920 is still my overall best choice. Have yet to see a phone that offers as many features in one device. I have yet to be impressed with the AMOLED screens. This LCD at 60 fps had spoiled me. Other screens are just to blurry when scrolling.

Then take a look at Icon's screen.

I did and I didn't like it. Not a fan of the slow responsiveness of the screen. Ended up talking myself out of upgrading because of it.

I like the camel hump. But I'm fond of camel toe. Lol. 1020. Biggest hump.

I'd feel better about having a big 1020 jump building out of my jeans than the 925... I usually rest my phone flat and prefer a level, study surface.

I like the hump, it places the phone on the tables in an angular direction towards me which makes it easier to use the phone and see everything on the screen more easily.

Couldn't agree more! Even though I love my 920, I think the 925 has the best Lumia design. I want a successor with all the latest specs, 5.2" screen, 64GB storage, along with some awesome new innovative camera technology. Take my money this fall!

I've been saying the 925 upgrade should be 5" but I'm absolutely fine with 5.2". There should definitely be a microSD slot so I'd settle for a 32GB storage. I'm fine with a 20MP camera at the back but bump up the FFC for these selfie fans Put in the latest snapdragon and bump up the screen resolution. This will be worthy of the name Lumia 935.

I believe the prototype code name McLaren was killed but not the project itself if that makes any sense to anyone

It makes sense. I sincerely doubt they didn't start producing bodies and I doubt they'll go to waste.

Very nice article Dan! I completely agree! Even though I don't own a 925 (I own 800 and 920) it still find it a great and compelling design, I would love for my next phone to be like the 925 instead of the 930! Although an updated (thinner) 920 would be amazing.

Is this Daniel's way of sneakily telling us what's now coming in place of McLaren in the guise of a suggestive article? Oops.. What am I saying..?

Daniel, you point out that the release of the Lumia 925 caused "some mixed messages to retailers, customers, and carriers." due to it's close release to the Lumia 920. Is it not possible that a Lumia 935 may find itself in the same position?

Then it truly *would* be a successor to the 925, wouldn't it?

For me the 930 has the best design of all Lumias! I think its time for something totally different now, and not for an updated 925 ;)

Beauty is in the eye of the beholder. I love the way the 925 looks. Bumping it up to 5" to 5.2", put in microSD slot, give it at least a 20MP camera but bump up the FFC for these hordes of selfie fans, maybe increase the screen resolution to more than 1080p, and use the latest snapdragon. With these minimums, this phone would be worthy to be called 935. By the way, the 925 is very comfortable to hold. Since I'm not from the U.S., I've never handled the Icon, and the 930 has not reached our shores yet. How comfortable is it to hold with its angular edges compared to the rounded edges of the 925?

Excellent article and I fully concur. We (and MS) need the Lumia 935. Otherwise MS is going to miss a cycle of iPhone/Galaxy copetitors and fall ever further behind.

Totally agree with Daniel Rubino. Now a days I don't have a candidate for replace my 920.

Sure you do. The only problem is it runs Android.

Hardly a candidate, then, is it?

Sorry but for the same price as the L920 here in Brazil I can't get a replacement even with Android. Moto G does not perform as good as L920 (even L520). Samsung Galaxy S4 mini is head to head and S5 is too big.

Yep, I completely agree too. Thanks for the article, Daniel.

Give us a 930 with LTE and sell at the microsoft stores unlocked for $500.

Give us the 935 instead, with microSD slot and the latest snapdragon as the bare minimums. LOL! And yes, sell the 935 unlocked at Microsoft stores (and elsewhere) for $500.

YES! Also drop the 1525 with updated spects to span the market along with a 935. If they dont introduce a new flagship or something close to it, I might be looking at the new iphone or something. Damn, I cringe just saying that but hell, I don't want my 920 forever! Lol

Same here. I went from iPhone to L920. If there's no new flagship Windows Phone come November when my contract is up I will be geting an iPhone 6. :(

I really hope they annouce something. I don't want all my trash talking and my days of playing defense to be in vain! Lol

Love that... and add the 1030 to the mix! LOL!

Agree, but with built-in Qi charging, I don't think it's realistic to keep it thin, but then again, who know what they can do

People have extracted the Qi hardware from the charging shell and installed it inside the 925 itself. The Nexus phones have included it and stayed on the thin side too.

If they increase the new 925 (otherwise known as the 935) to at least 5.0", I'm sure they can find space for a built-in Qi somewhere.

Yea, but we see the ICON and the 930 both have Qi charger, and they were kind of bulk out, not that it's bad because I found it ease to hold

The coil is extremely thin, it adds no bulk and the weight is negligible.

+925. Has to be with at least the snapdragon 805 though.

And at least a microSD slot too.

Maybe they (should) plan releasing the McLaren without the 3Dtech thing..

Mass markets require the cheaper models to gain more traction/marketshare and therefore for me mean the focus is primarily there for now. From the otherside a large part of the Nokia purchase was reasoned with extending their capabilities in being able to deliver more practical and revolutionary hardware, this I think is what most people are really waiting for. On this note however watching things like the Fire phone right now are a good indication as to how interested the market is in large scale changes to accepted formats, timing is everything, not just what you have to peddle.

I definitely agree. WP needs a flagship phone ASAP on all the big carriers in the USA. If they wait until next year they will lose a lot of existing customers who have a 920 or 820. The low end it where the volume is but Here in the USA we pay the same price as low end phones abroad. Also like you said Daniel it brings attention and awareness to Microsoft.

Also those who bough the 920 at launch on two year contracts will be coming up for renewals, since the 1020 has been EOL'd there aren't many options...

I'm typing this from my 925 and while it is very nice, I still think I prefer the 920 simply because of the built in wireless charging. I have the wireless charging case for the 925, but it has became not-as-snug fitting as it did the day I got it, making the connections on the back not line up so well, making the wireless charging not work very reliably.

I don't know about you but I don't have any issue with my 925. The wireless charging plate it's easy for me to put on and take off, and the charging is great.

Mine has had issues since day one with the plate but only recently has it become bad

The lack of available high end devices is a huge problem for Windows Phone. Here in Canada, we never got the 925, the 1520, or the 930. Being a Windows Phone fan up here is just torture. I'd love to see a refresh of the 925 with a modern CPU and camera bump. It would be really nice if it was available here in Canada for a change. I am starting to think that Microsoft has given up on the Canadian market, which makes me sad :-(

When will you smart Canadians realize its not Microsoft, its your freaking Carriers.

Maybe Microsoft has given up Canada to BB?

This makes a valid point.. Bb for canada and of world to wp ;)

The Icon...my Icon doesn't have an uninspired design at all. I love this phone. Amazing screen, extra horsepower to run 8.1, great camera, amazing build quality and simple but sexy design.

I love the design too, but I can't stand the screen compared to my 920. Ever notice the blur it gives off when scrolling? My eyes have difficulty with such a sluggish refresh rate. Very spoiled by my 920 60fps.

I'm currently on a 920 but looking to upgrade to the 930. Is the AMOLED screed really that much of a trouble? Thought it might be better than the IPS? I get that AMOLED saves me precious battery life but apart from that and better colours is there a noticeable difference?

Well the colors aren't exactly better, they are more saturated and honestly not that lifelike. Fortunately you can tune the color palette to make it more believable. As for the screen responsiveness, I guess it's a personal preference. Having the IPS screen of the 920 for so long, I just can't stomach anything less than this great screen. When scrolling on the home screen on an Icon, the edges of the tiles would bleed off slightly... almost making it just ever so slightly blurry. This wasn't a tradeoff I was willing to take, even though I loved everything else. The AMOLED screen is great on battery life, but they botched this device with leaving out simple features like glance screen. Why? Why would you skimp on a flagship phone like that?

Get the 930 on At&T and T-Mobile. It will be a new phone to most consumers in the US. The low end just got a refresh with the 635 which is where WP does best anyway. Then just concentrate on a 1030 until its time for the 940.

I would like to see the 1520 in 5 inch size, I own the device everything is good except for the size

939/icon are the 1520 with 5inch display

And what about SD card slot.. I would have upgraded to 930, it it had SD card slot

As much as I hate to say it....MS may have lost me with their lack of genuine flagships. Is it time for me to say goodbye?

This! I was blown away with the 920 when it launched after using htc Mozart. Most people who jumped on the 920 will be nearing the end of their 2 year contract in Oct/Nov and there doesn't seem to be anything wow on the way.i may have to just keep hold of my 920 til threshold launches but that is a long time off. MS appears to have really dropped the ball here and as a long time WP fan,I am not impressed.

On another note, what ever happened to the green Lumia 1520 that AT&T was supposed to be having this summer? I thought it was coming out in July with 8.1 on board? Did that get scrapped too?

Yes like what the hell? I've been waiting on that as well!

Probably AT & T is prying out the qi wireless charging from each phone, one by one :P.

As much as I support Microsoft, they are way to damn slow, they think to much and don't take chances. I hope them company changes with help with that.

Seriously man cuz I really want that unlocked 1020 but have no idea if I'm going to end up regretting it!!

agreed. i think we need successors for 720 with that great look but better specs and a 925 succsessor also with better specs. and brind it soon because i'm starting to see people moving because there is no new handsets...MS is taking too long to launch new products.

Whatever the first Nokia/MS Windows Phone device is with an 805 in it is the next phone I'm getting. I don't care if it's a 1030 or a 935. I agree that the 925 is the best 8.0 phone. I went from a 920 to a 925 earlier this year and couldn't be happier. But I don't see how a 935 is possible. The 930's design is inspiried by the 925, so how do you keep all of that high end hardware, big battery, and still trim it down?

A l925 successor w/ only a 20MP camera is not enough of a game changer to compete with iPhone, galaxy, etc. needs something else. like 3d touch, slimmer 41+ megapixel, etc

But why? Lumia 930 is already awesome. The design may be based on Icon's but it's one of the best designed smarthpones and well-made. In my opinion 935 is not needed but 1030 is.

I would be all over the 930 if it had a SD Card Slot and Glance. It's a great phone overall but with those two ommissions it becomes a near miss. When you're buying a flagship you really don't want to have concerns about missing features.

Well the 930 is not available for everyone as it is an Icon rehash.

Agreed. What they need most of all is improved availability and improved time-to-market for all devices. No point in releasing something new if it's not available for everyone wanting to buy one, or if it takes so long in getting to a shelf that other flagship products have already been announced or released by competitors, or worse MS themselves.

I miss being able to custom order things... like those Zune Originals back when Microsoft has some Zen Balls that it carried around, chiming in every turn. Say wha

Nothing has come out yet to pull me away from my 920. I had high hopes for the McLaren, but alas! Now just waiting for Fall and the holiday season...

Same here bro, i want to upgrade my 920 but no upgrade found.. 1520 is too big and 930 lacks SD card slot and glane

The thing I find so pretentious about this click bait article is that you assume Microsoft and Nokia don't have anything else high end in the works. Remember, you don't know everything WPCentral. Look how long surface 1 was kept a secret. It is possible to keep secrets.

Can't they just be speculative? I don't think they purport to knowing everything

Atleast ms should give some clue so that people don't jump to IOS or Android

Fully agree. The 925 has been the best Windows Phone I've had so far. The shape of the 930 reminds me of the 928 (and I didn't like that) whereas the 1520 is very niche. Not changing my 925 anytime soon.

I'm hoping that SOMETHING is in the works for sooner rather than later, cuz I'm due for an upgrade any day now, and don't want to wait eight months to take advantage of it.

Aluminium S5 with Windows Phone please.

Yes, 925 is very nice, but 930 is awesome (I went from 800 to 920 to 1020 to 930). I didn't like the design much in pictures, but in actual use it's great! So there's very little room for something almost like 930, but with a different design.

Totally agree. My parents were asking me this past weekend what they should plan on buying when my dad's 920 goes off-contract this fall and my mom gets her first smartphone. We're on AT&T and although T-Mobile may be an option, I don't see us switching to Verizon. My dad wants a step up, but can't get the 930 and doesn't want the 1520. My mom would be happy with the 635 except she wants to take photos and the camera isn't good enough. Both of them would be perfectly satisfied with a 935. And I'd certainly consider it, though the rumored 1525 also sounds like an interesting upgrade to my 920.

The only thing you forgot is the HTC W8! Isn't that suppose to be a high end phone for Verizon coming in the Fall? Wish it would come to other carriers though. Sad that Microsoft won't release a high end phone till Threshold.

I emailed HTC, but they don't have any real information on new high end phones. Windows Phone 8.1 is coming though.

Did they give you any specifics ? Regarding the htc app ?

Ah wait, this is what I got. Part of the message: I understand that you are interested in getting some information about upcoming devices. Unfortunately I do not have any information regarding a new device running Windows Phone 8.1. HTC does plan to support Windows Phone 8.1 and will have more information to share on updates to specific devices with our carrier partners in the future.

So something is coming :)

Found this: A new report from @evleaks claims that HTC is prepping a new Windows Phone device referred to as the "W8." The handset is said to be headed to Verizon with Windows Phone 8.1 in tow as well as BoomSound front-facing speakers and a Duo Camera setup, just like what's found on HTC's Android flagship One (M8).

Another Carrier exclusive, that is really not going to help as most likely it won't be sold outside the US. I sincerely hope it is, as alot of people I know like the M8 design.

Exclusive to Verizon. How bout MS just shoot themselves.

I kind of feel that Microsoft should offer less phone options. There are a million of them already and the numbers are getting more and more confusing. They should maybe have one flagship phone per price point (low, medium, and high) and use upgradeable names like Lumia 1, Lumia 2, Lumia 3 for one price point and Aurora 1, Aurora 2, Aurora 3 at another price point, etc. It just makes sense to me.

So spot on! I'm dying for an upgrade, I've had this 1020 forever. ^_~. I want something new already! its gotta be really good though. I'd really miss this camera so it better take great pics.

I can't argue the logic, but I have to say that every time I lift my 920 off the table, I marvel again at how easy it is to do that due to the curved body... I also like the square shape. Rounded corners make every phone out there look like every other phone out there. I think one of Microsoft's biggest marketing problems is heightened expectations. Apple keeps stuff under wraps, then announces and ships almost immediately. Microsoft seems to have a tendency to announce further in advance, and people perceive the intervening months as delays rather than production time. They do need to announce something this fall, but that doesn't mean it will ship by Christmas and, unfortunately, we've become trained seals, replacing our phones as soon as our contract says we can instead of being content with what we have and waiting for something awesome.

I 100% agree I made a comment regarding this whole post not too long ago

Yeah, I agree. I think looks wise 925 has been the best, but they need a complete do over inside.

"Is there anyone who does not like the Lumia 925's design?" I don't. I hate the camera hump and I'm not a fan of aluminium frames on phones as they get too hot when pushing the hardware. In any case though, I prefer the design of the 930 to the one of the 925. Although I would have left that metalic stripe the 920 had on the back. I honestly never understood the need for the 925 except to appease those who didn't want a phone as thick as the 920. However I do not thing losing built-in Qi and being forced to 16GB of storage are acceptable compromises just to have a lighter device. Although I agree with the suggested specs, I don't think the 925 is the phone they should be basing themselves on. Also because the 930 unfortunately was based on it already instead of the 920. Now, Nokia presented the 930 as the flagship for 2014. So, given Microsoft's new (and to me, better) direction, I think they may actually just leave the 930 and milk the Nokia branding in it while they can before trying to replace it with a Microsoft device. And after all, is there any real need for a flagship for the fall? I don't think so. This fall will be dominated by the iPhone 6 and maybe the so called "iPhone Air". And if we're "lucky" by the iWatch. Unless Microsoft had anything REALLY awesome (which they currently don't), anything they present will be completely obliterated by Apple's launches. At best, Microsoft should aim to present their smartwatch, assuming that project wasn't also canceled. Then leave the new phones to CES or MWC in the beggining of 2015.

Don't forget the pointy corners. I'd be happy with a 929/930 that included microSD storage A few thousand more apps that Android and iOS already have would be nice, too. This is the main reason I am not already running a Windows Phone as my daily driver (I have a 521 as a prepaid phone for my 12 year old son and I bought my daughter a 925 for her high school graduation). But it's almost to the point where I have purchased so many apps for the Android phones I've had for the last 5 years that I don't think I'd ever consider starting over on another platform.

Oh yes. Forgot about that one! Yeah only problem with my 930 that *can't* be solved with a software update is the lack of a microSD card which was just a stupid, rushed decision.


Thank god ur not running Microsoft!

Yeah. Could you imagine if they started doing things right? Unimaginable!

lol yeah I admit they are total fuck-ups but they can't just sit back n let Apple gain all the attention. It won't affect peeps that are fans of our platform but it will the everyday consumer!

Ok. Now consider this: would you rather present a phone at the same time that Apple does and get NO attention of the media - because, let's face it, that's what happens - or release it a bit after at a time where the media will be more receptive to properly cover your phone? It's important to present something that *can* compete with the iPhone. But it's even more important to chose the right time to do it. And presenting it at the same time Apple presents their stuff is most definitely not it. Why do you think Samsung, HTC and LG all present their phones at separate times, away from the iPhone? The only company that normally presents phones in September alongside Apple is Sony. But that's because Sony can afford to do that as they renew their flagships every 6 months so even if one doesn't get much coverage, the other will.

DJCBS, I would agree that the 930 would be sufficient to ride out the Apple onslaught if it had a SD Card Slot and Glance. Without it there's a number of 920 and other owners that simply will continue to wait for something like the 930 but as liteon163 states, with a SD Card Slot (and Glance).

Yes I know that. I'm among those. I got the 930 because it's Nokia's last phone. Because if it wasn't, I would still be with the 920 waiting for something more worth my time and money. However, that doesn't really proclude what I wrote regarding not having a phone in the fall alongside the iPhone. See my answer to boxa72 above you ;)

Oh, I totally agree the iPhone 6 is going to suck alot of the air out of the marketplace this winter. And yea, if the 930 had a SD Card Slot and Glance I would absolutely think it wise for MS to just ride out this winter in favor of a raft of phones releasing at the time of Threshold. However we've not had a lot of WP phones released this year and I think to ride out the rest of the year for a release some time in 2015 is not particularly wise. People are saying Threshold will hit in April, but we shall see if that's the case or not. Overall for there not to be a Hero phone to release around the time of 8.1/Cortana/Notification Center going retail seems like a massive f*ck up by MS.

Yes that was a major blow by Microsoft....BUT it was one they brought upon themselves. After all, they decided to launch WP8.1 in the middle of an acquisition. That led to projects being changed (the info I had was that the L930 wasn't meant to be a reuse of the 929), things being rushed and so basically Microsoft was left with no alternative but ask Nokia for the flagship they could provide in time for the WP8.1 launch. Nokia has never presented flagships at /build/. If either Microsoft had waited or not at all went into the deal, or hastened the completition on WP8.1, perhaps they would have had their killer device. Since now they don't, there's no reason to try and hurry a device for the fall to try and compete with the iPhone. The WP8.1 window of opportunity has closed. Now either they launch anything after the iPhone, or wait for Threshold to present their trully killer device. After all, it will not be "a WP flagship". The Threshold WP flagship will need to be very good because: 1 - It must showcase the innovations of WP9 (let's call it that for now) along Windows 9; 2 - Like the Surface, it must be a display window for Microsoft's services; 3 - It must be really really awesome as a phone because it's Microsoft's FIRST flagship phone. If they hope to get anywhere in the phone business, they can't butcher that launch like they butchered the Surface one with an underpowered Surface RT. And since they can't use the Nokia branding on it, it must really be awesome for them to be able to sell to people.

Yes, I agree that the timing of 8.1 and the acqusition of Nokia's Devices and Services division was problematic. I also agree that the launch of the iPhone 6 is going to be a problem for some WP users. However I think the WP stable of phones right now is too weak for MS to sit without an appropriate flagship this winter. Mostly my concern is the rate of defections will be significantly higher without an appropriate flagship (even if a placeholder flagship). While it would be nice if the first MM phone released was some sort of groundbreaking device, I do not think it is necessary. Given your oft stated antipathy towards MS as a OEM, the first MM device may be very important to you. To the rest of us, it's not QUITE as critical. Given the overall situation I would still prefer to see some sort of flagship launch this winter, even if the phone is sufficient as a flagship but not an OUTSTANDING device. The "Rubino 935" or a 930 with an SD Card Slot and Glance is quite sufficient for many of us.

Oh believe me, it's not important to me at all. I will not buy any MM phone, no matter if the phone flies.
But from a pragmatic point of view it is important for Microsoft because they have no name as an OEM. The normal consumer doesn't trust Microsoft as an OEM. It's Nokia that sells the Lumia line around the World, not Microsoft. So for Microsoft to even hope to retain people who bought Nokia phones, they have to present something really good. To retain those people and, of course, to try and convince others to but their phones. Placeholders are a waste of money and I think Nadella has made quite clear that Microsoft won't be wasting money without need. Like it or not, the 930 is likely to remain the 2014 flagship as intended. Is it on the level of the Android competition? No. But it is on the level of the iPhone. Remember, people with iPhones don't have SD cards and have no clue what Glance is.
Remember that Microsoft isn't working to please you who already bought a WP. Their aim is to bring in those who haven't.

In retrospect, the N9 was Nokia's last phone.

https://www.youtube.com/watch?v=S9RVS8cjNN0

Seems faster! by the way, I am using L920 and I do not see L930 as a successor to the L920. L935 with S801 (8974AC), 2 gigs (it is unnecessary to have 3gigs of ram but more gigs of ram is always welcomed) of ram, same camera with updated front camera like 5mp and also updated battery at least 3000mah would be a big THE NEXT BIG THING! If I am right, if I know Micro-SLOW so well, they would release L935 with the same specs of L930. Just changing its case. Because they are so eager not to change! If Gionee, Xiaomi and other Chinese OEMS can produce smartphones within a very short period of time, Microsoft can do! The thing is how much they want to move FAST!

Agreed. It is eerily quiet for WP, especially in the US market. My wife told me she wanted to switch back to Android. Why? Not apps... It's because we have no hardware on the horizon. If they don't play their cards right, MS will start to lose the tiny fingerhold they have left. Get it together, make the "Rubino" phone, and get it on as many carriers as possible as quickly as possible.

lol, the Rubino phone....

So true. My AT&T Lumia 925 has been eligible for an update for months now, but there's no worthy successor in sight. If iPhone brings out some killer hardware, I might be tempted, since the Windows Phone OEMs and carriers in the US just don't seem to take this platform seriously

Sounds like a good topic for a podcast discussion, Daniel. (wink, wink)

Make a 935 like the rumored 1525 and I might not get an iPhone this fall... I'm loving my 1020's photos but the slowness and poor battery life are killing me! I'm about to revert to my 920 and just break out the 1020 for photo ops. A 935 with the 20mpxls (or more plz) + 8.1 could keep me here.

That's exactly what I do. I have a 930 for a phone and the 1020 exclusively for photos.

A 935 with those specs in a brushed metal finish case would turn my opinion on the Lumia brand 180°. No more kiddie colors and plastics. Also give it a damn name. Drop the number system.

Brushed metal case? You'd be cooking bacon and eggs on that phone upon the first set up. The aluminium frame of the 930 already gets really hot there, imagine it all in metal...=P

Yes. I totally agree. I love my 925, but I would spend money on a refreshed version.

Would love to see Nokia Lumia doing a thin water, dust and shock proof 32/64Gb handset with MicroSD slot.

There are a lot of 920 owners who will be eligible for an upgrade in a few months. There needs to be something besides the iPhone 6 on the shelf.

I can't imagine 920 owners will want to shelf their 920 on the simple fact that a new phone isn't out NOW. They'd be wasting their money if they bought one now.

You want all that and keep it thin? Most of the features listed will clearly add bulk.

Not with stretching it out and making it 5". With where the camera & board tech is today, making it 5" and keeping the lens as little more than a pinhole, it can be done.

What's described is basically the 930 with a bigger processor. Not going to get a very thin phone with QI onboard. So maybe possible but thin is Apples domain.

You can hack Qi into the Lumia 925. Look it up. It doesn't add bulk.

I agree. Can't even imagine why Microsoft wouldn't do something like this.

I had the 920 and agree it was too bulky. I moved to the 1520 and you are spot on that it is not for everyone due to it's size. I think your suggestion is spot on they need a successor to the 925 and it seemed to be the "perfect" windows phone.

And we need a 1020 successor before long as well. In a bad way.

I'll make this simple: Windows Phone/MS cannot wait until Threshold to release a new flagship. As we have already heard, sales were lackluster in the april-July market. Without a new flagship, this will continue in the holiday season until there is no growth. We desperately needed that McLaren, but now all hope is lost.

I actually like the 925 and will make it my next windows phone after my 720. I would have bought one earlier but I figured the 930 in a couple of months would be a better choice. After reading this, I'm not so sure about this 930 stuff...

Completely agree. Anyone I've shown it to remarks on how light it is (also big screen if they've got iPhone) I love it would just like 5"screen and to keep it thin.. Also 16gb memory is a problem so throw in SD support. Now the 930 if it was a bit thinner.

I've never cared much for the 925 from renders and photos but when I got to play with it in person I was smitten. It just works really well and in my area of the UK I've seen the 520 and 925 a LOT over the past 6-9 months, they seem to have been the sweet spots for WP adoption at the high and low end. On the flip side, I've yet to see one 1520, and they're difficult to miss. Lots of love for the Galaxy phablets around though. MS would be crazy to let the holiday season go without another flagship but Nokia made a lot of dumb release decisions last year (like the aformentioned 925 coming so soon after the 920 and then niche phones 1020 and 1520 to pick up the Christmas market) that they seem to be repeating this year with the lackadaisical release schedule of the 930. I understand the need to have a flagship product when releasing a new OS but waiting until Spring 2015 would be insane. And would cost them dearly. Of course, there's hope we'll see some gflagship worthy phones from the OEMs but so far all they've announced are respectable, but still low-mid level devices. MS really need to come out swinging with their first true phone post-buyout and something that melds the 720 and 925 (essentially, a 5" 1520) would fit the bill quite nicely. Release it everywhere, and price it competitively with the Nexus 5 and Moto X just to get some extra press (and goodwill).

Spring 2015 is for the Threshold *announcement* . According to Mary Jo Foley, a Threshold WP device wont be available until next Summer.

I agree, although I would like to see a new successor to the Lumia 820 (I use this one) if they added a Pureview camera, I would be a happy camper. 820 camera is excellent but Pureview is much better. I would like to see a user-swappable battery rather than unibody chassis design. Its the only thing that is keeping me from getting a higher end device. Maybe a higher-res screen would be nice too. For me a 4.3" screen is as big as I can go. Maybe 4.5" but other than that I can't get much larger. I am a fan of one-handed operation so this is important to me too.

I doubt there will be any high end phones in fall . MS will miss the boat again but not having flagship on all us carriers ...

100% agreed. I am stuck on Lumia 920. My contract is over and I'm wanting a new phone - a high end phone. 630 doesn't tickle my senses 930 is not available in US unless you buy international version. I don't want to get 1520 it's too big nor do I want icon since its sorta old device. Most phones with life cycle of 6 months there are no new windows phone in sight while Android phones are being churned out like jelly beans. I know of many who have 920 but eyeing s5 or waiting on iPhone 6. The restructuring is good and all but they should not forget about consumers and current market conditions. They are playing catchup so don't make an unnecessary pit stop and let the competition get away from you.

I agree 100% with Daniel's positioning. Having handled the 930 for the first time today, it feels so much more chunky than my 925. It's not the screen size that makes it feel bulky in the hand but that pointless square edge/surround. Don't get me wrong, the image quality of that screen is impressive and appealing, it just doesn't feel as good in the hand as the M8 or my 925.

Here is my observation: Microsoft does not want to compete with the OEMs. As recently made clear, Microsoft Device division's main job is to make the market for the devices based on Windows. Therefore, if there is an OEM device that is similar to McLaren, or whichever high end design in the pipeline, Microsoft is not going to release it, similar to what happened to Surface Mini. Hopefully that means 3D touch is coming to at least one of the new OEM devices.

If there were OEM's creating high end devices then I would back Microsoft up. Where is HTC, Samsung and whatever else other companies are, I don't see them investing in Windows Phone platform. So Microsoft is comfortable sitting there watching and waiting while their market share stays stagnent if thats the case they will loose their already paltry marketshare. This will be hinderance rather than help to their unified platform idea. Build and they will come (be it consumer, OEM, developers). If Microsoft builds a premier device with exceptional build quality, like Nokia had 90%+ marketshare now Microsoft will have that. Nothing wrong in my view, I just think Microsoft shouldnt wait anymore. It is apparent from the comments in this article that ppl are antsy for a NEW HERO Device.

Whether they need to make a follow up to 925 or not, dont know What they should do is make it simple for everyone, there are too many lumia series 5xx, 6xx, 7xx, 8xx, 9xx, 10xx, 15xx. My guess is that the 7xx and 8xx series are going away since i haven't heard much about those lines. I assume the 5xx goes away since the 635 is essentially an upgraded 5xx with no ffc, no flash ( i think). Knock it down to 3 or 2 skus and name them specifally based on market it is targeting whether emerging, mid range or high end. The number system is confusing and they are just too many. Also, no more 512mb ram devices, creates fragementation.

Not buying it, i'll wait till winter before wailing and crying. Besides, my 1020 is still doin strong, yay! :)

I am glad you wrote this. However phone development cycles are too long. Lets face it, since L920, Nokia phone update cycles have been colossally mismanaged. A simple one update a year cycle has not occurred. Launches have taken many months to happen. Consumers have been left in limbo. Despite being a loyal Nokia fan, I am deeply disappointed. Whither is the L1030, the true L935, or the L1530? We should be hearing about L1030 by now... Instead, pathetic silence.

1520 best WP to date! Sad and too bad its 99% phone.

Nadella is a joke. "Our industry respects innovation, not tradition" So let's cut costs, fire a whole bunch of innovators, and not make new stuff. I have seen his ability to kill innovation. When will he showcase his first plan for actually promoting innovation within Microsoft?

I think there is one complaint of Lumia 925: unexpandable 16GB memory. Other than that, yes, this is one sweet-looking device. And yes, it is so awefully quiet. I miss those times when Nokia released 920, 820, 620, 720, 520, and 1020 almost back-to-back. That really helped drove, or at least maintained, WP marketshare. Now, it looks like they are confused and running out of ideas. Honestly, feeling a bit worried now.

Agree. I do think having a slightly different timeframe than the iPhone release is a good idea, but I seriously hope they're not just going to let the high end stagnate until Threshold comes out. I want so bad for them to release a Surface phone on all the carriers simultaneously... Think house much good that could do for Windows Phone, to be on even footing with the iPhone and S5 in that respect.

Agreed!
Still holding to my 920 while waiting for a better phone (

On the same boat. Infact I'm a little annoyed as to why we are not seeing new phones. With free Windows Phone OS

I totally agree on the specs. please make it so Microsoft.

Why does everything have to have a 5"+ screen nowadays? It would be nice to have a Lumia that actually fits in the hand and doesn't feel like a phablet.

I love my 925 n would definitely buy n updated version!

I agree. There needs to be a solid windows phone flagship, particularly for the us market.

I really hope MS isn't dumb enough to have no flagship phones to represent WP this holiday. They might as well kill the platform.

I could see people buying that Lumia 935 phone. Too bad a phone that awesome will never happen :(

I don't get why so many guys are making the Lumia 930 "less important" just because is exactly the same phone that released ONLY in US 6 months ago. The rest of the world didn't know about that (of course excluding the tech guys, us). About new phones: I can't wait for the Lumia 730! MS has the opportunity to make the perfect WP for the majority in the world.

I'm not sure you should keep expecting the same amount of devices from Microsoft that you had from Nokia. Nadella and his team were pretty clear in showing the path forward won't be at all based on devices themselves. And Eflop - I think it was him - said that they would no longer release phones for the same of releasing phones. Which means...the 730 and 830 might have also been canned. If anything, maybe a mid-ground between what would be a 730 and what would be a 830 is released, but I wouldn't expect successors for every Lumia x20 device.

a 5 inch screen with glance sounds good.

I can only hope we'll see another 5" high-end device that is essentially a shrunken 1520 (only with updated internals) and a decent mid-range phone that's pretty much just a much cheaper 925 with some kind of replaceable cover. Oh, and an updated 1020 for all the photography types out there because they'd be crazy not to. With all the OEMs on board they shouldn't really need to do more than a low, mid, and high end device along with the occasional niche option. Though if all the talk about moving the Nokia X range to WP actually happens I guess they're planning on competing directly with their OEMs? Another case of one hand (WP) not knowing/learning from what the other (Surface) is doing? Or a more suitable strategy for phones rather than tablets?

Could ready into or kill 930 sales. Besides, the specs you've posted are exactly what people on this forum have been crying for. And that's why it's going to be ignored. Msft/Nokia can sometimes be obtuse ;)

At this point it's just Microsoft. Nokia is on their own path, they no longer have nothing to do with this.

You're right - just referencing nokia as the 925 was their puppy, as were all the lumia devices up to now. Why a flagship can't have an SD card has to be laid at their feet ;)

They should also update the cellular radios, heat dissipation and just improve the overall quality of hardware. The 925 is the first WP I probably have to get more than one replacement for.

What about muh 928? I just want a new one with Halogen Flash.

Ok weird question people but answer if you know. Why doesn't Microsoft simply hold all their current Windows Phones in their stores, that way we can buy them off contract if we so choose. You can do that at an apple store right so why not at Microsoft.

I think they (MS) put the 3D touch (McLaren) on hold for now, so they COULD release a flagship this fall. Obviously the 3D touch wasn't ready and they felt more confident launching it in 2015 with Threshold. This is just my take on it of course, but I think we'll get something this fall at least, in the form of a "flagship". If not, they're crazy! (MS)

There has never been a true "flagship" Windows Phone.... They have all missed the mark on one or more features.... I have a 925 which I have hacked wireless charging into and it is damn near perfect... More cores, dual SIM, micro SD, wireless charging and another gb of memory would have made it a flagship phone in my eyes... But MS doesn't just need to release the flagship.. They need to release a hamburger with the lot (mentioned above) and then strap solar charging or 3d touch (a never been done before) feature to it! Then they will get people's attention ;)

Great article!
I hope Mr. Nadella gets to read this...
Microsoft, time to pull up your socks!

I agree 100% The 720 was also a great device for the masses, 725 perhaps?

What they need to do is stop with the ridiculous amount of phones that Nokia produced. They should have a phablet and a High End. Then sell last seasons high end model at a discount once a newer model comes out. Keep the confusing model numbers for internal spreadsheets and brand the phones with 1 name across all carriers. There is no reason that by now the 920 can't be sold at a similar price to the 630. Eliminating the need for the 630. Increasing 3rd party appeal.

Sure, why not? I wonder if there is enough time, though. On another note, why can't I use the Wpcentral app in landscape anymore?

+720
Still contented with my 720 but my favorite is Lumia 925. These two devices are just underrated

I love my 1520 but its a little oversized for me the only reason I got was becuade it was the only Flagship WP on Atat

Agree with the post .. But MS should also think about successor of Lumia 720. It was also a powerfull n smart device. They should upgrade its RAM n Processor. It would be a good option in Mid range Lumias. I'm from India n it will be popular in here because entry level phones does not have promising config while high end are bit expensive to own. A good device is much needed in mid range.

Who knows but if the new CEO determines there is no urgency for a new flagship this year, and its a good chance he won't, it won't happen.

Need a 1020 successor WITH MICROSD.

+1. It was the ONLY reason I didn't buy the 1020 :\

i really like the 925 desing, and, as a 720 owner, the only thing I differ with your especifications is the 5-inch display...i truely be more happy with a 4.7 or 4.5 inch display (1080p of course)

I need huge software update . All Lumia phones have a characteristic design

I gotta say I am starring at my beaten and battered 920 and wondering whether I should fix it (new screen and new shell) or bite the bullet and get the HTC One M8. I don't want to leave WP but I'm sick of not being able to have all my music with me or to carry 2 devices simply so I can have all my music. The app thing only bothers me for the select few apps that have no counterpart in the WP store and those are becoming fewer by the weeks. I would wait for a WP flagship with a SD card slot, all I ask is a timeline. My 920 is not out of date by any means but I have needs for a smartphone and I'm starting to lose patience ...and hope.

By the By the 925 was a great looking phone!

Yup, even though people continually tell us that we don't need a SD Card Slot, there's a lot of us that are simply not buying because of the lack of a SD Card Slot in the Nokia flagships (non-phablet).

Meh, this "935" sounds too similar to the 930. What I want to see is a 1020 successor. A lot of people are waiting for it. Here's the thing: People with GS3/4, iphone 5, or Lumia 920/925 won't feel they need to upgrade to 930/935. But put a 1020-like camera on it and it's a totally different story. It's a real premium advantage they can relate to and be willing to pay decent price for.

Camera quality difference between 920 and 930 is huge. It's main reason why I'm planning to buy 930 or 1520. Sadly 1020 saves photos too slow.

Just went throught the Flickr 930/1520 group...Looks real nice indeed. I probably still wait for the 1020 successor with the huge sensor.

I think 930 is a good successor to 920/925, but bas 2014 flagship. Its problem it that it has one year old processor, but as "new" device is priced higher than z1 and other droids with same internals. Nokia/ ms should sell 930 with s801/805 processor and it would be fine.

I agree with the specs as listed with the caveat that the phone should have a SD Card slot whether or not it has 32 GB of internal memory or not. Yes, the 925 is a good looking phone and a variant as described would be fine. I would even be interested in a variant of the 930 but with a SD Card Slot and Glance. While I am concerned about the idea of releasing a flagship phone in November only to follow it up with a raft of phones releasing alongside of Threshold/WP 9 in Spring 2015, I really think it would be unwise to not have a new phone for all the 920 contract people who bought at launch. For quite a few of us the 1520 is too large and the 930 lacks Glance and a SD Card Slot. If it wasn't for the 930 lacking a SD Card Slot and Glance I expect that MS could go through the holiday season without the need for a new flagship. Even with a new flagship the launch of the iPhone 6 is probably going to be one of the worst events for WP. We'll likely see quite a few fair weather friends leave our community. Personally I've never bought an Apple product and certainly am not going to get an iPhone. Of course this analysis and Daniel's is only looking at Nokia/MM's plans and not taking into account the other OEM's that may be launching soon. Perhaps WP devices from LG, Samsung, and HTC might fill up the gap. However with the exception of a HTC One styled WP device, I am in fact waiting for an appropriate Nokia/MM flagship.

As a current owner of both 920 & 925 phones I agree with the article 100%. And maybe there will eventually be a Surface Phone given how great a job they did slimming down and sucking all the air out of the Surface Pro 3.

As long as its successor does not have the creaky back plate. Easily resolved for me by using a TPU case, but still...

Whatever the next model is or does, put a bloody SD card in it!

I love mine, but it's just getting really scratched on the top edge near the charging port. That's the only down side. Light as a feather, thin, great camera, quick. Just needs a memory card slot really.

Agreed. I really liked the design and so on, but it was more like a downgrade for me from m my 920

925 was hit with the ugly stick. The 920 was a perfect design. Just needs a good reboot with the mod cons and I would certainly get one. But I do love my Lumia 1020 so much. But I'm really falling for the white 930. That I purchased on Saturday past. Its mega quick. Browsing is so fast . In and out of apps is lighting quick. . The white is a nice pastel white. Not glossy. The screen on this is the best I've ever seen on any phone

I really hope they do have a real good hifgend back up phone to replace the McLaren coming out so I can upgrade

These articles keep WPC good. It's like they're in my head lol!!

Got a Lumia 925, and proud of it !

A follow up to the 925 is stupid. The 930 is a follow up to both the 920 and 925. Releasing another similar phone so soon is ridiculous and could be frustrating for those that jumped on a 930 only to find out a few months later it's been improved. 12-24 month release cycle are more realistic. Bring on a new 1030 camera flagship so that it's at least a fair bit different.

Agreed. With the 1020 getting discontinued, its time for a 1030. Thats the phone I want to buy.

I am sorry but as soon as the decision to omit Glance and a SD Card Slot from the 930 made it a phone destined to be somewhat overlooked. I called it a stutter step of a release some months ago. Why do you think WP has been dead in the American market this year?

why not a followup to the 1020 instead.... it could be the exact same phone with a snapdragon 805 and 32 or 64GB or both and add a micro sd...

If this is what they offer, I'm still most likely out. Late October I'll be eligible for an upgrade, and I'm hoping for a 5.2-5.5" Screen. Been around since the original Samsung focus on WP7, and I really love WP8.1, but I need variety, and wouldn't mind having a swappable battery, as battery life has been an issue for me.

Is it better to put a cover to my Lumia 925 or without to have a great design ?

Couldn't agree more with this. Seems to be the model everyone likes, even if they don't own it. Was seriously tempted by the 925, and still am today, but it's just missing a few key features. Nokia seems to have been so obsessed with the low end and niche high end, that everything around the middle has been neglected.

Agreed but heat even under normal use is high.it has to be taken care.

Great article! I have to agree. While I certainly love my 925, I think I would love it even more if it had a microSD slot, especially since updating it to 8.1.

I feel the L925 is the best WP too.

I agree. I have too say, the 925 is by far my favorite nokia design since the N-Gage & the 8800 Arte series. I don't own one though ... I don't like AMOLED screens & I prefer HTC to nokia.

That's exactly the same mistake BlackBerry made when waiting for BBOS 10. They waited too long without a flagship phone.

+925 white but this 935 should have innovative things. Maybe this 3D touch or something else. Not just upgraded specs...
Lumia 930 came too, too late. The same time frame that Icon was perfect.

... Microsoft is failing... Nokia would do it better oh wel

One thing everyone who is here in the US might want to consider... Congress has passed legislation requiring that carriers permit phones to be unlocked and portable if a user wants to change carriers. That law is to become effective FEBRUARY 2015. Is it possible that we'll see phones in Feb 2015 available directly from the Microsoft Store and not tethered to any carrier at all? Since Verizon and Sprint require phones be flashed with their CDMA code, perhaps you could specify preferred carrier when you order the phone? Or select the GSM model that would permit you to take it to ATT or T-Mo? My point is this: AREN'T WE TIRED OF PHONES THAT ARE EXCLUSIVE TO ONE CARRIER OR ANOTHER? How is it that Apple can offer 2 or 3 models and every freakin carrier sells the same phone? So despite the fact that some of you can't wait to get something new, perhaps a flagship phone that is available to everyone is in the wings...

I don't give it a shxt for carriers exclusive, but each networks' LTE support different frequencies...unless the device is universal, even we can unlock it is still somehow locked.

Looking at the Nokia specs for LTE bands supported by existing phones, they all support band 4 and some support 1 to 3 additional bands, so it seems to be possible to set up a phone with multiple LTE bands, allowing the phone identifiers (mac address, SIM card, CDMA code, IMEI, whatever) to authenticate it with a particular carrier. I'm not sure congress understood the limitations of cell phone portability when they passed the law, but if hardware/software needs to be modified to comply, that's okay by me.

Apple has muscle, MS has mush.

Love my 1520, but agree your argument that MS needs some flagships soon.

YES! Powers that be at Microsoft listen! 935, give it a microSD slot, and make it available universally ALL countries and ALL carriers and make it quick!

After using the 1520, now I realized SD slot is a blessing.

The 935 would be perfect if it had:
• 5 inch 1080p, but with glance
• quad core SnapD 805
• metal frame
• colorful backs, like the 930
• thin and light like 925, buy with less bezel
•32gb standard, micro SD not necessary
• wireless charging built in
•20 mp camera, with dual tone flash
• directional mics like the 930
• front facing speakers
• on screen buttons, ok, if there is very small bezels & front speakers
•

I agree with everything you've said with the exception of no SD Card Slot if there is 32 GB of internal storage. I agree with Zeroplanetz below...

I'd say a 32 GB with micro SD support. Not just a 16gb. Saying because I've had to clear my 920 32gb two times now.

100% agree Daniel, well written article. If all there is in 2014 is 930 and 1525, those hopes to increase market share for WP could be troublesome.

I owned a 925 for 3 months, but ended up going back to my 920. The screen and colors are absolutely beautiful, but I just couldn't deal with the lack of Qi and low storage space. I went through 2 Nokia wireless charging shells for the phone, but neither one worked. The case added some nice girth to the phone and made it feel really good in the hand, but I realized that it's just silly trying to turn the 925 into the phone that my 920 has been all along. Lighter phones just feel too delicate now.

I personally would wish Microsoft would do a surface like phone. Something along the lines of that one awesome fan made mockups.

i hate it when they compromise on features to make up for something else that is currently requested by users, like removing qi in order to make it thinner, the best overall windows phone for me was the 928, the only thing you could mark as bad was it being 2mm thicker than the 925, but in exchange you got a decent flash, double the storage, and qi charging built in, now that i read your desired 935's specs i guess if thats going to be the rule now, AMOLED screens cant have glance now? oh cmon AMOLED is the reason we got glance in the first place, nokia is just cutting corners to save a few bucks, i hope microsoft wont follow that strategy, like in the past they had the flagship phone(n97) running the same internals as the cheapest one(5230) thats just ridiculous, people buying a high end device dont give a **** about price what they need to release is a groundbreaking new thing, something that earns the bragging rights like touch ID did for the iphone, make a damn retina scanner asap,

The 920 and 1020 were the flagship phones for me. My 920 is great, it has a decent internal memory, qi charging and a good camera. I also think that flagship phones do more good than the sales indicate. A good percentage of people on here mention their high end WP phones and frequently mention that another person saw it and it was their introduction to WP. On the back of that, a lot of low and mid range phones were sold. In the same way that top of the range cars sell the low end ones. I'd like a top of the range Land Rover/Audi/Mercedes/Porsche but would have to settle for an Evoque, A3, C Class, or Boxster. Nokia/MS should jeep an eye on phone contract cycles. Apple release at around the same time each year. So they scoop up all those punters year on year, on a 2 year rolling cycle. MS need to be looking to hook those people coming out of 2 yr contracts for the 920 and 1020. For them, a slightly improved 925, may fall short. Personally, the 930 is a 925 successor. A 930 with SD support and LCD, would be a worthy 925 successor. Could also be released alongside a 920 successor. The 920 successor could have an 805, bigger battery and a different design.

Agreed, love my Lumia 925. Bring Lumia 935 to the masses. ;)

Agreed! I'm intrigued to see what's on the horizon for Windows Phone.

You'll be gray and old before anything new is released.

The smartphone lifecycle is really closer to the desktop cycle. You should upgrade your hardware every 3 years. Yet somehow people keep convincing themselves it's not, and it's hilarious to watch it play out. I own an Icon. My next phone will run Threshold, possibly it's successor.

I agree! Somewhere along the line, American cell phone users were trained to buy a new phone as soon as their contract said they were eligible to do so... Sheep.

Not to mention the phones they buy cost $700. It's like an average middle class joe buying a brand new $130k Aston Martin every 2 years...

I have owned a Lumia 800, 820, 925, 920 and 1020. The 925 was awkward to comfortably hold and cold in the hand. I rated it's camera below the 920 and thought it was vulnerable to damage if it were ever dropped. Overall, it was poorly thought out and really an after thought of a phone. Not a consistent piece of design language. The 1020 is hands down the best Lumia I have used and it's design and camera makes people covetous. Don't do a updated 925 as a 935. Focus on breaking new ground.

I love my 925 I just hate the limited storage (16gb becuz of t-mobile) btw what was the calendar app on the third image in the article

I agree completely, as much as I love Nokia/Windows Phone, they are always behind in technology. I mean they have amazing build quality, and amazing camera/screen technology, but then they fall behind with a small processor, small ram, small screen or no on board space and no Micro USB card to boot, if you compare that to the competition, it doesn't look very good. I mean I have the 1020, which I love, but how could they release this power house camera with a dual core, and such a small screen and battery, it just doesn't make sense! Plus they always take so long to come out, the Icon for example launched in the states in February, then only makes it global until July, they need to find a way to release their phones globally a lot quicker and make the time shorter from announcement to release date. One thing I do like about Nokia/Windows phone is that they focus on actual technological advancements, like sound, visual, and screen enhancements, unlike the competition who release, as far as im concerned gimmicky stuff, and try to pass them off as the next big thing, like security enhancements which always get bypassed easily and a heartbeat monitor, which is nice, but to me, not needed, but yes, Upgrades to hardware and software are very much needed, definitely need an upgrade for the 1020, to keep the camera market happy and they need to start using the latest technology to keep up with the competition, 801/805 or go home!!!!

Judging by the comments so far, this is likely the most uncontroversial post ever written on the WPC blog! I obviously also agree, but differ with Daniel on two details: I'd argue that MS needs a replacement for both the Lumia 925 and the 720. The Snapdragon 805 doesn't include cellular technology, so it's a no-no for a good, powerefficient smartphone! My recommendation for a Lumia 935: Snapdragon 801 @ 2.4MHz
2GB RAM
5" 1080p AMOLED clearblack display with glance
16GB storage with SD card support
60 h music playback time, 13 h 3G talk time
20MP PureView sensor (same as the Lumia 930)
Qi Wireless charging
Metal unibody design (look at the LG G3 for inspiration) My recommendation for a Lumia 735: Snapdragon 801 @ 1.6MHz (underclocked and undervolted to extend battery life)
1GB RAM
4.7" 720p AMOLED, clearblack display with glance
16GB storage with SD card support
100+ h music playback time, 20+ h 3G talk time
12MP PureView sensor (same sensor size as used by the Lumia 930, with lower pixel count)
Polycarbonate unibody design based on the Lumia 800

You do know that the LG g3 is still plastic. Not saying that it looks bad.

Yeah, was just trying for an example of something that looks: premium and thin. Obviously faux metal is out of the question.

Can't agree more. My mum has it, her sister, my bf and me and that's not end of the list. I love it so much that I don't feel like move to 930, at least not without double tap our glance. Done upgrade at least in speed and smaller basel would be enough to go shopping. That is it !!

I really love my 925 but with its current size 4'5 no more, if you hace bigger screen you hace other options to choose, just give it sdcard and improve camera, right now i don't need better processor and please keep the design thats makes the phone special

This article is spot on. The 925 is a great phone with a tremendous design. My wife has it, while I've just switched from a 920 to a 1520. If the 930 was a better phone, I would've gone for that instead. WP market share is heading down if the 930 is what they're relying on. While I'm here, the successor to the 1520 should get the metal frame too - 1520 (and 720) corners seem too fragile.

I agree 925 with 5" display.

925 user. It's gorgeous! I think WP is not a priority right now for the company, and it's sad.

They need a 5" flagship available to ALL carriers, that isn't too bulky. When you look at the Nokia line of windows 7/8/8.1 phones they are always bigger and heavier then their android or iphone competitors of the same price range. Nokia needs to start thinking lighter and slimmer because their past several flagships (920, 928, 1520, Icon) were ALL criticized for being too fat I always liked Apple for their slim minimalistic design. Not only the iPhone, but the ipad the ipod (back when people still used them) the macbook, those products were always smaller, thinner, and lighter than their competition. I like how small the iPhone is, it fits nicely in the hand and pocket. I don't like their software as much as windows or WP8 but I do think they make a nice product in terms of overall design and size.

What's so bad about the 930? It's the perfect size, the design is nice and the Snapdragon 800 is still an awesome processor. The only thing I can see wrong is no MicroSD slot.

It's several months old already. Out of date.

You read my mind Daniel. The succesor or even the Lumia 925 it is going to be my next Phone

It will likely be a refined version of the Lumia 930. That being said my 930 is the best phone I have ever owned, the display, weight and great solid feel are spot on for me. A thinner, lighter and similar display would go a long way to selling these flagships. But at the end of the day people will be buying for the OS and apps, which where MS is still slightly behind on the competition. I'm hoping 'threshold' is the gamechanger where they leapfrog the competition kind of like how they have with Cortana. I know MS can do it, its the reason I adopted early.

One other thing please do not put charger port on top

Lumia 935... Make it happen, and SOON!!

Ok so who's successor is who? I'm confused with their numbering system. First I thought Lumia 925 is successor to 920 because they are in the same ascending number since 900 but people claim it's not. Then you have 930 which of course following the 620 to 630 pattern and the rest of other phones is apparently being said as not the real successor to 920. So who's successor is who? Who follows who? Where the hell do they get this numbering coz' right now it's really confusing.

The Lumia 930/icon is the successor to the 920 ,the 925 is a variation of the 920.

930 is nice if it is available after September and is not locked into a U.S. carrier or limited by them too. I wish Microsoft would just release an international version with all the U.S. GSM radios in it like Apple iPhone and Google Nexus phones. I mean what does Microsoft have to loose? Windows Phones are not selling in the U.S. marketplace with the carriers being the sales force for it! Existing WP users sell more of the phone then all the carriers do to new buyers. But I for one; am thinking of going back to Apple's iphone! I like that you can buy an unlocked model with all the U.S. GSM radios in it!

If the 1020 successor never happens, I would buy this, with the specs you posted!

This makes me sad because I had one and it broke. :(

You Daniel are a GENIUS aka you have common sense!

These let downs remind me of my days with webOS

I agree with all that was said in this article. I really like my 1520 but if there was a similar build @ 5" I'd be all over it! It has everything I like in a phone, sleek, wireless charging, great camera, SDCard, awesome screen, excellent battery life. At times the size of the 6" can be just a little too big. Bring out a similar design to that of the 1520 or the 925 (been meaning to get one of these but I betya that uses a microSIM not a nanoSIM like the 1520 - In Australia we can only have one SIM per account, and that sucks if you cannot move SIMs (I already killed my 1020 because Nokia does not support SIM card converters)), but with a 5" screen and we're on winner BIGTIME. Microsoft would be very aware of the need to have a highend flagship available to replace the expected 'McLaren'. I have a feeling they will bring out a device that will cover all the bases of user requests for a highend flagship, but leave out swome of the breaking edge tech for next year when Threshold becomes available. MS have had some crazy ideas of late but I can't see they would be THAT crazy not to have a flagship ready for late 2014.

Just my fifty cents: Make sure a new device supports the new European navigation system Galileo which should go live soon as it will drastically improve accuracy, horizontally as well as vertically. I'm using it for mountain biking, current accuracy is more than a bit disappointing...

I chose 928 over 925 even though I'm on T-Mobile. Well, when I bought 928 from MS Storr, 925 still wasn't available anyway, at least in my area, North NJ not in Tmo nor in MS stores. (928 wasn't available in Verizon stores too). Still happy with it, and it still looks like brand new))

Daniel.. What calendar app is that?

All they needed to do was release the 930 at a cheapish price, which EE uk have done, but it only lasts til July 31st, it goes from £360 (including £10 top up, portable wireless charging plate, Nokia speaker and £20 app voucher) then the next day it goes back to £480 with nothing included

Love the article, very well written and it brings up excellent points. When shopping for a new WP i could have chose a 1520, 920 or 1020. But once I saw the 925, I fell in love. To this day the phone still looks, feels, and preforms like brand new. After almost a year of using the phone I still get compliments all the time on how nice the phone looks. Even after playing with almost every Lumia available, this is still my top choice, and I haven't regretted my purchase since. A 935 would be the only upgrade I would be really looking forward to.

They need to drop the number system. It's confusing to the average consumer. They also need to cut back on models. Just a high, mid, and low.

Internal charging and I'm onboard

I don't think the 1020 is niche every one wants a great camera. It was just priced too high initially.

I am very happy someone has pickup my post on updating the 925 from the McLaren WP Central article. Just want to add in a couple of other features: - 802.11AC - LTE 6 - multiple color options including "Yellow" - same HD screen resolution as Icon or better - 4.7" inch screen - 2GB RAM - place all U.S. GSM radios for all U.S. carriers inside. I am not sure it can be done in two months, but Microsoft should sell it in the U.S. as an Unlocked model as they do with the international model. Possible on Microsoft's website. I heard U.S. carrier negotiations always compromise the U.S. models in features like it did with the 925. Limit it's storage to 16GB only. Plus, it takes time to limit each model carrier requrements for each carrier and then packaging, manual, branding, etc...

It's kinda weird to think that a big company like Microsoft won't release a new flagship phone till the end of the year. They must have some kinda of plan to surprise their customer/loyal clients.

I would've thought amoled was even better for what Glance screen does. I wonder what's up with that?

Microsoft HAS to ship a flagship phone before 2015! There's no question about this and I really hope they know this. Posted via the WPC App for Android!

Wtf??.. 925 got only 16 gb memory.. Everyone forgot that??.. I wish Microsoft make a device with 64 GB.. 16 gb not at all sufficient

I miss this lumia I had an white one

I use a 925 and a Samsung s5 as my work phone. Still think the 925 is better

Ok I like my L925 the 16gb sucks to no end only being to have it in white only. When one looks at WPC have you ever seen a article saying deal of the day for anything L925 related the answer is no. Its an ok device.when stacked against devices like HTC one. If Microsoft misses this fall and if they stick with just low end low GB devices they will never get traction state side . The L925 is seldom spoken about on any article on this website compared with other Lumia.

I have the Lumia 925 and I have to say it is like the best Windows Phone probably till this date. The battery may not be amazing but the amazing looks and the fast processor speeds it has makes this an amazing phone. But a Lumia 925 successor would be amazing and I would be glad to buy it

I personally don't agree that flagship windows phones are not appealing, its Microsoft's marketing that is not aggressive, I believe the iphone sells not because its the best phone but Apples approach to marketing their products is second to none and it makes you believe their products are the best. Just the iphone alone has more than 3 adverts focusing on different features of the product and if windows is to gain it needs to have a similar approach.

Thought the 930 was the newer 9xx already... 925 felt like the "s" for the 920.

"High End" doesn't sell well because they are not sold on EVERY carrier in the U.S.. Yes, I realize its not Microsoft's fault but that's the main reason as I see it.

Everyone who sees my 925 come out of my pocket are always intrigued. The design, the camera lens and how the metal meets the polycarbonate. This article makes so much sense. BUT, reality is here and this is the present and whats currently rolling out is the Lumia930... SO why not make this phone available to ALL carriers. Microsoft should buy its way out of the Verizon exclusively contract. Its the least they can do. Many of us at T-Mobile, ATT, Sprint, would love to have the option. I will squeeze the life out of this 925 until i can truly replace it with a worthy phone.

+925 32GB :P
I couldn't agree more!

The best WP so far for me. But a bit sad with 16GB since most games and social networking like Line, Viber, Instagram and more.. eat up a lot of space. However, I love it and still enjoy using it so far.

I bet if microkia makes the the 935 they'll ruin it like nokia did with the 925 they'll leave the same processor as the icon/930 and eliminate wireless charging just to make it thinner and have half the storage.

Microsoft is not interested in a Windows Phone for the masses. They are looking at Windows Phone as their mobile device to tie into their Enterprise strategy and that takes precedence over making a 'consumer hit'. Frankly I get that as it will be much easier for them to sell these devices into that market since they dominate it. Everything they have done so far is intended as a testbed and development market. The nextgen phones will again break from current hardware, run Intel hardware and easily tie into the enterprise (security) environment.

disagree with pretty much everything said

They need more niche devices! For example tough phones that withstand the elements, that are waterproof, dust proof, can take a drop from several feet and get run over (well maybe not last part). Anyway, samsung has the galaxy s5 active which does all of that. If microsoft launched a tough phone on all major carriers it would sell to people who need it or who are tired of cracked screens. Lumia 1020 was niche for camera lovers, 1520 for phablets, time for a tough phone. Posted via Windows Phone Central App

I was thinking about that last day. To much complaint at the moment to choose a Windows phone. The carrier doesn't have it or the monthly plan is unlikely. If Microsoft wants to still competitive they need exactly what you said.

Lumia 1020 has AMOLED and Glance...

A few things need to happen.... 1. Stop all the exclusivity....the 920 on ATT, 925 on TMO, and ATT, and 928 on Verizon...WTF! Its all the same phone....Make the same phone on for all carriers.......Boom one problem solved. 2. Glance was a beta, not being supported..... 3. What happened to all of the hardware partners that MS has signed up..... Would a LG Win phone 8.1 on the LG G2 chassis be outstanding? YES it would! 4. Where is the marketing for Win Phone? Wow....can you say NONE! 5. See what the people want and make it...... This post makes me MAD as hell..... Just to see somethoing outstanding being treated like a stepchild, but hey its MS.

Agree with others. 920 looks better than 925, and even though 925 lighter once you put on Qi cover its as heavy if not heavier. 16Gb is way not enough. To install an update of GT Racing I need to actually delete the app and install. Have a 930 coming so goodbye 925. Oh yeah and that Qi back cover is flimsy as hell. Slightest drop cracked one of the corners.

If they want to gain any market share in the US (arguably the most important market to conquer), they will have to offer something that can compete with the iPhone 6 and the Galaxy S5. Otherwise, those customers (like me for example) who like to have high end phones and already are on Windows Phone, or those customers thinking about a switch, will see the platform as a second tier platform and skip it altogether. The worse that could happen is to have current WP users switch back to iOS because they feel they can't get innovative or high end enough hardware.

I think the 925 and 1520 and 720 designs are just the same except for the metal sides on the 925. They are great. Just bump the specs and software and and combine those 3 phones design. Posted via Windows Phone Central App

I totally disagree.. Most of the world doesn't have access to the Lumia Icon, so the 930 is the best of the best from every angle!

Also agree with the post re: dropping the exclusivity. Microsoft is NOT in a position to turn away users or tell them "you have to switch carriers if you want my phone". If they only have one phone that is attractive to a particular customer, they should REMOVE all barriers for that customer to have it, as opposed to making it harder through exclusivity deals. They're not Apple, their devices are not yet sufficiently desirable to force people to switch carriers. In fact, as a long time Mac user, the iPhone was still not appealing enough to make me switch carriers back in the AT&T-only days. As much as I like Windows Phone, I have to admit that it is not any more appealing or game changing as they iPhone was originally, and thus Microsoft is doing itself a disservice by agreeing to these stupid exclusivity deals in the US.

They're doing it because they have to. Carriers want exclusivity deals to justify marketing spend on the device. Apple is so powerful they can tell the carriers to go to hell. Windows Phone does not have that strength. They must take what they can get, and that's not a choice between "we'll take the phone you put on all the carriers" and "we want an exclusive" but rather a choice between "we want an excusive" and "we just won't carry it"

I REALLY want an upgraded 15xx phone going into the holiday season. I can't buy a 4.5 or 5in phone. Double release?

Microsoft needs to have one hero phone everywhere. They need an easy to remember name that has a simple numbering system, I mean how can an average consumer know which is the higher end model 1020, 930, 925, 1530, 1500000? They have their own products as examples, Surface, Surface 2, Surface 3. I have trouble telling people what kind of phone I have, do I call it a Nokia 1020, a Lumia 1020 or a Windows Phone? More importantly the hero phone needs to be available everywhere at the same time.

To soon to replace 930. You'd be selling out all of your recent customers and that would be a piss poor move. Though it is unfortunate nothing impressive is being released to compete against the 6. It will hurt business. A release early next year however near threshold might kick enough interest to humiliate Apple. Might be a blow we must brunt. Also. The fact that windows phones fill a variety of niches is one of its highest selling points. Don't undervalue that. That's why android is HUGE. if they can afford a variety of quality designs. Ducking awesome.

I think a successor to the 1020 is more appropriate. An update to the 925 can wait until early next year, give the 930 some time.

I was not a fan of the 925 design at all. 16 GB was a no go as well. As far as the Icon/930. I love it and would be all over it if it was on att. I also don't understand why so many people say it's not a true successor to the 920. I have a 920, have loved it and a phone with a higher resolution screen, more memory and twice the processing power sure sounds like an upgrade to me.
I have 2 lines that have been eligible for an upgrade for months. Been waiting and waiting and may actually buy a 1520 this week just to fool around the big screen for a while. I remember when I got my Dell Streak. Back then they considered it a phablet at 5 inches. Then my note was a phablet at 5.3 inches. Now it seems nothing is a phablet until u get to 5.5. Weird.
Anyway, I'll take anything high end at this point. Still think they should overwhelm the market like Android did at the beginning. Imagine walking into a store and seeing 20 WP's.
They need to release something soon though. As someone said earlier, a lot of people here are getting antsy and even talking about jumping ship. And we are the diehards. Imagine the average person who got a WP but aren't nearly as invested as us, they will be lost for good. Time to kick it into high gear MS. Well, it was time to do that 6 months ago but..well you know.

Mr Rubino you've read the comments....your word may have a bit more relevant to ms than ours would so .......go tell them how you and the rest of the world feels! WP need s an explosion of awesome phones for attention......apples already getting that from iPhone 6 craze!

Agreed, just give me the specs you said with built in wireless charging and microSD card expansion is a must!

I just think maybe the L820 should be due for a overhaul/remake before anymore 9xx series.
I still use a 820 that has been around for nearly 2 years and that thing is just bionic build. It's been the most solid and reliable WP .

Personally I don't think Microsoft will come out with a new phone this fall. I think they feel their market share in the US (lets forget the rest of the world for a second) is at the point where it wouldn't matter what they come out with at this point. They are probably thinking about timing their next Flagship with the Windows threshold to garner as much attention as possible. I also think they might put some generic updated phone out in the meantime to hold over until threshold. Who knows though.

I know MS can only be so aggressive, but now that the Lumia brand is fully under their roof I think they need to price flagship devices (our at least near-flagship) at price points that significantly undercut the competition. At least a "Lumia Nexus"-type device - solid device with little to no compromises at a killer no-contract price point. Can only help in their attempt to erode competitor market share and win converts. Increasing the value proposition goes a long way in helping risk adverse people gamble on a new/unknown/different platform.

Actually the next release of Windows will be in August 8.1 update 2 and the next release of Windows Phone is also due in August Wp8.1 GDR1, technically. whether they are talking about those or full Windows/WP (threshold) i dont know. I can hope that they mean with these releases cause waiting till 2015 for a new high end phone is way too long.

Agree 100% with everything in your article @Daniel_Rubino ! Would it not be amazing if some big shot at Microsoft reads this article and gets inspired to make it happen! I know that is wishfull thinking to say the least, but one can dream.... It would be really really really bad for WP mindshare as well as even actual marketshare if our next flagship is only comming out in almost a years time! We need a nother phone with WOW factor (like the 1020 or 1520) but that appeals to everyone AND WE NEED IT NOW!!

This article details my thoughts exactly, 120%.

Besides the single fact that people and me want more storage, that would be a great trick, to just release new variations of 925 (926, maybe?) with more colors and more storage. Easy way to be in media by producing pretty much the same thing (given that adding more colors doesn't change production much)...

Agree, one more thing stop bending over back to useless carriers. Release one model across the world or at least give us an option to buy the unlocked model in the US from your Microsoft store on day one. Posted via Windows Phone Central App

People wont buy wp based on design only. I think lumia is way more beautiful than iphone and samsung already. Maybe just a better screen, huge battery and best camera can win some loves

Dont like the camera bump on the 925. I prefer the 930, though it feels a bit bulkier.
MS def needs a new flagship before Christmas though, or ppl will forget WP even exists (not that many ppl care to begin with...). And it should be a global release for all carriers, and there should be no more than 3 models out going fwd.

I think Nokia/Microsoft should release their flagships with "names". Like Lumia Icon (awesome name, for me), Lumia Titan, Lumia Hero, idk., that would probably gain attention to them cuz it's already too much numbers for non-WP user to know.

Agreed. I want an upgrade for my Lumia 920. Needs to be similar fixed screen, pocketable, thin, qi charging, 16-20 MP camera, and some kick ass accessories (cases), charger, etc. I'd prefer to see a bundle package of accessories. And please bring it to Canada. Rogers and as many other carriers as possible, hell even bring it contract free as an option through the Microsoft store. I was in a few mobile phone booths over the weekend and I gotta say out of the 50 phones on display the only windows phone was the 625. It just totally gets lost in the crowd of android devices. Apple at least has their own display.

Disagree.
Though, I agree that 930, as usual, came with last years specs, there is no room for another flagship within six months. Also, the problem with Microsoft's flagships is not hardware but software or more specifically apps. Yes, we still lack so many apps(to name soundcloud, flipboard a few. Twitter, Tumblr, Facebook, Pinterest, Wordpress, Spotify ain't feature par with android/iOS counterparts.) that matters and those available aren't feature par with their android or iOS counterparts. With this state of affairs, honestly no windows phone flagship justify their prices. Microsoft should probably focus on low end. They need to bring out a Lumia 730 with S400 quad core, 1gb RAM, HD 720p display with front camera and rear 8mp camera with flash and as added bonus throw in SD slot, dual SIM, LTE and capacitive keys + shutter button and all that under $250 pricepoint. In the mean time, they need to reduce the price of 930 upto $450 and thus give it a status of an honorary 820 successor.
With windows phone threshold, they need to bring 64bit, 4K video recording and QHD support and reveal successors to 1020 and 1520 successors(namely 1030 and 1530) for fall release(since handsets division will take its sweet time putting up their own Lumia firmware on them) with S810 chipsets and 4GB RAM and 32/64GB internals with SD slot. In the meantime, they can polish their OS, remove bugs and put new customization options like traditional desktop like UI to mimic android/iOS, interactive live tiles and notifications, camera improvements like 4K video recording, faster camera boot from lock screen time, faster focusing times to 1020 successor, pen support and more use of screen real estate in 1520 successor, better storage handling/cache removal and more management apps like RAM management and Antivirus. Also, greater app support with quality and feature par apps would definitely help.
I really want windows phone OS to expand but it seems Microsoft is too slow and unsure about Its vision.

"traditional desktop like UI to mimic android/iOS" Really? then what was the point of WP? I'm not blasting you friend I'm just saying, that's not the direction they intended with this OS and if they were to mimic the others then WP would surely get lost in the fog.

And believe me when I tell you I bought WP because of its design philosophy(Modern UI). But, customization is important to a lot of people and you aren't empowering anyone if you are taking the power of choice from them. Just throw it in, give it more variety and let end users decide for themselves. Also, Microsoft is a corporation and in order for their business to run, they need market share. This is not the time for stick to their initial concepts. I'm not saying to retract on them. I'm just saying to give more options to the consumers to choose from. Anything to get its well deserved market share. And by well deserved I mean how stable and fast the OS is even on budget devices like 520. Hope that clears things for you.

Also, the idea of live tiles and push notifications was to enhance functionality at your home screen amd to get away with lack of notification center.
But now that they have brought notification center which was inevitable, now they can experiment with different UIs too. Though I hope they dont remove Modern UI altogether.

It's clear but I think the Metro/Modern UI is Windows Phone's identity. It's possible that adding the traditional desktop option would remove stability... then again anything we say is speculative. I'm glad they didn't do that. I think it would simply show people that the OS is nothing more than a copycat and that there is nothing original.

I was a WP loyalist. First smart phone Samsung Focus. Att never gave me 7.8 update as they said they would so got 920. Loved phone. Then saw 1080p phones come out like 1520. Too big. Also WP never went the sd card external route. I have nothing bad to say about WP except they are late to the game. Apps are not supported very well and for whatever reason WP has to beg for a developer to make one. I couldn't wait for new hardware and Microsoft to drag their feet. I jumped ship and got LG G3. Yes Android. Hard for me and it was like losing an old friend. I now have a 5.5 inch quad hd display that feels like a 5 in display, light, excellent camera, and have unlimited info at my hands. Sorry WP didnt want to jump ship, but couldn't wait. I will return if they can right the ship. Wp still i believe is a great OS. Posted via Windows Phone Central App

Sadly my friend you are not alone. The lack of a high end phone with sd card is what is leaning me towards the android pool and sadly I don't want to go but after using my gf's Galaxy s3 and seeing what kinds of apps I can have on top of an sd card I'm possibly considering a HTC One M8. Give me a high end WP with sd card, wireless charging and a great camera. In the current smartphone market, given what Nokia brings to the table this should not be a difficult mission.

Exactly. We didn't want to jump ship, they forced us off with their inability to get anything done.

I like all windows phones device except the 925 ,I hate it , I don't like its design :/

Love my 925 from TMo...would have been perfect if it had 32GB or expandable storage. TMo regretfully only offered the 16GB model.

For me flagship is not only about having the fastest CPU. For me it's more about the neat additional features it offers. Like for example the great camera with zoom, the introduction of NFC, the touch tech which lets you use the phone with gloves, wireless charging, ois. It's stuff like that which makes me buying a new phone. Just upgrading the CPU won't make me buy a new phone. A drastically increased battery life might

925 camera is even better for low light photography than 1020 when in auto mode.

With 8.1 developers preview, my L810 has potentially 5 times the storage for apps. I will never buy a phone without an SD card again.

Partially agree. Only because I'm happy with my 1520.. Just would have liked built in Qi charging and 32 GB minimum out the gate. Other than that,the Icon/930 would be my next choice. It would probably be the perfect phone for most if they would have been able to keep glance,Qi and 32 GB storage across the board along with wider carrier availability.. Perhaps do that and tweak the appearance just a bit.. Less boxey,and softer rounder corners and it will be a hit.

I have been using Lumia 925 from the past 9 months...the best design ever. However, the internal storage is much concern and there is no official accesorries (cases) are avilable currently in the market...

Totally agree! For me to jump on to next Lumia device, after my current contract runs out in November, it has to be a bit thinner and lighter and possess the power you mentioned. It has to be a showstopper in some or many ways!

Absolutely... If they don't have a new middle/high end phone this year(T mobile), I'm going back to Android...:(

MS better wake,up than loose everything. It's a dead competition out there....though WP8 has,contributed little boost to MS but lots n lots work need to be done...you have to start far future thinking.already, its not just about cloud!!......you have everything - manpower, design, technology....what's holding you back!!!!!

honestly what is left to put in a phone without it being a gimmic? i believe MS should do 2 things, 1) create two versions of a surface phone: 5.5" running full OS if possible 64gb standard with micro-sd slot dubbed Surface Exec; & 6" phone phablet running full OS 128gb standard with micro-sd slot dubbed Surface CEO. all the security features, enterprise setup (incert here for more options, i know i missed a few or a lot) making these phones the most secure and reliable on the market. some may not agree no carrier subsidized, made to order on any network and any region. 2) get back to basics with all other phones where the core focus is integration what made WP unique low, mid & high end phones, simplify simple. get in get out enjoy life, keep Zeiss optics on devices with improved photo and video software., keep hardware camera button. smoother, sleeker, faster OS. once again integration, integration, integration, integration. is it time for a redesign of the OS? maybe everyone esle seems to follow the flat look, lets bump it a little, floating tiles, different shape tile exp: hex shapes, bubbles, circles, verticle rectangle tiles, jigsaw puzzle tiles, stone shapes; something. just my 2 cents, maybe silly but it could set a trend and definately get attention

At&t drove the dagger into Nokias heart by pulling qi. Hmm.

I have a lumia 925, got it for $90 when att did refurbish phone sale, also got galaxy s4 for $200. Well ended up switching from iPhone to s4. Really liked android. Well after playing with lumia 925 for a couple months, decided to list it on eBay. Also bought htc one m8 and listed s4 on eBay. Well both sold but neither buyer paid, so finally relisted s4 today. Idk what to do with 925, I have 2 520s also. Probably never switching from android, already invested heavily into it. 925 is great phone, thin, light, and and amoled screen is gorgeous! Just not for me... Well I hope Microsoft does good, I have a feeling they might partner with Amazon to bring apps to window's phone. For the 925 I guess I will either sell it, keep it as backup phone, or give it to my aunt who has 900. Posted via Windows Phone Central App

I have a question, not to sound pretentious, but how is it that you can't have the Glance screen with an AMOLED screen? My Glance screen works flawlessly on my Lumia 925 and I couldn't imagine living without it. Not trying to start a war just asking a legitimate question. Plus I love how crisp and vivid the colors pop on an AMOLED screen versus an LCD screen.

Search our site for the article. In short, the Lumia Icon/930 AMOLED display doesn't have enough display memory for Glance.

The 925 build is the best

Agreed. But my only issue was why did 925 have to come up so quickly when I just purchased a 920 a coupler of months ago. But my 920 is still my favorite phone. But now I am looking for replacement; with new processors available MSFT needs to come up quickly with a 925 variant if they to cramped up for a new design which is not a Samsung and not an iPhone. One thing I fail to understand how come 925 despite being an amoled screen has glance but 930 or ICON doesn't.

I had still not long got my HTC 8X when the 925 came out so I didn't end up getting it. The 930 will make up for that for me!

Agree, they have to take decisive steps to compete otherwise we will be exceptional and extict from the market as well.

I totally agree with this, my contract is up in November and I'm not going to be looking to sign another 2 year contract on a phone that's already a year old

look guys Microsoft really lifted the game level extremely fast..
2 years and we got from Lumia 800 with a rusty windows phone 7 to the Lumia 930 & 1520.. something Big is coming and it's coming pretty soon, and it doesn't always have to leak, you see not only our friends make surprises but so do companies.
just wait for it !

I always thought to myself that if Nokia has shelved the 920 (though it's a lovely device), and released the 925 as the flagship instead, Nokia & WP8 would have made a bigger in the market. The 925 is slick, light, fluid and with that powerful camera, it would have been a bigger hit. Because, one of the major complains against the 920 was its bulk.

Lumia 920, 925, 930, 1020: Bad Battery
Lumia 1520: Too big.

But the phone you have suggested is the 930/icon variant albeit with minor improvements. The problem with Wp is it doesn't strike balance. You see, the 52x and 62/3x bring out the lower end. The 1520/930 bring out the higher end and 1020 marks the niche. We need a device which is latest but also falls in the middle of the spectra kinda like 720. 820 to me imho, felt like the same device as 920 but you know it is like Bizarro to Superman. We need a combination of 720+820.

It has to have glance and double tap to wake. My friends swoon over my phone for those two features. I don't think that MS gets how important it is that these features are extant on their ecosystem. No other phone does these things.

I agree with every point in this article. I love the look and feel of the 925 and would replace my 1020 with an upgraded 925.

Yes, my iPhone friends agreed to this. They looked at 925 more than once when i carry that. Never happened with 920, 1520 or even 1020.

Very simple for me - if they don't have an updated 925 by October I am getting an iPhone 6. I really like Windowsphone but I can't have a 925 for another year, and I am not getting a thicker or bigger phone.

With Threshold coming in less than a year there really isn't any point in buying a 8.1 device. But to wait that long for a true flagship is pointless. MS is screwed and they should be. Just give up. You de facto did just de jure it.

I prefer my L920 over the L925, but it's no real major differences between the two, to the extent that lightness being somwhat better of the L925. In any case, an updated model of these phones, with 1280x768 screen and newer CPU's which a) use less power and b) don't get incredibly hot, would be what I want. I could probably warm to the L930, but I see 1080p screen as a detraction, and reports of it getting hot are a little worrying. My L920 can get rather hot usually from games, and skype does it as well. It's not good. Bottom line is, the flagship phones are running out of things to improve them with. Obviously the better camera would have to be included. While the L920 was the first phone to really offer decent images, it can always get better, no doubt the 20MP L930 improves on it, and that would be a great feature to have.

As a WP user since launch of Samsung Focus and as an owner of many WP devices since, I would like something just a bit smaller than 1520, thin, powerful, extendible, and sufficiently featured. 930 made sense, but its exclusive. Everything you describe hits the mark. Release amass market device before its too late (for me), please.

Love my L925... and a L935 is my next phone... I hope Microsoft make that a reality SOON!!

Really don't agree. Releasing a 935 so soon after the 930 will burn both buyers of the 930 (who wants to see a replacement phone come out 6 months after buying at release pricing?) and the carriers currently carrying it (makes the release and sell window too small). MS-Nokia needs to establish a predictable and regular release schedule so that carriers can plan their pricing and release schemes for WP handsets properly and consumers can know with confidence how long before a new version of a particular handset will come out; something like big update every 2 years, mid-life refresh in the intervening year (i.e. 930 in 2014, 935 in 2015, 940 in 2016), released around the same month each year, and spreading the different handsets throughout the year (e.g offset the flagship phablet by 6 months). If they want to plug the gap in the range in the US (no non-phablet flagship on AT&T) they should release the 930 there; if they feel that it's lower specced than its rivals they should price it accordingly like they did with the 920 at release.

Ideally the title of the post should read "Lumia 930 successor" since the Lumia 925 was ideally succeeded by the Lumia Icon / Lumia 930 However I do agree that Microsoft needs to get ahead of this by releasing a new device to compete with the upcoming flagships... The company is going to fall behind yet again... Then again Microsoft maybe planning to push the rumored HTC One W8 and other OEM handsets ahead of their own to show that they wont crowd their OEMs

I don't see a late fall International model coming out at all this year. I think the Lumia 930 will be it, and the only other release might be a US carrier specific model. The line up for this fall will be 630, 635, 930, Possible 935 US Carrier Variant, 1320 and 1520

Sorry, I can't agree. Nothing touches the 1020. If they want to kick out a true hero phone, it HAS to be the 1020 successor. I won't waste my money on ANYTHING that isn't a leap in the camera dept. The other specs, like processor, GPU, other sensors, are a dime a dozen and nothing unique or distinguishable, regardless of the OEM. The camera absolutely is the differentiator. When anyone asks me what Windows Phone they should get (I no longer push Windows Phones like I did in the past simply because the OS is now watered down and acts too much like stupid iPhone and Android phones) I tell them get the 1020 or if they absolutely HAVE to have a large screen and can settle for an ALMOST as good camera, the 1520. While I still have my 920 as a backup to my 1020, and have had it a long time, I suspect that I'll hold onto the 1020 for the longest time since it looks like Microsoft will NOT be coming out with a true successor for quite some time. A successor to the 925 will be a mid-range device, period.

The 925 is good interms of its internal memory but rhe screen size is not doing it for me its time to move on from the 4.3 and 4.5 inch displays... The lower end 625 has 4.7 which is big... Id be happy to see a midrange phone with 5" display.

928 for me. Twice as much RAM as any 925 I've seen and a higher resolution screen.

I own the 1520 and I've had no issues with a larger screen or any non-common wp however, if wp stepped up in the form factor world(design and functionality) and raw power (processing,memory,and RAM i.e. 4GB Ram) they would be the physical contenders we commonly see android flagships burning iPhones with.

That's why I bought a 925, love the design

Agreed. Still using my 925 as main phone and I love it to death. A 4.7" and 5" max successor would be awesome.

Should have had successors for 920,925 by now in the market and the next 1020 on the horizon. This is how you keep the moment going.

They did make its successor,it's the 930! Now we will get the successor of the 820,and it will be a real knockout.!

The author assumes that all readers live in the US. For us outside the US, the Lumia 930 is a brand new device and a very beautiful one. I am currently on Android (LG G2) but can't wait to get my hands on the Lumia 930 when it comes to my country

Just disagree with screen size. I prefer no more than 4.5"

I am waiting for lumia 730. But there is no sign of it. I cant buy lumia 930 because its too costly for me. I am from India. Micromax windows phone is going to be available soon. But I want nokia (ooops now its ms I know) because its my favourite brand since i start using phones. Sun

Agree, spring 2015 is too far away to wait for the next flagship... And also waiting for an upgraded mid-range phone, there's just too much space between 630 and 930

Love my Lumia 925, beautiful design, great camera and display, light and thin. :)

The only problem that I have with my 925 is that it doesn't have expandable memory... everything else is just top notch

Btw, If Moto X can have Active display on Amoled then why can't Lumias have Glance on it??

What is important for WP is, especially, that HTC, Samsung and others (Sony? I can dream...) release good WP devices these next month. If they don't enter the game, WP will not increase it's marketshare (much).

Why I still think the 925 was the lumia nobody needed: In Germany the 925 had only 16gb of none expandable memory (except the vodafone branded device). Even 32gb is too few if you consider to have a bunch on music on your device.

I agree that it's the phone Microsoft needs right now. Holding it feels amazing.

I use a 925. Its a beautiful device, but I enjoyed using the 920 more before it. Its slippery and the side buttons are hard to press. The screen also glitches. I don't know if I got a faulty unit, but everything about the 920 was soft to the touch, even the screen which felt really smooth.

Yes yes yes and it should look like the 925 or sexier!! Not buffed up like the 930!

It MUST have a microSD slot. All of the lesser models have it, and even the phablets. It should be in every device, especially these "flagship" models!!!

For once I fully agree with you Dan. The longer they wait the worse it will be

A boring flagship phone does not really appeal to me. I also don't believe many people will want one because of the OS. Nowadays the app issue still persists. People who have a WP already might want to upgrade, but if you want to get new people on board MS has to bring a phone with a couple of never before seen features. After all smartphones are gadgets and have to have some of the James Bond feel.

925 is not good with drop but with cases will solve. My family we used 925 and 920. I used 920 because is stronger, yet, no doubt the 925 is best. I have mentioned that I am waiting for 935, 1325, 1525, 1025 to be available in T-Mobile so that I can upgrade whole family phone. We have 3x925 and 2x920, my 2nd daughter prefer 925 but choose 920 because of cyan color. I prefer the 925 too but choose 920 because if 32gb and stronger phone for construction work, drop so many times only have minor scratch, haven't break yet.

Agreed. Even since I love the design of the 930. I was planning to wait till fall to buy a replacement for my 925 on a new contract. But now I'm not sure if it's worth waiting..

Need a successor to 720 as well.

Its good to hear positives about Lumia 720 wpc..love u nokia/Microsoft and eagerly waiting for 720 successor

Daniel you just spoke my heart out.
I own Lumia 520. Just because if i will go for 512 ram & 8Gb internal memory with extended memory option this is the best option. After that i liked 720 but the most liked smartphone in Lumia series is Lumia 925. Weight, shape, Speed & Looks. Its all good. The only issue with it is of 16Gb memory but that seems resolved to me when i see 32 GB special version in UK. I'll be soon owning that beautiful lumia unless a successor will be announced.

I agree on your thoughts. While the Lumia 930 is a very nice phone with very good specs, it's design is not one of the best. One thing though, if they do really release a new phone, I do not think there should be a 16GB model anymore. Keep it on at least 32GB and with SD support. The main problem is still though the apps. The quality of the apps is extremely low, just look at the users's reviews. Take for example the Netflix app, on windows phone/windows 8.1 the subtitles are not working ok even after the last update.

Ihave nokia 925 32 gb , is the best phone . I want the micro$ implemented videocall in the network !!!! +40755338899

No! Stick a 800 or 801 in the 1020. That's all it needs. Expandable storage or larger battery would be nice. However, I can live with the same device in its current form.

I got my son the 925 and that kid love his phone better than all the other phones he ever had.

If Microsoft is reading this maybe they should re-open the McLaren Project!!

I think Nokia and MS missed out on not including key aspects like SD card support on the 925 and now the 930. I agree with the article about releasing a refreshed device but its the mid and low range which is where the volume sales are. If MS could release something at the Moto g price range with decent updated specs, a new best bang for the money.

no they do not need a replacement for the 925 they need to make the 1020 into a nicer case and faster processor and no excusilvity... I have a 925 and I'm waiting for the 1020 replacment! Remeber Microsoft taking money from Mobile Networks for exclusivity will kill you phones, its a all or nothing!
I dont buy my phones on contract any more becuase you pay more I say the money I save on contract and upgrade when ready! :D The 1020 was release so late and on a selected contracts only it failed! please please Exclusivity kills! I know i keep saying it but I say it one more time... EXCLUSIVITY KILLS

Totally agree! Microsoft also needs to introduce a solid mid-range Lumia that could counter Moto Gs, Zenfones and Xiaomi Mi3s (at least in India). One flagship and one mid-range before this Sep - Oct could change a lot for Microsoft Mobile, for an year at least.

I think MS need to figure out a way to offer a flagship in the US on plan direct from the MS stores. do up a 2 year contract and select the carrier .... MS need to push them into this so they may need to sell the service and dangle the carrot(plan options ) in front of the carriers noses, if not they will lose customers. The rest of the world seems to come out fairly close.

Just upgraded to a 930 from my 925 but the lack of 16gb storage and no card alot on the 925 was a let down, but definitely the most beautiful windows phone to date. It will be missed rip my lovely 925 :'(

I never had a Lumia 925 coz that time I already got the Lumia 920. However, I admit that thisphone is more beautiful than my then Lumia 920. My colleague at work has Lumia 925. He got it when he upgraded from Lumia 525. He used to envy my Lumia 920, but when he got the Lumia 925, he never got envy anymore. Now that I have 930, he still loves his 925.

Nothing about the battery size???

Got the 925 on DP here in Nigeria, the Nokia site shows that the Lumia Cyan update is out but I cant see it when I check for updates with my phone. Anyone know if its because of that bitlocker update withdrawal thingy?

The only thing I disagree is that the 930 is the best so far, because I still think that the 925 is the best Lumia out there. The weight of the 930 totally kills it for me. It's ridiculous that Galaxy S5 is even ligther and thinner than 925, so the size of 930 is almost unacceptable. The following upgrades to Lumia 925 would make it the perfect phone: - 5inch full HD display - upgraded hardware and camera (similar to 930) - upgraded battery (similar to 1520) - SD compatibility - keep it slim and light

Daniel the 925 had only a good design, and camera. The rest of it was worse than the 920. If you want a new phone it should be based on Lumia 920 and not 925. The Lumia 925 should have been the successor of the 920, but it was unworthy of it. Do you want a 935 unworthy of being called a successor, or an upgrade?

Lumia 925 rocks, I don't mind if the display resolution remains same. But I prefer a slightly better battery and a next gen processor snapdragon 800

MS appears not to know what it's doing. That is my main concern, and the main reason I'm mostly likely switching to Sony's Xperia line. MS has no idea how to advert their products, it takes ages to receive worldwide releases and then they're dumb enough to make special versions for specific carriers (be it color, memory, etc.) It's to hard to trust MS when it comes to smartphones, and I lack the patience to wait till some time in the future just to witness yet another mediocre phone to be released. They should just make a phone that has the best of everything - instead they release a bunch of crippled phones and wonder why none of them sell good. Amateurs. Luckily competitors have some sexy phones so I'm sure I don't have to l