Microsoft has "something coming" for Windows Phone [Retracted]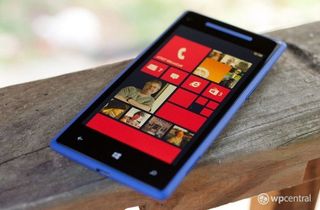 [Update 6 PM ET: The source of the article wishes to have his info removed and denies that this was a tease for a notification center. In fact, he's not an employee of Nokia but rather a student involved in a Windows Phone program, making this info dubious at best.In fact, we're hearing the opposite now, that there won't be a notification center announced at MWC. Due to this new info we are not standing by the story. Sorry, folks.]
By now it should be no surprise that we're expecting Microsoft to talk about Windows Phone at Mobile World Congress 2013 scheduled at the end of this month in Barcelona. While the company doesn't usually have a booth, they do opt instead for renting a whole building where they also host their keynote (last year they had a kicking party too).
The question of course is what they will reveal: modest update or a major one? Rumors of an Apollo+ OS revision, including VPN and a notification center have been circulating for a while now. With the minor Portico update having been finalized and now rolling out, it makes sense that what comes next for Windows Phone 8 is a major update: fixes and main new features.
What is coming next: Does this image hold a clue?
About a week ago, a member named 'IWSFOD-D' over at the popular graphic site DeviantArt posted the above image. The accompanying text simply reads
That leads us to what exactly is he teasing? To be honest, the image doesn't reveal too much. The text "Shh…We are not ready yet" (attributed to Windows Phone Manager Joe Belfiore) appears to be reused throughout the image along with Tiles.
The Tiles though are the ones which typically receive Notifications and combined with the evident Twitter stream, we're leaning on a Notification center. According to the Verge, Microsoft ran out of time for a Notification Center in Windows Phone 8, something which presumably will be addressed in a future update. It's also one of eight features we mentioned that Microsoft needs to fix ASAP in Windows Phone.
But let's be honest, we're just totally guessing here. Do you have a theory? Let us know in comments.
This is what is to the right...
Jaxbot from Windows Phone Hacker clued us in to what is to the right in the image. Obviously it's some kind of Twitter feed but it happens to be an exact copy of his screenshot for his Notifications app. So yeah, we can consider that as pretty good clue.
Source: DeviantArt; Thanks, Jeremiah C, for the tip!
Daniel Rubino is the Executive Editor of Windows Central, head reviewer, podcast co-host, and analyst. He has been covering Microsoft here since 2007, back when this site was called WMExperts (and later Windows Phone Central). His interests include Windows, Microsoft Surface, laptops, next-gen computing, and arguing with people on the internet.
Master sleuthing by boss man. From this moment on, we refer to him as Detective Dan.

How 'bout Inspector General Rubino? He is the EiC after all.

I resemble that remark......

Sam, did you notice the left arrow button? Kinda looks like a good indication of a notification center...

I saw the Left arrow too, but where would it go? No room on the home screen, so maybe an option on the lock screen?

It would go on the bottom like the right arrow perhaps?

My only problem with this implementation of notification center is, you have to get to homescreen and then swipe right to get it.(Yeah, i know homescreen is one button press away dnd yeah, I can live without notification center too.).
But it would be really awesome if notification center can be accessed like how windows 8 lets you get to list of apps you opened previously. swipe from left to right of the phone and hold for a bit to see notification center; not just from homescreen but from any apps.
Just my 2cents.

Swipe to the left for the notification center? :)

Yes! Yes that should totally happen. I actually physically reacted when I read that.

good idea mate, they should implement this like that. App list to the right, notifications to the left.

You mean swipe to the right. Hopefully you won't have to put in a password to see your NC. Unlike kids corner. It sucks that when lock screens locks, it does too.

I think that is a bug. When I first got my 920 and set up kids corner, it never asked for the password. I eventually turned it off, but turned it back on, and then after that it started requsting the PIN, but only sometimes. I don't use a PIN at the moment.

Yes I think it's a bug too, and I had that issue too on my Lumia 920. It's strange that Kids Corner requires a password.

I'm hopping for a "swipe to the left to destroy XBox music and have it replaced with Zune" gesture.

Agreed lol i lost the ability to play anything on it today due to drm issues... Ticked off to say the least

Long live Zune. Still the best music app I've ever used.

Sorry al but i FREAKING HATE this idea. If I wanted more then 1 page to swipe too, I would have bought an iCrap or another ANshit.

I moved to WP7 then WP8 because I love the semplisity of the interface.

I really do not see a need for a Noteification Center anyways, but understand some may.

My top choice....
1. Fix WP8... I had loads less problems on my Arrive.


AHH the Arrive. So Stable except Sprint not allowing the KB Fix through!!! :(

As for the notification center, I also don't think it's needed as the Start screen does an excellent job at that. I'm not angry about it though. I welcome it for those that need it like reviewers. ;)

No need to get so agitated; one size does not fit all.... You do not like it, do not use it. People who were asking for it will be pleased as well.
What is the problem?

Maybe there will be an option to turn it off.

Why not make it a pulldown when you're toggling volume?

OHHHH i really like this idea! Never thought about that before!!!!

Umm, edge swipes are accessible anywhere....

Isn't that how Kids Corner works though?

-edit: Nevermind. Kids Corner is from the lock screen not the start screen

No, it will be the already existent notification area. The "me" hub already has a notification center. They will actually make use of it.

I was thinking the same thing. Notice the arrow pointing to the left and most of the apps in view could possibly have notifications.

Well the arrow is pointing left rather than right. Probably to the blank space where the notification center will be.

Good catch with the arrow.

Those three lines (one with a dot) is something not seen yet in "Metro" design language. Maybe that's a clue for something new too?

Or maybe a touch gesture as in tap/the initial touch of the screen (the dot) then swipe to the right (the 3 lines)... Which would lead again to something new at the left... Most likely the notification center :)

Could those three lines be a hint to a better app management solution from MS. The lines representing the opened apps and touching/long press to bring up a new context menu. Better still, they could be implementing a app management solution into the notification area with the lines representing different view options i.e. Primary view for notifications, another for running apps and a third for system status??

Good Catch. This almost hints...swipe to RIght for Notifications !!!!

This is the first thing I thought when I saw the arrow.

Looks like you cracked the mystery tease. Case solved!

If that's the case, then I would be extremely happy. When folks were discussing ideas for a notification center, I also submitted 'swipe to right' as a way to accomplish it.

Also it says "not" on the side....not suppose that reads notifications !! Does it !!! :P

I'm guessing it makes sense now why the arrow was moved to the bottom for WP8. There will be another one added to point left... to the notification page.

Didn't they ditch the arrow and gutter in windows phone 8? I agree with swipe right, but I don't want another gutter and arrow.

The gutter is at the bottom of the home screen now. The gestures work but now it will have an arrow pointing to the left and right instead of just to the right... That is if the notification center is to the left

Winner winner chicken dinner. Also notice two of the items are Fa...cebook notifications! Swipe to the right for notification. Sweet. One less thing for the pundits to complain about. What will they have left?!

Crappy, unworkable email client.
Unified volume control.
Unusable PDF viewer.
IE10 fails on many, many important Web sites and no real alternatives available.
No phone backup to speak of.
Horrible OS stability problems.
No rotation lock.
No universal search.
Limited alert sounds.
Pathetic application discovery in the store. But not much, really.

It has to be the notification center. Hence the "Shh... something is coming" and on the right edge of the screen the thing that is coming looks like notifications because you can see that start of the notification section currently in windows phone.


Yeah its obviously a notification center on the right side. You can see "not" at the top, then a twitter post and two Facebook posts.

That's a screenshot of my experimental app he has photoshopped in there:
http://windowsphonehacker.com/pics/ncscreenshot.png
I can tell, because that's my girlfriend's name in "his" mockup. :P
Not sure if this leaves more evidence pointing to real or more evidence pointing to fake, though. Just letting people know where he got it from. :p

Seems like everyone's a fan of WPH, even those working in official capacity.

Seriously, hush hush about a notification centre? Why? So that the competitors wouldn't steel the idea? Please, MSFT, save us yet another embarrassment.

I have heard some rumours around a significant WP8-update that would be revealed in MWC. My own opinion is, that it includes a notification center, left from the start screen. And in the picture, you get a hint of that, because of that arrow to the left ;)

Yah if you look at the edge of the screen, it says no,for notifications, and then you can see where it says TW, for twitter, and an @ sign beneath it. And then under that, you can see F for Facebook.

Yeah noticed that too, not sure why the article doesn't mention it though.

Ehm. http://windowsphonehacker.com/pics/ncscreenshot.png

I could really care less about a notification center and don't particularly want one. That's what the Live Tiles are for - the ones I want notifications on, I'll pin them to my Start screen. Well, I guess that sounds a bit harsh, but if we're trying to put one in "just because the other guys have one" isn't the right approach, IMO.

Its more for toast messages that disappear after a couple of seconds. If you're away from your phone, you would never know a toast message came in.

Yes a list of missed toasts would be good. Everything else the tiles do the job for me..

If you have that app pinned to the start menu, would it not show up on the tile? I'm not aware of any apps that don't do this.

The Games hub has a notification center and it's pretty redundant when I have that tile and each game that I get notifications for pinned to the start screen. I get a notification on the games hub as well as each individual game tile. Problem of course is that checking a game's tile doesn't clear the notification from the Games hub.

If you could care less, it means that on some level you care. It is you could NOT care less. I cant believe a simple typo and mispronounciation is replicated so often and has persisted for so long.

MS is putting one in because it is useful and needed, not because the other cool OSes have one. I've never understood the hostility towards having a Notification Center. Live Tiles alone do not replace all the functionality of a Notification Center, and having one will not do harm to WP.

That's how I feel about it, too, but it seems like what the masses want. I'm cool with it as long as throw us some more stuff in addition to it. I really want a reason to upgrade!

If we're making comparisons to other OSes I see the tiles as more of a google now thing but more customisable. A notification centre doesn't have to be the same as on other OSes. It could be more integrated with the messaging and emailhubs like BB10, so it's not just a link to your messages, but where the messages are accessed too. Just my 2c.

Thank you. I was beginning to think I was alone in this. Of course I will never turn down features and am glad that they are listening to the users, but I have a small feeling that its going to undermine the live tiles.

It is Instagram App coming for windows phone :)

It had better be an instagram announcement. But I guess this tease is about notifications. But like someone said. They need to fix more than that.

hehe maybe joe belfiore (besides the new apollo+ update) " We have an app for you right now in the store, you missed in the last time for windows phone. And it´s Instagram for Windows Phone!!" hahah that´s a really bash for Blackberry

With the arrow pointing left it suggests notification center on the left with all the apps displayed there. Calls, texts, app updates ... etc.
Oh and I think Skype will be ready. Windows Phone | S .... on top right gives me that with the blue color that looks like skype's.

haha I sent this tip to George also today!

Windows Phone 8.5 with Notification center and other improvements ?

Maybe Windows Phone 8 in landscape mode??? :P

Now that would be cool! (Cue daydream sequence...) G: My new WP8.5 is a great phone. D: No, in landscape it's a Surface. G: It's a phone. D: It's a Surface. G: It's a phone, I'm telling you! D: It's a Surface, you cow!! C: Hey, calm down you two. New WP8.5 is a phone, and a Surface!

If only today's SNL could be as good as it was back then...

Definitely has to be notifications. Yay!

It's obviously notification center. it says "not..." (and is cut off) on the right side of the photo. Underneath it you can see a twitter and two facebook notifications. Even if that was the only feature, I'd be very happy.

I thought I was the only one who saw that! It is so obviois but Dan didn't mention anything about it.

ya exactly , thats the notification center, its so obivious.


Look at the right side of the picture... Under the Facebook tile. It says "not..." and below is a "T" (twitter) with an "@" and two "F's" (Facebook). Obviously an notification area found under the "Me" tile, probably hinting at something more coming... :) Combined with all the other tiles visible (all of which generate some sort of notifications)... YAY! :D
(now I see I'm too late for the party with this comment, hehehehe. When I began typing it there were no other comments. Anyway, glad to see we all noticed the same thing :D)

Tiles are also spaced out maybe along with notification center you can now group/leave gaps on your home screen

I have gaps on my Start screen now...just to break it up a little :)

Lets hope they don't outdate our phones

Lol? It's technology. New tech won't change your phone, it will still be your phone. I'm all for progression and innovation. Surprise us!

Regardless, I don't think we will get it into our phones until at the earliest September, given the snail pace this kind of updates come.

That was the whole point of OTA updated!

OTA is not the bottleneck, it's MS and the carriers.

if it's anything but sound profiles & management and vpn it's just useless

My #1 is Xbox Music and Video enhancements.

Me too but I know its not happening.

I would be happy with just an announcement for VPN and a notification center.
Maybe also some top shelf apps in the works...

I want a notification center but only if its done the right way. All apps need to be able to take advantage of it. You can pick and choose what apps show notifications in the notification center. But my biggest issue is that Microsoft wouldn't need a notification center if they allowed apps to have their own unique notification sound. I would like them to still implement this if possible. Also Microsoft needs to give apps access to video that has been previously recorded or the app can record video itself otherwise we're always going to have a huge dent in our ecosystem.

Yep, seems to be cluetastic. Down the right we have the beginnings of 3 feeds. Twitter and two Facebook ones. Text messages are there too. There is also a cheeky new tile on display. Could the lines show that it will be a screen to the left? I think so. They have a dot and then a straight line heading right, which would move you would go left from the screen you were on.

The arrow is facing left, unlike the one at the bottom of the screen or the on in WP pre 7.8. So app list on one side and notification center on the other?? Also the letters not in one of the pics(looks related to twitter) which of course are the first three to notification...so excited

Based on the what the images are for and the arrow, I guess two things: Centralized Notifications to the left and universal search as all of those apps are content based as well.

My 2 cents.

My theory: if MS doesn't have at least 6 of the top suggestions completed in Apollo+ my next phone will not be WP. Life's too short. They should have been there before it was rolled out. I'm not waiting 2 years to get a complete OS. MS needs to lead, not follow.

Don't let the door hit you on the way out then?

Has to be notification center, above comments + those 3 lines at the bottom.

I also feel skype is coming with the Windows Phone | S ... top right and the blue color that looks like the skype color.

This picture still looks terribly and poorly composed... what are these ugly white lines at the bottom? Why are there apps with no notifications? What is this white "shimmer" around the tiles? It's so not metro. Why does it look unsharp? Why are the tiles arranged in a way that it just looks made by someone who never had any education in graphical desgin? What's up with this big tile with the text in it? It just doesn't look at all like out of Windows Phone.
If this is real, it's a really, really bad job by Microsoft.

First of all, it's not Microsoft, it's the guy on DEVIANTART. Where artists make pictures and post it up to be creative. Secondly, its a tease. Meaning no accurate depictions (because then it wouldn't be a tease). Its purpose is to send off hints... Not necessarily how it actually looks.

In this case it's just a guy, maybe somehow associated with Microsoft, making funny pictures in his spare time?
That the notifiaction center will come next is not a too wild guess, everybody could have done this ;-)

If I must say, I did a decent job of researching who this person is. Instead of saying it's "just a guy" you could read the article and be better informed? Just my 2 cents ;)

There's a HTC exclusive app on this picture, just additional 2 cents to what I've written a little bit further below :)

Dude you are really not the smartest of the bunch, are ya. Read the article man...

Please enlighten me, why a Nokia employee should put a HTC exclusive app onto a picture he made for fun, because he heart at Microsoft, that there will be a notification centre. Because he worked at HTC before? :)
I've never claimed I'm especially clever.

Plus, Microsoft could make a built in clock app (integrate existing alarm app into it) and have the double wide clock live tile just like HTC... Just saying. Oh, and also, stop putting ":)" in all of your comments like you are pleased with yourself. Its annoying, and you are being a troll.

It's made by an employee, just whipped together. It's not official from Microsoft...

Microsoft has 97,106 employees. https://www.windowscentral.com/e?link=https2F%2Fclick.linksynergy.co...
I'm sorry, but I really feel like this is not news, only some rumor. And for everybody who will tell me later: "Well, it said there will be a notifiaction center!", Microsoft said this more or less officially themselves, months ago...

I state in the article the he works for Nokia in Software Quality Assurance for WP8.

I'm not questioning your article, I'm questioning the picture :-)
It doesn't matter where this guy works, what I was trying to say is, that there are much more than 100,000 people (including those working for Nokia and HTC and Samsung) who have the same credibility ;-)

I feel as if you're intentionally trying to be difficult. There may be 100,000 employees working across those corporations, but a very small percentage are QA for Windows Phones. The author did a great job researching and justifying the post.

Sure I'm intentionally difficult, I think I have enough reasons for it. And anyway, if I'm attacking anybody, it's the person who created the picture, because I think it is bad.
The article does greatly what it's supposed to do, creating interest. I didn't know Daniel Rubino would be interessted in my post, as he wrote himself: "But let's be honest, we're just totally guessing here."
Edit: Yeah, English is not my first language...

I think this guy's credibility (a QA engineer for WP8 at Nokia) is much higher and probably knows more about what's coming in WP8 than a person who might be working on the SQL Server team at Microsoft or on the Asha phones at Nokia. So you comparing this guy to the other 100,000 people doesn't make sense.

Ever heard of abstract? And I'm sure you're no Picasso either... (By the way, it looks nice...)

Oh yeah, last year's party at Molino was a blast... I hope they'll have another good one also this year!

Seems like notification drawer is coming up next..

To me if you look at the photo, on the right is says not and under seems to say twitter (b/c of the @) and Facebook (b/c second letter can't be any other letter than an a), and the arrow on the left as well teases us, meaning probably swiping to the left like MANY suggested but probably won't take credit for :P but this is just me maybe over thinking. Or am I? ;) I hope not

Considering the icons available...revamp to those apps? Xbox including Xbox music. Messaging would be Skype integration, same with phone and phone includes smart dialing. Revamp to store is extremely plausible considering the store being up and down recently. Idk what the Greenville app is but calendar and weather?

That's what I was thinking.

I'm kind of convinced it is a notification center... You can see the "not" at the far right of the pic. And the arrow pointing to the other side would indicate what we suspected, it'd probably be at the left of the Start screen. On a side note, is not just The Verge that stated that MS run out of time. It was publicly stated by Microsoft in a Q&A during one of the Build Sessions. If I find it I'll update my comment. ;)

i would rather have Enterprise WiFi & VPN.

Notification centre, arrow clearly corresponds to a swipe. And on the right hand edge you can see "Not" which is no doubt "Notifications" as underneath it is obviously Twitter and Facebook notifications..