This is where Microsoft Specialty Stores are opening this week in the US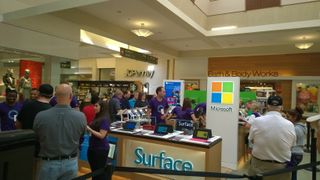 Microsoft is continuing to open up more special stores in the US. We've been sent in some photos from a reader who attended today's opening of the Microsoft Specialty Store in Lexington, Kentucky. Lexington was joined by three other malls in the US where similar stores opened up, kicking off this week's batch.
We previously looked at the company's plans to roll out this month's eleven stores, with four already open. Think of this article as a friendly reminder that you can head on down to enjoy some cool deals.
These 'specialty stores' are essentially semi-permanent locations inside a local mall where consumers can find a curated selection of the best Microsoft products. Here's a reminder of this month's batch (opens in new tab) (along with opening dates):
North Star Mall - San Antonio, TX - June 5
The Oaks - Thousand Oaks, CA - June 12
Park Place - Tucson, AZ - May 13
Fayette Mall - Lexington, KY - May 13
Jordan Creek Town Center - Des Moines, IA - May 13
FlatIron Crossing - Broomfield, CO - May 15
Westroads Mall - Omaha, NE - May 15
The Mall in Columbia - Columbia, MD - June 12
The Maine Mall - S Portland, ME - May 17
Mall of Louisiana - Baton Rouge, LA - June 5
Boise Towne Square - Boise, ID - May 17
Microsoft is also experiencing a solid turn out. There was quite the queue at the Lexington opening.
It's worth heading down to the store if you have one opening up in a local mall simply because you can find and purchase Microsoft products, but the company will also be holding some awesome deals, just for those who attend the grand opening days. These offers include an 8-inch Dell tablet for $99 and Surface tablet for $199.
Let us know if your local is holding a grand opening this week and whether or not you'll be attending.
Cheers, Arlen, for sending in the photos!
Windows Central Newsletter
Get the best of Windows Central in your inbox, every day!
Rich Edmonds was formerly a Senior Editor of PC hardware at Windows Central, covering everything related to PC components and NAS. He's been involved in technology for more than a decade and knows a thing or two about the magic inside a PC chassis. You can follow him on Twitter at @RichEdmonds.
I forgot about this! Disappointed it's just a cart-type display, and not a real store. I saw the people in their blue shirts on Saturday getting training and setting stuff up. Made me happy (only "store" within 2 hours from me)! I'll be going there at lunch today to check it out, I think. Might get myself one of those $99 Dells if they still have them.

That tablet is a good buy at 299. At 99 its a no brainer. You won't regret it.

Yeah, I've tried it at Costco many times, seems great. If they have it I'll get it. Seems unlikely they'll still have it at lunch, but you never know.

When will they open one in Morgantown, WV??? :'(

Why no love for places outside US?? India too has a huge market!! :P

Yeah! What about Singapore???

agree 100% Chile South America, we are waiting for

Anybody know how to apply for a job at one of these? I'm thinking about taking a summer job at the Baton Rouge location but haven't found any info. Guess I'll stop by Mall of LA today to see if there's anything on site

The Microsoft Store website says the specialty store is opening June 5th. Facbook says May 17th. I called MS Store resource center and they said the Mall of LA in Baton Rouge store will open June 5th. Need to check the mall to see when it will open. Also, the mall site says the store will be a kiosk.

I contacted Mall of Louisiana and the information center said the store has been postponed to June 5th. It will be a kiosk.

Oh wow didn't realize it had been postponed. That sucks. Was looking forward to that this weekend. I knew it would be a kiosk. Probably something more high end like the Starbucks kiosk. I guess I'll keep checking to see if they have any jobs.

Yay now instead of driving an hour and 15 min to the nearest MS store I can drive 50 min!!! #Win #Sorta

Good. Stay out of Arkansas. I don't want to pay taxes on digital xbox games or https://www.windowscentral.com/e?link=https2F%2Fclick.linksynergy.co...

They're charging you tax already at microsoftore.com. They're not supposed to but they're doing it illegally anyway.

Why do you think it's illegal? You don't have to have a store to be required to collect sales tax. if you have any employees, offices, or are providing services in the state, you have nexus in that state are required to pay taxes and collect sales taxes. Amazon didn't have any physical presence in California, but they had California sellers that sold through the Amazon website. That was enough to force Amazon to collect sales tax in california.

Wouldn't really comment about your tax fraud. Even if you aren't directly charged by Microsoft tax cuz they don't have a store in your state, you have to pay it with your annual taxes or quarterly. Keep the receipt.

I saw the same thing at West Town Mall in Knoxville, TN. Not really a store, but more of a kiosk in the middle of the walkway.

I want one in Cleveland, Ohio!

You have Johnny Football. Don't be greedy.

He seems like an iOS kinda guy.

Well he's got the giant head putz part down pat.

I want one in Cleveland too and Johnny Football is about to lay the hammer down on the Squeelers for years to come...It's Cleveland's turn to be great.

Might want to wait and see if he can even see over the front line before you get your hopes up. He's pretty short for NFL.

You must've missed the last Super Bowl. Go Hawks!

Until he meets the Ravens.... :)

Ikr suggs should tear him a new one.

When will we be getting these stores in the UK?

Is UK=US? If not then never

Twice as many WP users per head and no MS store. That's the logic of it.

Still no love for Rochester, NY. Three busy malls in a 10 mile radius of the city, including one with an Apple store, and yet nothing...

Its still better than nothing. This is another target that MS needs to continue to improve to get more consumers into MS products, namely WP and tablets. I've seen the stores in Washington on they're awesome. For better than the Apple store.

Especially the one in the University Village

Screw this. MS needs to buy Barnes and Noble...
Get their stores, get their digital business, but more importantly get their textbook business. Schools are leaning on Apple more and more and when those kids make their own money, they'll buy what they know, Apple.
A little mall kiosk from a multibillion dollar company is sad.

Though I do like BestBuy's old school department store approach to selling tech. Didn't work to well for jcpenny though...
Tech hypothesis is fun.

I was told by the manager at la cantera that the opening of the San Antonio location has been delayed due to a problem with a server installation.

I always wanted Microsoft stores in India.

You missed one. Cherry Hill Mall, Cherry Hill NJ in the 15th

Seems like nothing cool ever comes to Massachusetts. At least we have the best sports teams ;P

The Packers relocated to MA? Why didn't anyone tell me...

Open one in Singapore!!! At the techie mall FUNAN!!

I noticed that it's a rather large "kiosk" in the center of the mall. (Here in South Portland, anyway.) Easily about the same size as the Apple store a few hundred feet away from it. Why they didn't take over one of the actual storefronts for a less seasonal, more permanent store, I'll never understand. Oh well. Definitely going to the launch though, the Dell Venue 8 Pro for $99 is a spectacular deal. I wonder if they're doing other stuff too, like giveaways and whatnot, akin to the grand opening celebrations they have for their larger stores.

Applied for job here in Boise, hate the mall but... Microsoft.

Did you do it online or had to go to the store?

Online. www.microsoft-store-careers.com

Hi. I'm London. I know you ignore me, but I exist and I have Windows fanatics too.

Surprised, especially with the percentage of WP users out there.

Pittsburgh PA opened today: Ross Park mall.

+1, heard on the radio and confirmed on MS website. Trying to figure out how to get my wife to let me go down and play...

Is that for the Original Surface or Surface 2?

Umm the moment i saw the article title rush to search for Columbus but sigh -_-

I'll be dropping by the opening at Westroads Mall here in Omaha on Thursday.

I'll probably drop by as well. Was there this weekend, and noticed they already had some people working there.

I hope by the end of 2014 we will start seeing the Nokia carepoints and kiosk transition to MS kiosks and mini pop ups...

Man we need one I Dayton, Ohio at the Greene mall. This would fit in so well. I have to travel all the way to Cincinnati

Instead of opening this many stores in US only if they opened the same number of stores worldwide then it would have been more beneficial both for users and Microsoft!

Yes! Mall of Louisiana here, just 50 minute drive for me! Planning on being there.

Delayed in Thousands Oaks, CA. Boo. I drive all the way they're for nothing.

Welcome to the Old Pueblo.

Nothing close to me, There are stores within driving disatance from me but, an hour plus for me each way...

Knoxville, TN is getting a Microsoft store (kiosk) as well

I live in Denver and I actually heard about the Broomfield store opening on a radio ad. They mentioned the 99 dollar tablet, but they nor this article say whether it is like the first 20 customers or all day.long? I wont be able.to go until after work

15th in Knoxville Tennessee. West town mall will open a Microsoft store. Plan to be there when the doors open.

Well, I stood in line for 3 hours at the Flatirons Mall for my $200 Surface. Was really hoping to get a Venue, but they only had 50 units available. Mall opened/event started at 10am. I got there around 9:30am. They said that if I really wanted a chance at the Dell that I should have been there no later than 8:00am. So, if you're looking at the Dell, get there 2-3 hours early at the latest. Otherwise, plan on buying a Surface. Even though I really wanted the Dell, things worked out in the end. I gave the Surface to my wife and I get to keep out ASUS T100 for myself.