Microsoft starts checking App submissions for Windows Phone 8.1 compatibility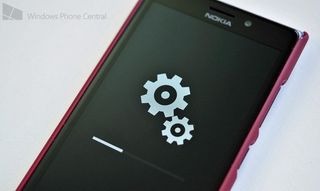 Build 2014 is only a few weeks away, and the world is expecting Microsoft to finally unveil Windows Phone 8.1. The beta SDK is already in some hands, and we've even heard some 8.1 hardware is now circulating too for some devs. This is unsurprising, because Microsoft is not going to announce this thing with no release details on April 2. Quite the opposite, as Redmond appears to be taking a "hit the ground running" approach, making the OS preview-update available that day with new hardware only a few weeks later.
In that regard, seeing Microsoft check app compatibility when submitting new XAP files to the Store should not be a shock. After all, they probably want to test some things out, and we're sure little nuggets like this will make an appearance between now and April 2. The change in the Store happened in the last five days, with people noticing late last week.
The process is simple: access a Windows Phone developer account and go through the rigmarole of submitting an app. During the upload process, developers will see a "Supported OS" section with 8.0 and 8.1 listed. All current apps are expected to be able to be run on Windows Phone 8.1, though apps taking advantage of new 8.1 SDK features won't necessarily work on 8.0 devices.
This is curious as it's one of the first times Microsoft has referred to the "Spring Update" as 8.1. Granted, we were 99% sure that's what they were going to call it, even if it's functionally it's more like an 8.5 overhaul.
Just file this under 'interesting' info, but nothing that directly changes anything we already know. Stay tuned for Build on April 2 in San Francisco, where the Windows Phone Central team will be on hand to deliver all the latest on the Windows Phone 8.1 announcement.
Thanks, atkulp and Q, for the tips!
Windows Central Newsletter
Get the best of Windows Central in in your inbox, every day!
Daniel Rubino is the Editor-in-chief of Windows Central, head reviewer, podcast co-host, and analyst. He has been covering Microsoft since 2007 when this site was called WMExperts (and later Windows Phone Central). His interests include Windows, laptops, next-gen computing, and for some reason, watches. Before all this tech stuff, he worked on a Ph.D. in linguistics, watched people sleep (for medical purposes!), and ran the projectors at movie theaters because it was fun.
the preview 8.1 update wont be released at build, it will be weeks later?

Now Dont say... A Century* .. -_-

Nah. That's too quick. A millenium is more like it.

The US tricentennial* What are we doing?

A light year*
I'm not sure anymore

Lightyear is a measurement of distance, not time.

Light year is a unit of distance.

Aren't we traveling through space? (the answer is yes)
And if a light year travels roughly about 6 trillion miles but the earth travels at least 584 million miles around the sun
How many years, centuries, millenniums would it takes us to travel the same distance? (Had to call me out on it)

6,000,000 miles / 584 miles/year = 10,273.972602739726027397260273973 years.

I don't think I can wait that long...

Preview will be that day or week. New hardware, weeks later. Clarified in article.

Thx, cant wait, the emulator just isn't the same.

New hardware weeks later means that means we 520,620,720s will get it b4 right?

My bad habbit of not reading carefully

All Windows Phone 8.0 devices will get the update. That's kinda at the mercy of carriers, but in theory: all devices are compatible. The Developer Preview for users to upgrade directly from Microsoft (ignoring carriers and their plans for upgrade) is rumored to open up on or around April 2nd: that day 8.1 is announced or shortly thereafter. The Developer Preview will lack any OEM nor carrier-specific firmware. That will come at least a month later, along with the consumer release of 8.1 (meaning an OTA update from your carrier). This phase is carrier specific, so time may vary by both device and carrier. So in short: all devices will eventually get the update. If you opt to use the Developer Preview, you will definitely get it before new hardware is released. If you only use the update from your carrier, the time you have to wait will vary by device and carry, and will almost definitely be after new hardware is released.

It would be very nice of Microsoft to release the preview the Moment Joe Belfiore speaks out the sentence "Introducing Windows Phone 8.1"..LOL..!!

+ ..... all existing Windows Phone device's !!!

Probably on all 8.0 devices.

Thats not what i mean :p i mean like +920, +820, etc but then all wp device's xd like a thumps upp

Daniel when do you expect its official update from nokia for top selling devices like 1520, 1020, 520 ? I remember nokia confirmed that 1020 and 520 would get the update for sure, so i guess 520 should be among the first few devices to get it..

June/July at the most, but I haven't heard too much on ETAs lately. Might be earlier as there won't be much new hardware for 8.1.

Nor software. Nokia had nokia camera, storyteller, beamer, refocus, dng all that stuff to complete for gdr3, but this time there's nothing announced yet... So i guess nokia might be faster this time even. Hoping !

Daniel, in the article, you mention new hardware in a few weeks (after April 2). Do you mean these will be new model phones that aren't out now? Or if you buy a new 1520, say on May 1st, it will come preloaded with 8.1? Thanks!

If 8.1 hasn't been released for 1520 officially as an OTA update, then no. Maybe it'll start shipping with the update a few days after the official OTA update.

It has been leaked that, in particular, the L1520 will be "re-issued" (yes, that's the term used in the rumor) with WP8.1 pre-installed. Was about to buy the 1520 but decided to wait for the re-issue after I read the rumor. I know we could always download 8.1 right away through the Dev Preview but I decided to wait anyway for the 1520 with 8.1 pre-installed.

Hmm. What about the rumoured Nokia event on the 19th. Any new about that ?

I've heard zero about such an announcement.

Thanks Daniel, thank you for making me even more happier !!

I like how you put it there.....kinda hidden, the "we know more, but takes this for now" style of writing.

I want it before i leave for work. Was supposed to go on the 8th of march but i m still here.. Instances when u believe in the existence of god.

What was supposed to go on the 8th of March? If you're referring to the 8.1 Developer Preview: then it was never rumored for March 8th. It's been rumored to be at BUILD on April 2nd for months now.

Never mind..Not important..
i am waiting for wp 8.1s release. Just hoping i ll get this before I go.

Caaanttt waaiit looonggeeer

Build is so far away for me, even if it is april 1, it still will take a looong day until the day is over :)

They've been doing this for some weeks now. WP8.1 showed in the Application Insights data.

Cool! Once we get our phones updated they'll be able to run any app with the new features. Devs can be prepared to 8.1. since now. :)

Yaa but developers should have interest in wp too for that.

False, Daniel. Microsoft's DoD twitter account mentioned Windows Phone 8.1 a couple of weeks ago.

Which was deleted. I also say "one of the first times". One. Not the only one. Wording is important.

My 1520 is ready for this!

Mine is too, April can't come fast enough lol

And here i'm waiting for black :\

My Windwos Phone is impatient.

Shame they're not checking for quality, the amount of youtube, facebook and flappy bird clones is unreal!!

Not sure you can at once build the Store's numbers rapidly to compete with iOS and Android, while at the same time, making subjective evaluations on "quality". You can only do one of those while still growing the store to catch up.

Daniel the official update will be in June right with Nokia's new firmware update?

You cannot begin to imagine how much I hate those Facebook crappy fake undercover mobile site apps... They plague the Store, you have to fight your way through tidal waves of garbage to find something new and usable in there. I used to love the "New" section but ever since these Clone Wars it's impossible to find quality, unless you know specifically what to look for. :S

Talking about apps(not games). A good browser is essential and we are getting IE11

Waiting Waiting Waiting...

Awesome! I wish it was April 2 today. Can't wait for the update

Waiting waiting waiting...now cantttt wait....
Bloody helllll...

Change your system date.. :D

Wow it works, thanks Enjoying my WP8.1 right now!

Cool! It works! But how to keep WP8.1 using today's date? I don't want to live in the future yet.

Cannot.... I need to pay my credit card bill by 25th :'( :-/

There are already leak in the 8.1 SDK referencing to Windows Phone 8.5. :)

Which could have been a typo.

Same logic might be applied to 8.1 in "Supported OS" section... :)

4/2 can't get here fast enough

Sure its gonna be long time till it find way into my 820. Cant wait..

Read the article. Long wait for new devices.

Just change your system date to 4/2, use the Developer Preview app, and check for updates. 8.1 update should be there for you to download. Mission accomplished.

The real wait will start when it will be announced.

Awesome! Can't wait! I really hope we have access to 8.1 through the developer's preview program. It would be cool since my carrier hasn't even released Black.

So, the preview-update is expected to be available on April 2 through the "Preview for Developers" app or will there be a new way of installing this?

Same Preview for Developers (GRD3 one).

http://www.windowsphone.com/el-gr/store/app/preview-for-developers/178ac8a1-6519-4a0b-960c-038393741e96 Ok, I have it enabled and I am waiting!!!

Maybe Microsoft will pull an Apple and use Build to officially announce global release without carrier restrictions. One can dream...

When i checked store page of Instagram BETA, I did see windows phone 8.1 under supported os.

Nothing to see here, move along. All this shows is that current apps are compatible with 8.1 (if they weren't the store would drop to nearly zero apps on April 2nd), all of my apps show up the same way in the dev center.

Will 8.1 have live lockscreen??

Yipeeeeeeee......
Installed 8.1

On his tablet / laptop/ or desktop

Dang picture of the cog wheels makes me click quickly on the article half reading the headline as the display changes over to the full article. Teasing like that shouldn't be allowed :)

When will it be available for developers???

Daniel would you inform us when dev preview will be out ?

Out of the loop here. Are there any details on the new hardware? Was seriously thinking of getting the Icon today.

Wondering too on this. We could have a flood of devices popping out or hitting the FCC as soon as WP 8.1 is annouced at Build. It's so dispointing to me that the ICON does not have expandable storage and that being a big option (installing apps to SD) with 8.1 It's always that thing, if you are waiting for something to come out, then you wait some more for the next feature, you will never get a device. The ICON looks like a nice device with it's feature set, so you cant go wrong with it but, if you want a month, there should be more news..

Anyone know how compatible XNA is with Windows Phone 8/8.1 as I know it is no longer updated? If not, anyone know anything similar, I heard Mono is pretty good and more or less the same, but it works with more platforms. Thanks :) Can't wait for WP8.1 as well

Meanwhile in India still waiting for 620 to get the black update.
I hope I get it before 8.1

iam using lumia 525 , happy on arrival on spring of the new update .
we want glance screen options for lumia 525 if dis option is available in the 8.1 update it will be better gud . so we want glance screen options on 525.....................waiting for tat.........

I hate to keep on saying this, but seriously, those of us on T-Mobile who have the Lumia 521 will get 8.1 first via developer preview before they release the official Black update for us.

Those gears looks beautiful

My 8X Will get the update before you do guys HaHaHa (evil laugh)

These good they overhaul the sdk for adding more capabilities,abilities,features. can do more for programming, like creating more powerful capabilities for video editors applications.. More capabilities for creating photo editors applications, can be easily port your applications windows 8 or vice versa. And more more..

So..Preview is gonna be out on 2nd april or the same week. Will it be having all the features mentioned till now by wpcentral?? like even cortana or whatever it will be named? if yes then it calls for a party ....:P

I am continuously getting low memory error aftr update anyone else facing it?
Windows Central Newsletter
Thank you for signing up to Windows Central. You will receive a verification email shortly.
There was a problem. Please refresh the page and try again.