Verizon compatible HP Elite x3 is now on sale at the Microsoft Store
The HP Elite x3 becomes the first official Windows 10 Mobile handset to support Verizon. Too bad it's 12 months too late.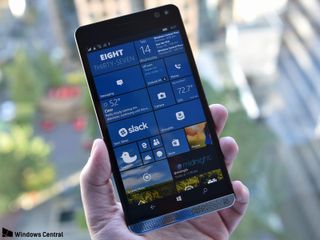 (Image credit: Daniel Rubino / Windows Central)
If you're a Verizon customer who loves Windows phone and isn't phased by Microsoft's lack of focus when it comes to Windows 10 Mobile, we have some good news for you. Microsoft is now officially selling the HP Elite x3 with Verizon support for $599 at the Microsoft Store!
As we reported earlier this year, HP has been working on getting a Verizon model of the Elite x3 out for sale. This is a device that's aimed primarily at business customers, however, consumers or fans are welcome to purchase this device from Microsoft if they wish.
The HP Elite x3 supporting Verizon makes this the first Windows 10 Mobile-shipped device to do so. Previously, the only Windows 10 Mobile handsets to support Verizon were older devices that were upgraded from Windows Phone 8.1.
Unfortunately, to many, the HP Elite x3 with Verizon is a device launched 12 months too late. Windows 10 Mobile itself is a dead platform walking, with no new consumer features or hardware in the plans for release.
What's more, the Elite x3 is old, sporting a Snapdragon 820, 4GB RAM and 64GB internal storage. While still the most powerful Windows phone, it's no longer the running the latest flagship specs available on other platforms.
If none of this phases you, the HP Elite x3 on Verizon is available right now for $599. (opens in new tab) Head to the Microsoft Store and check it out if you're crazy enough.
HP Elite x3 on Verizon at Microsoft Store (opens in new tab)
Windows Central Newsletter
Get the best of Windows Central in in your inbox, every day!
Zac Bowden is a Senior Editor at Windows Central. Bringing you exclusive coverage into the world of Windows on PCs, tablets, phones, and more. Also an avid collector of rare Microsoft prototype devices! Keep in touch on Twitter: @zacbowden.
Maybe I am missing something, but who would spend $600 on a dead phone? no thanks.... even if it were $199....

I'm planning to get a 950. Once its declared obsolete the prices will come down a lot for a return.

Good luck finding a 950 anywhere other than Ebay. My 950XL shattered beyond use a few weeks ago, and the Microsoft store by me and the number I called said they didn't have any stock and couldn't find one anywhere else. It hurt me, but I made the choice to leave Windows mobile. WM is still my favorite mobile OS, but Microsoft didn't leave me with much of a choice.

Selling my 950xl in mint condition with the continuum for 300 on letgo.

I just got a Standard X3 on ebay for $239.

Different story here is the UK there are plenty of used and boxed 950s and 950xls being sold in the UK on eBay and sites alike. They are currently selling for around £100-200, I am trying to decide if I should get one or not.

You should get one if only for the awesome camera.

Still the best camera. And after switching to a Samsung Galaxy S8 from my 950 XL, I miss the 950 XL. The only thing I don't miss about the 950XL is the terrible keyboard.

If it's anything like my 1020, replacing the screen is an easy task.

Whiny fangirl downvotes...Love it!

Normally I'm all for downvoting you, but in this case it makes absolutely no sense. :)

@editguy....if you actually read what I say, im correct about 70 percent of the time. it's just that fanboys don't like hearing the truth about stuff...the other 30 is me having fun making jokes....again fanboys can't handle jokes about their beloved things!

Stop trolling . We are not interested in your crapdroid .

Ah, just ignore him, it works everytime. Also, as far as Android goes, it is far from crap. Windows 10 Mobile is now crap because of a lack of real support, which is really disappointing because until now, I only used Windows Phone based phones. Had to move on though, just the way it goes.

Same here Manofgod1000. I used windows mobile devices since 6.0 windows mobile....They bailed on me when they never supported 10 mobile on my 1020 and I had enough buying new devices only for them to be shitcanned the next year. So...Microsoft bailed on me...NOT me bailing on them.

I'm not trolling @flybywire54...you are just a fanbaby who cannot handle the truth.

I gave you an up vote Steve just to spite them lol. I just watched a 950XL screen replacement video, and it does seem pretty easy as long as I can get the LCD, glass, and screen in one piece. However, at $180 for the replacement and the 950XL only going for $250-280 on Ebay I don't think it's worth it for me. I would sell it online for parts, but I can't wipe the data in condition it's in.

I figured as much. Hell, on my 1020 it was literally 1 screw in the sim card slot that released the screen lock...AMAZING design. Thanks MS for flattening the best hardware in the world. Thanks Shryx86. I cannot remember the place where I got my screen to, but it was about 70 bucks shipped to me. I also bought one from a site claiming it was OEM and REAL....I could literally not tell the difference between the two. Both from the visuals or feel from the inside. All three looked and functioned exactly the same.

Oh..btw @shryx86. Those are USED 950xls. You don't know what your getting. the new ones are 5-600

You can get a 950 in China for about $160. New

You can get a 950 in China for about $160.

If you don't mind telling, do you have a link please? I've decided to get new XL and 950 instead of repairing the screens, which costs more.
Thanks

You might consider replacing the screen

Funny, I said that a few hrs ago and the little panzies here downvoted me. I love the extremely thin skinned folk here. Great entertainment.

I think they're down voting you just because they can.

And, I am calling them little fanbitches because I CAN! ha ha...works both ways!

Steve, you're a bad person.

You are a whiney fanbaby.

Very easy to get a 950 here in Malaysia. And price is cheap compared to a year ago

I'll sell you my 950xl for 300?

I am buying it. So are several family members. We're excited. Our Icons and 928s have served us well but we are ready for an upgrade.

Congrats, I really hope that all of you will enjoy it!

🤔🤔🤔... What's the advantage over getting Android devices?

It runs W10M, that's the advantage.

3 years ago I definitely would've agreed.

I wish I still had my Icon. Coolest phone I've ever had.

Any NOKIA is the coolest phone ever...

mayconvert what do you mean a dead phone? it does not turn on? no touch screen? no power? maybe a for parts phone on ebay.

MS will support W10M to the end of 2019, but you can use Elite x3 forever if you so choose. It will never die until its physical death. I'll keep using my L950XL until I see something worth the replacement.

That phone from yesterday looks cool. Razer???... Red has one coming. Pretty good time for our Lumias to give out. I mean, at least Android is getting interesting again.. 🤷🏽🤷🏽🤷🏽🤷🏽

i think if it does email and calendar and texting and phone calls and runs pretty much whatever app is in the microsoft store then it should be good.

Yeah like when you get it, it won't make phone calls.

You are just better off with a land line bebochek. People use their phones for way more than a phone call. Get a motorola startac and enjoy living in that cave.

Earth to bebo...it's time to come back from the past.

sad thing about today is people check social media messages more than standard sms messages, we had internet issue from isp for about two days, i sent sms to workmates , they claimed they never got it, then i mentioned it was sms, they were like "people still use that"? well it's gauranteed way to get unto someone especially if internet service is down.

This phone can do all I need. My L650 can still do it too. I have all the apps I need too. I use WhatsApp, WeChat, Telegram, Line, Viber, Skype, Yandex weather and maps, metro and banking. This Windows Central app, I can use email, internet. Please tell me what I'm missing. Oh and I just ordered a L950XL that should be coming any day now and I ain't worried a bit cause I know it will be getting updated for at least two more years. I'll worry then.

I couldn't agree more. I have everything I need in a great phone. And it won't stop to work suddenly.

There is a chance any functions, especially apps, might stop working at any time. Microsoft isn't exactly known for their support of dead platforms.

They have a nice camera that makes phone call and surfs the web. Oh poor me.

bleached I dont think any functions or apps will stop working at time. microsoft can remote control shut down your phone and apps? wow. thats scary.

Microsoft can shut down apps. Take Skype on WP8 as an example. Third party apps can also be discontinued and stop working. This happens all the time now on Windows phones.

Groove has gone, and now forced to use Spotify (which is crap) and Spotify hasn't been working mostly at all on my X3 for a week and a half. WTF! If my banking app and WhatsApp stopped working that would be it. The other apps I am missing and need I have on my Moto 5S Plus.

If you constitute security patches as updating, sure. Most people want and expect feature updates, which you will absolutley not be receiving. If you want to buy a phone that loses support in a year, that's on you.

You do get feature updates on Android. it's called 'buy a new phone'.

At first I didn't get what you said.. But, yes. Updates are something I'm worried about Android.. EVERYONE is always complaining about their Android phone at some point. EVERYONE! iPhones? I never hear any complaints. But, it's an iPhone😣... Android is gonna annoy the **** out of me so bad, but I'm sure I'm gonna be loving those apps.

I hear complaints about iPhones everytime they update iOS.

If you want updates, get the pixel 2. Guaranteed 3 major version updates. Something you would never get with samesong, motorola etc. Also, HTCs are getting the same treatment now.

That's if it comes with Android even installed. Some haven't.

Bebo, it's only the XL coming without OS. I would not get that device anyways.

Lineage OS is constantly updated, and the community is active in the forums. I think they're slowly supporting more phones, which are a bit limited at the moment, I believe.

I can't say that I have have every app that I want, but WP users are litteraly using the same apps that most use the majority of the time (minus Snapchat)... 90% of the time a WP is used to the extent an Android phone is used... Granted, it's that 10% that is frustrating sometimes, because that 10% of time equates to hundreds of thousands of apps WP doesn't have.. But, for most people a WP device STILL is almost (I said almost) all they need.... That's why so many fans are able to keep using their devices.
Personally, when I get my Android device I will still keep my WP device in my bag. Lol. 😂😂😂 Just because WTF not? 😎

It is nice to jump back and forth between android and windows when the mood takes you.
For those of you wanting to jump to android all I can say is jump in the water is warm,... especially with a Nokia phone 🤗

I know you will enjoy it, I know I enjoyed my 950 for what it is. (Bluetooth incompatibility with the Vivoactive 3 and Dart UConnect has caused me to move on, or I would have kept using it.) On a Sony Xperia XA1 now but I will miss my 950.

You will get core OS updates and security fixes from Microsoft, not necessarily app updates. That is important because if you use specific apps on your phone, you may have difficulty using them in the future. Of the apps I use, a few were removed in WP 8.1 and a few were added for 10. Most of the added apps are UWP apps, so perhaps it is more likely they will be updated. I suppose as long as the apps have web site interfaces I am fine.

600$ to make just phone calls?

Be honest. What apps have you used today?

Amazon, WhatsApp, Spotify, Acrobat Reader, Facebook, Wordament, HP ePrint Enterprise, Network Speed Test, Wells Fargo, WiFi analyzer and Windows Central. It's only 9am too! Lol

You must have a busy schedule or day, hahaha.

I 100% don't mind. The HP Elite x3 is an absolute beast and living in Continuum with a Surface Book as a workhorse when needed has been great.

I really don't know how to feel about this. From your perspective, the Elite X3 has been great. From my perspective as a Verizon user, Microsoft gave us nothing for years. Now they are nonchalantly making this available, over a year after initial release, and after the announcement that they basically no longer care about Windows Mobile. As much as I wanted to have a Windows Phone for the past two years, and as good as this device may empirically be, I can't reward them for doing this. Even if I actually do want it, I have to speak with my money. So I get and appreciate why you may not mind, but there's a lot to mind if you are a Verizon user.

Hey, I get it as well. I am a Sprint/AT&T user still rolling the Lumia 635 on WP 8.1. Thankfully, my Elite x3 (and 950 XL backup) have kept me happy, and changed the way I work. The Icon and 735 didn't have Continuum. And now, a literal year late, with the GSM Elite x3 already late, you don't wanna jump in headfirst. But hey, Microsoft has been punished. You are not rewarding them as much as rewarding yourself. It is a beautiful phone.

Verizon has schooled MS. It's really unfortunate, because it is really the WP customers on Verizon who got the short stick. But it is what it is...

Thank HP. Microsoft had little to do with the Elite X3 moving to VZW too.

I believe that. HP is all in. Just talk to any of their amazing support team.

Hp has announced plans to end the x3 (sales will be limited to existing inventory) and they don't plan to do anything more with Windows Mobile. I'd hardly call that "all in."

They planned even to bifurcate the division. Of course not anymore, but they are all in with what they have done so far. Sales will go up to 2019

Way too late for that 😂. I wanted one forever ago but this platform is long gone.

EXACTLY!!!! They are too late! If they had this on ATT long ago I would be using it right now... I'm not fooling with this device now...

MSPoweruser said it costs $500. Hm.. Maybe typo.

Don't listen to MSPoweruser, they have been wrong in the past and are a bunch Windows Phone haters.

Mehedi Hassan is better than Surur and Michael.
He even spoke against blocking and other things the site did before.

Yeah I know what you mean. Michael always sounds angry and it's depressing reading him. I just go right to the comments.

Surur + too many non MS news that's why I left mspoweruser

Just in time for funeral.

At this stage, even if it was for free, I won't take it.

I dont mind a free paper weight

I'd take a free smartphone even if it was just to use it as a music device. I'm using a S8+, and my Lumia phones definitely had better audio quality.

Yeah. Way too late. Ridiculous thing to do selling this right now. I have this phone, and although I love it, I would NOT buy it now with the platform officially dead. Yes, it's my main driver with an Android as a back up among others, but it's just silly to buy this now. I do think that as a device it was one step away from perfection. Its next iteration could have been perfect! Great job Microsoft.

Unbelievable! FWIW, the x3 is still a great device and the best for handling a heavy email lode with Outlook on Windows mobile. But nobody's going to develop for it.

Totally. Outlook on Windows 10 mobile is excellent. It also supports gmail and icloud including calendar and contacts properly (ie.photos etc). Gmail is fine on Android but doesn't support Outlook / Office 365 properly. If all you want to do is put silly faces on your photos - then Android is great. For productivity - not so good if you are not in the Google universe.

Android OS is so boring that most of the time I don't even bother picking my Android up. The X3 on the other hand is my bestie.

You know, I agree with you and want to stay on Windows. But now, Verizon doesn't even have an app for Windows, not to mention my router, and on and on... I'm seriously considering holding my nose and getting an iPhone next time around. Never Android.

I thought that there was a refresh with a better CPU that was showed off at CES?

Have you not been reading the site for the past two months?

That was just a design they will look into for future models. They didn't talk about specs or anything else.
That plan changed now since W10M is being shuttered in 2020.

Purchased, with extreme excitement.

I just bought a 950XL, should come any day now. I too am extremely excited 😃

Best camera ever, still much better than the iPhone 7. Don't know about 8/X or Pixel 2.

It's also perfect size, screen amazing, still very fast.

For a dead platform I am seeing some nice updates on my Lumia 950. If you need a new phone and want Windows 10 Mobile why not. It looks a nice phone. We have another 2 years of updates coming.

Yeah but we'll never get talking poop 💩 emoji or a phone with not only a glass front but a glass back that breaks too!

I don't use the talking poop emojis. However I do use lots of apps that cannot be had on my 950xl. So it sits in my shop now, acting as a 3d scanner for motorcycle parts creation..

I don't live in the US anymore. Here we have apps because many people still use Windows Phones.

You live in a lucky place then....because the microsoft app situation here in canada is TERRIBLE....

Did you see that new razer phone? All metal plus many more features than just phone calling. We all like Windows phone but to invest $600 into a dead platform is a bit too much.

I don't get this fascination with 'all metal'. The all metal and glass of the Idol 4s is way too slippery. Yes, looks nice but it adds weight, can't have wireless charging, and you MUST have a cover so you don't drop it, so there goes any looks????!?!?!?

Doesn't the Idol have a glass back?

Nice updates? The 950 hasn't seen a proper update since the Anniversary Update and even that was light.

I have no issue with people buying it. If you don't give a rats about all the latest apps, it'll be fine for a long time to come.

I really don't use the latest apps. However I use the UI all the time. The UI is what matters to me.

Having squares around icons is the most important part of a smartphone for you?!

I bought this phone to replace my 1520 and can safely say it hasn't let me down in the last 4 months. It will be supported 'til December 2019 so that's two more years. Most people would trade in a phone every 2 years anyway, what the problem?

Yes - it means bug fixes - like the KRACK wifi bug that was fixed in October. With Windows mobile - you don't have to buy a new phone to get security patches. I suppose you could get a Pixel if you were that worried about security.

The last thing you need is security patches. No one is targeting Windows phones.

That's quite funny, I just bought a 1520 to replace my X3....Lol. I found a NOS 1520 and updated it to WM 10. Runs just as good as my X3 did, which I was suprised as it only has 2GB ram and an SD 800. Great to have back the little things I missed, like Glance Screen and a decent camera.

Something fishy is going on....!
HP is not that stupid to release this fone at this time knowing the fate of Win10 mobile OS....
Perhaps HP is getting ready to purchase Win10 mobile OS from Microsoft and start making their own hardware......

Could it be that with the 820 chip it can run Cshell?

We already know it can....the next thing will Microsoft let them do it? Zac Had Cshell running on his.

Let's watch that ship sail in the same direction that WebOS did.

No. They're just selling this now because HP made a bunch of them earlier this year. Nothing else is going on. No CShell, no new features, no nothing. W10M is EOL

Well they are still selling here for over $800

Ha! Zac is alive. You can see when he comments that it's important. 🤓😎😊

Zac.. Can't you load Android on this device?... ❓❓❓❓❓❓ 🤔🤔🤔🤔

My guess is the phone could always work on Verizon, it just took this long to get certified by Verizon to allow activations. Clearly HP is not making anymore of these, so they must have plenty left in their house inventory to sell. I would have loved this phone, but it is too late. I am resigned to moving on once my Icon can't do it anymore, which is soon.

That would be awesome! I wish someone could buy Groove music and smash the 'Competition'.

OMG! I would have sold my soul for this in November 2015...now I'm typing this from a Nokia branded Android phone. Makes me sad 😔.

You are using the Nokia on Verizon?

Ha, no. Sorry, I should have been more specific. In November 2015 I switched from VZ to T-mobile so that I could get a Lumia 950. Best decision... T-mobile has been amazing! Win 10 mobile, sadly, not so much. However, back then, I would have paid anything to have a flagship WP on VZ. Loved my 735 but it was no flagship device.

Now's your chance desperate fanboys, go buy a dead device! :)))

So, you came all the way from Android central to tell people to go buy a dead device?
....
And, this is your way of making "others" seem "desperate"???? Really.. 🤔🤔🤔🤔

What is that live clock tile on this phone ?

Analog Clock tile is another good clock app, however if you add the date to the clock tile under the customise options the said tile stops working randomly.

If I buy the X3 it has to be the bundle with the laptop dock. It would be a great device to use while at school, specially for writing up papers on the go.

Looks like the deal is with the dock.

"I go crazy, crazy, Baby, I go crazy. You turn it on, then you're gone, yeah you drive me crazy" 🎶🎶😁

😭😭😭😭😭😭😭😭😭😭😭😭😭😭😭😭😭 🤓🤓🤓🤓🌈🌈 🤓🌈🌈🌈🌈🎈🎈🎈🎈🎈🎃🎃🎃🎃🎃🎃🎃🎃😎😎😎😎😎😎😎 🤣🤣🤣🤣🤣🤣🤣🤣🤣🤣🤣🤣🤣🤣🤣🤣🤣🤣🤣

This was a very limited production run by HP. Microsoft bought the entire lot of phones to payback HP for creating the phone. Once this production run is gone, I doubt anymore will be built.

I'm glad that this has finally come to life now! It's good to have a flagship choice even though I'm sure the wait for this was painful.

Dude.. Get a Note 8, or wait for the 9. Lol

Not that I would shift anyone to buy this phone, but just a bit of FYI in case you want one...
The Snapdragon 820 is older/slower than the current 835; however, WM10 with the latest release WILL be faster than Android on the 835 most of the time. (Especially in multi-tasking operations due to how WM10's kernel handles load, TP balancing, and can concurrently keep more cores active.)
The 4GB of RAM is also more than enough - as WM10 (and Win10 in general) is smarter about memory management and Apps than Android. 4GB on WM10 is effectively better than 8GB on an Android device.
Even a full Windows 10 PC/Tablet with 2GB of RAM can run Photoshop and Corel Painter, and fluidly multi-task with several other open pieces of software, and its operational footprint is considerably more than WM10.
For example... you DO NOT have to run a 'memory management/compression App' on Windows, like most OEMs bundle with Android. (You also don't need a 'Background App Monitor' for managing Apps multi-tasking in the background as WM10 manages and curtails any errant background processes.) Graphically, WM10 also beats Android by a significant number, sometimes as much as 4x as fast as Android with the same hardware. Despite the fact that WM10 is 'done' for now, it is rather sad that Android won the war, as WM10 is technically a better OS in the scale of being more advanced by several generations. At a technical level, Android's design and OS model fall short of NT in 1993, let alone the current generation of Windows. (Anyone that scoffs at this comment, just look at the scheduler or memory manager or security mechanisms compared to NT in 1993. - Remember that Android doesn't use the Linux kernel for these things, so this is not being dismissive of Linux.) So even though the hardware specifications aren't up to Android level it will perform as well as a new Android device.
(Also be sure to update it to the Fall Creators WM10 build, as it is the fastest version of WM10 by far.)


I don't think anyone will argue with this logic which is why everyone is so upset because the OS is superior and yet due to lack of dev support and marketing it failed.

"Even a full Windows 10 PC/Tablet with 2GB of RAM can run Photoshop and Corel Painter, and fluidly multi-task with several other open pieces of software," What the F are you smoking? Windows and Photoshop in 2 GB? Dream on.

Much akin to Betamax vs VHS then huh?.., its sad...!

I just got a Lumia 1520 and am amazed at how well WM runs on it!! For a 4 year old phone, it performs just as good with WM as my X3 and 950XL does.

That's an absolutely absurd price.

Hey 6 months ago, I might have bought this. Since then I switched to ATT to get a 950 for my wife and since then I got an IPhone for myself. Too late.

Some of you are ******* delusional and exhibit Stockholm syndrome symptoms with the way you're defending WP. Microsoft itself abandoned the platform and practically declared it dead. Spending $600 for a W10M device in its current state is simply dumb. I mean, yeah if you get one for free I understand the justification for staying on the platform if the device meets your basic needs such as phone calls, SMS and some of the few apps that are still being updated.

There are people still got the $ to burn

Green mushroom for you (1UP) @jaffer alawi!

A smartphone 📱, especially a Windows 10 Superphone, will always have function, even more so than a Windows RT device. Apps are secondary to a technology standard, and Continuum is a whole new standard. DeX is the only comparison.

I would buy one if prices coming down.... Here in Canada its still costs CAD 1000 with tax

What are the chances the price will drop more by Black Friday?

You better off getting a lump of coal.

Might as well light your money on fire.

need to buy 7 of these. iCrap is way too much money and google is not cutting checks to users for their services so f them.

just checked. Says that it is out of stock. Looks like there must be some interest in this phone despite what all the naysayers are saying.

Or they only made like 11.

Is this available through Verizon directly? I can still get big discounts on phones through Verizon with a 2 year contract.

Maybe through a business channel Not on the store.

I hope they sell out in 24 hrs. That would open some eyes; even if Microsoft is too blind to see its mistake of forsaking mobile. Maybe HP and/or other manufacturers will get involved and say to M/S, "Hey, we need you to continue to support this platform, at least until you have something better". Although they blew a huge opportunity, maybe MIcrosoft will get a new CEO one day who doesn't have a "hang up" with phones. What a foolish way to treat its customers. And even more foolish is it to think that the smart phone is going away. I believe MIcrosoft's blundering over the phone OS has cost the company more money than if it had continued with a modest investment in phones. I'm not going to install 365 on a droid or iOS after my 735 kicks the bucket. Just not going to do it. I'll go back to a flip phone. With its focus on social issues, Microsoft is the last company in the world that should make it difficult for folks to get a really good low end phone with some version of W10. Even if it didn't want the headache of running Nokia, it could have subbed out phone production and still offered $120.00 Lumia type phones at a price that it could live with. And, keep a lot of people very happy.

Sold out @ MS online and location Stores in Bay Area!!!....Gee, that was fast!

Microsoft is not blind. They bought all the stock up for the first run of it. Brick and mortar stores have had this in stock for a couple weeks not realizing it...

I know it sounds foolish, but I am really tempted to buy one of these!

If it was like 150$-200$... Maybe.

I think the existing version already compatible with verizon, why need another one?

No, the existing version was NOT compatible with Verizon

I just wish I could get this from Verizon so I could pay it off over time. I want this phone BAD. Actually, I want ANY upgrade to my 3-1/2+ year-old trooper that is my Lumia Icon but I'm not ready to drop $600 all at once for it.

How about a fireware update to make my existing Elite X3 run on verizon

All I need is a stable phone that can make phone calls and browse the internet. -Pays $600 for a windows phone

Missed it by a week! My Icon had a headphone jack failure that made it think it was always pugged in, so I had to get a new phone. I got the Alcatel Idol 4s at the Microsoft store for $200.00 and switched from Verizon to T-Mobile. I don't think I would have wanted to spend $600.00. I like the Alcatel and I'll have it for as long as I can. Once all support is done, I'll go to a feature Phone and call it good. I won't go Android or I-Phone for any reason. I has switched from T-Mobile when I had my HTC Radar and had to go to Verizon because the T-Mobile network was so bad near where I work, that I had to ALWAYS go outside to use my phone. The T-Mobile network is much better now. I can use my phone at my desk! The hardware in this case is probably a lot better than the old HTC Radar. Everyone can thank me. If I had not gotten the Idol 4s last week, the Elite X3 would not be on Verizon today. They were waiting for me to switch just because! Its a conspiracy I tell you!

If you use Verizon and you want to use a Windowsphone then this is good news. I am in the UK but I understand it's been a couple of years or so since anything like a flagship Windowsphone was available. This is a little old now but if its being supported until 2019 it could work for some people. Most of us would have probably preferred a commitment from Microsoft to new products.

The UK has much better DEV support for Windows Mobile than the US. A lot of the Windows 8 apps for things like car parking, National Rail, British Airways etc still work fine. Banking apps like RBS, Natwest and Barclays are still running. Business apps like Webex, Citrix Receiver and RSA SecureID soft token still work. ebay in the UK is full of second hand 950/950XL's so still worth a shot, particularly with the monthly security updates.

I'm switching back to Android. I had to leave Verizon and go to AT&T to get a 950xl, but with no Wells Fargo and no OnStar support, apps I use every day, and sucky Facebook Messenger apps, it's time to leave Microsoft. Love my Surface Pro though!!

A YEAR, and a 820 with 6 GB of Ram isnt low quality. Compared to my friends Galaxy 8+ the HP Elite was faster, had better speakers, and teh camera was on par. Maybe not great.. but by most standards it was 100% as good in most situations. the X3 is still as good as most high end phones. I love mine.

They only did this because spent all this money producing these phones, so it's stupid not to try to sell them. Though why anyone would pay 600 bucks for a phone with a dead OS is a mystery.

Spotify is great on my Lumia 950, just as all the Apps I use. When it really stopped because there are now Apps anymore, around 2020/2021. I hope that it is possible too install Android 10 or 11 on it with Interop Tools. Why is there now custom bank App so we could pay with our Lumia + nfc?

I looked on the Microsoft store and spotify is not available on mobile anymore...is that the case or can you still download it?

yes still available on mobile

On second thoughts the X3 still might be a good buy as the Pixel 2xl is apparently shipping without an OS! 😜😃

Already out of stock, I guess it was a hot seller.

People are ridiculous, does a phone stop connecting to data and wifi? I feel like the only barrier here is price and the complete absurdity of it all... We don't need anything but we're pretty damn lucky we CAN have this stuff. It's like we suffer from these things, WE are all insufferable lol 😏 #strictlyforthecomments

if they could have pulled off just releasing a firmware update that made all x3's verizon compatible, that would have been interesting. this though? eh, not so much.

It seems Windows Central is being funded to kill a perfectly useable platform eith by Microsoft or Android. The Elite has the capacity to be your desktop computer as well and Android lags far behind in this area of development. The 950 and 950XL have a less refined version of this ability but will be increasingly excellent buys as people are pursuaded by Windows Central to move to Android with the top specs costing an arm and a leg. Of course its our choice at the end of the day - if we find the dead platform fullfills all our needs and more why would we move. Unfortunately in the mobile phone industry money talks much more than useability.

Buying one of these is extremely risky, with no guarantees at all that the apps working today will work tomorrow. Microsoft should put a warning sticker on them. It was love at first sight for me, five years ago when I saw my first Lumia, but the writing's on the wall. When my carrier cut a third off the price of Samsung's Galaxy S8s last month (considered by many to be the phone of the year), I jumped ship. The S8 is no Lumia, but it's still pretty cool,

Okay I was skeptical before but Im now convinced Verizon is trolling.

I'd buy one for $100 just as a novelty, but $600! That's way too much for a phone running an OS that, even in its heyday, was unusable for the majority of people. My ICON was a great phone for making calls and had a great camera, but the app support was never there in most markets.

Are you f**king kidding me????????!?!?!?!??!?! I held onto my Icon as long as possible and then...there were no other options. One iPhone 6s+ and one Galaxy S8 later...I'm pretty jaded against MS phone hardware. No thanks. Definitely too late to bring this one to VZW. I wanted it when it first came out and for a long time afterwards. Eventually, it never came to fruition and I moved on. Once again, MS missing the boat.

Just bought one and its amazing...even with outdated specs it still blows away any of the crap coming from Apple or Android...

Microsoft never intended any of the last group of Windows Mobile devices to run on CDMA carriers such as US Verizon Wireless, Sprint and US Cellular. Dan Rubino even noted that Microsoft, as a part of the retrenchment strategy, gutted its group of CDMA coders with the intent of restricting the new phones to GSM carriers. Thus, the Lumia 550, 650, 950, 950XL along with the Elite X3 (up until now) and the Alcatel Idol 4S were never submitted for CDMA certification. The phones had CDMA radio functionality disabled. Likewise, the LTE bands used by Verizon Wireless, Sprint and US Cellular were locked out. With each introduction of the Lumia, Elite and Idol, Verizon Wireless users, who wanted to own one of these devices, were kicked to the sidelines while customers of GSM carriers could opt to purchase them. It took HP over a year to decide to push Microsoft for a version of W10M that would work with Verizon Wireless. The good news is now VZW users have access to a high end Windows Mobile phone, something they have not had for a very long time. Sadly, W10M is now in maintenance mode from here on out, and, nobody knows if Microsoft & other OEMs will continue to avoid Verizon Wireless, Sprint and US Cellular when Andromeda devices are brought to market.

I don't understand how Microsoft had anything to do with it. W10M worked fine on the ICON and other VZW phones just fine. What version of W10M do you mean or what detail about it is different now... HP submitted the Elite x3 for certification not Microsoft...

This is one of the reasons WP failed miserably.. lack of a unified apporoach ( like Samsung LG and Apple ). Istead it was a shot gun approach and then only on some carriers. Sad really.

does this phone have glance? i hate looking down at a blank screen on my work phone. i much prefer my personal windows phone

Nah, no glance which is unfortunate.

Hi friends!! Who want give me one windows phone to present????

Used win.phone will cost you not much more than delivery of "gift". Or even the delivery should be paid by phone owner?

"From my cold dead hands"/Windows phone.

I bought Denmarks absolutely last Lumia 950 the other day for 350 dollar..... Out of stock everywhere now..... Not even at used one is available....sad but true....Lets see how long it (I will) last before this painful android switch is my only option.....Microsoft, I will never forgive you....
Windows Central Newsletter
Thank you for signing up to Windows Central. You will receive a verification email shortly.
There was a problem. Please refresh the page and try again.