Microsoft Store's Windows Phone app updated, brings a handful of new features like side-by-side product comparison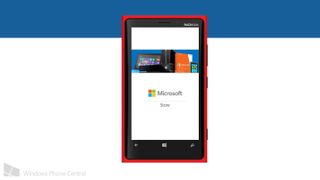 When it comes to consumer electronics and the retail space, Apple does a pretty good job dominating the spotlight. That's not to say that Microsoft with isn't doing a good job with the Microsoft Store, there just isn't as many out there yet. Which is a shame, because if you're lucky enough to be near a Microsoft Store you know how the experience of buying a PC is leaps and bounds better than elsewhere. The stores offer knowledgeable salespeople, quality hardware with no crapware, and some solid deals throughout the year.
Thankfully, you can take advantage of those deals and hardware online through the Microsoft Store. Or through the mobile app on Windows Phone, which just got updated today. Let's check out what's new.
Today we get v2.2 of the Microsoft Store app for Windows Phone. The app picks up a handful of new features and changes. Here they are:
Microsoft Account needed to book appointments
New Business Consultation appointment type
Ability to sync appointments with those made online or at a store
Improved search experience including history
Recent pane showing recently viewed products
Compare two products side-by-side
Support for scanning QR Codes
Richer home pane content
While it isn't a complete overhaul of the app, it's a solid little update that adds some interesting features. The ability to compare to products side-by-side for example could be really handy when you're between two different laptops and want to see how they stack up in the spec department. Having trouble with your PC or smartphone? Book appointments through the app for your nearest Microsoft Store.
While Windows Phone has the ability to scan QR codes built in, it is nice to do it within the app. This allows you to quickly see if you'd save money through the Microsoft Store or if there are any deals associated with the product you're interested in.
Want the Microsoft Store app for Windows Phone? It works on both Windows Phone 7.x and 8. You'll want to grab it in the Windows Phone Store. Otherwise use the QR codes below or swipe to the right in our app. Quick tip, the app will probably be available to those who can actually access the Microsoft Store. So you'll probably need to be in the United States, Canada or Puerto Rico.
Thanks for the tip Mark W!
Sorry about that. Just added it, might take a moment or two for the app to refresh for you to see it. It's there now.

I'm getting the "not available for your phone" message on my HTC HD7 running 7.8

Weird. Store description lists Windows Phone 7.5. I don't have any 7.x devices around at the moment, so I can't test it myself. Are you in the United States or Canada though? The app might only be available for those who can actually buy things from it. So if you're abroad it might not work or show up.

Can you make purchase through the app?

I've same above phone, I'm in Portugal, and I can't download application :[ I believe has to do with region!

same here, not avaible in Portugal

I'm from the Philippines running WP7.5 on my Samsung Focus, works smoothly!

Because Philippines received independence from USA after 1945.

it shows not available for the device.
Lumia 820, Gdr2+Amber, India.
:(

So I am downloading Store app from Store app? Cool!
EDIT : I need sleep (-_\)

Not available for this phone (L920), looks cool tho!

Now they just need to redesign the marketplace... it looks cheap and basic right now and not elegant and innovative like the Bing apps and such...

I love what they did to the windows market place with 8.1. Perhaps around the time windows phone 8.1 comes out the store gets an overhaul as well.

The word "innovative" is overused.

It only is if you think it is.

Beachwood Mall Microsoft Store is an amazing shopping experience. Great displays, knowledgeable staff, and in a good location. If the other stores are this good, Microsoft needs to just push forward with new stores everywhere they can.

I don't think I've ever been to a Microsoft Store I didn't love. Apple set the bar, but I think Microsoft passed it. Love the displays on all the walls too!

The San Diego store is nice enough - biggest problem is that it's an early store so it's really big (way too big, what were they thinking) so it usually seems to be very empty. The newer, smaller stores at least have a shot at being profitable at some point.

I wish Microsoft Stores were in Australia!

Yeah me too. Keep hoping they'll trial a store in Melbourne.

UK, EE, L920. Cannot download :(

There aren't any Microsoft Stores in the UK, are there?

Coming soon. They are already hiring retail staff for it. All Nokia centers will become Microsoft Stores.

Do we even have Nokia centers?

D'oh! Read the title and thought it was an update to the Windows Phone app on Windows 8 for some reason.
Looking forward to seeing more Microsoft stores appear over the next year, hopefully worldwide too. It's amazing there isn't one in London at least. Their UK online store is also a far way behind the US in what is offered. Though I suppose some of that may just be down to release dates etc.

LOOK! http://conversations.nokia.com/2013/09/17/blog-star-of-the-week-windows-phone-central/

The App is North America only.
Which is Microsoft's problem...they are US-centric.
If Apple didn't suck so much computer-wise, Microsoft deserved that people from the rest of the World would stop buying their products...just to see how long would they last in their beloved American market alone...

There are Microsoft stores outside of the U.S. ??

Oops :) sorry karelj, didn't have my brain on :)

No. And that's the point. They don't open stores outside the US like Apple does. So it would serve them right if the rest of the World would treat them with the same neglect and despise.

My point is that they have barely begun to open stores in their home territory of the U.S. If there is no stores in your country, what purpose would the app provide if you can't use it??
If they are only now ramping up store openings in the U.S. how can you criticize them for not opening stores in another country?
I'm not saying it doesn't suck to be in your situation, but let's keep some perspective here.

It's the lack of vision that bothers me. We do have access to a Microsoft Store through the Microsoft webpage in each country. Why not allow the app to be used along with that?
Besides, perhaps they should, instead of opening in a bunch of American towns, for example, open a Microsoft Store in every major city in the World instead.
A Store in Ohio will most definitely NOT have as much success as a store in London, for example. A store in Hawaii will not sell 1/10th of what a store in Tokyo would. See my point? It's the US-centric strategy that I find really really stupid...and annoying, of course.

But that's not how business works. You have to gain success in your home market before branching out. These Microsoft stores are still in the infancy stage, that's why they are still few and far between even in the U.S. Apple also built their stores in the U.S. before eventually branching out. But they also built their own hardware which increased the ability for their stores to flourish outside their home base. Microsoft is only now transitioning to hardware and services. Much bigger risk and bigger fall if it fails. Plus the cost and fees when you have a store in another country.
And for the record, Ohio has a major city - Cleveland. Not really a sure thing to say that a store in London would do better.

I think its you who doesn't understand. Most of MS's services are useless or suck outside the US, so its not just limited to making stores outside the US or releasing Hardware at most 1 month after the US release. To put it blunt MS is more profitable outside the US but they are still US centric. Its like they are showing the rest of the World their middle finger.

Yeah, but here's the thing. This discussion was about the stores, not a complete referendum on all of Microsoft services.But since you brought it up, exactly which services are you referring to?? Bing Maps?? That still lags behind Google's here in the U.S. but you expect it to be stellar *outside* of the U.S.??
As for your claim that Microsoft is more profitable outside of the U.S., please provide figures and sources to support that because that is news to me.

Figures? Really? How many Wp handset did Nokia sell in the US and how many outside? Marketshare of Wp in US and the Marketshare outside US? Here is a percentage of Mac users to let you know how much Marketshare MS has outside US. http://osxdaily.com/2011/03/18/mac-market-share-around-the-world-usa-15-...
If you want services bing sucks outside the US, the bing reward point and almost everything that had to do with it was unavailale outside the US,.... I'm too lazy to start searching for all MS services that suck outside the US since i don't use them, well cos they suck. If they didn't suck i would have been using them.

Now you're throwing in Nokia sales??? Hardware?? I thought your point was about *services*?? Which in turn was a departure from the original discussion of stores. You're just all over the map, aren't you? Mac market share?? Geez..what were we talking about again??
Bing maps?? I did mention that already, how original of you.
You're not too lazy to search for MS services that suck outside the U.S., you just have no coherent point to make. If you knew what specific services suck, that information would be readily available instead of you engaging in circular logic.
My original point was that the lack of MS stores outside the U.S. was not a result of Microsoft purposely ignoring the foreign market, but them just getting started in this new direction. You are just being argumentative for arguments sake. You have nothing of value to add here and I'm not going to waste any more time on you.

Hey hey hey. nokia sales? What is their hardware running on? So now Wp isn't a MS product and Windows is insignificant. Is the fact that the Surface pro was launched 3 whole months after the US launch in Key markets like Germany,Uk...... insignificant? Oh i get it MS needed 3 whole months to launch the Surface pro ouside the US,China and Canada. I'm the one wasting my time with you cos sorry if i will offend any normal US citizen, most US guys are arrogant and that leads them to believe the World starts and ends with the US.
By the way i have never used, will never use Bing maps cos i have Nokia maps and that gets me from a to b no problem. Covering for MS's incompetence at times is what is hurting them and guys like you are the ones that ar holding MS back cos you don't point where they are lacking. Instead you try to make escuses for them! Going back to bing, how many years has it been out? And then compare it to google's own services, they are worlds apart when it comes to supporting the World, heck even most tech Journalists prefer google services over MS's and that not cos MS doesn't have services that are supperior to google's services. Here for you, a quick search gave me this http://www.reddit.com/r/truegaming/comments/1et1qt/so_how_will_the_xbox_... Something you could have done yourself if ypu weren't so arrogant. Enjoy!

I don't know... H.A. Has alot of tourists, plus you could dominate the whole of H.A. Also, those observatories probably need alot of computers....

I got an update but my app doesn't look like that.

BTW, I see a good deal in US, Lenovo U310 touch was $719 and now $579. Core i5 processor, 4GB RAM, 500GB/24GB hybrid... Why not do the same in Canada, MS?

Love it! The store at South Coast Plaza makes space available for local groups to conduct events (like the Girl Scout Badge Workshop), so having that info handy is very cool.
On the other hand, my 16-yr-old will roll her eyes at me. I'm a Microsoft Store junky. We're like a couple heading to Home Depot... one is excited, the other wants to be somewhere else.
South Coast Plaza has Sony and Apple stores as well. But guess which of the three is the most crowded these days? :D

Hoping I could eventually be able to browse and compare windows phone from all carriers!

App still needs some fine tuning. Navigating via swipes is a bit stuttery.

Downloaded & installed. Tempted to buy something to test it out the rest of the way!

Just installed the app on my Nokia Lumia 920, and runs great.

Not for India...ihave seen one general trend. Every one India as a big market but no one want to give it a preference ..be it nokia pr Microsoft. Bt let me tel u Samsung is good in terms of its bussiness with India and that's its no 1

Funny how it works on WP 7.

Sorry but the sales reps in the microsoft store in san diego are not the smartest when it comes to the windows phone. I had to figure out stuff myself.

App not avaialble This might be because your phone softwatre needs to be updated the app os exclusive to a different mobile provider, or the app is not available in your country/region.

Not for india :(
Ant trick to get it for indians ?

Microsoft bring stores to the UK plz. Asap, so jealous of the US and these shiny retail jewels they have!

At least one store in Milan!

Sign in button doesn't seem to work in Settings>Profile

I have a L620 (Belgium), so I thought this was just an update for the Store already on Phone, but cannot install this app, just getting "not available for your phone" message

I hate region constraint. What to do...

just installed, mainly to get updates on when the Jacksonville store will open. looks nice so far.


App not available in South Africa, but we dont have a Microsoft store either. :-(
Windows Central Newsletter
Get the best of Windows Central in in your inbox, every day!
Thank you for signing up to Windows Central. You will receive a verification email shortly.
There was a problem. Please refresh the page and try again.