Microsoft Store's Windows Phone app updated, brings a handful of new features like side-by-side product comparison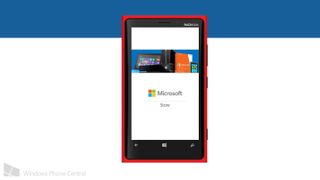 When it comes to consumer electronics and the retail space, Apple does a pretty good job dominating the spotlight. That's not to say that Microsoft with isn't doing a good job with the Microsoft Store, there just isn't as many out there yet. Which is a shame, because if you're lucky enough to be near a Microsoft Store you know how the experience of buying a PC is leaps and bounds better than elsewhere. The stores offer knowledgeable salespeople, quality hardware with no crapware, and some solid deals throughout the year.
Thankfully, you can take advantage of those deals and hardware online through the Microsoft Store. Or through the mobile app on Windows Phone, which just got updated today. Let's check out what's new.
Today we get v2.2 of the Microsoft Store app for Windows Phone. The app picks up a handful of new features and changes. Here they are:
Microsoft Account needed to book appointments
New Business Consultation appointment type
Ability to sync appointments with those made online or at a store
Improved search experience including history
Recent pane showing recently viewed products
Compare two products side-by-side
Support for scanning QR Codes
Richer home pane content
While it isn't a complete overhaul of the app, it's a solid little update that adds some interesting features. The ability to compare to products side-by-side for example could be really handy when you're between two different laptops and want to see how they stack up in the spec department. Having trouble with your PC or smartphone? Book appointments through the app for your nearest Microsoft Store.
While Windows Phone has the ability to scan QR codes built in, it is nice to do it within the app. This allows you to quickly see if you'd save money through the Microsoft Store or if there are any deals associated with the product you're interested in.
Want the Microsoft Store app for Windows Phone? It works on both Windows Phone 7.x and 8. You'll want to grab it in the Windows Phone Store. Otherwise use the QR codes below or swipe to the right in our app. Quick tip, the app will probably be available to those who can actually access the Microsoft Store. So you'll probably need to be in the United States, Canada or Puerto Rico.
Thanks for the tip Mark W!
Get the Windows Central Newsletter
All the latest news, reviews, and guides for Windows and Xbox diehards.