The closure of physical Microsoft Stores is a huge blow for Surface customer support
Not being able to walk in and get your Surface fixed will suck.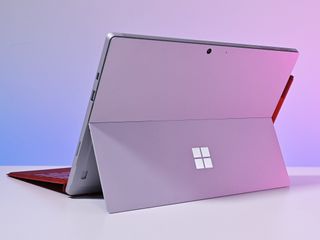 (Image credit: Daniel Rubino / Windows Central)
Last week, Microsoft announced that it was closing all physical Microsoft Stores, and transforming just four flagship stores into "experience centers" that serve as a way for high-street shoppers to look at and try the latest devices from Microsoft and partners. Customers will not be able to purchase any products they see inside the store, and it's only at these four locations that Surface customers be able to get face-to-face support for their hardware.
And this, to me, is the biggest loss as a result of the Microsoft Store closures. The ability to buy Microsoft hardware on the high-street was great, but it was the ability to walk into a nearby Microsoft Store with an existing, problematic device, and walk out not too long later with the issue either fixed, or replaced with a refurbished model. This service will still exist at these four flagship centers, and in the form of online support, which is nowhere near as convenient or straightforward.
During the 11 months I was able to take advantage of in-store support, I had my Surface Book 2 and Surface Go replaced with no issue. I was in and out in 20 minutes flat. This process takes days, even weeks, with online support. Luckily, I live in London, so I'm nearby this flagship location. But for most people who own Surface products, their local Microsoft Stores are going away, leaving them with noting but online support.
And with online support, which most customers in the US will have to deal with now, you can't always guarantee you'll get a repair. For example, I had a battery issue with my old Surface Book 2 that I sent away for repair using online support, but it was sent back unfixed as the lid had a very minor dent and Microsoft's policy is that it won't service hardware with "physical damage."
Once the UK store opened, I took that very same Surface Book 2 in, and they replaced it without any hassle. That's the difference between online support and face-to-face support. That minor dent was unrelated to the issue I was having, and support in-store could see that. In the future, any minor dents or scratches on my Surface PCs might void any support I can get for issues completely unrelated to the physical aspect of the product.
A support channel Surface customers no longer have
This kind of support is something Apple and Samsung customers have had for years, and Surface customers too up until now. One of the best things about owning a Mac or an iPhone is that if I have a hardware issue with it, I can take it to my nearest Apple Store and have someone look at it. More often than not, my issue solved that very same day. This improves overall customer satisfaction too.
It's upsetting that going forward, most Surface customers won't have this channel of support. And I realize this service was only really available to those in the US, but that's not the point. Those outside the US can attest that online customer support isn't always the best. You have a much higher chance of getting your issue solved with in-person support, and it's faster and more convenient.
What are your thoughts on Microsoft's closure of its physical Stores? Do you think it's fair to Surface customers who need support? Let us know in the comments.
Updated: Clarified that only four locations will remain open with in-store support.
Windows Central Newsletter
Get the best of Windows Central in in your inbox, every day!
Zac Bowden is a Senior Editor at Windows Central. Bringing you exclusive coverage into the world of Windows on PCs, tablets, phones, and more. Also an avid collector of rare Microsoft prototype devices! Keep in touch on Twitter: @zacbowden.
Super sucks! I have a Surface Book (1) w/the Performance Base long out of warranty and it started showing yellow spots on the screen when under medium load (no battery bulge... yet). This started on March 12th and days later everything shut down. I've been biding my time waiting for my local Microsoft Store to reopen and risk heading out to see if I could get around the $600 repair fee but seems highly unlikely now.

A premium product should come with premium support. At least with Dell I can get on-site support plans. Will Microsoft have something like this? It makes no sense for me to continue purchasing Microsoft hardware, unless I get something like a BestBuy extended warranty.

Well maybe Microsoft can start partnering with uBreakiFix or something like that the way Samsung does.

Go with costco, extended warranty is reasonable and return policy generous plus an extra year of included warranty

My original Surface Book failed after about 5 years. I always loved the service at the MS store near us so I bought a new Surface Book 3 (which is excellent) but the key factor was the MS store and their great service.
I bought the new one on line as the store was closed and kept the old one to bring in to see if it was reparable when the store re opened.
This news is very disheartening.
I teach computers as a volunteer and I have only used computers for our classes bought from the MS store due to their great service. I think this is perhaps the biggest mistake they have made since before Balmer left.

I can't imagine how they think this is going to be especially good. I can only imagine the potential customers who go I to the "experience center," like a product, then get told they can't buy it there. Yeah, I'm sure someone out shopping for a new laptop or phone is going to be thrilled to get hit with that reality. They might as well just replace their current locations with Best Buys with improved MS presences, so people can see, try, and actually buy the devices. It's like MS sees the popularity of Tesla and copies only the worst part of the customer's experience--having to go through a convoluted, slow process to actually get what you want. It would be smart of MS to at least partner with something like Best Buy's Geek Squad to be a source of in-person repairs. Losing this is going to hurt a lot for sales, and I could see the brand taking a serious hut because MS has horrid, inconsistent remote support.

I agree they should expand their partnership with best buy, but as it stands they only will if purchased at those stores with their protection plans, still takes at least a week or two tho

This is just a slap to the customer base.

It seems hey are forcing us to move to other brands (Apple).

It seems hey are forcing us to move to other brands (HP, Dell, Lenovo, Asus, Acer). Not like Surface was the only Windows PC.

It's telling their most loyal customers that they're just not that important to them. Just like with Windows Phone.

There just aren't enough for them to care.

I'm wondering if Nadella even cares about consumers.

I assume they will do some deal with Best Buy and their Geek Squad. It would benefit MS and BB.

If Best Buy even survives.

I work at one, still, if you buy anything there they offer a repair service plan, up to 3 years

This was super helpful for businesses as well. I could schedule trainings for my team, I could take people down to see things like Surface Hub or VR demos... and yes, I could coordinate a swap for machines that were under the extended Surface Protect/Warranty. We see pivot after pivot away from the consumer and towards enterprise, leaving the consumer side of it to partners or competitors. I'd like to see hope in things like Surface Headphones or Surface Duo, but I think those are all destined to become a footnote on the way to Azuresoft.

It was only a thing for people from the USA really anyway. That's 1 country out of over 200 in case you didn't know.

Back to Dell next time, since they come to you, if you have the right support contract.

I agree it sucks now it feels like anything that can't be diagnosed virtually will have to be sent in and or a replacement device sent out which then puts you in danger of getting a lemon back. not to mention just being able to test out the new stuff to see if it works for you.

I only go to MS stores when i want to buy their products. I definitely was going there to buy the DUO and Series X. This is really baffling. They honestly should take whatever hit theyre seeing in order to be available.

I feel like MS keeps moving away from regular consumers and cares less and less about their business. I feel sorry for all the staff. While they supposedly still have jobs - they didn't sign up to work in a call center in the first place. I have always had great experience with the staff at the stores... It's really sad.

Finished with MS hardware... Couldn't care less... Been burnt too many times... Enjoying life with Razer and Huawei...

I can understand the sentiment of losing an accissible customer service. However the real world picture of a Microsoft store isn't a rosy picture either. In the Netherlands, as far as I know there is only one store in the whole country, if at all, several countries likely don't even know what the fuss is about. Global franchise of tbe msft store is very limited in value.
They did something similar with Windows phone, but switched service to a third party. In my experience service wasn't stellar.
Apple customer service isn't great either. Rosman group in NY has quite some interesting anecdotes on apple store customer service.
I personally haven't needed service. The worrisome thing is though that I get the impression the anecdotes of tech customer service is not looking rosier as real world life has an even growing problem of being able to catch up with dealing with new tech issues. Products are increasing become waste products and right to repair movement sentiments globally are growing, ewaste is also a growing global crisis.

This is the most amazing take here, I really appreciate this perspective...

Imagine they know the Duo and Neo will have problems so they're taking away our ability for refunds and repairs 🤔

I was the lead tech at an in-store Microsoft Service Desk and was the best in the game according to productivity reports. This sucks for users but since leaving Microsoft I and other former Microsoft employees have started our own remote support and in-home service business for consumers with PC issues. Looks like business will be picking up since we're 1/3 the cost of Geek Squad and better at the job.

Was there an article posted about the good service got from the store?

This is beyond sucks. I have purchased Surface Pro 2, 3, 4, Surface Book 2, Surface Laptop 2 all from my local Microsoft Store and all purchased with the optional MS extended warranty. Why? cuz I love being able to try out the keyboard, feel the weight and have a peace of mind knowing I could just bring it to a real person and have my Surface or Windows related issues diagnosed and resolved pretty much right on the spot. The experience has been exceptionally well and I've made numerous referrals for the store. As a long term Surface users, that is very disappointing.

Glad to know that the remaining stores will still have in-store support. I live in Sydney so I'm covered, but upsetting to those who aren't near a store. MS seems like they're slowly giving up on consumers. I fear if Xbox fails this coming generation, it'll be the next one out.
I'm assuming/hoping the remaining stores will be repurposed as Xbox experience centres at XsX launch where they'll have dozens of xbox's set up to try, even hold monthly events/competitions in the stores and stream it online may garner interest and gain much needed exposure.

Doesn't it say they won't have in-store support for the remaining few stores? They will just be "experience centers"?

The bottom of this article states the 4 stores will indeed still have instore support, im assuming Sydney is one of them.

Hmm I also have a surface book that 1) had a bulge on the back of the tablet portion 2) had a defective screen that blacked out with large white lines 3) the keys started melting and the rubber on the bottom was falling off. I submitted a repair ticket in April and I was forced to take numerous pictures of the bulge from different angles which is obviously difficulty to see but easy to feel. I ended up paying the $599 for a "new" laptop. I will not be shopping surface again.

Microsoft do the dumbest things sometimes. I enjoy going to those stores. Smh

This is an absolute non-event. As a private user I have had on-site Dell support for decades. It works. You do not need to stroll around Covid-19 prone shopping malls, wait for hours in cues. The Dell support assistant is in your venue within 1 day and either fixes your gear in your house or returns the kit fixed within a day. Huge time saver as your private time is precious.

I don't understand the problem. I am nowhere near a Microsoft Store, closest is in London, 3 hours by plane away. And I and my company have had no issues with online service or sending computers for a fix. We are not a huge company, but most of us have surface products for work and private. It was a huge improvement over our previous Dell support.
Still miss Windows Phone.

My local Microsoft store has had my Dell XPS15 in for repairs since March when everything shut down. I've been in contact with Microsoft multiple times to understand how I get my laptop back. They have no plan nor direction on this. Extremely disappointed as they should have had this fully laid out prior to announcing the immediate closure of these stores. Very poorly done Microsoft!

Mhh... Can't say this being a loss to me because:
a) My nearest physical store was 850km away anyway so not really a thing to begin with
b) I never had any issues with my Microsoft Hardware to begin with ( 2x Surface Book, 1x Surface PRO )
c) Chat/Phone Support was usually able to help me with purchases/account issues
d) I consider myself techsavvy enough to deal with most other issues

Oh no. Now the major urban dwellers will understand what Microsoft hardware support has been like for the red states.

I for one found there in store experience to be great and a fun place to browse their products. At far as customer service the one in Miami was top notch. I had the replaced surface pros (unfortunately) with no issue at all. Even when they couldn't replicate the problem I was able to show them proof via video recordings and they honored that and gave me a refurbished newer upgraded model. Those things will probably never happen online. Hopefully they will have a back up plan in place.

Its not only US consumers who are affected. Pre - Covid, I visited the US twice a year from South Africa. The main NY store and Aventura Fla Mall stores were places where I valued the personal in - store service & tech support, interaction with Microsoft staff. and live courses. I bought hardware, software and accessories at these stores (and a few others in Florida). Now that Microsoft has closed these stores and said we don't care about you, the individual customer, I will buy from Best Buy & B & H. So no more Surface products for me - yes I will continue to use the Windows platform, but never another Surface product.

Why? How does them shutting down their store affect surface? Hp, Dell and others don't have stores either. The biggest section of the pc store at Best Buy's are the surface sections. There is no difference in surface or other brands at Best Buy and you wouldn't know any better which brands support customers. I care far more about the hardware than some elusive big company behind them.

Personal service at the Microsoft stores positively impacted on my purchase decisions. I bought numerous hardware items, mainly Surface products, over the years in these stores, and was able to get them replaced, swopped out, serviced etc with ease. Yes you can purchase at Best Buy, but the personalised service I received at the Microsoft stores has now been lost, and I am now brand agnostic. Microsoft's loss I guess.

Completely agree, Zac. It was the biggest issue almost everyone immediately saw with the closure of physical stores. Online support is awful and regardless of plans to move store personnel into other support roles, I don't see that changing. When you're dealing with a customer via online chat/phone, you're going to stick to the script MS forces you to use and nuance gets lost along the way.

This is the biggest reason for Microsoft Stores. I could walk into the store and get help immediately. They could play around with my machine and give me another right away if there was an issue. No spending hours with someone from India trying to understand what I was trying to say or trying to diagnose when they couldn't see what was happening on my device. Plus, I loved being able to browse all the accessories and other things there.

Yep that is a big negative for me! Also I do not see the value in the Surface Pro 7. Bought my gaming laptop from a local costco with 90 day return policy and two year included warranty to boot! They also carry the Surface Pro in store and more models online.
My thoughts on the Surface Pro 7:
A great 2 in 1 for sure! I wish I could afford one though! I did not need the 2 in 1 form factor so I opted for a thin and light gaming laptop. Nothing fancy, just an AMD Rysen 7, 3750 with 8 gigs of ram, M2 nvme 500gb drive, GTX 1650 gaming graphics along with AMD Vega 10 basic graphics, 15.4 HD screen, backlit keyboard, touchpad, usb-c port, 2 usb 3 ports, sdxc card reader, hdmi out, lan port etc. It cost me a quarter of the price with two years warranty, 90 day return policy. I have had it for seven months so far and it is a workhorse! I am a power user and it meets my needs well for video rendering and dics burning to an external blueray burner etc. To get this kind of power in the surface & pro would cost well it's hard to estimate as they do not offer that kind of graphics power only maxing out at Intel Iris Plus! The screen and battery on the Surface Pro are very good however the lack of graphics power is troubling and the price is astronomical for the iCore 7, 500 gb drive and Intel Iris Plus which is still not as powerful as this laptop! I just do not see the value here unless of course I absolutely needed the 2 in 1. The laptop I have is quite light and easily portable compared to older gaming laptops. they have come a long way recently. Also I have seen a few too many reviews with hardware failures on these Surface Pro 7's to make it a comfortable purchase even if I could afford one. Puzzled why the price is so high especially the higher specked ones!

Welcome to the world outside US.

Finally we get the same level of service the US does!
Windows Central Newsletter
Thank you for signing up to Windows Central. You will receive a verification email shortly.
There was a problem. Please refresh the page and try again.