Microsoft Store UK says HP Elite x3 launch has been delayed until September 6th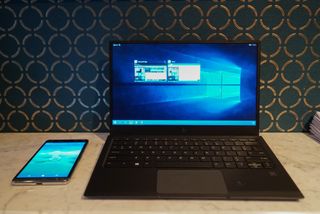 If you're been dying to get hold of a HP Elite x3 in the UK, we've got some unfortunate news for you. Even though the original release date was set for August 22nd at the Microsoft UK Store (and indeed other UK outlets), that date has been delayed again, this time to September 6th.
September 6th is a day after the supposed launch date of the handset in the United States, meaning if you pre-ordered from Microsoft in the UK already, you won't be getting your handset for another couple of weeks.
News of the delay comes via a Microsoft Store Support representative, sending me an email directly as I was asking about the status of my order over the weekend. The public Store listing (opens in new tab) for the Elite x3 currently lists the product as "out of stock".
The HP Elite x3 has had an interesting pre-order phase in the UK, with the original launch date being August 18th. It was then pushed to August 22nd, and has now been pushed again to September 6th. HP really isn't doing a good job at getting their new handset out to customers.
Hopefully this is the last delay HP will have to make, as we're dying to get our hands on one to mess with. Let us know if you pre-ordered the HP Elite x3 in the UK down below.
Windows Central Newsletter
Get the best of Windows Central in in your inbox, every day!
Zac Bowden is a Senior Editor at Windows Central. Bringing you exclusive coverage into the world of Windows on PCs, tablets, phones, and more. Also an avid collector of rare Microsoft prototype devices! Keep in touch on Twitter: @zacbowden.
What is the purpose of delaying?
Technical? Marketing?

MS just wanted to reinforce their "Coming Soon" slogan.

Probably both, maybe there will be another OS update before then that'll fix some bugs that testers found.

They could have at least checked the spelling when breaking such bad news :(

Bad spelling reputation lol.Aren't there editors though?

The device shouldn't ship with inactivated Features like fingerprint scanners it'll only cause negativity.

Yeah, but it's not a consumer device, so it will slide under the radar either way. It's nit as big a deal. And, remember that it runs Windows, so any negative press will have a relatively small impact.

This phone was announced months ago. Such "hype" for WP device, although a very nice device... I just wonder why they decide to announce these things so early before they are even available. Well, I can think of one idea.
.......
I just can't wait for the day for MS to have a device (like the iPhone/Galaxy) that will launch close to being announced, and be widely available to most, and on EVERY carrier.... Granted, this isn't slated as a consumer device, it is slightly frustrating that most of us (as a community) have been waiting for this device to release.. I bet most are like me, excited for this device to release so that WC can get their hands on a test unit. I'm pretty sure that's as close as I'll ever come to one.

I agree... The band 1 launch was cool. I don't care for duty hope... Just above it when it is ready. I am tired of being sold a future of hours and dreams that have not panned out. This is to Microsoft, but not limited to them. Posted via the Windows Central App for Android

Yes!... Now, I will contradict myself, here for just a moment.. Lol. If MS does indeed have a Surface Phone coming to market mid 2017 they can just go ahead and let me know that right damn now. Lol

What else could they do? With the imminent closure of the Lumia line, and the speculated Msft phone far in the horizon, they had no choice but show this HP phone quite early. Otherwise the platform would've looked desert.

True..... Just one thing. MS has not officially said that they are done with Lumia. Now, I'm no fool, but I do believe there is a chance, at the very least in hell, that we could one day see a new Lumia.. Agree?

Sorry, can't agree. The only people left working on Lumia after 2015 reorg was the team in Tampere. Tampere site was closed this past May. If it says Lumia, it will be some other totally different team somewhere.

Lol. First off, I'M SO DAMN SICK OF THIS FREAKIN APP FORCE CLOSING WHILE SCROLLING!..
.....
Anyways, yeah, what am I thinking. I'm in denial. Lol. Might as well wait to see what Panos's team comes up with.

Great. Why wait until the expected shipping date. Was expecting a shipped email instead of this crap! I've not even been sent any communication yet!

Bugger... I got my preorder delayed last week to. I think im out. ring clove and cancel me thinks

Makes you wonder if they sold that many (high demand) or if they have trouble even producing them.

Since 2010 some of you guys have been asking that EXACT question about WP devices..... Now, honestly. Do you think it's because of high demand?. Lol

Wouldn't say high compared to Android or whatever, but just higher than they expected at first.

I know what you mean.. Still kinda funny, though.

Not really surprised!!! This has been a reoccurring theme with Microsoft and some of their vendors. On the flip side, better to get it right now than to incur the wrath of the community later ;)

Pfft, like MS learned from the 950's or the AT&T neutered 1520...

Can't see how this 'HP' device delay can be blamed on 'MS'. Or am I missing something??

I suspect it's W10M causing the delay. I still have lots of issues with Bluetooth.... Lots. My hope is they are fixing in the OS then releasing the phone. They can't have a set of terrible reviews for the X3 device like they did for the 950s due to software. That would lake be the last time people give it a chance.

No issues with anything on my 950xl after FW update. BT/network both work really well. A huge improvement. It seem that no one is happy unless they can nit pick or decry a product. Maybe its a device issue? It does happen.

For HP's standards,, that's a possibility. There are wifi issues.

Haha, these delay stories are probably like obituaries for celebrities - the editors probably prepare them in advance to be ready for the inevitable... :)

That sucks. Not the best of release for the newest phone to represent Windows Mobile. Posted via the Windows Central App for Android

I'll stick with my 950XL until the Surface phone arrives next year

Are you certain about the surface phone arriving next year?

I've no idea, Microsoft haven't even confirmed they're working on one, but if they don't produce a flagship Windows Phone, their small market share will reduce even further...

I see you are just having faith.If it does happen I'll be glad also

I'm sitting tight as well. I look forward to hearing the positive reviews over the next few months when the novelty wears off. If no 'surface' then Id look at elite. At moment, too expensive for what is essentially, another windows device. Like you, I'll enjoy the 950xl for a while longer.

Me using 950xl too but I've just lost hope with MS and the Surface Phone. Might as well believe a unicorn and fairies will arrive.

Received a call from Microsoft to tell me the bad news. Oh well, hope the saying "Good things come to those who wait" applies :-)

Why don't they mention the reason? That unMicrosoft like....

Don't hold your breath, Microsoft should be rebranded 'Microsoft uncertainty,' as nothing from them is right apart from a label saying "this might or might not work" if anyone can destroy a product immediately, they can. This looks like a great piece of kit, and just maybe could be the saving grace of this ailing platform. In the right hands Windows 10 could be brilliant, HP are taking one heck of a chance with these guys, while it might be pricy and directed at a niche market for now, a bug infested platform from Microsoft could kill it within a week, I just hope HP have the gall to stand up to them in the first instance and tell them this goes out perfect, no second bests, no beta, no patches, just right!!!
Once the reviewers get their hands on it and knock it down because of bad software on board, It's buggered. Already it's had scant reviews which uphold the phone as a handset in build quality etc but they have already pointed to 10 not being ready for launch.
People here are talking about a surface phone, where did that come from, and going by the half hearted attempt with the 950 it won't be anything brilliant, I have the 950xl, but it's already been named in this house as the ' uncertainty' you just don't know what it's going to do next.

Where does it say MS messed up. It's not just their store that doesn't have it! Read the full story!

The firmware broke just yesterday

This is going to cost microsoft some serious bucks, you bet HP is not amused with the time to market of this phone. Launched in March, delivered almost 6 months later, if they make it. Thats an eternity in mobile phone world. It almost worthwhile to wait for the next flagship.

Read the whole story. All resellers, not just MS.

Why is this MS fault?? Surely HP provide them to the stores? If Clove haven't got them either in the UK, I've checked, it raises concerns about it being MS's fault. This smacks of HP having a production issue or something, or unable to meet demand, or maybe the market they were intended for are getting the first units?

I pre-ordered mine from clove and DHL says it'll be delivered 29-8 before 8pm (it was last seen in Los Angeles)- btw I live in California. Maybe HP only released a small batch... Dunno. We'll see... *giddy like a schoolgirl*
Windows Central Newsletter
Thank you for signing up to Windows Central. You will receive a verification email shortly.
There was a problem. Please refresh the page and try again.