Microsoft Store for Windows 10 picks up dedicated Edge Extensions tab
Microsoft Edge extensions are getting a more prominent spot in the Microsoft Store. on Windows 10.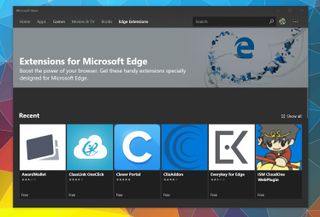 The way the Microsoft Store on Windows 10 has handled Edge extensions, finding what you're looking for hasn't been the most elegant experience. While extensions are collected in one spot, accessible from the Store's front page, their grouped together with no category distinctions. However, it looks like Microsoft is gearing up to make that experience a little more organized.
With the latest update to the Microsoft Store on Windows 10, has added a dedicated "Edge Extensions" tab for at least some users. It's unclear at the moment if this is an A/B test or just a slow rollout; so far, we've only spotted it on one machine running a non-Insider Windows 10 build. However, for those who have it, the tab appears along with the other categories at the top of the Store, just to the right of the "Books" tab.
Along with a new tab, the Edge Extensions page itself has received an overhaul. While it previously lumped available extensions together, the new page is broken up into categories, including: Recent, Adblockers, Password Managers, Productivity, Shopping, Social and entertainment, and For developers. While categories would have been handy before, it's likely Microsoft is making the move now because it has enough extensions to actually fill out the page for each category. It's a small change in the grand scheme of things, but the new section should make browsing for extensions a little more convenient.
To check out the Edge Extensions tab, you'll want to make sure your Store app is updated to version 11802.1001.8.0. However, be aware that, whether it's because of a slow rollout or an A/B test, it isn't available to everyone just yet.
Thanks to @asmitde for the tip!
Windows Central Newsletter
Get the best of Windows Central in in your inbox, every day!
Dan Thorp-Lancaster is the former Editor-in-Chief of Windows Central. He began working with Windows Central, Android Central, and iMore as a news writer in 2014 and is obsessed with tech of all sorts. You can follow Dan on Twitter @DthorpL and Instagram @heyitsdtl.
Now we just need a themes tab 😁

It looks like it coming from all of experimenting they've been doing on the release ring

Haha...that's exactly what I said...out loud even!

About time, the main reason I still use Chrome every so often is its extension support for my PureVPN, UA Spoofer and Bing Rewards. Really need Edge to be as consistant as Chrome is for me because Chrome seems so resource hungry on my PC.

They still need to bring Books tab into Microsoft Store (for everyone else outside of US)

The extension section is kinda messy. They should add some filter options imo.

Well, I don't have the labeled tab in the top row, but if I search for "Edge Extensions," the screen displayed above comes up. So I sort of have it and sort of don't. Or probably the accurate thing to say is that I do have centralized access to the Edge Extensions, but not the one-click way of getting to them. Which is so Microsoft -- halfway solutions as a service -- that I don't even have the heart to complain about it.

everyone already had access to the extensions page. now they just put a link at the top.

@RohanRonQM. That's what hilarious about it, any sane person would go err "how about a tab in the store for more visibility?" Instead of just using "explore more extensions" in edge or searching the store? After all, there are some out there... that... are eating tide pods... 😶. But even then, it was a bizzare omission unless it was in a internal build but someone didn't have their coffee and forgot one of the key "mundane details", (for the public builds) just like Michael Bolton 🤣 from office space.

The article literally states that it might be they are doing a/b testing or it's being rolled out to everyone now since not all of their machines have it yet. Give it some time.

just click on the " Explore more extensions" link from Edge.
one-click solution 😉

So. If you search for Microsoft rewards does it show up yet?

But they still wont fix edge having problems opening pdfs since a month
Windows 10 mobile

it will be fix tomorrow patch Tuesday 13

I have Store version 11712.1001.20.0 and have the extensions tab, although many extensions are missing - there are only 11 available.

your on a older store version

This hasn't rolled out to the UK yet, I'm on insider release preview

rest your store it may pop up on your device 11802.1001.8.0.

They need this for Fonts.

Edge still feels like an x86 app to me... Until they make it a true store app. It's still not decoupled from the OS for quiker updates.

It's because UWP apps won't work without EdgeHTML. So because of this, they don't want to update such an essential part of the OS too often for the general public, because this way, they have much less chance of screwing up everything 😁 And since EdgeHTML is so closely bond together with the OS, they also have to change some other OS level stuff as well, in order to make it all work again. And don't even get me started on how important this will be with PWAs in the future. So the maximum they can do right now is updating the frontend and other services through the Store, but without the needed backend changes, they'd hardly implement any new features that are more than redesigning the UI a bit.

That is why Edge has to suck?

When on mobil... oh wait... Sorry guys, I couldn't help myself :P

Jeez, they really need more resources.... I hate to wonder how long it will take Microsoft to enable Cortana to more markets/regions. As it's taken them this long to give us a dedicated extensions tab, the page was already there but no freaking tab. You'd think they would add the tab and the page at the same time for all regions but nooo, Microsoft doesn't do anything logically 🤣. They are really in a world of their own aren't they lol.

Not got this in the UK, Release preview insider. Mind you I don't have Books either...
Windows Central Newsletter
Thank you for signing up to Windows Central. You will receive a verification email shortly.
There was a problem. Please refresh the page and try again.