Microsoft Stores hosting midnight launch parties for Xbox One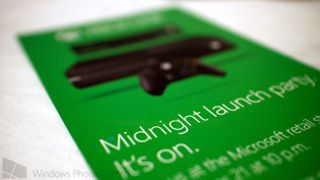 November 22nd is a big day for Microsoft. The Xbox One is launching that day (along with the Nokia Lumia 1520 and 2520 in the US). To celebrate, Microsoft Stores are having midnight launches. The parties start at 10 PM local time on Thursday, November 21st. There will be entertainment and giveaways throughout the evening.
Arrive early to secure your place in line. The first 50 people will receive exclusive prizes. The stores are also going to showcase the latest Xbox One games like Ryse, Forza Motorsport 5, Dead Rising 3, and Killer Instinct.
Preorders for the Xbox One are now hard to find, but the Microsoft Stores will have some at the midnight launch. Supply will be limited and consoles will be sold on a first-come, first-served basis. Are you planning to go to your nearest Microsoft Store? Find the nearest location here.
Don't have a Microsoft Store nearby? Don't worry. There are over 10,000 other retail locations in 13 countries with their own midnight launches. You're even luckier if you're in New York City or Los Angeles.
Are you planning to attend any of the midnight launches? Let us know in the comments!
Source: Microsoft Store
Get the Windows Central Newsletter
All the latest news, reviews, and guides for Windows and Xbox diehards.
Y'all need tu make one in Richmond Va. Y'all made in Northern Va.

Exactly, unfortunately for college, I'm not in Northern VA so Richmond should've gotten a chance atleast.

Well if it makes you feel better, we are stuck with shitty traffic up here.

Gah, I might have PTSD from having to drive on 95 everyday. And even when I wasn't using any highways it took me 1.25 hours to travel 40 miles. Can't wait to move...

actually, we got TWO here in NoVA!! heh, im not complaining, but with so few stores around, seems like an odd distribution..

..on the plus side, yall do have a warby parker store, which is pretty neat, and also seems really odd it'd land there before here, but what do I know..

If they give 2520 for discounted price for every xbox one buyer,wont it be awesome deal?

It would, but they would never do a deal like that at launch.

But why would they do that and not sell it with a surface 2

I will be at the one in Cincinnati, OH

If only I didn't have school at 6 and I didn't live over an hour away from the closest one....

Now, normally I would not condone skipping school but consoles don't launch very often and if it were me I would for sure skip that day!

Thursday, 9/9/99.....school skipped.....proudly because it's thinking.

Need more Microsoft stores in Canada... Seriously there's only 3!?! None of which are within 2200kms of me...

Yes, it is too bad, but at least we have universal health care. :P

As far as I know, in Europe we have none. :|

cant wait for the one!!!!!!!!

I was anticipating the PS4 for the longest time, but now I can't wait for the XO. I'm still kind of annoyed that I'm forced to have a Kinect, but everything else Microsoft is offering makes up for it. I probably won't be attending a launch party, though.

Whats wrong with kinect? It is so good, that even Apple wanted to buy it. Soon it will appear in Apple devices as well.

It's unnecessary. Third party developers won't utilize its capabilities, especially for cross platform games, and I honestly could care less about the voice controls and clunky motion controls. Plus they could cut $100 USD off of the console's price tag without Kinect (although personally I don't think the Kinect justifies the XO being $100 more than the PS4).

I never buy any console on launch. They always are bigger than necessary and have fewer features than possible and fewer launch titles than desired.
So I tend to only buy consoles a few years pass their launch. So I'll stick to the PS3 and skip PS4 and XboxOne for a couple of years.

I usually wait a year or so. IMO two plus years is too long for me. But until I get an XO I have my PC and Wii U to occupy me.

Buying one on launch day.... Even the wife knew she didn't stand a chance! Getting extra controller, charge kit, maybe new turtle beaches... Give my kid my old ones...awesome !

Before you buy those turtle beaches remember that 3rd party headphones dont come out til 2014...

Eh. Then you're not the early adopter type and never buy things on or near launch days. Unfortunately I buy almost everything on launch day. From my HP Prime Graphing Calculator (which didn't let me calculate more than two terms until I updated it), to one of the first Windows Phones ever (HTC HD7S, almost was an HTC Surround but someone told me of the HD7S when I complained about the size), to my Surface Pro 1 (no problems whatsoever)

No, when it comes to consoles I'm most definitely not an early adopter. Actually I admit I make a huge effort to NOT be an early adopter. Sometimes it pays off (holding on W8 for example was the right call for me as 8.1 is miles better). Sometimes it doesn't (I bought a Nokia L800 on launch day just to find out two months later that it had a condemned OS).
Other times I do it to get the price down. But it's not easy. Oh, not easy at all.

I agree with waiting I bought a ps2 on launch day and it was the worse thing, it had so many problems. I had to buy a new one two years later. Never again. My 360 is a hand me down. Since ps4 is out I wonder how good the deals will be on ps3. I still have never played one. I'll probably get an Xbox one but not this year.

I trust in Microsoft to never let the problems with the 360 ever happen again. Just look at the Xbox Live fiasco that one holiday it went down for like a week. They promised it'll never happen again. Guess what? It never did. It hasn't gone down even for maintenance! They designed the Xbox One the way they did for a reason. To not repeat RROD and any other heating problems. Xbox One was designed to stay on for 10 years straight. Also reports from people who got it early say the console barely even gets warm and is very quiet. MS has learned from their mistakes. They are playing it very safe this time

Envious of all you above & later on below also. No sign of Surface here at all!:-\

I am told old to stand and wait for one anymore. I bought the Xbox just before thanksgiving. It was a present to myself. I waited in line for the 360. But this one, Amazon. They just shipped my games. So u am gitty. But old. Have fun everyone who does.

I went to the Halo 4 launch party at the Microsoft Store and discovered the same thing: I'm getting too old for this. Had to keep taking breaks by going out to the regular mall area just for the peace and quiet compared to the din in the store. Amazon delivery for me as well.

I am with the old folks, too noisy and too late for me, BUT I do have a son who works at a Microsoft Store so I will be getting my pre-order at the launch event. Now it is within his decision making ability to decide not to hassle picking mine up....so part of me is thinking I should have ordered online :)

Going to the one in Oakbrook, IL. I ordered my console from Amazon, but not going to miss out on the festivities. Pretty excited; I've been constantly checking the countdown clock.

I'll be on may way back from NYC to STL. I can't hit either one...dang

Cool, what time u plan on getting there.? I am also going to the one in Oakbrook.

I will have the XB1 sent via UPS but if they launch the 1520 at midnight I will likely be at the Mission Viejo, Ca store.

Hahaha.. Nah in front of you man

I can't afford to wait, day one (pun) me, but via Amazon.

They're giving out wristbands for free food at a food truck presumably outside my local MS Store... plus prizes and a DJ and, from what I'm told, "Lots of surprises". Should be fun. I'll be there after work on Thursday - nothing better to do ;) I also took Friday off so I've got a full three days with my new tech!

I have a pre-order from the MS store in Toronto. Never been to a launch party so I'm gonna go check it out. If it's too crazy I'll pick mine up later next week.

I have mine reserved at target but may go to this and get one to secure exclusive shit and party. Turn down for what?

Hahaha, don't care for Freebies (not really), wake me when it's Friday.

I preordered it shipped. I am now waiting.

No midnight launch where I am, in Australia :( But I have preordered the Xbox One and a couple of games and will be heading to the store right after work the pick them up. Can't wait. This weekend is going to be awesome! :)

Yes there are, have a look online, some Harvey Norman stores are launching it at midnight in Australia ;)

Got one in D'ware not too far from me, but I'd have to camp out the whole day in the mall and take the next day off!

So I wonder how this is going to work for the new Jacksonville store that opens Friday?? I was already planning on standing in line for the opening and to get Macklemore tickets. Will definitely need to get there even earlier if they are doing this here.

CAN'T WAIT!!! Going to my local MS Store right here in St. Louis! Taking some friends with me and we are going to make a whole night of it :-D. Luckily, I'm off work Fridays!

I'll be at the San Antonio, TX store for the party, my pre order from ms store got shipped, but I have never missed a midnight launch for Xbox(original Xbox, 360, and now ONE), halo, or gears of war

Cool to see another San Antonian on here! When are you planning on getting there? Do you think they'll have things going on when the store is open before 9 on Thursday?

Will be in CO store, well maybe if they give me a burger...

I miss everything because I live in Mississippi

Do you think they will sell a million units on day one like sony did ?

Sony released in how many country's compared to Xbox one????

And here I am hoping for Microsoft to bring its stores to Europe..

Apparently mine is being delivered today from GAME. Wish Microsoft would build me a local store though lol

My X1 will be shipped, but I'll be at the Las Vegas store to pick up forza and dead rising.

Gonna try my luck at a GameStop. No MS store around here...

I will be at the Huntington, NY store myself. Perhaps there is a chance of meeting Dan since he's here in NY?

DHX shall be attending, right here in Xbox One's hometown: Seattle, WA!

Beachwood Ohio, I'll be there.

You know we take the piss out of the iToy fans for doing this...lol

Visiting California from Oz so will be at the San Francisco store. Yeehooooo!!

Anyone going to the Roseville ca. store at midnite thursday? If so message me on xboxlive deezusmusic. Im gonn need $1000 then to pick up a 2520 and an xb1.

I'll be watching at home on Xbox Live, hopefully from my new Xbox One console if Amazon gets it to me a day early.

I will be attending a launch. MA.