PC or Mac? Microsoft Surface Book versus 13-inch MacBook Pro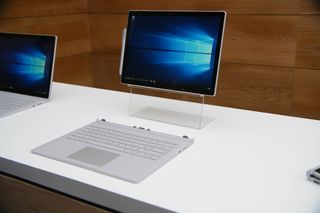 It doesn't matter how you look at it, Microsoft's new Surface Book will be compared to Apple's MacBook Pro. They're both high-end notebooks, both targeted at people who want performance, productivity and portability.
We've only had a short time so far with the Surface Book, but on paper at least here's how it breaks down.
For the sake of comparisons we've gone with the base model of each.
Category
Surface Book
MacBook Pro
Display
13.5-inch Pixel Sense display
13.3-inch LED backlit IPS
Display Resolution
3000 x 2000 at 267ppi
2560 x 1600 at 227 ppi
Software
Windows 10 Pro
OS X El Capitan
Processor
6th Gen Intel Core i5
5th Gen Intel Core i5
Storage
128GB
128GB
Memory
8GB
8GB
Graphics
Intel HD graphics
Intel Iris Graphics 6100
Rear Camera
8MP with autofocus, 1080P recording
None
Front Camera
5MP
Full HD (1920 x 1080)
Facetime HD (720p)
Speakers
Front-facing stereo speakers with Dolby audio
Stereo speakers
Ports
Two full-size USB 3.0, Full-size SD card reader, Surface Connect, Headset jack, Mini DisplayPort
Two full-size USB 3.0, Full-size SD card reader, Two Thunderbolt 2, Full sized HDMI, Headset jack
Battery Life
Up to 12 hours
Up to 12 hours
Pen
Surface Pen
1,024 levels of pressure sensitivity
Magnetic storage
No pen
Weight
1.6lbs
3.48lbs
Dimensions
Laptop: 9.14 x 12.30 x 0.51- 0.90 in ( 232.1 x 312.3 x 13 -22.8 mm)
Clipboard: 8.67 x 12.30 x 0.30 in (220.2 x 312.3 x 7.7 mm)
12.35 in x 8.62 in x 0.71 in (314 x 219 x 18 mm)
Price
$1499
$1299
It's kind of unusual to come across a product that's priced higher than a competing one from Apple. But then with the Surface Book you're not just getting a laptop. Microsoft calls it the "ultimate laptop," because it's actually a two-in-one with a detachable tablet portion complete with support for the Surface Pen. You also get a rear camera, something familiar on tablets that you don't get on a MacBook.
Make no mistake, both of these are premium notebooks. Both metal, both packing glorious, high-res displays. But one area the MacBook Pro is falling behind Surface Book is on the internals. Many of the base specs are the same across the two, but as yet the MacBook Pro hasn't been updated to Intel's new 6th Gen, Skylake CPUs. It also, believe it or not, has a lower resolution display with a lower ppi (pixels per inch) value.
Both are packed with the ports you're going to want access to, but the Surface Book has an ace up its sleeve in being compatible with the new Surface Pro 4 dock. This adds yet more connectivity.
When it comes to software of course, it's Apple's and oranges. If you want OS X you go MacBook. If you want Windows, you go Surface Book. But, what if it doesn't matter? What if you just don't care? There's a strong case to be put forward for both, but the Surface Book might just have the edge right now. Maybe things will level out a little when the MacBook Pro gets its next refresh. But right now, this is what we've got and the Surface Book looks like its pulling out in front.
And if you're prepared to spend more and ramp up the specs, the Surface Book can have an NVIDIA GeForce GPU, too. You won't find dedicated graphics on any of the 13-inch MacBook Pro line, regardless of what you spec up.
Lumia 950
Surface Pro 4
Surface Book
Microsoft Band 2
Richard Devine is an Editor at Windows Central. A former Project Manager and long-term tech addict, he joined Mobile Nations in 2011 and has been found on Android Central and iMore as well as Windows Central. Currently you'll find him covering all manner of PC hardware and gaming, and you can follow him on Twitter and Instagram.
Why couldn't you guys (WC) show the specs of both PC and Mac with the most basic and most high end specs side by side?

I'm wondering if the surface book has a real sense camera for Windows hello. Someone answer please.

Yes, Windows Hello works with the Surface Book.

Thanks guys. After posting the question I saw the answer in the previous posts.

I'm not sure it's so black and white. Perhaps if the Surface Book was priced the same as the MacBook, then it would be a win. But at $200 more im not so sure. Especially with the Surface Book being thicker when folded up, and having a wobbly screen, it wont feel as premium. P.s. I'm a little confused about the weight listed in this article, is it just the weight of the tablet? What is the weight of the entire unit?

Agreed - I love the design of the book but that wobbly screen doesn't scream premium and I could imagine that getting annoying. I've seen videos where people are trying out the keyboard and hammering away at a fair pace and the screen shaking. Everything else is premium, it's a shame that ruins the experience. Otherwise I'm intrigued and can't wait to try one out!

What wobbly screen? Did you even watch the press launch?

So glad someone understands where I'm coming from on that aha. It's a real pet peeve of mine. Screen wobble while typing is cheap and frustrating. MacBook's do it well because it doesn't shake and the lid can still be lifted with one finger.

Haven't tried one out yet? How do you know it's wobbly then? That hinge looks pretty solid

You can tell from videos. Check out TechnoBuffalo's video on YouTube specifically, they show the wobble at the end.

Don't spread lies! I watched that video. The screen wobble Todd Hassleton were referring to was from tapping on the screen while it's in laptop mode & it only happens because the whole device is so light that tapping hard on the screen may cause the bottom to lift slightly. It's absolutely NOT because of poor craftsmanship or the hinge not being firm enough. Flipping the screen around then using it in "presentation" mode or just steading the base with you hand resolves this issue. Sheesh

That is the weight of the entire unit. Besides, it may cost more but you get more as it has a higher screen res and a higher PPI count (something that Apple has led the market on for years now, not any longer) and even then you have to count the 'Pen' as Apple charges and extra $129 for theirs so the gap is even smaller...

Agreed. The superior hardware on the Surface Book more than justifies the $200 price difference. The Macbook is just clamshell while the Surface Book's architecture is more complex & probably more costly to produce. The mac also has a smaller, lower resolution, non-touch screen, no pen, no pen support, an older processor, no rear facing camera AT ALL & a much lower res front facing camera.

Not true. It is the tablet only. The newer articles here have it right: Weight as laptop
Non-GPU: 3.34 lbs., GPU: 3.48 lbs. Weight as tablet
1.6 lbs.

You are getting a tablet in the deal as well. A ipad is a minimum of $500. plus no touchscreen. how is the thickness relevent at all for a laptop? For a tablet it might matter because of the feel in your hand. For a laptop, weight is the important factor. That said, stowing it in a bag might be a bit ackward.

A wobbly screen is a minus. I suggest that you try it and see if it is actually bothers you. Pen and touch add to the cost, so a comparison is difficult. It adds value for many people, but maybr not you.

Blake, are you kidding me? You want to ignore the massive advantage the Surface Book has over the MacBook Pro and instead focus on a perceived issue that one review out of dozens mentions in passing. And yes, you can see it wobble when he is waving it around in the air but there is absolutely nothing in that video, or any otner, to suggest it affects usability in any way whatsoever. Just in case it needs to be spelled out, the Surface Book's massive advantage is that it makes owning a tablet redundant as well as being a high powered, premium laptop with zero compromise. So you can get the $200 price difference back by selling your iPad and still have few hundred left over to up the spec on your new Surface Book. Cool, huh?

Much rather get the Surface Book than a Mac.... since I can use all my stuff on it!

This is cyberbullying. The Surface Book just destroys this.

Why no mention of the Nvidia discrete GPU in the Surface Book?? That gpu makes the Surface Book even better when compared to the Macbook Pro! Both for gaming and productivity. AND, it's located in the keyboard, while the CPU is in the "screen". The tech geek in me basically cry of joy over the Surface Book. Amazing creation! Now, correct the article please :P

because not all variants of the Surface Book include it, so there is nothing to correct. if you look at the store site, the cheaper Surface Books do not have the nvidia gpu (listed as dgpu for dual gpu) the dual GPU variants START at $1899. the $1499 version mentioned in the article does not have the nvidia gpu http://www.microsoftstore.com/store/msusa/en_US/pdp/productID.325716000?...

Ahh.. I hadn't noticed that! The Surface Book and Band 2 isn't up on the Swedish store yet. My bad. Still. The cheapest Macbook with a dGPU is a lot more expensive than the Surface Book, plus, it starts at 15.6", compared to The sBook's 13.5".
Damn i want one..

They are comparing the base model. The dGPU is not in the base model.

Besides, if Apple had a discrete GPU option, it would be such an insultingly overpriced upgrade option that there really would be no comparison anyway.

There is mention of the NVIDIA GPU. Read the post again and you'll get the idea.

It wasn't in the original post, he added it after i mentioned it :-)

Surface book here I come!

I don't think mac will challenge this laptop. They known not to make the most high spec stuff, and if they really wanted to, nothin is stopping them from doing so. Its just a matter of choosing windows or os x. But I think after today's event ms is now ahead in the laptop competition. Surface book can't be compared to anything out their. We have to wait and see what apple come up with.

Simple things like the touchscreen and pen input, and genuine tablet mode to me places them in totally different classes. In the end, the MacBook is just an (expensive) laptop. The Surface Book is in a league of it's own.

Agreed! Love the new laptop :) But I myself am a Surface Pro kind of person! haha. I love my SP2 and SP3 my partner owns! Damn you microsoft for making desirable things!

Hahaha...finally...apple are having their a** handed to them...
"what good is a pencil without an eraser"... I love that..it looks like Apple and Microsoft are trading places...

my surface pro 2 is sad.... as it will probably be shipped off to someone else to make way for the Surface Book...

Going up state to live on a server farm?

LOL. Where it can crunch data all day?

Frankly, there is no WOW deciding factor in either that matters to the average consumer that much. It's just a matter of Mac OS vs Windows. I'm 98% sure The average consumer doesn't care about if the processor is a 5th or 6th gen i5

Watching the video live I actually blurted out "WOW" when the screen detached. So for this consumer at least, surface book has plenty of WOW deciding factors.

Ok,me too :P I'm just saying it's not gonna AMAZE everyone. Everyone else I know went "meh"

Correct. Which is why the average consumer is definitely NOT the target market for the Surface Book

In the Mac world, you could say that Macbook Air and Macbook are targeted towards the average consumer. Yet, I see so many of the students at my college with Macbook Pros when they have no need for the extra power. In fact, some of them will get a 4 GB Pro variant as opposed to a cheaper 8 GB Air. A similar scenario could be applied to Surfaces. Looking for an iPad? Surface does more, at the same price. An average consumer for a computer? Surface Pro is perfect. Tempted by Surface and could spend 'just' a little more? Surface Book is the way to go.

The 4GB Pro is non Retina and about the same price if they want more storage space from the standard hard drive. Every Retina MacBook has 8GB of memory minimum.

He's referring to the old 2012 model that they still sell for some reason. Probably upgradability and cd drive if you still like those things?

Why not sell it? After al, why say "this thing is profitable, let's take it off the market." If people are willing to buy it for whatever reason more power to them. But it is an outlier machine and the vast majority of MacBook Pros are 8GB minimum.

Not much wow to the Mac Pro's either. Yet they sell. I imagine getting your hands on the Surface Book provides more "Wow" than a Mac Pro to even the average consumer.

You're buying into the brand, not the product. Owning an iMac or Macbook or whatever they're called is a status symbol. It's saying "I've got extra cash to blow on something that is overpriced and show it off." Do you all remember the "I'm going to Starbucks to write" phase? It was always on a Mac for a reason :P Showing off how they can pay for overpriced coffee while using an overpriced computer. haha. What a symbol indeed xD

You hit the nail on the head! Apple are only interested in establishing themselves as a luxury brand. It's not about productivity & transforming the way we get work done on our phones and PCs but rather becoming the Gucci or Louis Vuitton of tech brands. This is why their website looks like a jewelry catalogue with little or no mention of what they're devices can actually do. When you consider the plethora of ways in which the Surface Book can be used to create & compute it puts the Macbook Pro to shame. It's more than just elegant. It's powerful & versatile allowing us to compute in ways we couldn't before. That's innovation. The Mac simply does things the same way they've been done for years, albeit really well. The Surface Book is in a different league.

Hahaha, a symbol of "I have more cash than sense"...

It will if the sales person says this has the newest/fastest HW

You can't take a computer that's OS is called 'El Capitan' seriously. Honestly what in God's name were they thinking...

Probably trying to reach out to the increasing latino community in the US? Apple is pretty much seen as a rich-white-people brand so Apple has to try to mitigate the racial stereotype going forward to reach out to more people. Posted via the Windows Central App for Android

All of that is true, but why 'the captain'? It doesn't make any sense for an operating system. Actually, now that I think about it, none of their desktop OS names have never made any sense.

El Capitan is a feature (rock) of the Yosemite national park. OS X El Capitan is an improvization of OS X Yosemite.

Wow, you learn something new every day. Thanks for the info. Still a very stupid name for an OS

Well one could argue that the OS is "the captain" of your laptop/phone/etc.

They made it worse then, to me it sounds as if a rich-white-person who doesn't know Spanish named it, or one that does know Spanish but is arrogant. I know its named after a rock or whatever in Yosemite Nat'l Park, but most people don't.

It doesn't matter the reason. It still sounds stupid.

El capitan sounds like some college guys made the OS while drunk and whole OS was just joke to them.

Does the SB seriously weigh half as much as the MBP?

No, that's the weight without the keyboard. With the keyboard I think they are about the same. The article should use the weight with the keyboard to be fair. Not that it helps the macbooks case much...

I like the MBP and its ecosystem, OSX is much more stable, secure and better integrated...

It's quite easy to secure a house with only one Window. But regardless, security is relative, viruses spread where the most users exist, not many people target OSX or Linux because there's a much wider target on Windows.

No, seriously. Did you forget a /s?

I just don't know why MS made it silver and are calling it a book. It screams to much like apple for me to want it regardless of the differences. Make it black brushed aluminum or like a gun metal gray and id be into it. But thats me.

To make a device premium looking, you must copy at least some bits, because frankly, Apple pretty much nailed it with Macbooks. Now they're not afraid to be called copiers because Apple is guilty too: the iPad Pro being the perfect example.

I joked with my apple fan boy friend, sent him a picture and said its the new Mac Book Pro running Windows 10 dual boot, it took him a few minutes to stop being amazed before he saw the Microsoft logo on the second picture lol. Told him to watch the event all the way through and if he doesn't convert I'll give up trying. Give it another hour and we'll see what happens!

To be fair it's part of the Surface family, so they have to a similar theme in there design and presentation. I think this look matched the Surface Pro series and looks fantastic. If I had the money I'd buy All 4 devices- Band, Lumia XL, SP4 and the Surface Book.

Or Sony (apple ripped off vaio long before macbook existed ;)

@Zero. Maybe MSFT wants to go after the MB buyers. Windows PC buyers are not that used to pay expensive dollars after all to get a premium device.

You sound retarded troll!

Look at MSFT site and try to pre order the most expensive version; wait you can't becuase its sold out.

According to Paul Thurrott, the Surface Book has more pre orders than any other Surface ever

Well, I pre-ordered one, so the no sell argument is out of the window....

R u kidding??? #apple can't even make a touch screen laptop. #lol

To be more accurate, the weight of the Surface Book with keyboard is 3.34 lbs. Just the tablet portion weight 1.6 lbs. I'd still take the Surface Book.

Resolution: Equal. At this high res, going even higher is not an advantage.
Screen quality: Hopefully this is a good IPS screen on the SB.
Internals: Win for MBP. Intel Iris is very efficient, much more powerful than the non-iris parts and less power hungry than discrete parts.
Touch+Tablet mode: Obvious win for SB.
Stylus: Big win for SB. This will be great for graphics professionals who would otherwise buy Wacom's high-end offerings.

Wait what??? The sb uses a newer iris graphics core when detached from the base... With the base it gets discrete nvidia graphics. Major score sb.

This is not true. As stated in the article and on Microsoft's website the GPUs in the SB range are Intel HD graphics 520 and a Nvidia GeForce. There is no Iris or Iris Pro which are much better non-Iris parts because of the extra EUs and integrated memory. The discrete NVidia graphics makes it a more complex and power hungry solution which would not have been necessary if they had gone with Iris/Iris Pro instead of the HD520.

Will it be available in India?

The Surface Book isn't going to be a base buy, this is going to be a uber-high end buy. This is the laptop you purchase when you want the no compromises highest end performance wow factor, what the retina display MacBook pro used to be or the ultra high res Toshiba.

This, like the Surface before, is the shot across OEM bows, up your game. You laughed at the Surface and four years on you are imitating it you don't want the same mistake twice.

Why is there even a comparison,who choses Mac needs help

They probably invest a lot in the Mac OS. Me, the other way around. The applications I use is more available in Windows, so I won't be choosing Macbook even if it's better in the hardware side.
That said, Surface Pro 4 looks and priced better.

A Windows device automatically wins. Mac OS X is horrible.

Can anyone tell me if the Surface Pro 4 charges over USB, or does it need a traditional outlet?

Same as every other surface pro...it has a power brick.

A better comparison would be surface book and razor blade. Macbook is so out of the competition now it's silly to even consider it.

I thought the surface book had NVIDIA GPU

for 3 high ends only, the base and the second lower spec model uses integrated GPU (Intel Iris, if I am not mistaken)

Interesting that there's different versions of the base. Suppose it's good that there's options. Seems like the base/keyboard you get is just missing the Nvidia GPU since the Intel graphics are in the "screen"

The basic specs alone dominate a Macbook. Sucks to be a non innovating Apple Fan

Microsoft legitimately knocked it out of the park.

The Macbook Pro and OSX are now second class citizens.

Yeah - this is a WIndows-based site so I expect to see a lot of Apple-bashing type comments, some resonable, some kind of silly, but no one mentioned that Mac still has a MUCH better multi-touch/pressure sensative trackpad than any Windows-based laptop (and that's partly why touch screens aren't as necessary) and it does text rendering better than Windows (Windows ClearType is/was a disaster from the beginning and was never really fixed). It also does extended keyboards (multi-lingual keyboards) much better than Windows. All of these are reasons why the Apple may be a better choice for some people. That said, the new Surface products are really really nice and should do well, but I doubt they are enough to convince many Apple owners to convert.

To be fair, it could come with a free bag of diamonds and it still wouldn't be enough to convince many Apple owners to convert. But my HP Elitebook Folio 1040 G1 has a Synaptics ForcePad from a couple of years ago, so it is no Apple monoploy. I agree it is the best kind of trackpad by miles, but it does not do what a good stylus can do. Another big plus for the Surface line is the docking ability. I'm surprised they didn't call the Surface Book "the laptop that can replace your desktop", to match the Surface Pro marketing. But I expect this will make some inroads with students.

Not sure we are in a position to judge the track pad as we havnt used it. Seems to me though that is at least on par from what ive seen and read. Anyways if that is the only thing that a mac has that in itself says a lot! I gave up on Apple a long time ago as in the real world of international business my company would have folded if I continued using the closed high walls of Apple. Apple targets consumers, they do not have the capability or inclination to target enterprise (even SME's in many cases) whereas MS has a 95% user base around the world, most of them on Win 7, thats all about to change to Win 10 a MUCH bette OS and the hardware bar has been raised higher than Apple. This article really describes it well...http://betanews.com/2015/10/06/microsoft-is-back/

I don't know how long it has been since you used Windows to make that claim. ClearType sub-pixel rendering is the reason I still cling to IE for reading web sites instead of its more capable competitors. Seriously, have you even seen how bad text looks on Chrome? ​ClearType uses sub-pixel rendering i.e. the subpixels in a small pixel on your display to render text. This is more advanced than anything Apple has come up with regards to text rendering. ​I suggest you read up on the sub-pixel rendering part of the following article before making your uninformed claims: http://www.displaymate.com/Surface3_ShootOut_1.htm

This book is really ultimate!

Nice specs. Still don't like the Surface design language, but at least here we won't have that terrible kickstand mechanism. Too expensive for my tastes in any case, in all likelihood...

What else can a realsense handle instead of iris scanner?

Doesn't the Surface Book come with the base as standard? And don't all of the bases include an Nvidia GPU, even the base spec?

http://www.microsoftstore.com/store/msusa/en_US/pdp/Surface-Book/product...

Interesting that there's different versions of the base. Suppose it's good that there's options

No, have to spend at least $2099 to get the dedicated GPU...

Certainly blows Apple out the water, the only thing I will mention is you got the weight wrong, thats the weight without the keyboard.

Only 3 hours of battery life for the Surface book basically makes it DOA for an light weight mobile productivity device. Also the first hand-ons from Microsoft fanboys describe it as "bulky and ugly" and say that the gap is a real bummer. MacBook on the other hand runs MacOS and Windows, so it's best of both worlds. I guess most people will vote for MacBook plus iPad because of the superior battery life and far better ecosystem.

Ummm 3 hours? Where'd ya get that stat?

That supposedly goes for the tablet part with the base detached.

Truthfully the first time I used a macbook was last year. I found it so very complicated. I hear apple fans saying how easy it is to use. I who am a bit techie found it complicated. And also wasn't very inclined to sit and learn how to use it. It was a turn off from the get go. (like moving from win7 to 8.1 for many too steep a curve) and that turns average people off let alone techs! It wasnt for me. When my mate started showing the gestures (2 fingers for this, 3 fingers for that) I just kept saying to myself apple are going to sell these fans an extra arm with add on fingers to get all these gestures because 2 arms and 10 fingers won't be using it right! Jokes aside, I wanted a surface but now I'm get a book.

Surface Book absolutely destroys the MacBook Pro Posted via the Windows Central App for Android

I remember when it was Apples and Mangos :)

Apple crowd says "Too bad it runs Windoze." (Really, that's what a friend of mine said after seeing it). Point being that even though we love it and it's incredible and sexy, spec comparisons won't necessarily matter in the market.

In the global PC market (including desktops and laptops) Apple has only slightly higher market share than Windows Phone has in the global mobile market. Yet in the PC market Apple is considered a meaningful player and a raging success while in the mobile market WP is dismissed as a failure. Why?

The pricing is interesting. Most are saying MS priced to keep from competing with OEM. That seems nonsense as at any price this device competes with everyone. Here is another thing to consider: You price it where you have built the public up to expect it. Can't very well go on the stage, claim the device is better than your nearest competition and then price it significantly lower than the premium device you just built it up to be. Look at all the devices they covered. They gave just a very short tip of the hat to the new Lumia 550. But in reality, this show was all about "flagship." Top of the line Tablet, Laptop, fitness band, HoloLens, Laptop/2-in-one, phones. Nothing screamed budet or low cost. Everything is premium.
Windows Central Newsletter
Get the best of Windows Central in in your inbox, every day!
Thank you for signing up to Windows Central. You will receive a verification email shortly.
There was a problem. Please refresh the page and try again.