Microsoft Surface Hub is a new 84-inch 4K Windows 10 device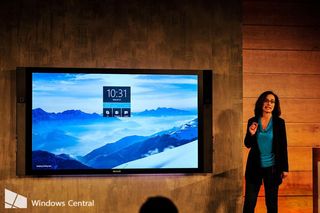 Microsoft used its Windows 10 press event today to show off an all new hardware device for Windows 10. The Microsoft Surface Hub is an 84-inch touchscreen device with a 4K display. The device would seem to be a new version of Microsoft's large Perceptive Pixel products but under the Surface branding
In addition to a Windows 10 computer, the Microsoft Surface Hub contains a number of other hardware features, including sensors, cameras, mics, speakers, NFC, and Wi-Fi. It allows users to do things like placing call, sho open whiteboard, connect personal device.
Owners can use a pen to write directly on the display of the Surface Pro Hub. User can grab and move items on the screen, move around the whiteboard space, open 3D models, zoom in and around that model and more.
The device will allow for sharing whiteboards, presentations, and more. Users can get get content from connected devices, both wireless and wired. They can manipulate content, which is later reflected on their original devices. Unfortunately, there's no word yet on when the Microsoft Surface Hub will be released, nor its price point, which we expect will be pretty high.
Stay tuned as we will continue to post information from the Windows 10 press event. To see it all roll in live be sure to join us in the liveblog!
If I could afford it, I want it!!!!!

Time for us to save our pennies!

SO getting this for my office. Been asking/wanting this for a while.

Same here. When will it be available??

Our office would LOVE these and use them.

Pleas add some Lumia lockscreen screenshots....

Lockscreen is kinda same!!

Pretty cool, but I won't be able to afford this!

I'd totally drop $5000 on this....

84" 4k screen with basically a PC and tons of sensors..I don't think it will be under 5k in the next couple years..

Can I watch tv(connect it to my dish set top box) on this LOL

Yes it is. This is just a really big, beautiful, and more innovative surface.

Yea, I'll take 3 (need one for my bathroom too)....

So, can it be used as a tv?

Good question. I'm sure it has some inputs like a normal TV. I would hope so at least.

Sure, its just a "smarter tv". Or maybe there is a home grade version of it which you can choose from.

This is for all of you that asked for a Surface with a screen larger than 12". Next time be more specific. ;) Seriously, my company needs a couple of these in our meeting rooms.

Okay I love the idea and the vision but why can't this extend to phones and tablets and PCs for something that is primarily software. You disappoint me sometimes Microsoft. Because buying $10000 device for something that we should he able to do on our phones tablets and pcs isn't consumery. It is enterprise-ish and not everyone would be able to afford that.

What specific feature are you referring to? Almost everything mentioned can be done by consumer devices. This just seems to bring them together into one device that can be shared by a group of people.

Take my freakin money already Microsoft.

This is the perfect gift for any Man Cave.

Seems nice but the most interesting que here would the price.....

The Surface Hub reinforces what InFocus realized a few years ago and why it created Mondopad; there is a need in business for an all-in-one device that facilitates collaboration across the globe and the room. www.InFocus.com/Mondopad [Full Disclosure: PR for InFocus Corp.]
Windows Central Newsletter
Thank you for signing up to Windows Central. You will receive a verification email shortly.
There was a problem. Please refresh the page and try again.