Microsoft Surface FY20 Q2 nears $2 billion in revenue boosted by holiday sales
Microsoft's second-quarter financial results for More Personal Computing and Surface nears $2 billion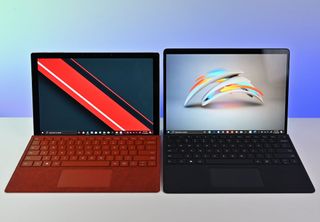 (Image credit: Daniel Rubino/Windows Central)
What you need to know
Surface revenue is up 6% year-over-year.
Microsoft pulled in nearly $2 billion in Surface revenue - a new record.
Steep cuts in holiday pricing and new devices drove demand.
Microsoft's earnings report (opens in new tab) is out for the second quarter of its 2020 fiscal year, and the company raked in 36.9 billion beating most estimates.
The big news for More Personal Computing, especially the Surface division is good all around. Microsoft is reporting $1.98 billion in revenue for Surface, which is up 6 percent year-over-year ($1.86 billion).
That number also is up significantly from last quarter at just $1.13 billion where there was a lull before new Surface devices.
Microsoft does not break out the numbers for Surface individually, so it is unclear which device is selling the best. Microsoft launched Surface Pro 7, Surface Pro X, and Surface Laptop 3 (including a new 15-inch model) that resonated with audiences. The company was also more aggressive than usual in pricing with some substantial discounts over the holidays to woo buyers.
Update: On Microsoft's earning's CFO Amy Hood noted that these Surface numbers were lower than expected due to "execution challenges". For guidance, Microsoft expects next quarter to see "single digit growth" with Surface as they work through those execution challenges. It's unclear what those challenges are, but Microsoft did miss shipping Surface Earbuds during this quarter.
See more of Microsoft's full quarter results.
Windows Central Newsletter
Get the best of Windows Central in in your inbox, every day!
Daniel Rubino is the Editor-in-chief of Windows Central, head reviewer, podcast co-host, and analyst. He has been covering Microsoft since 2007 when this site was called WMExperts (and later Windows Phone Central). His interests include Windows, laptops, next-gen computing, and for some reason, watches. Before all this tech stuff, he worked on a Ph.D. in linguistics, watched people sleep (for medical purposes!), and ran the projectors at movie theaters because it was fun.
Great Job Surface and Microsoft!!! Will be getting a Surface Neo for sure this year...as well as a SX and possibly a Duo too.

Huh, that update is curious. I wonder if their previous guidance assumed Neo and Duo hitting this quarter. Or did they run into supply constraints with the new models?

Yeah, no idea. Could be a million things from manufacturing issues, returns (Q&A issues), chip supply, shipping/reaching customers, marketing, margins, etc. It's not like they did bad, but they were clearly expecting more. Actually, it could also be Surface Earbuds, which failed to ship completely and aren't due for a few months.

Intel is having huge chip availability issues as well.

I got my Surface Pro 7 this year, less than a month before it released. It's weird: it didn't have much more to offer than a SP6, but I wanted it. I never bought a consumer device so close to release (with 27% tax too). Many seem to oversee this: I think SP7 is the best of the bunch of similar devices exactly BECAUSE it made so little change to the previous one. It meant to me that the previous one was great too and there was little room for improvement. Not disappointed: the priciest tech I ever bought - also the best.
Happy to contribute a bit to Microsoft's success as a happy consumer :)

I completely understand what you're saying re: SP7. Before Apple started with their dumb gimmicky tinkering (Touch Bar, ****** key switches) I think that's how people felt (and I bet many still feel this way) about Macbooks. The accumulated gains from many years of gradual changes is not to be underestimated. I suspect I'll be buying an SP7 or whatever their new Intel-based detachable form factor is next year, after almost four years with my (great) SP5.

I don't understand these numbers. I'm a big Microsoft fan, but when you look at marketshare, the entire Surface line is such a tiny fraction of the overall global useage....I don't get it. Are they manipulating their numbers?

Darrell reimer, there is a difference between being a MSFT fan and a Surface fan. I own a Surface Pro 6 that I replaced my Surface 3 with about a year ago. Many of the people I work with ask me what it is and I tell them, then they ask me how much it costs, and their expression changes..lol. One of the major gains for MSFT is they have many OEM's that can give users a similar experience regardless of the hardware you are using. This is why I believe Mac OS has never gained traction. The user interface is easy and responsive, but the hardware is just too expensive.

Darrell, don't confuse revenue with profit. Revenue is the total amount of sales, not what Microsoft made off those sales. Take $2 billion. Divide that by $1,500 per Surface (being conservative), that's 1.33M Surface PCs shipped last quarter aka Microsoft's busiest quarter of the year. (Subtract manufacturing, R&D, marketing, salaries, etc. from that and what's leftover is what they made. ) Lenovo, one of the top laptops sellers, usually hits 17 MILLION shipments per quarter. HP and Dell are not too far behind that. 1.33 vs 52M (Lenovo, Dell, HP, Acer, + ASUS via Gartner) and there you go. (Total shipments were actually 70M counting Apple and all other PC manufacturers not listed here). Surface would be ~1.85% of the total shipped PCs. *Edit: fixed my maths!

Just for precsion: 2.000.000.000/1.500=1.333.333

True. Daniel, the number should be 1.33 million units, not 133,000 units

I bought Microsoft shares when they were below $100. Now they are $163. Got to love them !

I believe Microsoft for a very short period of time lower the price of Surface Pro X with Signature Keyboard (with slim pen) to below 1100 Euro.

So the title says "near 2b", the sub-title says "hit 2b"? ok... "Microsoft does not break out the numbers for Surface individually, so it is unclear which device is selling the best."
Cowards, for the inability to use the other word on this forum

"So the title says "near 2b", the sub-title says "hit 2b"? ok..."

🙄 It's $1.98 billion. But I changed "hit" to "near". Don't get your knickers in a bunch, we write those things as they happen.

"Cowards, for the inability to use the other word on this forum"

Microsoft does not owe you or investors any more information about

which

devices sold the best. You invest in Microsoft as a company, not the Surface Laptop 3 15-inch with AMD. There's not a SINGLE PC company, including Apple, who breaks the numbers out by models. That information is more valuable to their competitors than to you, as an investor. And if you're not an investor, then you have zero rights to complain about how MS reports their numbers.

It's not about owening anything to anyone. And it's definitely not about investors or money. Bragging with actual numbers is a sign of confidence. Something that only Apple with its massive balls did back in the day (and still do in some areas to certain extend) which is admirable and respectable. This is how you make advertisement properly and the results are visible. So yes, for a big corporation like Microsoft they are cowards (for the inability to use the other word on this forum)
Windows Central Newsletter
Thank you for signing up to Windows Central. You will receive a verification email shortly.
There was a problem. Please refresh the page and try again.