Microsoft teams up with Entel in Peru to launch the Lumia 635, Lumia 435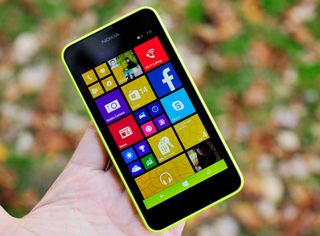 Microsoft and local carrier Entel teamed up to announce the Lumia 635, Lumia 435 in Peru. The two Windows Phones will offer affordable options for consumers in the region, but it's also good to see support growing from carriers in more markets.
The Lumia 435 will be available for S/. 329 ($110) as a prepaid option, while the Lumia 635 is available for S/. 649 ($210). The former packs a 4-inch WVGA LCD display, 1.2 GHz dual-core Qualcomm Snapdragon 200 CPU, 1GB RAM and 8GB internal storage. The Lumia 635 features a 4.5-inch IPS display, 1.2GHz quad-core CPU, 8GB internal storage and 512MB of RAM.
Links to the Entel Peru store:
Via: PeruSmart
Windows Central Newsletter
Get the best of Windows Central in in your inbox, every day!
Rich Edmonds was formerly a Senior Editor of PC hardware at Windows Central, covering everything related to PC components and NAS. He's been involved in technology for more than a decade and knows a thing or two about the magic inside a PC chassis. You can follow him on Twitter at @RichEdmonds.
Go Microsoft! The Lumia brand will continue to grow and we will see an increase of global use of Windows Phone! App companies can't ignore that!

Isn't the 635 now a 1GB RAM phone?

That's the 636 if im not mistaken.

No, they have a 636 that was available in China with 1 gb, but it never really caught on and I am pretty sure it is no longer available.

What's that wifi calling?

Isn't it about time they stopped selling these 512MB RAM phones? They have cheaper phones with more RAM, makes no sense.

The Lumia 635 has been updated with 1 GB of RAM in some markets, as we have previously reported.

Too bad entel is shite. They should've gone with bitel... Hell, even claro has better coverage than entel!

I think now prepaid phones in Peru are carrier unlocked. So... enjoy it in the carrier you want :)
I also live in Peru so these are good news :P

No. Prepaid still ties them to a carrier, you have to pay a little extra to buy a legitimately unlocked phone.

Yes. Its true when you buy a prepaid phone it is tied to a carrier BUT now thanks to the new peruvian regulation, you can go to their site and unlock it for free in 24 hours. "el caso de Entel Perú, que hizo posible el desbloqueo desde el 28 de diciembre último, solo con llamar al 123 en caso de postpagos y 144 en prepagos" It clearly says: Since November 28th, 2014, you can unlock your prepaid (and also contract) phone dialing the number 144. If they try to sell you unlocked, obviously its gonna be expensier. You just have to be clever, buy the prepaid and then unlock it, dont you think so? :p Just try this link, Danny and enjoy: http://www.entel.pe/desbloqueo/ Source: http://www.larepublica.pe/02-01-2015/desde-hoy-telefonica-movistar-claro...

That's true! Three weeks ago I bought a Lumia 535 with Claro for just S/. 419 ($139), great phone (the screen is working better after the last update). Thanks to the new regulation, I bought the phone unlocked. I'm thinking on buy a bitel sim card (better plans, better network, lower cost).

Interesting... In Chile, Entel is the better (and more expensive) carrier, while Claro is the worse, but cheaper.

Well, entel here is quite new, two maybe three months. It used to be Nextel, owned by Sprint, now idk who owns it, perhaps it's just Sprint trying to appeal to more people, but yeah my friend got an iPhone quite cheaply but the coverage and tech support are terrible. Don't get me wrong, Claro is complete crap as well, and movistar, while much much better, has worse data plans and is a bit more expensive... I guess that's the price for decent coverage...

I don't know how to take that, as far as I see Microsoft is disappointing in delivering goods, all this samsungs come to south America really fast by the time the windows phones comes, there are already old. And always have to buy from US if you want a good or new model phone. I wonder how much of the US market is of the actual US

Of course, my point is that Microsoft focus too much in the US, instead of spreading a bit to gain that market share, like the band is the perfect example, so cool but only in the US and is been months now

The 635 may only have 512 mb ram but in most respects it's superior to the 435. I'd certainly choose it between the two. Im too old to be a narcissistic selfie taker so ff camera is a non issue. Id much rather have the quad core of the 635 than any of the few things the 435 offers in trade.

Ms is working on easy porting android app to Windows, not to port play store to Windows!
Theese news are JUNK!

This is a dream, my country's news here? oh my goodness. Cool Windows Central and PeruSmart

in chile the same carrier have not upgraded the lumia 920 to denim and will not trade more windows phones nice double standard
Windows Central Newsletter
Thank you for signing up to Windows Central. You will receive a verification email shortly.
There was a problem. Please refresh the page and try again.