Microsoft testing file deletion fix for Windows 10 October 2018 Update with Insiders
After pulling the Windows 10 October 2018 Update due to a file deletion issue, Microsoft is now testing a fixed version with Windows Insiders.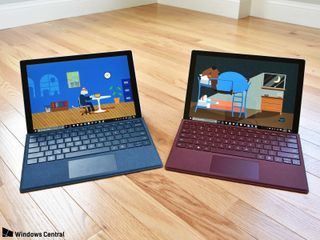 Microsoft is now testing an updated version of the Windows 10 October 2018 Update that promises to fix a serious issue that led the company to pull the update following its public release last week.
Shortly after the October 2018 Update became available, users began reporting that the upgrade appeared to be deleting files. According to a new post from Microsoft, the issue only affected "one one-hundredth of one percent of version 1809 installs," but it was still a large enough problem to cause the update to be pulled.
Microsoft is working to re-release the October 2018 Update publicly, but it is first testing a new build that it says fixes the file deletion issue. Windows Insiders can get their hands on the updated release starting today, and Microsoft says it will "carefully study the results, feedback, and diagnostic data" from Insiders before continuing the public rollout.
As for the issue itself, Microsoft has filled in some of the technical details concerning what caused the files to go missing:
Correcting the issue required three specific fixes, each of which you can read about in more detail in Microsoft's blog post.
For those who have already been impacted by the issue, Microsoft continues to recommend you contact their support line (opens in new tab) or bring your PC into a nearby Microsoft Store for servicing.
Though the problem may have affected a relatively low number of users, the result was a gut punch to Microsoft's current update process. Going forward, the company has added a new feature to the Windows Insider Feedback Hub, through which users can flag issues by their impact and severity. "We expect this will allow us to better monitor the most impactful issues even when feedback volume is low," Microsoft says.
Windows Central Newsletter
Get the best of Windows Central in in your inbox, every day!
Dan Thorp-Lancaster is the former Editor-in-Chief of Windows Central. He began working with Windows Central, Android Central, and iMore as a news writer in 2014 and is obsessed with tech of all sorts. You can follow Dan on Twitter @DthorpL and Instagram @heyitsdtl.
Will there still be someone who will believe in this Microsoft story? This update was the biggest failure since the release of Windows 10.

Yes, they messed up badly but do you see a reason to mistrust them on their assessment of the issue?

Right ... Because no bugs ever came out from them. I like the Insider program and think that a lot of good has come from it.

There are lies going around about them fireing their QA-team, but it isn't true. It is still being tested internally before going out to insiders. This bug also has nothing to do with lack of testing as it was found during the insider period and before the release.

Giddora is correct. That's not to say they didn't scale back QA with the addition of the Insider program, but they certainly didn't eliminate it. That's a myth propagated to drive anti-Microsoft sentiment. The Insider Program is not primarily about QA (with the exception of the Release Preview ring). It's primarily about communication in both directions. MS can communicate and reveal new features and get user feedback. It was added specifically to avoid another Windows 8 -- a system that internally Microsoft thought was great, but a large number of users hated and for reasons that had nothing to do with bugs. QA is very different from user and feature testing, but it's also never perfect, especially for something as big and far reaching as Windows.

https://www.linkedin.com/pulse/20140806183208-12100070-why-did-microsoft...

Do you really think that 'bug-free' software on the scale of Windows ever comes out in a single release, even with the most dedicated, competent QA team?? Go back as far as Win 95 all the way to Win 8.1 prior to the existence of the Insider Program when bug checking was completely internal. Why all the subsequent patches? Or Service Packs back in the day? Even the best QA team cannot catch all bugs in non-trivial codebase the size of Windows. Heck even iOS 12 has been buggy, and that's on a limited set of devices.

Just let them hate. Most of them has never been affected by any of these bugs either way. It's all about spreading the hate.

From what I've heard, they did. The bug had a way larger scope. It just remained there for the narrower scope of the GPO setting combined with the folder forwarding.

Keep digging that hole Steve 😉

It's not me who is the ******* wack job, as you publicly admitted who you are the last time you used this account and got caught out....

Windows was UNUSABLE before Windows 10.

@paquitoradioboy. Really?
The only o/s that was really unusable on desktop was Windows 8.0 and biggest resource hog was Windows Vista. As result of these two o/s, Windows 7 is extremely resource efficient and with Windows 10 we finally got proper multitasking albeit at the expense of a proper tablet UX.

It is possible that, no matter how big the QA team was, not one tester would have had a setup that provided the error.
It is not easy to create test case for every uncommon Windows installation and user configuration, when users are quite free to do things their way.

Okay, but for one thing, in the specification it says, we are going to delete that EMPTY folder. So wgy not check for empty before calling a big ass DELETE on an entire folder?!

@Kimmo Toivanen.
There are very obvious bugs, which are found by programmatic testing and a QA team. Windows insiders are compatibility testers in reality.

Based on your comment, I guess we should all still be in the stone age today - every plane crash, car accident due to mechanical failure, loss of life during surgeries etc. means end of faith in all technology and innovation, after all those machines passed QA! We should all just quit trying.
The file loss issue was serious, but things like this happen, it is part of the advancement package. You learn, make improvements and move on. The alternative is not to bother trying anything new, then you are '100% safe'.

But it is stupid that it has been discovered still, just like that Google hole in user data protection.

This was discovered before release but wasn't flagged as a critical issue. Google lieing about their security and trying to cover it up is a whole other issue.

"I hope this hasn't put you off of flying. Statistically speaking, it's still the safest way to travel."
-Superman.

Wow bit of an overreaction don't you think. They overlooked a problem and fixed it.

All I hope is that they fixed Word with this one. This is the most botched update indeed.

This issue definitely sucks for sure, but I'm always amazed that, considering the sheer number and ages of PCs and PC variations out there from all sorts of different manufacturers, most updates go as planned.

Seriously, people always magnify specific issues without considering the bigger picture.

It sucks that this has happen but in 2018, YOU should have a BACKUP!!! Really.... I bet now you will!! Or maybe not. This will happen sometimes when you update a pc, phone or tablet.

this is a reasult of Microsoft is not paying attention on the updates hope soon will be fixed

Lol "oh, your stuff still got deleted? Okay that didn't work. Let's try our next fix idea"

One news said Microsoft can recover the deleted data which was actually misplaced...any update to this?

Yea the article says contact Ms support or go to a MS store and they can recover it. I Highly recommend not using your computer as much as possible until you do. If they have to use a deleted file recovery tool on your hard drive you using your computer could result in overwriting your data on accident.

They actually say to stop using your computer, so yeah, it sounds like they're not just misplaced, but actually deleted.

Yeah, that is the only part I still don't get from this story. How on Earth?

Just so I'm reading this article correctly... This is not affecting stock installs (aka the vast majority of users) but only for those users who have purposefully redirected their Documents, Music, etc. folders (for valid reasons I'm sure) to other hard drive locations?

Yes, from the blog page that's part the cause, but only when the original location still existed for whatever reason.

Yes, very specific scenario for it to happen which is probably why so few people was affected by it.

In combination of a GPO setting to delete old user profiles.

I upgraded to RS5 and didn't lose data. However I've decided it's time to clean install after upgrading from Window 7 to every Windows 10 version since 2015. So once MS release the new ISOs I'll be starting afresh.

Or wait a couple of weeks, and then start afresh. ;)

I'll do it once the new ISOs are available

I don't know what you mean.
Bing is the only search service that works well.
Who wants to not use the best free product out there?

Everyone is talking about this as if the October Update has been officially released to the public. The only way to download this update is to be enrolled in the Insider Program, so technically it's still being tested before rolling out to the public even if it's been signed off for RTM.

@Nebresco, I'm with you that it wasn't being pushed out to everyone yet, however, you did not need to be in the Insider Program. Any user could go to Settings -> Windows Update and manually hit "Check for Updates." Unless that user's computer was specifically blocked (I believe some hardware may have been flagged as not being ready yet for the update), he or she would get the 1809 update. Further, it was even provided to WSUS servers (Domain servers that sync and pull updates from Microsoft for distribution to all computers on the network). I can personally attest to getting it on computers and trough both direct Check for Updates and pulling it into WSUS, all with computers that were not in the Insider Program. I can also report that I've seen no real problems from the update. I did encounter two issues that were caused by the update, but they're not really bugs: one company had security settings that somehow conflicted with the new defaults in 1809, causing Edge and Store Apps to lose connection to the Internet, but that's just a setting problem, and the new UWP Skype that works with 1809 no longer syncs SMS messages with Windows Phone.

Can you please write that percentage of affected users in numbers 😕

What about the other issues with this October 2018 Update (Edge,Store,Skype,Apps,etc.) ?

Skype for Business stopped working after this fix. Uninstalled to get it working again.

User: "Hey Windows, I'm using a new location for my files now"
Windows: "No problem" *updates WIndows, loses files User: "You've deleted my files, I hate you"
Windows: "You told me you weren't using that location" Users need to take some blame/responsibility here
Windows Central Newsletter
Thank you for signing up to Windows Central. You will receive a verification email shortly.
There was a problem. Please refresh the page and try again.