Windows 10 October 2018 Update is deleting user data — here's how to protect yourself
Microsoft's latest version of Windows 10 appears to be wiping out users' data. If you're planning to upgrade, remember to create a full backup before proceeding. Just in case.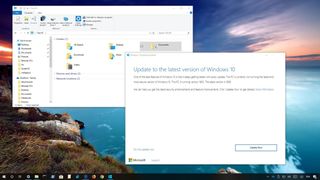 The Window 10 October 2018 Update (version 1809) is now available for download, but along with the new features and improvements, it appears that some users are not having a smooth upgrade experience.
Shortly after the new version became available as a manual download (using the Media Creation Tool, Update Assistant, and Windows Update) several users started reporting that the upgrade process is wiping out their documents, pictures, and other personal files along with previously installed programs.
Sometimes, when you perform an upgrade to a new version of Windows 10, the setup may move the user files to the previous installation backup located inside the "Windows.old" folder. However, according to those users experiencing sudden data loss, they looked everywhere, and their personal files are nowhere to be found.
On Reddit, user tksn said:
In a separate thread, user mrStov3 shared a similar story:
User Nordrynn at Reddit complained about the same problem:
In addition, at the official Microsoft forums (opens in new tab), Robert Ziko reveals:
Although not everyone is detailing the steps they used for the upgrade, which could be one of the reasons for data loss, user tksn said that this happened using the Update Assistant tool.
We're not sure if these are just a few isolated cases and how many users are affected, but this should be taken as a reminder of the importance of creating a backup of your computer before going through any upgrade. Here's how to do just that.
How to create a full backup on Windows 10
If you're planning to upgrade manually, you can use the following the steps to create a full backup of your computer before proceeding with the installation of the October 2018 Update:
To create a backup using Windows 10's system image tool, you need to connect an external storage with enough available space and then use these steps:
Open Control Panel.
Click on System and Security.
Click on Backup and Restore (Windows 7).
On the left pane, click the Create a system image link.
Under "Where do you want to save the backup?" select the On a hard disk option.
Using the "On a hard disk" drop-down menu, select the storage to save the backup.
Click the Start backup button.
After completing the steps, the wizard will proceed to create a full backup of your computer, which you can use to recover your files and previous installation if Windows 10 version 1809 causes any problems. (You can backup your data using these alternative methods.)
If your device still hasn't received the new version, remember that you can delay the upgrade until you know for sure that data loss and other problems have been resolved. You can also check out our troubleshooting guide to help fix common problems during the upgrade process.
Are you experiencing any issues with the new version of Windows 10? Tell us in the comments.
More Windows 10 resources
For more helpful articles, coverage, and answers to common questions about Windows 10, visit the following resources:
Windows 10 help, tips, and tricks
Windows Central Newsletter
Get the best of Windows Central in in your inbox, every day!
Mauro Huculak is technical writer for WindowsCentral.com. His primary focus is to write comprehensive how-tos to help users get the most out of Windows 10 and its many related technologies. He has an IT background with professional certifications from Microsoft, Cisco, and CompTIA, and he's a recognized member of the Microsoft MVP community.
really Windows.old folder.
Majority of people have had no problem updating
I've already updated 3 PCs with no problems.

Was about to say something similar... if things go missing after an update, always check the Windows.old folder 1st. Don't want to jinx myself, but the only times I ever truly lost data after an upgrade was due to hardware failure.

These files are gone-gone. Some people are able to use file undeleting software to recover a few of them(most are overwritten by the rest of the install)

Except that's not the case. The update deleted the files. They are not in windows.old for those who were affected.

Microsoft always have problems

I've upgraded a Surface Pro 4 with no apparent problems but the upgrade fails repeatedly on a Dell XPS laptop - restart to begin the install and it fails at 9% complete and rolls back the changes. I think the problem with the Dell might have something to do with the fact that the Upgrade Assistant seems to have stored the downloaded files on an external hard drive and I wonder if it is then not finding them on restarting?? I'll wait for it to come out on the Update next week and see if works with that.

If your update fails, you need to have no USB perheripals plugged in.

Sorry to ear that, I use my custom built pc for video and photo editing for work, smooth upgrade and nothing gone lost.

Personal experience here at home: I have "activated" the upgrade by having my computers online overnight and then the next morning did a "check for updates":
1) MS SP4: flawless - no data loss
2) Dell XPs Gen II laptop (2005): flawless - no data loss
3) Dell WS690 workstation (2005): flawless - no data loss
4) Dell T1790 Workstation (2016): flawless - no data loss
5) Dell XPS One27: (2013): flawless - no data loss
Planned for the following days (laptops and workstations of 3 sons): all Dell will keep you updated

Hey Xanc6, I'm a slow ring insider and have been getting the iterative updates fairly frequently over the past 2 months. Haven't had any trouble either. Wondering if you have reconfigured your file locations to OneDrive? I have and wondering if this is what's making things run smoothly.

Dear Nerdy Woman, re: 2), 3) 4) I do not reconfigure to OneDrive on these devices.

I've upgraded four different systems so far, some home-built, some off-the-shelf, some virtual. So far they've all gone perfectly.

There is syntax53 referring to the issue being related to GPO "Delete user profiles older than a specified number of days on system restart". I wonder if the issue is also related to having Homegroups being removed. Maybe computers being in Homegroups with some sharings set up might have gone out of visibility authorization to their files.

I keep my files on a separate partition and they're backed up. The only major issue I have is that the system crashes when waking from sleep - display won't come out of standby and the drive activity stops. A reboot shows that a BSOD occurred at wake time. Another pc will wake, display is on but no mouse/keyboard

I have gone even further and have been assigned a separate dedicated SSD/HDD for my data and I did this like 20 years ago! That way I don't need to backup anything....

I setup a home domain (I work in IT) and my files are all on a server that is backed up every week. So my documents is done on another computer, all my music and videos/media content are on my HTPC (based on Windows 7 using Windows Media Center). So a hair bit safer :)

Yea, until that SSD/HDD tanks..and they do. Backup is not just insurance for failed upgrades.

Backup and Restore (Windows 7) Create a System Image has been a deprecated tool for more than a year. DO NOT USE IT. Microsoft advises not to use it and to use a third party solution instead. I have read in some forums of Users reporting that it errors on attempts to restore recently made images.

Oops? Thanks for the heads up I guess. Then why is it still offered inside Windows?

I've used Veeam Agent for a few years now and am very satisfied. It's free and it works quite well for me. https://www.veeam.com/windows-endpoint-server-backup-free.html

I had this issue a couple weeks ago with the insider Fast Build. The only thing that got deleted was Cyberlink PhotoDirector data. Didn't think anything of it since I had just purchased and installed that app I thought it was an issue with PhotoDirector updating not Windows. Now I feel bad for not reporting it.

Don't worry, there were multiple other reports. They just got ignored as they obviously had a deadline.

I know that updates will sometimes uninstall certain apps that it may not find compatible and it reinstall other apps that it uninstall, but it should not remove your files

Yeah, must be bad memory sectors in their hard drives. Updates shouldn't be able to delete user files.

Oh stop it. Microsoft messed up, full stop.

It's better and quicker to create VHDX and if you need to re-image your machine convert to a WIM and use DISM from a boot USB to apply it to the drive. You can be up and running in minutes depending on the size of your data. This is how I do my back up procedure now.

I'm going to hit the googles, but just in case, do you have a link to a step-by-step? Does this require Win10Pro? Can you put the VHDX on an external drive? Thanks!

Yes, you can even use the converted WIM to install Windows. It's fairly easy, but don't have the exact commands to hand at the mo. But you need the VHD conversion tool: https://docs.microsoft.com/en-us/sysinternals/downloads/disk2vhd Once you have a VHDX you can mount it like a DVD, use to boot a VM and, as I do, to create a VM. Just successfully tested an image today to install Windows 10 from a boot media USB and just named the converted VHDX to install.wim. I am in the process of doing a tutorial to detail all this, should be ready this weekend if I get time. Mount-WindowsImage -ImagePath "C:\VMs\VHDs\restore-102018.vhdx" -Path C:\VHDMount -Index 1 New-WindowsImage -CapturePath "C:\VHDMount" -Name "Win 10 restore" -ImagePath C:\CapturedWims\install.wim -Description "Windows 10 1803" -Verify Dismount-WindowsImage -Path C:\VHDMount -Discard That should get you started. Note if the WIM is > 4Gb you need to boot with a UEFI boot and a NTFS file system or pull from a network share.

I wonder if this might have anything to do with storage sense features and moving files to OneDrive automatically, these reports are super vague with regards to how they manage their data to begin with as the details may have clues to what happened with their info, my stuff if pretty safe and I can always get it back because I auto have it copied to a server locked behind an account online aka the cloud

My SP2 updated with no issues last night. No data loss. I plan to do my editing rig over the weekend.

Sorry but most issues like this one is user error. #SorryNotSorry! Dislike this all you want I won't be returning to check on it so, I could care less. I tell it like it is. #NoFilter.

No, it's not. You're just a dbag.

No, you could NOT care less.

Sorry, but you are an idiot. #SorryNotSorry! I tell it as it is.

What do you even exist for?

I lost my wifi after the update, go to hell microsoft

Maybe need to ask your HW provider for a driver update?

I thought that is Microsoft task to get the driver from manufacturer and test it before releasing the OS Upgrade to the public...🤔

No that is not MS 's task. MS does not produce wifi routers

I'm always amused by when people say I have removed the disk from the computer and attached it to another one to see what's there. It's been a while when I did such things for the last time, but the reason I gave up these attempts was that I could never retrieve anything from the Users folder and beyond since they were always encrypted and secured. Even when trying just for the sake of it in between two perfectly working stations. I could always only retrieve data via the "host" machine itself. I believe as of Windows 7 or so. Since then I have always put every file that I wanted to be retrievable by any means other than normal functionning, that includes any undelete programs and file recovery tools and so, outside of the Users folder, preferably on a different partition or even physical drive from the primary one on which Windows resides. But for sure there are still Gbytes of files in Documents and Pictures that I don't want to see gone from one day to the other. So sorry for anyone's loss!

Don't look now, but as of Version 1803, the Backup & Restore tool (Win 7) found in Control Panel is no longer working. The official announcement says that only System Image Backup is being deprecated with the Fall Update, but when I was unable to create a backup in June (I don't recall which version was installed then - I'm on Slow Ring). I found several forum threads about Backup not working at all. Microsoft's solution? Use a 3rd party backup. BTW, just FYI - What they're removing/deprecating: https://support.microsoft.com/en-us/help/4034825/features-that-are-remov...

I tried to point out the deprecation earlier. No one is paying attention to this at Windows Central today. This article needs to be rewritten.

Also the idiotic thing is that you cannot create a system back up to a USB stick! You would think that would be first thing to be implemented... to be honest I didn't realise they would be so careless... the blame falls on the CEO for me on this one fiasco. Has he should have provided more resources so that the developers can test the builds and reiterate with the aid of programmatic testers. Which he laid off during one of the bouts of mass firings.

No issues here. I would personally say double-check the settings you select when upgrading that it keeps your files.

No issues for me on two separate machines using Windows Update

No data loss on my desktop or Surface, but I've had my Edge favorites on my Android phone disappear without syncing to my other devices. I don't know why, but the syncing of favorites have never worked correctly for me.

Try disabling syncing and re-enabling it (not just re-syncing), I've had this happen as well.

I used MediaCreationTool1809 for upgrade and no data loss.

You would think the "early birds" would be smart enough to back up their files!

No issues for me, I have an ASUS VivoBook Flip 12 and used the Media Creation Tool to install Windows 10 version 1809.

Documents still here but I lost all my favorites in Edge. Thankfully I could recover them from a different PC.

updating now... dreading the pain. I hope I don't lose anything but, as this is a major update, I expect to lose or break something as they always do (always does, a older app, or just compatibility with hardware/drivers). I guess I like Microsoft punishment :(

4 PCs so far updated:
2x Dell AIO - no data loss
1x HP laptop - no data loss
1x Linx 1020 tablet - no data loss All updated using Windows Update. All machines were running up-to-date versions of 1803 before updating to 1809.

Windiws 10 is a nightmare EVERY time it updates. I lost Microsoft office after an update. Cant get it back... have removed what was left and tried to download office again. Wont have it. So Libre office it is then. Wont be updating this time.

You need to uninstall Office 2016 https://gallery.technet.microsoft.com/office/Uninstall-Office-2016-6f3fa204 and then download and install again

No issues on a tower and a tablet. Another tablet I have is not taking the update yet.

So, I usually attribute these reports as a result of poorly managed, or systems run by "experts" who tweak every setting and make unsupported weird changes to 'optimize' their systems but for the first time I've hit one of the issues. My Edge favorites were gone on my primary PC.... I looked over on my laptop (Edge was open) and watched them disappear in front of my eyes. I ran to my 3rd pc to make sure it wasn't on, unplugged the Ethernet cable and fired it up hoping they were there... Phew, they were - Exported them to a backup file and imported them into my primary PC again. I suspect something like profiles and data loss was not caught by Insiders (Microsoft's no-cost QA department) because, if they are like me, we stopped being a fast and slow tester with this last release as each release is slightly less exciting. I'll stay in RP for now unless something really new and exciting comes along.

Only things I lost were my Photoshop LiveTile pinned to the Star, and Photoshop.exe being offered in the context menu for associated files. Also what is more wierd is PDFs being opened by Adobe Acrobat instead of Edge, the way they were before. Did not expect that coming, a Windows update prefering an Adobe product before a Microsoft one. :)

Funny thing is I had this happen to me back in spring on the spring update, I had lost a ton of settings, files, and customizations it was a pain to get back up and running again. Glad to know that it's a consistent update problem. Won't be updating anytime soon, and probably won't be buying a windows computer again

I haven't felt compelled to upgrade anyway. Nothing in 1809 says got to have right now. Why risk it ?

Good thing I have my trusty SD card to back stuff up

This happened to my father-in-law's laptop twice on previous major Windows 10 updates. He had a large number of files in a folder on the desktop and a shortcut that pointed to a particular folder that was inside it. When the files got dumped into windows.old during the update the shortcut helpfully repointed back to them. Trouble is, he didn't realise anything was up until 30 days later when Windows cleaned up the window.old folder and deleted all his files.

Hey, Microsoft how is firing the quality assurance team working out for you? D'oh! In the pursuit of profits... irreversible damage is being done as there is no "antidote" or "cure" for poor word-of-mouth marketing - any sales or marketing person worth their salt knows that is the most invaluable form of marketing. What's priceless of everyone? Their data... sooo losing that is kind of the last straw... Best start hiring programmatic testers and re-creating the quality assurance team / department, like yesterday. No?

I'm so happy my main PC is still on Windows 7.

Happened to me yesterday. "Documents" folder was emptied on my T470 laptop and the files were nowhere to be found. Fortunately everything was backed up on a NAS. The laptop was stock except OneDrive was uninstalled, and the update was made via Windows update. A very few programs were installed before the upgrade (office 2016 & Syncthing) Anyway, such a failure is not acceptable for a so called "stable" OS meant (and sold!) for production. Amongst other things, the "OneNote 2016" (no UWP) app, which I use, disappear and reappear from time to time (the shortcut allowing it to show in the start menu seems to be deleted and created again randomly ???). So in a few month when I will not have to use MS office anymore I think I will get rid of W10 in favor of some linux distro (not so stable on desktop but at least I never lost data on my two 8+ years old NAS running debian).

"the shortcut allowing it to show in the start menu seems to be deleted and created again randomly ???" This may happen when Office is updating.

Based on this thread, and the number of people who tested this over the course, my guess is that this is impacting a very, very tiny portion of users. If not, MS would pull it and find out what's going on. I have updated an SB2 with no issues. I have an SP, too, but that is on Fast Ring, and I believe it's running the RTM and never lost any data throughout the process.

The issue isn't the number, it's the possibility that it can be you. As someone with a gaming PC with tons of custom OEM software, I am blocking updates and sitting on the 1803 release until I'm sure it's safe to upgrade. Thankfully, I have Windows Pro. I also just got an Intel Driver Update Notification in Windows Update on my laptop, and I'm almost positive that will break my system if it installs (because last time I tried, I got TONS of BSODs). I'm really getting frustrated with these shenanigans. Merely owning a PC shouldn't be this risky. I certainly don't think about this stuff when updating my iMac.

They pulled it. So there you go.

How come only these unfortunate souls have problems upgrading? I upgraded and entire lab full of systems, including my own with no issues.

I forgot that I've downloaded Netflix shows earlier, now all of that has been corrupted after updating to 1809 😫😣.

Yep, this happened to me. I upgraded via the Upgrade Assistant and next thing I know I'm missing all my files in my Documents folder and my Outlook pst file was corrupted. Never had an upgrade do this to me. First time for everything I guess. Fortunately, I have multiple backups so I was covered. Wonder what other problems I might come across! Thanks Microsoft! Just when I was starting to trust you guys.

On a Dell Inspiron desktop (the upgrade got pushed out to it automatically which was surprising) my local profile's Documents folder was emptied. Nearly all of my files are on OneDrive or my LAN, but there were a few I kept in that folder which are now gone.

Yup. Happened to me, but only on one machine. No copy under windows.old either. I had a backup of the folders but my Outlook email was about 3 days out of date. Took a few minutes to redownload them from the server, sort them, and re-add any missing calendar changes. Microsoft should pull the release until it sorts out the issue. Non-technical users won't know what just happened and may not have robust backups or know how to restore. Worse, many will try rolling back, trouble shooting, and such.

The ppl having this issue seems to be doing an ISO update, ve the updater. The updater doesn't ask you to keep your programs and files because its just an update. An update applied ISO is basically a new OS image with back porting of apps, reg, files etc. If you miss a box, its all gone.

It happened to me and it came as an update thru Settings > Update & Security > Windows Update (I didn't do an ISO or Upgrade Assistant on that PC)

I've updated two of my computer's so far. I downloaded the image with media creation tool. I did an upgrade choosing to keep all data. No data has been lost.

This happened to me earlier thus week. ALL of my personal files (3.5 TBs of data spanning 15 years), including 275k+ photos (jpg and RAW) were lost. Luckily i backup everything daily to multiple external hard drives and the cloud, so i was able to recover everything. I also turned off temporarily windows updates for one month until this issue is fixed.

As of Oct 5th, 2018, afternoon pacific time, it appears that Microsoft has pulled version 1809 from the windows upgrade assistant and media creation pages. The default version of those pages now take you to 1803 versions of Windows 10. On Oct 4th, they took you to version 1809.

You know what they say, the early bird catches the bug. Is that how that saying goes?

I directed my Documents folder to Onedrive but I still kept a local Documents folder for things I didn't want messed up by syncing. I basically had my Quicken data file and my outlook .pst file that has about 20 years worth of emails stored locally. The upgrade deleted my local Documents folder. Fortunately I was able to find both files using File History and replace them. It didn't affect my Onedrive folder. This is a major screw up.

Now that MS has given up on mobile, Groove, Band, and UWP versions of their own apps, and have invested all their eggs into legacy devices like All in One desktops, laptops, and laptop-like devices, why in the world can't they get a simple OS update... one with hardly any new gotta have features albeit... right? Shouldn't they have just that much more time on their hands for testing the ONLY blasted thing they claim to be good at anymore... legacy devices???

no issues here. but I just did "upgrade" via "windows update" I didn't use media tool and files are on OneDrive

I updated my laptop (8 months old Dell XPS13) and in fact not only did I lose some data but I also had a failure in recognizing my login password. Fortunately I did not have a lot of data stored so not a big deal but the login failures bothered me. I restarted numerous times, let the laptop sit overnight and then in the morning all of a sudden the login worked and then I discovered the missing files. A few other subtle changes occurred with the desktop appearance but again of a minor nature. My question is when will we know that Microsoft has addressed the problems that some people, including me, are having??

To all of you who are reporting their successful upgrades in the comments : Are your successful upgrades somehow supposed to invalidate those who had their files deleted?! What's your point?

It's February 22, 2019 and this is still happening. I'm helping a client recover from this which just happened to her this week. No Windows.old folder exists on her computer. The computer is new and I updated it about a month ago til no more updates were available, yet after last week's Windows updates it happened anyway. As a tech I've encountered this 4-5 times before today. I can't believe they still haven't fixed this!!
Windows Central Newsletter
Thank you for signing up to Windows Central. You will receive a verification email shortly.
There was a problem. Please refresh the page and try again.