How to get the Windows 10 October 2018 Update as soon as possible
Microsoft is releasing the October 2018 Update for Windows 10, and you can use these steps to get it immediately.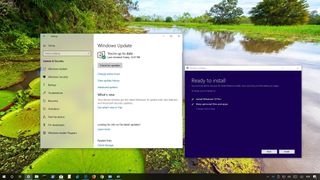 Windows 10 October 2018 Update (version 1809) is officially available on October 2. This is the sixth major refresh releasing to compatible devices, and it's an incremental update that introduces several new features and a lot of improvements to make users more productive and secure on an online world.
In version 1809, you can expect new features such as a new clipboard experience that syncs across devices, Screen Sketch tool to take screenshots, and Your Phone app to connect your phone with your computer. Also, you'll find other features like Typing insights, SwiftKey, and Windows HD Color, as well as design tweaks, including a dark theme for File Explorer and Fluent Design touches, and a lot more.
The new version will start rolling out slowly, and similar to the previous release, Microsoft is expected to use AI to deliver the Windows 10 October 2018 Update more reliably. This only means that no every device will be updated at the same time. Compatible devices will get it first, and then after the update has been proven to be more stable, Microsoft will make it available to other devices.
In this Windows 10 guide, we'll walk you through the three recommended ways to download and install the "October 2018 Update" on your desktop, laptop, or tablet.
Warning: Although the Windows 10 upgrade process is non-destructive, it's always recommended to create a full backup of your device before proceeding, in case something unexpected happens and you need to go back to the previous version.
How to install the Windows 10 October 2018 Update with Windows Update
While it's recommended to wait until you receive a notification automatically indicating that the Windows 10 October 2018 Update is ready for your computer, you can force the upgrade using Windows Update as soon as it becomes available. (Of course, as long as Microsoft isn't purposely blocking the update because it's not compatible with your hardware.)
To use Windows Update to force the installation of version 1809, use these steps:
Open Settings.
Click on Update & Security.
Click on Windows Update.
Click the Check for updates button.
Click the Restart Now button after the update has been downloaded on your device.
Once you've completed the steps, the new feature update will download and install using the same process as cumulative updates, but this time, it'll just take a lot longer to apply. (Usually, the upgrade process takes around 20 minutes depending on your hardware configuration.)
How to install the Windows 10 October 2018 Update with Media Creation Tool
If your device isn't seeing the new version using Windows Update, and you know it's compatible with your hardware configuration, you can perform an in-place upgrade of Windows 10 with all the new features and improvements manually using the Media Creation Tool.
When the tool gets updated to upgrade devices to version 1809, you can download and install the October 2018 Update using these steps:
Open this Microsoft support website in your web browser

(opens in new tab)

.
Click the Download tool now button.
Double-click the MediaCreationTool1809.exe file to begin the upgrade process.
Click the Accept button to agree to the Microsoft terms.
Select the Upgrade this PC now option.
Click the Accept button one more time to agree to the notice and license terms.
Confirm that the Keep personal files and apps option is selected. (If the option isn't selected, click the Change what to keep link to choose the correct option to keep your files, settings, and apps after the upgrade.)
Click the Install button.
After completing the steps, the Media Creation Tool will begin installing the Windows 10 October 2018 Update on your device keeping your settings, apps, and data.
If you're having problems installing the new version, you should use the Media Creation Tool to create a bootable media, which you can use to perform a clean installation of Windows 10 with the new update.
How to install the Windows 10 October 2018 Update with Update Assistant
Alternatively, if your device is fully compatible, but you're having issues with Windows Update or the Media Creation Tool, you can try using the Update Assistant tool.
To upgrade your system to the latest version of Windows 10 using the Update Assistant, use these steps:
Open this Microsoft support website in your web browser

(opens in new tab)

.
Click the Update now button.
Double-click the Windows10Upgrade file to start the tool.
Click the Update Now button.
After the tool confirm that your hardware is compatible, click the Next button.
Click the Restart Now button.
Once you've completed the steps, the Update Assistant tools will download the files to upgrade your devices without affecting your apps, files, or settings on a process that could take up to an hour depending on your hardware configuration and internet connection speed.
What method are you using to upgrade your device to version 1809? Tell us in the comments.
More Windows 10 resources
For more helpful articles, coverage, and answers to common questions about Windows 10, visit the following resources:
Windows 10 help, tips, and tricks
Mauro Huculak is technical writer for WindowsCentral.com. His primary focus is to write comprehensive how-tos to help users get the most out of Windows 10 and its many related technologies. He has an IT background with professional certifications from Microsoft, Cisco, and CompTIA, and he's a recognized member of the Microsoft MVP community.
All 3 options left me on 1803.

The October update doesn't seem to be available yet!

I altered the registry and got 1809 the other day.. Somehow broke Spotify's ability to play music on my computer no matter the troubleshooting steps.. Other than that, pretty good.

care to share. so we can all enjoy the new update

The page has been updated to say October 2018 Update, but the tool it gives me still says I'm up to date. :/

Nevermind. Updating now >;|

Update Assistant is updated

After updating to the Oct update, upon reboot, Edge opens saying "Welcome to the April 2018 update"! Opps MS.

Was about to mention that haha

After the 1809 update neither edge or the store would connect to the internet.
Changing the wireless connection type from "Private" to "Public" fixed it!

I'll be rocking the upgrade assistant ASAP.👍

Update assistant is better. Forever. Windows Update always problems

I have tried several times to upgrade to the Oct 1809 update and it keeps erroring out in the middle of it (the part where it says your computer may restart a few times) without a reason/code as to why. I had no trouble at all going to 1803 back in April. I have a pretty spec'd out pc that I built with plenty of storage space and I even tried unplugging all my usb devices. Tried the Update Assistant as well, still no luck. I reaaaalllyy dont want to do a clean install... any other suggestions?

As of 10/5/18, afternoon Pacific time, Microsoft has rolled back the Upgrade Assistant page to Windows 10, April 2018 (1803). I also think the media creation tool has rolled back to 1803. I think they are pausing the rollout to investigate the reports of user files being deleted.

I'm glad I'm not the only that saw that.

Yes there's quite a serious bug been discovered just before full public roll-out. They'll either patch it with a cumulative update (which potentially could still cause file loss issue as the update is applied after the version upgrade), or more likely, a full new build will go out next week. I've never had any problems with a version upgrade until now, this one causes an INTERNAL_POWER_ERROR BSOD after waking from sleep, likely due to a driver incompatibility
Windows Central Newsletter
Thank you for signing up to Windows Central. You will receive a verification email shortly.
There was a problem. Please refresh the page and try again.