How to delay the Windows 10 October 2018 Update but still get updates
Windows 10 is getting a refresh, but if you don't want to upgrade immediately, we'll show you how to delay version 1809.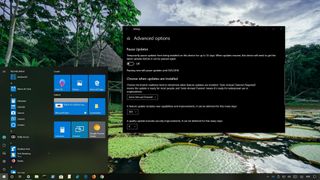 Microsoft is expected to release its second semi-annual update, the Windows 10 October 2018 Update (version 1809), at some point in October, which means that new features, improvements, and tweaks are on the way.
Initially, only newer devices known to be compatible will receive the new update. Then, in the weeks ahead, the October Update will expand more broadly to other devices. Using this gradual rollout process allows the company to provide a more reliable deployment while also ensuring that if any unexpected issues occur, they don't quickly spread to a large number of computers.
If you're comfortable running the current version, or you'd like to wait a little longer to make sure it's safe to upgrade, there are at least three ways to delay the Windows 10 October 2018 Update while still getting service updates.
In this Windows 10 guide, we walk you through the steps to delay the installation of version 1809 as long as possible while still receiving cumulative updates to keep your device and files safe and secure.
How to delay the Windows 10 October 2018 Update
If you're planning to install the October 2018 Update, but you don't want to go through the upgrade process as soon as it releases, the Settings app offers at least two options to delay the installation for several hours or days.
Pausing updates
To delay the new release of Windows 10 for a few days, use the following steps:
Open Settings.
Click on Update & Security.
Click on Windows Update.
Click the Advanced options link.
Turn on the Pause Updates toggle switch.
After completing these steps, your device will no longer download monthly or feature updates for up to 35 days after you enable the option.
Postponing installation
To postpone the installation of version 1809, use the following steps:
Open Settings.
Click on Update & Security.
Click on Windows Update.
Next to the "Restart Now" button, click the Schedule the restart link. (This option is only available when an update is pending to be applied to your device.)
Turn on the Schedule a time toggle switch.
Specify the time and day you want the device to restart automatically to complete the installation (up to seven days in the future).
Once you complete the steps, your computer will not reboot automatically to upgrade until the day you specified, allowing you to continue working without disruptions for up to seven days.
Alternatively, if you're thinking on installing version 1809 the same day, but you simply don't want to go through the process while you're actively using your device, you can use this guide to configure active hours to block the update until a later time.
How to defer the Windows 10 October 2018 Update
If you're not quite ready to upgrade, and if your computer is running Windows 10 Pro, the Settings app includes an option to defer new releases up to 16 months using the Semi-Annual Channel branch.
To defer the October 2018 Update installation for several months, use the following steps:
Open Settings.
Click on Update & Security.
Click the Advanced options link.
Under "Choose when updates are installed," select how long you want to delay the update:

Semi-Annual Channel (Targeted) — Defers the new version up to 365 days since its original release date.
Semi-Annual Channel — Defers the new version up to 365 days after it becomes available to organizations. Typically, it takes four months after a new version becomes available in the Semi-Annual Channel (Targeted) readiness level.

Use the drop-down menu to specify the number of days you want defer update.
Once you complete these steps, the Windows 10 October 2018 Update won't download and install automatically on your computer until after the deferral schedule you specified.
Although these settings will prevent Windows 10 from trying to upgrade your device, you'll continue to receive security and maintenance updates to fix bugs and security vulnerabilities.
How to block the Windows 10 October 2018 Update
Windows 10 Home doesn't ship with the option to defer feature updates like the professional variant. However, it's still possible to temporarily block the October 2018 Update from downloading and installing automatically on your computer by setting a network connection as metered.
The option to set a connection as metered has been designed to limit the data usage of Windows 10 on a limited internet connection. However, configuring a connection as metered also disables update downloads to reduce data usage. Therefore, you can use this feature to block version 1809 from downloading automatically on your device until you're ready.
To configure a wireless or wired network connection as metered, use these steps:
Open Settings.
Click on Network & Internet.
Click on Wi-Fi or Ethernet.
Select the network connection you're connected to the internet.
Turn on the Metered connection toggle switch.
After completing the steps, your device will no longer receive feature updates or cumulative updates until you remove the configuration blocking them. However, critical updates will continue to download regardless of the new configuration.
The only caveat is that using this method will prevent the Start menu from showing live updates in tiles, files may stop syncing to cloud services, and Microsoft Store apps will stop getting updates as well.
It's never recommended to block updates as they can protect you from many security risks, but using a metered connection is perhaps one of the few ways that you can use to block a new version if you use the Home version of Windows 10.
During the time you're using a metered connection, if you're worried about missing cumulative updates, you can proactively check this Windows support site (opens in new tab) that releases details about each update available for Windows 10. If you see that a new update is available, you can download and install them manually.
If you change your mind, you can revert the changes using the same instructions, but on step No. 5, make sure to turn off the Metered connection toggle switch.
Wrapping things up
Updates are an important part of Windows 10, and they keep your device running smoothly, protect your data from hackers and malware, and twice a year, updates also introduce new features and changes to improve the experience.
The only drawback is that during the early days of new feature updates unknown issues and compatibility problems could negatively affect your experience.
This is a known fact, which is one of the reasons that Microsoft doesn't make a new version of Windows 10 available on every device at the same time and purposely blocks the update on certain PCs. Generally, new versions roll out gradually, and it takes several weeks before they reach business customers.
If you're concerned about delaying the Windows 10 October 2018 Update on your device, you shouldn't be. Temporarily skipping an update isn't a significant security risk. New versions of Windows 10 are supported for at least 18 months, and as long the version you're running is still supported, you'll continue to receive maintenance and security updates to fix problems, improve performance, and patch security vulnerabilities.
Are you planning to delay the Windows 10 October 2018 Update or are you installing it as soon as it becomes available? Tell us why in the comments.
More Windows 10 resources
For more helpful articles, coverage, and answers to common questions about Windows 10, visit the following resources:
Windows 10 help, tips, and tricks
Windows Central Newsletter
Get the best of Windows Central in in your inbox, every day!
Mauro Huculak is technical writer for WindowsCentral.com. His primary focus is to write comprehensive how-tos to help users get the most out of Windows 10 and its many related technologies. He has an IT background with professional certifications from Microsoft, Cisco, and CompTIA, and he's a recognized member of the Microsoft MVP community.
You may want to have someone fix year in the title, on the homepage. It reads (at the time of this comment): "Not ready for Windows 10 October 20118 Update yet? Here's how to delay it." As for update readiness... bring it on. If it breaks something on my home rig... meh, whatever. I'm due for a rebuild anyway, however, I always appreciate a solid write-up like this one. Now, my work environment, I have a simple tiered system setup, using WSUS. NOBODY gets the version updates until I have had them running on my guinea pigs... errr… "test environment", and am damn sure that they're not going to cause me massive headaches when rolled out to Production.

And again, it is possible to delay updates for an indefinate time if your system does not meet the requirements for the update. One usually being 8 GBytes of free space on your primary disk.

Well, you don't wanna indefinitely Avoid updating. Then you put your PC at real risk.

I plan to allow the update whenever it appears in WU.

Have a 16GB tablet that requires a clean install from ISO. Time to see if Rufus has an update.

The only problem is, what if someone doesn't have these options? For example, on my desktop running 1803, none of these options show up and I can't set my Ethernet connection as metered in the Settings app. Am I missing something?

Update: As it turns out, you have to use an account with administrative privilages for the options to pause updates and change your branch to show up. I have two accounts on my computer, one for daily use and the other for admin tasks. Microsoft should have the Advanced options link open UAC and show all the options on standard accounts. This is already done for a few other Settings links. I couldn't see an Edit button on my comment, so I replied.

I have already been done all that on my machine months ago, I am not going to make the same mistake I did last time.

I don't think we have to worry about this being another April 2018 update. Microsoft has been very Precautions this time around.

Maybe, maybe not, I am in no hurry to update, it have nothing that I need, saying that none of the Windows 10 updates have anything I need, nor do Windows 10 itself to be honest. If my computer would run windows 8.1 I would still be using that.
Windows Central Newsletter
Thank you for signing up to Windows Central. You will receive a verification email shortly.
There was a problem. Please refresh the page and try again.