Microsoft Translator update for Windows Phone adds voice support for several languages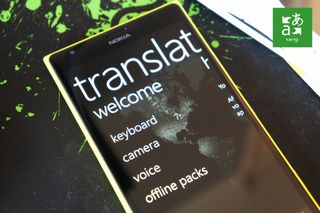 The Microsoft Translator app for Windows Phone devices received a rather big update today. The new 3.2 version adds voice support for several languages, along with different versions of English, French and Spanish.
The app can now handle voice translations for the Mexican version of Spanish and the Canadian version of French, along with English as spoken in Canada, Australia and India. Finally, the app supports voice translation for Japanese, Korean, Portuguese and Russian languages. The app recently got a name change from its previous Bing Translator branding.
Get the Windows Central Newsletter
All the latest news, reviews, and guides for Windows and Xbox diehards.
But can I copy something without having to install that clipboard app

Yeah this ^. Plus needs Thai

I use it for practicing German which I've started to learn!

Duolingo is the app for you. Awesome.

Yes, Duolingo is definitely the best WP app for learning a new language! 5 star app!

Yes duolingo is perfect. Even I'm learning German from there. Bing translator is not that good as google translator, if I'm not wrong.

Until now no offline urdu language is available. Why Bing ?

If there's Arabic, there has to be Urdu too.

Unfortunately there is much more difference in between Urdu and Arabic than just the script

Also Arabic have just recently released so it will take some time for them to release more offline packs

And still no support for offline translating for my language (slovak) whereas Google had it million years ago. This app totally sucks wake up Microsoft!!!

Is Marathi language available? Because last time when I download this app that time it wasn't there in this app so I uninstall it.

Been waiting for so long the voice recognition in Portuguese...
And it's horrible.
Google already has a few years here, is much better.

We need the first step to Cortana man...
Did saw that? -> http://windowsphonebrasil.com.br/entenda-por-que-cortana-ainda-nao-fala-...

Yes, I know. But is... awful.

Merci tabarnak for Canadian French!

Still waiting for Klingon

There's another super good translator in the store called 5translate. Worth a try.

Sounds like something from Rudy Huyn.

No. It's not. But I really love that apps.. Simple and fluid.

Here u go; http://www.windowsphone.com/s?appid=37bbf181-47ed-4efe-b511-c3a52d5502f7

Don't worry, they are updating it regularly, stop whining people about your language not being available. :P

Agree, MS sells and services all corners of the world.

Is this the same engine that the Skype translator uses?

Where is Denim Update for Lumia 1520.3? Give me an update please! :)

Well done Microsoft. Posted via the Windows Central App for Android

Awesome! It's aboot time we can speak the Canadian, eh.

When Lumia 1520 will updated Lumia denim in India

What for? If you're weak in Hindi, I can understand.....

I think he meant English into Hindi support

In my 1020, this app does not have a panorama. Is there a way to enable a panorama, like what is shown in the article?

I thought that MS forgot that it had launched an app like translator

Anyone uses "Babbel" apps for foreign languages?

.....Still waiting for Dutch after more than 4 years that windows phone has been on the market..... Cortana, what is Cortana????

Uodating pending.. Any idea whats the hook up? Its been 3 days already