Microsoft said to be planning a range of new features for SkyDrive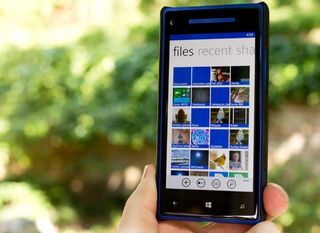 (Image credit: Windows Central)
Microsoft has been reported to be planning numerous new features for its popular cloud storage service, SkyDrive. LiveSide has published a handful of new features that we can expect to see in a future update. We're talking about shared lists, folder mounting and Windows hardware settings backup management. Sounds interesting, right?
Shared lists
For the time being, consumers can share files and folders via email, direct links and through social media. Any folders and files shared with your account are displayed for access, but this is set to be refreshed soon. The issue being it can prove to be rather difficult to find a particular file present on another SkyDrive account. Microsoft is believed to be addressing this by introducing a concept called "shared lists."
The feature will enable users to select up to 100 files and bundle them in a customised list, which can then be shared with others. This isn't to replace the current sharing functionality, but to compliment it with a way to manage folders and files for other people to access more conveniently.
Folder Mounting
A popular complaint with SkyDrive is how the desktop client fails to synchronise any files and folders that are shared with you. This makes offline access to other SkyDrive content impossible. Microsoft is set to allow users to mount folders to their own SkyDrive. This will enable SkyDrive clients to automatically pull down said content when synchronising.
It's not confirmed whether mounted folders and files from other users will count towards your storage total, but it's understood that they can be removed at any time.
Device Settings Backup
A new settings page is believed to be on the way for SkyDrive, which will enable those who own a Windows 8.1 or Windows Phone 8 product to manage their backed up device settings, but it's not known exactly what this would cover.
It's worth noting that these features could well change before being made available to the public, but we're rather excited by what's been published. What would you like to see added to SkyDrive?
Source: LiveSide
Get the Windows Central Newsletter
All the latest news, reviews, and guides for Windows and Xbox diehards.
Rich Edmonds was formerly a Senior Editor of PC hardware at Windows Central, covering everything related to PC components and NAS. He's been involved in technology for more than a decade and knows a thing or two about the magic inside a PC chassis. You can follow him on Twitter at @RichEdmonds.
WP8 Game save backup would be very nice


I think its up to the developer, i mean there are games that supports skydrive backup (For example VBA8) so there are no technical issues.
My opinion is that they should have make this integrated with the system, and it shouldn't be skydrive but Xbox games should have an API that allows the developer to save in the cloud.(Or even better it should automatically update every save file of the game to the server, although this would require a lot of storage)

If Microsoft had a full backup for the system like WP7 and the Zune had, that would be enough for me. As it is, doing a hard reset isn't an option if I want to keep my save files. Having to redownload every single app again is pretty stupid too.

I really don't understand why they don't just let you use your SkyDrive storage to back-up your app data. As I understand, in Windows 8.1 it will sync your game data, but not back it up. I just recently broke my L920 and ATTs insurance only had the 8X. When I switched 920s before and did a hard reset once, the apps automatically downloaded and it asked me all my account passwords on one screen. But the 8X didn't do any of that, so I just had to go to the site and send them, which worked flawlessly, and it gives you a chance to do some app cleaning.

That would be nice I dread the thought of doing a hard reset to factory then having to redownload all apps. That will suck big time.

Yes, I've been clamouring for a while now that MS should create a special SkyDrive partition and API for saving WP8 and W8 game/app data.

Permanent links would be awesome as well.

You can create permanent links for sharing. You can even shorten it using the sdrv.ms service of SkyDrive.

They're not permanent links unfortunately. The link you get might be but the underlying cid file isn't. I wanted to put pictures in my skydrive , and using their permanent links, put them in websites ( Where they actual show up as a picture and not a link). I tested them out but after a while the link is severed. ;(
Skydrive is still awesome though, so much functionality! But I would really love it if we can use it to store pictures for our websites.

I think that this should be a requirement for all Xbox Live games. They should not be allowed to get Xbox Live certification without it. Period. I'm so sick of having to start over in games... losing purchases, accrued coins, etc. It has actually caused me to stop playing games completely rather than start over again. In addition it should be easily implemented and strongly encouraged for all non-Xbox live games...

I like what Microsoft is doing with SkyDrive. I use it all the time although i don't put stuff that I would rather keep private. Other than privacy concern, SkyDrive is a great product.

Well, I'm more trusting of SkyDrive than other services. With two factor authentication, nobody is getting to it but me and the NSA.

This is my thoughts on it as well. I trust MS more based on their privacy policy compared to the likes of Google and others. However, I can't change the fact that the NSA has access (not American citizen so I can't vote those people out), and I do not fault MS for it because they are simply following the law.

Unfortunately, neither can we (vote them out that is). They are just govt employees. Not elected.

True, but you can vote for people that are against the policy. That's what I meant by that.

because the US is a 'real' democracy... ^^ wishing thinking

Of course not. All Canadians know the US is a facist theocracy. They just don't realize it down there.

"The policy" is bigger than those who run for office. Just like the control that "Big Money" has on our government, it really doesn't matter who is in what office.

You're not gonna change anything with that defeatist attitude.

Read again. I didn't say it isn't going to change. What I did say is that I don't believe that will happen by our elected officials. Read into that what you please. :)

I read exactly what you said. If elected officials can't get the change done then there is only one choice, revolution. However, if the reason why they can't get the change done is because they don't want to change, then you need to vote people who will make the changes needed to get the job done. Of course, this all boils down to money in politics and how that needs to be rectified to truly begin to fix the other issues. The US is probably the most corrupt of all capitalist first world nations.

It will take a revolution (hopefully non-violent) in my opinion. Our government is so corrupt now that it doesn't matter who is elected because however noble and well intentioned they are, they are being elected into a corrupt system. One cannot get elected/reelected without the corrupt dollars. It's like cancer. It gets to a certain point and only surgery (revolution) will work.

read this:http://wmpoweruser.com/watch-what-you-store-on-skydriveyou-may-lose-your...


And with automatic upload in WP, you just need to take that "questionably" photo to be banned

Aware of this. I make sure to not use auto upload when I'm sending d*ck pics to the gf. Thanks for the advice, Tips.

I don't understand this new craze. I have yet to meet a girl that wants to see extreme closeups of some guy's package. Even if they like his junk they don't enjoy seeing it like that. They're not like us. Trust me on this.

Maybe in this case GF means "guy friend." :)

Yay! I need PC access to shared files without using the web client. I am moving to deploy this yo more users st the office and with our sister companies. Access to backed up data would also be nice, even if it "is" only available from the web. That is a little more critical and most people do not need to be rooting around there.

sorry a little bit out of topic, but any news for youtube app yet?

Not yet and google probably will slow it down as much as possible.

Still have that '1 update' notification for YouTube and I'm not budging

Lol me too, its my own personal "screw you google" protest that occurs daily. :)

Being able to access and play music stored in skydrive from the music+video hub should be added.

I want this more than anything on WP8!

Agree. Especially those musica that I've bought. Because when I go to any pc that isn't mine or my useless android, I don't have acess to my musics THAT I ALREADY BOUGHT. I wish they do something. Especially now with this Xbox Music Web (which still require Music Pass).

Let app developers easily use it for synchronization and backup.

Are they going to include the feature of liking so the NSA can like and comment on ur pics

I love SkyDrive, although it needs tweaking. Glad they are making it better.

I think Microsoft should allow people who use both Windows Phone and Windows 8 to get the free 25GB SkyDrive update. I think it would be a great incentive for people to switch over to Windows Phone, especially if they have Windows 8 already.

They should make it 1TB as a std.

Or you could've grabbed the 25GB by being an early adopter, as intended...

Yeah of course but all of the people who made a new Outlook.com account, including me, and used that as their main account from thereon out, will not have the 25GB.

Yeah. My old and useless account has 32GB, my new new one that I use for everything has only 7. They could provide a code/password for this extra storage so I can migrate the GBs from the old to the new one.

Should have used an alias instead of creating a new account.

I have 25gb thanks to my HTC HD7!

Here I was hoping it would be Skype updates. Had me happy until Sky...

All I need really is to be able to save email attachments from outlook.com to my skydrive. This should have been included in v1.0. Kind of embarrassing if you ask me.
http://answers.microsoft.com/en-us/windowslive/forum/mail-files/how-do-i-save-an-attachment-from-outlookcom-to/79fd1ea8-e112-48b4-867c-c874ead47c54?msgId=4c434b36-31d8-4eb2-922b-c99ebfd44912

That would be nice, but you're already on the web if you're using Outlook.com and e-mail is cloud storage.

Integrated syncing with local files, I mean, with files stored in the disk like folder(s) in drive D, for example.

You can already do that on W8 and through mapping network drive to Skydrive on any previous Windows.

How to do that? I have tried some tips and it does give me zero results. And I don't want any additional 3rd party apps installed to make it work.

Here's how for W8/RT...
http://rashedtalukder.com/how-to-map-skydrive-folder-on-windows-rt-desktop-mode/



SkyDrive is mapped by default on W8.1.

Yeah, on W8.1, but I have W8 for this time, and I don't want to upgrade it first.

How about they up the 7gb of storage to at least 20? You know something useful. If they want us to use it instead of local storage it should be free anyways. Not free for a tease use of worth.

Apple only gives 5GB free.

But they also have a 64gb phone to choose from. and why does apple have to do something for the rest of the world to do it to? pathetic excuse.

They are competitive with other services. They want you to buy storage obviously. I added 20 to mine with office 365.

well i wont be buying office 365. i guess im just tired of all companies trying to nickle and dime the people that buy there products. im not spending more on a monthly fee for something i feel is being forced upon us to use. I still prefer having all my stuff local. i dont do buisness stuff with my phone though so.... but they should make sd card support mandatory on the phones or make minimum memory requirements. also these days high end phone should see 128gb flashmemory not just topped out at 64gb on very few select devices.

Remind me of iOS vs WP marketshare. Microsoft should be giving away 50GB SkyDrive accounts to entice users to the platform.

I have 25Gb storage for being an early adopter and 20 with my subscription with office 365 = 45 Gb :D

And that 64gb phone is $400 which most people don't buy..

If you were an early adopter, you get 25GB...the reason the space is so low is because it's a FREE service for you and with millions of people taking advantage, do you have any idea how space that is at just 7GB a pop?

thats not my issue. they shouldve thought about that (all these companies) before trying to do away with consumer local storage. it all could be avoided if all phones would come with more storage wether it be internal or sd card style.

I still have it on my old account, and it's great when I create a new one for my WP8 (because I had app downloading issues with my old account), it rather give me an additional 7GB, so the total is 32GB.

It doesn't work that way, its pooled storage and when you have 7gb that is your quota for the pool. If you only use 1gb the other 6 is not sitting there unused.

We want Windows Phone backup...complete one tap backup!! Just like Symbian days!!

... and apps and settings backup. This feature is broken in Windows Phone 8, well, at least, on my phone.

I think they might have fixed all of that(except for the settings part) in the latest firmware update (the one that adds the storage check for nokias). Why do I say that? Cuz I got a 521 not too long ago and had to reset it to enable WiFi calling, and when I did, it asked me if I wanted to restore my phone with my account, clicked yes, and it downloaded all my apps I had right before the rest, txts, and missed calls

Yup, did the same on my 920, everything was as it was prior to the reset except the non Live Games that I had to start over which is why we need SkyDrive game saves.

I read somewhere that when you reset the phone and it asks for restore, you have no option to restore your initial settings via WiFi. Is that so? Does it use data plan only to retrieve your account details? Further, does it also save your Start screen tile layout?

A friendly heads up to the author: in the second paragraph under the 'Shared lists' subheading, it should be 'complement', not 'compliment'.

I'm so glad I'm not the only one who notices small errors like that. I was going to say the same thing.

better be. This version just suck. Hope it becomes the file manager for WP8 phones too.

Microsoft please fix the 'other storage' and empty battery icon showing with a full charge problems!

It's other than SkyDrive topic, but at least, let's wait for GDR3 and 8.1 update iteration for that issues get solved.

One cool feature is the option to open and read Comicbooks within skydrive. please MS add/allow for us to view read .cbr files.

There are a bunch of good comic book reader apps for w8 and wp8 that sync with your SkyDrive.

I want a SkyDrive-based music and video locker service. I want to be able to put my existing collection into SkyDrive and then be able to enjoy it from any windows phone, tablet, laptop or desktop, using a dedicated player.

I want this too. I use the app SkyMusic in order to listen to music I have stored on Skydrive on my phone.

I believe that Xbox Music is designed to fulfill this function without the need to store your music in a personal SkyDrive account. It will allow you to synchronize your own music collection with that of Xbox Music and then play it using their cloud service from any device. You need the Xbox Music Pass to enable streaming to WP8 and Xbox and you need an Xbox Live Gold account for the latter. You can do this for free to any Windows 8 device or to any PC through the browser. The Music Pass also allows you to download or play any song or album from Xbox Music as long as you are a subscriber. It is $9.95 per month but well worth it when you consider that you can literally play any music or download it for offline use that is available on the service. The fact that you can access your catalog across a myriad of devices without the need to store any of them is pretty phenomenal. Nothing even comes close to this service to my knowledge. It puts iTunes to shame. The only drawback I'm aware of is that I can only set up one Music Pass for an Xbox Live Gold Family Pack. I would gladly pay another $9.95 per month so that my wife can use it through her account as well. Or sharing the same pass would be fine as well. They could raise the price to $14.95 for the shared Music Pass or something. Anyway, from the responses that I've seen here, I would suggest that Microsoft work a little more on education for their phenomenal products and services. Xbox Video synchronization would be cool but not as likely. It does, however, provide me with access to all of the movies we've purchased through the service from all of my Windows 8 devices and Xbox. Extending that to WP8 would be fantastic. These days, I always buy movies through Xbox so that I can access them from any device. I don't need to buy music anymore. I just download it or play it when I see something new that I like with the Music Pass.

I produce and write local hip hop in my area and I have full albums and single if every artist in my area and sync'd it to Xbox music, but I can only access it from my PC (doesn't transition to cloud) am I doing something wrong?

Nevermind I got it thanks! You just made my unlimited Tmobile LTE SO MUCH BETTER! THANKS YOU SERIOUSLY! 800 Songs from local artist, AND my personal 520ish instrumentals for performing!

Rock on. Glad it was helpful to someone!

"You can do this for free to any Windows 8 device or to any PC through the browser. The Music Pass also allows you to download or play any song or album from Xbox Music as long as you are a subscriber. It is $9.95 per month"....Huh?

PC to PC = free; PC to / from WP8 and / or Xbox = $9.95 per month. The Music Pass also allows you to play ANYTHING in their service catalog as long as you are a subscriber. You don't own it but you can download it, play it offline, etc...

This is great news. We need a better backup solution on Windows Phone.

+1, as the current backup feature is rather broken in Windows Phone 8.

I really want to use Skydrive with my clients and be done with dropbox. However, I cannot just send my clients a SkyDrive link and have them download files -- like I can do with dropbox -- and my many of my clients don't want to sign up for SkyDrive. C'mon MS!!

You can do this from SkyDrive , they don't have to sign up

You can do that with SkyDrive lol

Yeah this has been available since before I remember. You can even make certain files private with a link and its like they can browse a whole folder that you have in your skydrive. I do this with my music clients!

Downloading shared files and folders would be much appreciated. I really miss this feature compared to Dropbox.
If they add this and add simultanious editing of those files, i would stop using dropbox as an alternative.

My phone replied to the wrong person, sorry

Until Microsoft doesn't fix the "other storage" bug, Skydrive is useless for Windows Phone. Did you know that the files you browse from WP8 on Skydrive get cached to the "other storage"? So you end up using storage on the phone and Skydrive at the same time. I moved the files I used for WP8 to an SD card and removed them from Skydrive. Thus has helped me keep the "other storage" bug controlled.

Caches are temporary and you can delete it fairly easy, and the reason it's written to cache is to avoid redownloading data and wasting your data...but you know, those a**holes.

That's right, cache is easy to delete. But unfortunately, I'm not talking about Internet Explorer but any other app that accesses Skydrive files (pictures, videos, etc). Those files go to "other storage" and for those my friend, I don't know of a way to get them off cache. Cheers.

Well I have a new feature under outlook.com. There's a new section Quickviews and under there is Documents, Pictures and Marked. In Pictures are all MMS listed that my Windows Phone send and received, but I can only see the contents of the ones I send. But nothing new under Skydrive.

I would like to see shared directories and files appear inside the a folder in the file system's SkyDrive folder, and to have them behave just like any other folder and file in the SkyDrive folder.

Make it a requirement for the Xbox certification. Then will gamers will stop complaining. Its very simple Microsoft.

Would love to see the shared directories. I literally just started sharing folders with my wife and this feature would improve the quality of SkyDrive for our use.

What about music saving to the cloud? What happened to that?

Sorry thats a fail as xbox music only matches your music or mirrors what you have purchased from xbox music. it doesnt have true cloud storage support. i can tell you this skydrive app on android works a lot better than the wp version.

Actually, it will synchronize all of your music with their metadata regardless of where you purchased it from. Storage isn't even part of the equation. See my post above on Xbox Music as well.

I hate what Microsoft is doing to SkyDrive. Adding more features make it too confusing to the average Joe & Jane. We just need a simple file repository, not this new-fangled stuff.

Sounds like wearing Depends and dinning at Home Town Buffet is just around the corner for said Joe & Jane.

Well, I hope this doesn't become a problem with the 'other storage'. Looks like even when I delete stuff it only grows >.>

SkyDrive could be integrated like icloud does in IOS lol

I would dearly love Permanent links.

You can create permanent links for sharing. You can even shorten it using the sdrv.ms service of SkyDrive.

They're not permanent links unfortunately. The link you get might be but the underlying cid file isn't. I wanted to put pictures in my skydrive , and using their permanent links, put them in websites ( Where they actual show up as a picture and not a link). I tested them out but after a while the link is severed. ;( Skydrive is still awesome though, so much functionality! But I would really love it if we can use it to store pictures for our websites.

Funny that you say that given that iCloud is hosted by Microsoft through Windows Azure and Amazon Web Services. Apple is still struggling to introduce integration between OSX and iOS and I imagine they are eating a bit of crow when you consider how critical they were of Microsoft for using a shared kernel between platforms. Microsoft's vision, capabilities and existing service portfolio is considerably more extensive than anything that Apple could hope for. Google is their closest competitor but only in terms of Enterprise sales for Google Apps for Business and even then, they are using MAPI for MDM if that tells you anything. Either way, their service barely qualifies as Enterprise class and that is pushing it. SkyDrive is just one cloud service that Microsoft has among many and each of those services has countless back end systems driving it. Cloud Services are a black box for highly complex data center solutions that rely on innumerable algorithms that drive anything from storage thin provisioning to clustering and virtual machine automation. Microsoft's portfolio is far more extensive than any other single entity in the world. They may not be the best at everything but they excel at the 90th percentile. iCloud doesn't even deserve honorable mention in comparison.

I agree but the one total solution for phone, PC and tablet is a ways a way for MS. I'm gonna say at least a year.

What is missing from the equation? I use it all the time between all of my devices.

I think Skydrive could do with taking a few pointers from Box.com. I know Skydrive Pro is a seperate thing, but some simple collaboration tools would be great. Most recent update notifications, file commenting, tagging, categorizing etc.. Make the most of having a cloud solution and offer benefits that aren't there for simple local backups.

Recent update notification is already on Windows 8 app (Live Tile), and its rumored that there will be a recent activity feed coming to SkyDrive too. I thought file commenting is already available. Tagging and categorization would be nice addition

They need to add SkyDrive support into the Xbox music hub on W8/WP8. I have over 800 sings in SkyDrive! I wanna listen by streaming, and I thought this would be already be universal since they have a all cloud mentality!

I would love to be able to download some files from my skydrive folders. Like .mp3 files, for exemple.

Are people still using SkyDrive even after the NSA debacle? Even for US people there's only a 49% chance of not being subject to surveilance thanks to correctly being identified and classified as a native American...

You can run but you cannot hide from the NSA!

I would like the option of having private, password protected folders, that don't show pictures of the content that's inside.

I just upgraded my SkyDrive from my full 7gb's to 50gb for $25.

"WHEN" Is the important question.
We use dropbox at the office for shared folders with users at other locations and it's ok and all but between all the sync conflicts and the sometimes on sometimes off client we have been looking towards skydrive. The only reason that we haven't moved over to skydrive is that end users would need to use the web based interface for shared folders which is just out of the question in most cases.
Another need feature of Skydrive in a multiple user setting is that users can see changes in real time if they both have the same office document open which helps with collaboration.

when I share a photo from the integrated twitter app to my Windows Phone I share a skydrive link is normal, this has always been in integration for WP 7 and 8, I can rest to these integration and I do not like that I share is a link which leads me to skydirve when I share a picture from the application of etwitte rintegrada the phone, and users who have beneficion this integration because it seems very uncomfortable ami one can see a link and a picture thanks