Microsoft unseats Alphabet as world's third most valuable company
Microsoft now sits behind Apple and Amazon in terms of market cap.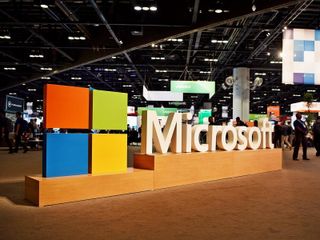 (Image credit: Windows Central)
Microsoft this week surged past Google parent company Alphabet to become the world's third most valuable company. At the close of markets on May 29, Microsoft was valued at $753 billion, while Alphabet was valued at $739 billion. Through trading on May 30, Microsoft has maintained that lead.
In terms of market cap, Microsoft now sits behind Apple and Amazon, who hold onto the first and second spots, respectively. Following up Microsoft are Facebook and Tencent.
As CNBC notes, Microsoft has seen a surge of 40 percent in the past 12 months, largely driven by the company's cloud and commercial services growth. That push has seen the company's cloud offerings consistently perform well over the past several quarters, helping to drive Microsoft to $26.8 billion in revenue with its latest earnings report.
Its cloud offerings, particularly in the enterprise sector, have become an increasingly important part of Microsoft's business since CEO Satya Nadella took over. Under Nadella's watch, Microsoft has also become focused on the budding fields of AI, quantum computing, and mixed reality – all of which are seen as some of the next big frontiers in tech. The company recently drove this home with a reorganization of its teams meant to focus on AI, the cloud, and ambient computing.
It's still possible we could see Microsoft and Alphabet exchange positions again. After Google first passed Microsoft in 2012, the companies swapped spots several times. The real competition over the next several years will be to see who among Microsoft, Apple, Amazon and Google will be the first to hit a $1 trillion market cap.
Windows Central Newsletter
Get the best of Windows Central in your inbox, every day!
Dan Thorp-Lancaster is the former Editor-in-Chief of Windows Central. He began working with Windows Central, Android Central, and iMore as a news writer in 2014 and is obsessed with tech of all sorts. You can follow Dan on Twitter @DthorpL and Instagram @heyitsdtl.
Alphabet is such an awful name.

It's a good name if you're trying to maintain a we're cute and solving the world's problems image while working with the military on a drone kill program. It's all about the rose color lens

Using inflated stock markets as a metric. Some people never learn.

Give us the repurposed Kinect in Andromeda!

Not that big a deal... who makes the most money 1. Apple
2. Microsoft
3. Google
4. Amazon Amazon's Price to earnings is an insane 200. Microsoft's market cap would be 3 trillion with Amazon's crazy P/E, and the lofty valuations for all 4 companies will be cut 40-50% in the next recession which happens like clockwork every 6-12 years.

Every 6-12 years, that clock is pretty bad.

Get ready...trump is going to make sure that happens Kurt.

The crazy one on that list is Amazon. They make something like 3 billion in profits in a year, vs. MS' 20+ billion. That means Amazon is priced like a startup. Imagine if they ever "turn the corner!"

mostly because Amazon reinvests a lot more money back into their business, expands their business and buys a lot of business. If Amazon just held onto their profits without spending so much, they would have better profits reported on their earnings call.
But Amazon is more about expanding their empire, than reporting profits right now.

This is huge, really, its a proof that a company which bases its income from diverse products is more valuable than a company that depends 95% of advertisement model as Google does.
Great job Microsoft!

The headline and article are incorrect. Microsoft and Alphabet have been trading places on the market cap list for the last number months. I don't keep track, but I would guess that in the last three months they've swapped six times or so. Don't these journalists watch the stock market?

Exactly what I was thinking. WTF!!!!! Lame "reporters". Didn't expect that from WindowsCentral

For the past 2 months ive seen MS surpassed Google like 20 times. Why is this news now? "The real competition over the next several years will be to see who among Microsoft, Apple, Amazon and Google will be the first to hit a $1 trillion market cap." YEARS?!?! Seriously are writers on WC on drugs?

As far as the 1 trillion cap is concerned I agree with market analyst Jason Moser on this one... "I think, if there's one place, one area where Microsoft is weak, and I think this is probably the only place, it's mobile. You don't see mobile really anywhere in their releases. They only mentioned the word five times in the conference call, and even those five times were essentially meaningless. That's a problem in a mobile world. So, when we talk about these companies that are growing so fast, the first company to a $1 trillion market cap, for example, it's not to say Microsoft couldn't get there, but they're going to have a really hard time if mobile is not a part of that strategy" https://www.fool.com/investing/2018/05/03/how-much-optimism-is-priced-in...