Microsoft unveils its new LinkedIn app for Windows 10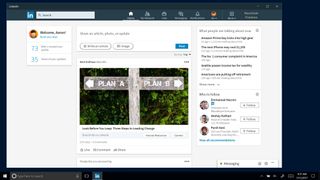 Microsoft has today unveiled its brand new LinkedIn app built from the ground up for Windows 10 users. The new app, which starts its rollout in the Windows Store today, appears to be a UWP web app with a few Windows 10 integrations such as a Live Tile and toast notifications.
In an announcement on the official LinkedIn blog (opens in new tab), the company said:
While the app itself being a web wrapper will disappoint many die-hard UWP fans, the Windows 10 integrations may actually prove to be useful for those who do use LinkedIn on a daily basis. No longer will you need to manually check the site for notifications, as they'll now popup directly on your desktop.
Microsoft says the app is now rolling out in the Windows Store for Windows 10 users on PC. No mention of this app working on Mobile, unfortunately. We'll update this post with a link to the app once it becomes available. In the meantime, are you happy to see a LinkedIn app for Windows 10?
Zac Bowden is a Senior Editor at Windows Central. Bringing you exclusive coverage into the world of Windows 10 on PCs, tablets, phones, and more. Also an avid collector of rare Microsoft prototype devices! Keep in touch on Twitter: @zacbowden.
An app I desperately need on my mobile isn't coming to mobile.....I'm speechless. I'm just praying to live long enough to see a day Microsoft realises Mobile is everything.

Yep, and after Microsoft spent years bragging about how easy it is to create UWP apps that run across all Windows 10 devices, but apparently the most talented software company in the history of the world can't figure out how to 'check that box' to make it run on mobile too. Everything they've done in mobile since Satya took over has been an embarassment: firing 30,000 employees, developing apps for iOS and Android but not Windows phones, promising that "they'd make phones if no one else does", stringing along customers and refusing to directly inform them of their plans, etc. Shameful.

And the lack of features and support, endless bugs, and the accidental release of an update that bricks everyone's phone is not acceptable coming from a giant company that prides itself in software.

Who's running this company? I blame Nadella, but his remaining fans blame the board. They made a $26.2B investment in a company worth half that, and now won't even make an app for it. What an shameful embarrassment.

They'll make phones, just not windows 10 mobile phones. It's 2017, time we moved past mobile devices... and phones for that matter. But hey if ms doesn't plan to have mobile devices, then they'll die, technology will go on.

It's the current year, yeah!!!

Nailed it, i wonder if your comment will reach Microsoft management.

If it does, they are don't care.

Well, Microsoft must test out Project Westminster too. Web wrappers are the best. Hey its Microsoft product they can do with it what they will. Don't see what all the complaining is about. Easy come easy go. It's not the first time they made this kind of move and it won't be the last.

What's even more sad is that when the Android and iOS users tell MS the new Skype app sucks, they get a heartfelt reply that "together we will build a better Skype app". That sort of transparency is exactly what Windows Mobile users have wanted for a long time. Don't tell me the Insider Program was supposed to be that. Go to the feedback hub and look at all the features we begged for but never got. Ridiculous.

No better apps for Windows Mobile, change OS only the solution .

Could someone please hack this desktop to work on mobile?

Windows Phone is dead, MS has switched focus to cellular PCs, whatever that means.

This is not even about Windows Phone.....it's about a wrapper for their main Windows OS. It's a disgrace and speaks a lot.

Microsoft revealed their vision of "Mobile" at Build this year, unforunately it doesn't align with those on the Windows Mobile platforn. Like many, I kept hoping things would turn around for, but that never materialized. It was unforunate to see apps either become abandoned or removed from the store. I started to contemplate jumping ship, when four apps I used on a regular basis, see the same fate. Watching the Build presentations this year, reassured me that if I wanted an enjoyable mobile experience I needed to switch to either Android or iOS. Just the though of switching platforms gave me anxiety, but after switching over to Android on a Galaxy S8+ from an 950 XL, I have no regrets. The switch actually made me realize just what I had been missing. Anyways, it's unfortunate that MIcrosoft can allocate the resources to create a UWP app for LinkedIn on the desktop, but leave out the mobile users.

Do android apps sync well with OneDrive?

I haven't had issues with the android versions of one drive or outlook yet. My account synced without issues, however I ended getting VMG converter from the play store to import my text messages.

I'm that amazed that iOS and android support but not mobile 10.

If you looked at market shares, you shouldn't be amazed at all.

Microsoft doesn't wanna write for its own platform

Microsoft is trash! No, not happy. Shouldn't have been a webwrapper.

Don't even have that on my mobile

They cannot do anything right now. Microsoft will be split this fall, most probably around November. After that everything will change and will be split in product lines.

You can see the lazyness of Microsoft here. They keep shouting UWP. Yay. UWP yay UWP yay. But when it comes to develop apps for the platform they just show their lazyness just like other developers. This is the situation when they own LinkedIn. This is just pathetic.

Why any developer would touch a Microsoft platform today (under Nadella) is beyond me. The 400 million desktop users just jump on Chrome.

Yeah this is the reason obviously. I am just pointing out MS laziness when it comes to develop apps. When you don't stop bragging about UWP then if you are developing for your platform then it should be a UWP app. That's the situation where MS owns LinkedIn. 🤣

yes...use chrome...sell your soul to google instead. Im not a fan, but if i had to totally jump ship, I'd go linux instead.
I can accept that i have to use android now, but no way i hell am i gonna ever use chrome

That a third-party developer hasn't published a UWP version of their mobile app likely isn't a sign of "laziness." If there was a compelling reason to create and publish a (mobile compatible) UWP version then it would make sense to do so, otherwise why bother? However, given that of the market for those Windows phone users that remain, Windows Phone 8.1 has a ~74% share and Windows 10 Mobile has a ~20% share, if a third-party developer was inclined to create a Windows mobile app it would, on the numbers, make more sense to write the app for Windows Phone 8.1 unless you absolutely needed to use a feature that is only available on Windows 10 Mobile. At least then your app would be available to most Windows phone users since Windows 10 Mobile can also run Windows Phone 8.1 apps. I agree, though, that Microsoft simply MUST lead by example. No more of this iOS or Android only mobile app nonsense, with a Windows 10 Mobile version nowhere in sight. If they can't be bothered to create Windows versions of their mobile apps, why should anyone else bother?

Does this mean, that if I had the original LinkedIn app, that got updated and then was removed from the store, that it will be the same? Or will it be better, for example it won't tell me to download the app :D

In the email they sent to their customers, the mobile app will just stop working.

This really is a sad state when a Microsoft service won't even build a proper app for their own platforms. You've really gotta question who is running the show at Microsoft. In other news, why haven't I been able to read comments in the Windows Central app for a couple of weeks? I've had to come to the mobile website to read the comments for this article.

Yep, just like they did for new features in Authenticator app - low number of users on W10M so we won't bother until see demand.
So raw statistics are running show.

Do you have an ad blocker enabled?

Do you have an ad blocker enabled?

Microsoft is pathetic company. This is exactly why it is doomed to become a dinosaur like IBM. Long live Apple, Google and Amazon.

IBM is a dinosaur? They're don't extremely well.

We'll be more happy to see it on Windows Mobile 10 too...

It's Windows 10 Mobile, but who cares.

We know Microsoft doesn't

From the screenshot looks like it will work much like the Teams App does. These web wrappers are half bad if they seamlessly interface with the OS features like a native app would. It will eventually come to mobile just like the Teams App did.

Hang on, wasn't the HP Elite X3 aimed at business and corporate? Oh yeah, cause they won't expect to see a LinkedIn app, will they Microsoft? I've lost so much respect for them recently for their stupid decisions.

Glass is Half Full view is MS just showed lazy developers how easy it should be to make a UWP web app using the wrapper. Wowza.

I'll install it on each of my computers and it will be nice to get notifications at least. But I don't see myself actually checking my LinkedIn feed without a mobile app.

What a way to start a Monday morning....feeling, abandoned.

I guess it's finally time for us to acknowledge that Windows 10 Mobile is dead. If you haven't acknowledged it already...smh!

This isn't just about mobile. They've build a web wrapper for Windows 10, that's even more embarrassing.

Yeah, how long until UWP is dead?

So they removed a web wrapper from Mobile and instead brought it to desktop, just with notification and live tile support? Wew.

A software company the size of Microsoft and they can't even build a real app for their own OS. Unbelievable.

They spent $26.2B on the company, but can't spend a tiny fraction on that to build a proper app for their own OS and platforms? I know Nadella goes away a multi-millionaire no matter what, but you'd think he'd have some pride. Regardless, he needed fired a long time ago. He got lucky the enterprise cloud finally gained traction just as he took over, but his luck is running out the second the Azure/365 boom runs out.

I thought the entire premise of the universal platform was that you wrote once and the app worked everywhere. Why does a universal app need to be made to work on mobile if its a universal app?

It does. You still need to do a bit of work so it looks good on mobile though.

First you have to write an app for that to come into play. This is just a web wrapper!

If it's essentially the website wrapped into an app, why would users use it over the website?

Live tile and Toast notifications, also, just to merely have a presence in the store I suppose!

I just don't see those as being compelling enough for anyone (outside of hardcore Microsoft fans) to use it.

They won't, they'll just use Chrome.

Odd, the blog is tagged with "LinkedIn Mobile".
Ah well, wait and see I suppose.

to be fair, the website itself is fairly decent, why create more work to replicate features when you can put a wrapper on the website and add the windows 10 integrations?!

Exactly...i don't see what people are so upset about as lokng as they make this available on mobile as well. LinkedIn is a website...always has been. What's the problem with wrapping it so it can integrate with the desktop IS to take advantage of features there that other OS's don't have? A 'native' app would provide what additional value specifically? Again, as long as this comes to mobile....this is a win!

A native app should be faster, better looking and have more features than a web page or wrapper. Also, with UWP it would work on mobile, not to mention, Microsoft should be leading by example. Every app they create should be the best UWP app possible. Not doing that gives the idea that UWP isn't long for this world.

Faster? I think you have it the other way round. A web browser will load linkedin, facebook, twitter... any web site quicker that their app equivalent.. Microsoft recently updated the look of the site in preparation for this, so whatever way you choose to consume the site, it will look the same and have the same features. I get the frustration over the mobile part, but I think your missing the bigger picture. This app would run fine on windows on Arm which is where mobile is inevitably heading.

I forget how slow apps open on Windows. Once it is open though, the app should be faster and smoother. Would it run fine on WoA? Without a mobile interface, it certainly won't run in the mobile shell.

A simple update of the site to make the web design responsive when shrunk down and viola, you have a mobile shell equivalent.

How could a mobile app of a website have MORE features than the website which it is natively???? LinkedIn is a website first and foremost...it was NEVER a desktop app of any kind. Every feature it has ever had is in the website. This logic used to make sense 5+ years ago when ****** web sites were made to give rudimentary remote access to desktop apps. The web always had less features than what you could do in the native desktop. But, with things like LinkedIn, MS Teams, Slack, Evermore, etc.....they are all web apps first. Therefore, using YEP to bring desktop features (Live time, notifications, etc.) to a website is a huge WIN.

You ask how an app can have more features than a website based service, then list them. Well played.

Good, then you agree that what MS did for their LinkedIn app for Windows 10 was exactly the right thing. They made the native web applications features available on the desktop AND added additional value by integrating a web applicaiton with desktop only features. So, what are you unhappy about?

I guess I should be happy Microsoft isn't utilizing their own platform. Imagine if Google made a web wrapper for YouTube or Google+ on Android. Would you ever expect Apple to release their new iPhone app as a web wrapper? How embarassing would that be?! It certainly isn't ok for Microsoft to do that. Are you confident that UWP will still be around in 2 years? This decision doesn't bode well for the platform. When Microsoft stops fully supporting their own platform, that is usually a sign the end is near.

Did others get the email: Yep - MS have killed Linkedin on MS... We are retiring the existing Windows Mobile App on 08/31/2017, which means the app icon will remain on your phone but will no longer work. You can continue to use LinkedIn on your Windows phone by going to www.linkedin.com from your mobile web browser (Edge, Internet Explorer). From here you'll be able to access the full range of LinkedIn features, including search and profile editing, which were not available on the app. For easy access to LinkedIn mobile web, you can pin the website to your start screen on your mobile device and open it with a single tap. Instructions on how to do so below. Open the web browser on your Windows phone. Enter www.linkedin.com and navigate to the site. Tap the three-dot menu button at the top right. Select "Pin To Start" Additionally, we will be launching a new LinkedIn Windows desktop app in a few weeks on the Microsoft Windows App store. Please feel free to contact us with any questions. The LinkedIn Team

Unless I've fallen into a coma and lost a month, linkedin app on my phone stopped working months ago, its not 08/31 yet.

I started to believe that they do things this way because they plan to bring W10 Cshell and W10 S to new and existing mobile devices.

Blah, blah, blah... Let's list a few things they 'planned' but haven't delivered on:
- Timeline in W10
- IOT
- wearables
- Three phones for business, low-end, and enthusiasts
- Story Remix
- ... I don't have all the time required to complete the long list..

This is so embarrassing. It's a Microsoft product now and they had a lot of time to make a proper app. Instead we got a web wrapper, not universal, not on mobile. There is no benefits using the app. You would probably get to their web site faster using a web browser than launching this app.

You can't even give the operating system that's run under the same house that BOUGHT LinkedIn an actual native UWP app? We just get a website with notification support? Not to mention no support for mobile? How is Microsoft seriously gonna sell the universal platform if they can't even make their own apps universal or support those who support them on mobile? I'm tired of Microsoft and Windows now. They've inconvenienced me for way too long now. I love W10M but all this flakiness is just a huge stab in the back for those who really care about them.

Microsoft will kill UWP soon. I don't see them continuing it with this level of support. It isn't a good sign when even Microsoft stops using the platform.

I bet this app doesnt even integrate with My People. Another delayed feature...

I can't say for sure that they wouldn't if they had a choice, but as of now they don't really have a choice. Start menu is uwp. All apps in Windows are uwp. Xbox is uwp. Taskbar should be uwp soon. They just have to keep it alive now - I am not sure if they would do that again if they had a time machine, but they don't have one.

What a bunch of whiny pants nerds! My life and need for MS products is OVER. You all sound like my 4 year old. I see this as a see how easy it is to make an app. Oh and yes W10 mobile is not their focus. That is not news

You can get the mobile app on Android and Apple but not on Windows 10. There several webpages dedicated to info for those platforms on the net and direct links to their stores...zip for Win10. Must say I'm beginning to wonder about Microsoft.

A web wrapper. I guess this is an indicator that Microsoft is killing UWP as a concept and basically using the store only as a repository. There is nothing wrong with that but you can't really believe after a year of owning Linkedin they come up with a web wrapper.

The only problem for a mobile user going to the linked in website is that Search doesn't work. Go into contacts, tap on Search and watch that keyboard disappear!

Got a LinkedIn in notification on my Android phone while reading this article and shed a little tear for my WP peeps.

They could have used LinkedIn to find someone who can develop a true UWP app. LOL!

Haha, but that developer would never have received the notification on mobile because it's a web wrapper!

I don't need a web wrapper for my desktop. I do want a proper LinkedIn app for my Win 10 Mobile phone, but it looks like I'll be moving on in the future and iOS already has a working LinkedIn app...

Boo, still not a true UWP

I don't see what all the complaint is about a web wrapper. I mean Microsoft pushed web developers to make their apps UWP by using Project Westminster, UWP Web Wrapper, to the Windows 10 store. This push for LinkedIn as a UWP web wrapper is just proof of how easy that is. Why would Microsoft want to use time and resources and QA cycles making a new application when web code is already vetted and present? Now the one thing I do not care for is that UWP should be for Desktop and Mobile. For them not to include mobile and not make sure the web code was a responsive design for different screen sizes in a year is very puzzling to say the least.

Surprised so many are surprised. This is typical Microsoft, who didn't expect this?

Why is there so much truth in this statement? This shouldn't be. Let's give them to benefit of the doubt and hope they are creating a full UWP app in the background and this current app is just a quick fix.

Built from the ground up? Last I checked a web wrapper app only takes a day to make if that long probably could be done in a hour.

If Microsoft is too lazy or inept to make a proper Universal app, why should anyone else bother?

This just goes to show you how disorganized Microsoft is and what a lack of committment they have. SAD.

C'mon everyone. True it's not a native UWP app, but neither is it a simple "web wrapper". This appears to have been built as a Hosted Web App (Project Westminster) and therefore is UWP. Web apps are probably the future anyways for most apps, and this bridge is an essential way for UWP to happen.

if someone get ahold of the install file and tries to install on mobile and it fails, then i guess it would not be a true UWP.

Actually that's not accurate. A true UWP does not necessarily run on all platforms. It's up to the developer to decide on which platforms it will run. There are UWP's that are on PC and not on Mobile (or Xbox or mixed reality, etc.), and, believe it or not, Mobile UWP apps that are not available on PC.

It amazes me people still don't get that UWP does not mean runs on everything for sure.

its looking like web wrapper. But
I'm waiting for Mobile native app.

Build a web-wrapper for Android and iOS for f*** sake!!

Microsoft pushes native apps from developers and yet its own apps are either web wrappers like LinkedIn, poorly designed like Skype, or completely unstable and behind like Outlook. Groove is probably the best and only example of Microsoft making a good app for Windows.

This has been a multi-pronged approach by the Massively Screwed-up dis-Functional Team (MSFT) that has been going on since the beginning of the year. MSFT re-packaged the LinkedIn website and removed functionality that wasn't available in the iOS or Android versions of their app. They basically re-developed the LinkedIn website for a mobile experience on your desktop. I'm not sure who thought of that one but give them the goof-of-the-year award! That is the Massively Screwed-up dis-Functional Teams approach to mobile. Redevelop things so that they look like you are on your phone or mobile device! I guess that MSFT hasn't heard of responsive websites. Unbelievable!

Nokia, Skype now linkedin that Ms has screwed up. When will it end.

Nokia was already screwed up. Nice history revision though

So much fail. Microsoft has no direction.

Man, you guys with comments using the word lazy to describe Microsoft's mobile commitment. It's not that there lazy, it's that they don't care about windows on mobile.
I'd like to know where are Dan Jason and the other guys at??? No comment as usual or a sarcastic comment from the lead editor Dan himself as always.

They are silent just like MS silence on the future of w10 mobile!

how can ms expect devs to put their apps forward as a uwp app when they cant be bothered to do the same with their own apps, MS are at about the end of the line with me.

I feel the pain of other commenters. MS has clearly demonstrated it lacks market awareness, almost to the point where it fears competition. Is that a product of its early history and having its way with pc's? Over the past several years, whenever the going got tough, MS cut and ran instead of doubling down and pushing back. Buying Nokia and then dumping it within a few years is an absolutely brainless approach - unless the only goal is to feed dividends to stockholders near term. I just bought a damn nice pc in May... but whew, I'm thinking next time I might be looking in Apple's direction unless MS starts showing some vision and market acuity.

But... wouldn't the "web wrapper" actually work perfect with WOA?? Just saying, I'm on android now and very happy about it, but I am actually looking forward to new devices where web bots and progressive web apps takes over! It would be nice to buy a phone that could run everything when it's all on bots and web wrappers.. getting tired of always having to open an app, and the looks on different platforms is different..

MS is so focused on the future that they neglect the present!

so is there a link to this yet? cant find in store. I have the web wrapper already on my 950.

Not only there is no link yet, I just realized that AppLinkShow, an alternative app I've been using so far had just been withdrawn. Hats off to communication from Microsoft once again btw.
- All old versions of the app will be removed.
- Oh no, WP will stay of course, we totally forgot that's a platform too. We won't even bother withdrawing that. Not even sure how to do it. Prolly will need to hire someone for that.
- All right, so your app had been overwritten with a 0 functionality wrapper.
- Let's have a mail written to everyone what we just did.
- Oh too bad that HR finished hiring the guy to withdraw the app. So nobody told the lad that we've already updated the app with a wrapper, no need to remove the application from the store?
- Let's write a mail again that there will be a new version coming sometime. Dude deleted our wrapper app so well that we cannot even restore it now that we just realized our UWP app is incapable of running on mobile.
- You know what let's just give them what we have. We'll write a post that it will be released today.
- Oops, we've just realized that it's our old wrapper app for mobile we've been trying to build as a desktop app and Microsoft Store had been refusing to accept it. Too bad we modified the code so badly. Now it doesn't even run on either of the platforms. I'm just waiting for the next brilliant piece of communication from LinkedIn. 🍿

Did you get this notice yet for you phone?


I dont know why, but i think this app must be written in UWP, but unfortunatelly not :( "We are retiring the existing Windows Mobile App on 08/31/2017, which means the app icon will remain on your phone but will no longer work. You can continue to use LinkedIn on your Windows phone by going to linkedin.com from your mobile web browser (Edge, Internet Explorer). From here you'll be able to access the full range of LinkedIn features, including search and profile editing, which were not available on the app. This is what i have received from linkedin, but i think all of the users have received this mail.

Giving it a spin right meow!

Well, I'll give it a spin as soon as I see it in the Windows Store...

Not available for me yet. They write it will be at the end of July =)

Good catch - I should have read the source blog!

Well, this must be one of the slowest rollouts ever. I've been looking for this app since the 17th, when this article came out. Still don't see it.

Lol right. This is ridiculous, they should be ashamed of themselves
Windows Central Newsletter
Thank you for signing up to Windows Central. You will receive a verification email shortly.
There was a problem. Please refresh the page and try again.