Microsoft unveils 'Project Scorpio' a more powerful Xbox One to rival PlayStation 4K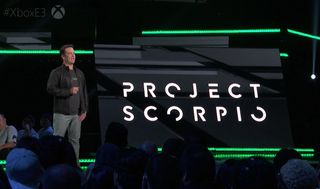 Recent rumors have suggested that Microsoft is planning to release a more powerful Xbox One, codenamed "Project Scorpio," sometime in 2017 to rival the upcoming PlayStation 4K. It appears those rumors are true, as today Microsoft has unveiled Project Scorpio, a more powerful Xbox One coming next year.
As a surprise to nearly all of us tuning into Microsoft's E3 press conference, the Redmond giant has pulled back the curtain on a much more powerful Xbox One SKU called Project Scorpio. The new console features an immensely more powerful GPU compared to the one found in the already available Xbox One and upcoming Xbox One S, with support for VR hardware and a performance increase of up to 6 teraflops, outdoing the rumored PlayStation 4K's 4.14 teraflops.
For reference, the current Xbox One and PlayStation 4 output 1.32 and 1.84 teraflops. So an increase of up to 6 teraflops for Project Scorpio is seriously impressive. This performance increase allows for true 4K gaming, enabling crisp and clear gaming for console gamers. Microsoft says this is a "no compromise" gaming console, and that all games built for the Xbox One will work on all three Xbox One SKUs, that being the original Xbox One, Xbox One Slim and Project Scorpio.
No other details regarding Project Scorpio have been revealed, likely due to the consoles availability being so far out. Considering the newly announced Xbox One S' most expensive tier is $399, it's likely Project Scorpio will be a considerable amount more.
Zac Bowden is a Senior Editor at Windows Central. Bringing you exclusive coverage into the world of Windows 10 on PCs, tablets, phones, and more. Also an avid collector of rare Microsoft prototype devices! Keep in touch on Twitter: @zacbowden.
Well no one is going to buy the One S. Everyone will wait to see this thing now. I'd not show this if I were them.

That's how I feel, if your new to the Xbox One then Yes get the S as it has more and cost the same. Also side note artical says Project Scorio.

Of course they are. Kids want christmas presents 2016 as well, and there will be a ton of current Xbox owners who will be looking for a sleeker console while they await the Scorpio. Keep in mind their current boxes are from 2013 in some cases. It's not too big of a deal economically to buy a new one every two years or so.

Scorpio is bound to be expensive. The One S is really for those still using the Xbox 360 who don't buy the latest and greatest.

The new PS 4K will cost just as much

I doubt the Scorpio will be very expensive, the cards today are around $200 for similar performance, in 18 months that number goes down drastically. Of course, MS probably doesn't care if you buy the Scorpio at this point, really they just want you in their eco-system, whether you play on the Scorpio or PC.... there really is not much difference now.... in the future there will be zero difference, more or less. Sony is the leader and can probably charge a premium, at this point it could be argued they are really the only true company in the home console market, depending on your point of view. Xbox at this point is going away and being consumed by Windows/MS UWP Store, whether you buy their console they don't really care... they just want you on the MS Store.

Microsoft is far from giving up on Xbox consoles. They're selling better than last generation. Including Windows PCs only increases the console appeal for consumers and developers. Consumers can play anywhere while developers will have a larger market to target. More developers means more games for Scorpio....which will be far more capable than Neo.

Huh. Well, I would suggest you call MS because that is what they are doing and what they have been talking about. There will only be Windows.... whether a manfacturer makes hardware that fits under a TV is irrelevant to them as long as its tied to the store. Xbox hardware if they even decide to sell it in the future will really just mean a sticker on the outside of the PC. The rest of what you wrote really makes no sense...hardware already exists that out performs the scorpio and neo now... why would someone wait 18 months? It is real simple MS has replaced Xbox (or consumed it) with Windows / MS UWP Store... you are no longer in a console cycle, although MS can still elect to make hardware from time to time. Dell, Lenovo, HP, Alienware, etc are all selling MS's new console right this second... they are called PCs. I think you are a little confused as to what is occurring. Xbox is no longer a hardware platform, its software tied to Windows and the MS UWP Store, or will be in due course. Whoever makes the hardware or in what form is basically irrelevant to them... they just want the Xbox users to start using the MS UWP Store on whatever hardware runs windows. I would imagine MS would rather just stop making the HW altogether at some point, unless they can sell it a huge premium like the Surface.

Sure I agree that Xbox is becoming a platform rather than hardware alone. But that doesn't mean they won't still make consoles for average consumers that sit under the TV. As I said, this approach gives them an edge over PS because it gives console consumers and devs more incentives to buy/dev for Xbox rather than PS. There will always be a hardware standard for game developers to target and optimize for. That's why they introduced Scorpio: a higher speced hardware standard. Yes it's still not as powerful as some PCs but it's much cheaper for consumers who also want something under the TV.

Anyone in the market for a 4K Blu Ray player will definitely consider it. Bargain compared to stand alone players.

Not really a 4k blu-ray player is only like $99

Yeah but a good one (better refresh rates and processing power) is about $249

If you find a 4k bluray player for $99 then jump on it. 4k bluray players are 300 and above. Im pretty sure a bluray player that upscales to 4k cant play real 4k blurays. Posted via the Windows Central App for Android

haha. did you just pull that out of your #*$?

no sir I am not your mother to be pulling things like you out of my rear I actually picked one up at walmart for $99 last friday

I'm going to get an Xbox One S. They'll surely have a trade in offer when the Scorpio comes out at Gamestop, Amazon, and/or the Microsoft Store like they have done before. And if not, I have a 4k player in one room and and Xbox VR on the main TV. Posted with Windows Central for Windows 10

Given that Scorpio will most likely be at least twice the price of S, they are not losing anything announcing the project today. We are still more than a year away, anyway. Not everyone needs to most powerful console, some just want simple consoles for their kids or family. Scorpio will be reserved for more hardcore gamers.

Well then be prepared for a price shocker. Won't be considerably less expensive than what a Gaming PC costs today.

will be at par with the new playstation

Yes it will. Just the graphics cards needed for 60 Fps at 4K will likely be more than Scorpio. Speccing a PC to do that today is over 2k If an Xbox can pump out 4K gaming at 60 fps for like 700/800 dollars it will be bargain of the century and a massively desirable piece of kit.

If you think that any game console is going to be doing 4K @ 60 fps, you're crazy. Maybe if they keep visual effects to a minimum, but I suspect you're going to see a lot of 1200p and 1600p games. If the current console can't do 1080p reliably, what makes you think a console with 3x the power (Tflops) is going to be able to push 4x the pixels?

3x the power? 6 teraflops vs 1.32 teraflops is more like 4.5x the power. I think it will have plenty of power to push 4k gaming at 60 fps.

Ooops, I was looking at the PS4 figure, comparing roughly 2 to roughly 6. Either way, it's not enough for real 4K gaming. Need proof? Check out the R9 Nano: http://www.techspot.com/review/1061-amd-radeon-r9-nano/ The R9 Nano is representative of the kind of "up to 6 teraflops" performance that you can expect Microsoft to build into the new console. At 4K resolutions with "very high" settings, the R9 Nano cannot maintain 60 FPS in ANY of the games they tested. At 1600p resolution, the R9 Nano averages around 60 FPS in about half of the games. So, in order to get a reliable 60 FPS, games will have to either run at lower resolutions, or scale back the visual effects and textures, or some combination of both. Also, keep in mind that those benchmarks reflect games that were on the market 6 months ago. When the Scorpio launches, it will simply not be capable of high-end 4K gaming. Simple games will run at 4K. But there's just no way that graphically intense games will, given the limitations of the hardware.

The R9 Nano is year old tech. (which is a long time in video card years!) The GTX 1080, and even the GTX 1070 can run "graphically intense" games at 4K and 60fps no problem right now. I'm sure by the time the "Scorpio" consoles come out next year, they'll have the GPU to get it done without even breaking a sweat.

No, the 1070 cannot. From the Ars Technica review: "The biggest gains come at 1440p, which is definitely the sweet spot for the GTX 1070, although it's a capable 4K card provided you're happy gaming at 30FPS with a few settings dialed down. As with the GTX 1080, SLI is still a requirement for 60FPS 4K gaming. Hopefully one day we'll be able to live the 4K HDR dream with a single GPU." So, even if a next-gen architecture from AMD can match the performance of the 1080 at a price that makes sense to put it into a console (less than $600 if they actually want anyone to buy them), it still won't be powerful enough for 4K/60 gaming. The current Xbox One is capable of 1080p, but developers avoid it because they would have to make too many compromises to run at that resolution. For the Scorpio, developers will have to do the same thing. That's not to say that NO games will run at 4K, only that 4K will only be possible with the equivalent of "lower quality" settings on PC.

another thing to keep in mind is that Scorpio is a 100% DX12 machine with the OS and the hardware. everyone knows now that DX11 was a major mistake with heavy overhead. DX12 brought it much closer to the metal to extract more performance. And it takes 3+ years to develop AAA games and only now are DX12 titles coming out in numbers. Even looking at the techspot article you listed, it's all DX11 games. the only way to overcome the DX11 overhead was to get a more powerful graphics card. But with DX12, you can get higher performance from the same hardware. Even the first DX12 games netted significant improvements over DX11 equivalents. DX12 didn't help Xbox One because the GPU in the Xbox One is a DX11 part so it couldn't do use all the DX12 features.

Total snake oil fella,theres no way that console will do 4k fps at high settings....no way

I bet it would play Half-Life 2 or Portal at 4K with high settings. Anything made in the last few years -- more importantly, the NEXT few years -- it's just not going to happen. Get ready for 2.5K, because 4K is still a decade away from being feasible in a sub-$1000 console.

I don't think it's going to have any problem as far as power goes, my concern is what does it mean for developers. Their options once this launches will go from being make the best looking game you can on the One to deciding if they should target Scorpio, all One users or allow for higher graphics on Scorpio and lower on One and One S.

It will have problems with 4K, and graphics will trail behind what is possible on a well-equipped PC. As for supporting both Scorpio or the original, it shouldn't be too tough. All the assets should basically be the same either way, you just tell the engine to output at 1600p on Scorpio instead of 900p one the old One, or 2160p instead of 1080p. PC games have no trouble with this, and the Xbox One is just a PC at this point.

Scorpio is coming in the end of 2017. S will be available in August. So your statement could not be more flawed. People wanted the S and they will buy it. Besides, it doesn't serve the same goals with Scorpio.

I have multiple corrent Ones and will get an S simply so I don't have to lug about additional drives when gaming away from home. I still with they'd give ppl a way to easily replace the crappy 500Gb drive in the current system with a 2tb or one of the new 3th 2.5" drives.

It's possible to replace the internal drive but of course not recommended and will void the warranty. Nonetheless, external drives are not that bad. It's too convenient really.

I have the forza 6 xbox one with the 1tb hard drive plus a 2 tb external drive that target had on clearance for some reason for $50. The forza bundle and the hard drive only cost me $400 so im good until scorpio comes out. Posted via the Windows Central App for Android

Sure they will...if they don't have a 4K TV and have no interest in VR. I might get the scorpio myself for VR support, but that's a year and a half away so I'm not exactly worried.

No one is going to buy a console available now(ish) because something more powerful will be available in eighteen months time at an undisclosed price... Yeah, right. Posted from Windows Central for Windows 10

I imagine they'll be at completely different price points, so there will be a healthy difference between the consoles anyway. But I hate how Microsoft always announces things. They announce it a year in advance, rather than when it's nearing release. They'll gain some press for now, but then everyone will be sitting and waiting to see the final thing. They need to move towards the Apple method of just announcing products when they're ready, then letting all the press from the annoucement lead into strong initial sales.

They needed to gazump Sony by announcing faster hardware than the Neo to stop more ppl jumping ship.

They don't want people jumping to the PS platform as they want to convert Xbox users into Windows 10 / MS UWP Store users, this will take years so.... its a delay tactic. MS doesn't care if a Xbox user buys the Scoripio, they just want the user not to jump ship into another platform whether that is Steam or PS, or whatever.... they have convert them into MS UWP Store users.

Except that everybody knows when new apple products are to be expected

Not necessarily. It's still a year away and I personally don't really care for 4K at the moment (1080 is really good for me thank you, I don't even own a 4K TV anyways), and frankly game consoles really don't cost that much anyways - the real cost is in the game titles. This strategy allows people to have a choice depending on their gaming 'taste'. Something for everyone. Regular guys go for the 1080 consoles, hardcore guys go for 4K (at a different price point obviously)

Except that current consols have a tough time maintaining framerates at 1080. Both PS4 and xb1 were badly underpowered when you consider that neither look a huge amount better then the PS3/360 class graphics we get on 7-10 year old hardware. Better - yes. 7 years better then ps3/360 - no.

Actually, as I will be buying one your statement is flawed. Not showing it might have been sensible only so the PS5 cannot not be made faster than it.

The PS5 won't be out for 3 years at earliest, the PS4 Neo is not a replacement for the PS4. MS is basically folding Xbox into Windows and the MS UWP Store... its pretty simple. Sony can't competite in a hardware spec war with Dell, Lenovo, HP, etc.,, so why would they? Xbox as you know it is going away.... please visit the MS UWP Store in the future.

Wrong, i'm getting the Xbox One S because I want it for the Windows 10 experience and Apps, as a Media Center and to cast my phone and Surface laptop to, as a BluRay player and for my old Xbox 360 game discs that I can't play because my Xbox 360 Elite fans are like a jet engine. I will buy the 500GB model and maybe buy a few Xbox One Games, but i have a Windows 10 PC for real gaming and besides - i have no use for Project Scorpio becuase my TV is only FullHD and i have no room to set up a HTC Vive inside of - nor any interest in buying an HTC Vive - my interest is in AR like HoloLens

The current One will do all that just fine, and $100 cheaper if price is a concern. Plus, get off your stupid 'real gaming' high horse. Both platforms are 'real gaming' platforms, only one seems to have elitist douchebags though...

Ιf xbox Scorpio won't affect the old console games and staff ot won't be a problem I guess

Xbox Slim is gonna be Cheap as Dirt....so that's the one Reason to Buy ......

Only way I would by the S is for 4K blu-ray.. as a stand alone player is $400+

But is it confirmed that the Slim has a 4K bluray? So far I'm just hearing that it can output in 4K. (via streaming service?)

Yes confirmed 4K blueray, hdmi 2.0a and HDR

Not sure I agree. Me personally, I may but an S for the bedroom, whereas if I ever by this new beast it will probably be 2019ish. This is for the more hardcore people, the S will fit into a broader customer base.

@ygtgnr ...No gamer is going to twiddle their thumbs for a year and a half.

These words are true! I know some that like to upgrade their video cards every year.

Nobody knows the price of this but they claimed "true 4K" gaming at 60FPS so for that you're looking at something close to a GTX 1070 on current PC cards and they are about £400. The S could still sell to people especially those on Xbox 360 still

Amd has a 199 vr ready card...so your pricing is flawed.

True I forgot about that card. Does the AMD card claim to be suitable for 4K 60FPS? If so I think that's my next PC GPU for sure. Thanks for reminding me to look into this

Radeon 480? 199$ GPU with 4Gb of VRAM (yes, only 4Gb for 199$) and performance level of Radeon 390 or something around that. VR ready? GOOD LUCK :D Even those 2x 480 from presentation cannot outperform even a single GTX 1080 and I should say that even GTX 1080 will meet difficulties in modern GPU demanding games in 4K or VR.

The RX 480 is more powerful than the R9 390 and the 390 is VR ready so I'm not sure what you're on about.

VR for what? 2-3 years old games? Keep dreaming. Polaris 67DF:C7 CF = 480X in Crossfire Polaris 67DF:C7 = 480X Polaris 67DF:C4 = 480 http://i.imgur.com/MfwEc8D.png Compare performance with actual GPUs. Google it if you don't trust me. 199-249$ for regular 480 (not X) 4-8Gb.

I'd be interested to see a link of a GTX 1080 "meeting difficulties" with any game... 4K, VR, or whathaveyou!

Check AAA games benchmarks in 4K, lol.

MS can undercut the price a little, right? It can make up the most revenue from game sales. I have a feeling Scorpio will sit at $500-600 bucks.

My guess is more like £500 (for the UK) but that wouldn't exactly be unrealistic and would be a fair price if it is as good as they say

True, well well just have to wait for 2017 to roll around.

I was thinking the same thing, but for those who are new to the platform, it would be a good way to build your library with Xbox Live Gold until Scorpio is available, and then once Scorpio is out, you could move it to a secondary room/tv.

Not everyone is going to rush out and by a 4k tv, so the one S or even the original is a perfectly fine purchase.

I think the story is if it's just Xbox, announcing Scorpio now would harm S. But considering there will be PS 4k, S is significantly less impressived compared to PS4k and without Scorpio all the market share will go there. So as whole brand for Xbox, announcing Scorpio now is a right move. When S eventually replace non-S, S and Scorpio will co-exists (cheaper version for 1080p tranditional gaming vs expensive for 4k and VR).

That really depends on the individual. I, for one, still own a 360 and when I update (hopefully sooner rather than later) I plan on getting the One S. I'll still be buying a newer model, although I don't need that much horsepower of the Project Scorpio. But that's just me... Posted via the Windows Central App for Android

Sounds very cool, but what are MS going to gain if they pull users way from PC? Gets them paying and committing to live I suppose?? At the high price point, is it going to drag Sony fans away??
Interesting times, I know want one!
XBox is back baby !!!

Gears of War 4 has been confirmed to run better on Xbox One S than the original Xbox One. http://www.polygon.com/2016/6/13/11927732/xbox-one-s-performance-gears-4 Not only does it have a UHD BluRay player (no existing UHD BluRay player is below $400 currently), but it has HDR and improvements to CPU/GPU as well as being smaller and also have an internal PSU. Still, I'm waiting for Scorpio. 50% faster than Neo? Easy sell.

I don't think it will be 50% faster than the Neo if all the leaks are correct.... at max you are talking around 20-30% (depending if Sony overclocks or not), probably around the difference between PS4-XB1 current, possibly less than that. But you figure the Neo will arrive 9-15 months before the Scorpio. Of course, the Neo is not intended to make the PS4 last gen, the Neo is more like a premium device and for PSVR. Of course, Sony's competition to me is no longer MS on the hardware front.... it's Dell, HP, Lenovo, etc. as Xbox is going away and being replaced by PCs. I figure MS is down with traditional Xbox hardware after the Scorpio, but that can be revaulated later. Sony will just continue on the same path.... they have basically eliminated competition and gained competition.... from MS to Dell, Lenovo, HP, etc. MS competition is all the storefronts including the PS Store.... Steam, Orgins, Adobe, Autodesk, etc.

Xbox One S is currently the cheapest UHD blu ray player on the market (or will be when it is released in August).

Ahhh Posted via the Windows Central App for Android

If it's what they said it was in the video then this is WAY above PS4.5 Imo. They said 4K Gaming at 60FPS....

We'll have to see if it really delivers "true" 4K next year. To me that's native 4K like when we talk about PC. I think December 2017 is a fair release date too.

Sony would most probably delay the Neo to next year to meet/outperform Scorpio.

Maybe that's why they aren't showing the NEO at E3...but they kind of need the Neo for PSVR to be a good experience.

Exactly. Neo will happen this year since they have to support PSVR, but this means that they will not have another console for at least 2 years to give it some room to recoup costs. This puts MS in the best position as they will have a box that will provide a better VR experience as well as provide true 4K Gaming whereas the Neo will not. Games already in mid to late stream development for PSVR, there will not be any delays on shipping what they have.

Dell, Lenovo, HP, Alienware, etc can already provide better VR support than Neo or Scoprio. Xbox is going away, by Windows/MS UWP store consuming them. The PS4 can provide the power now for 1080p/60 for VR for the games that are in the pipeline and Neo will can handle most games at 1080/60 for VR. The scorpio would actually not be a high-end box for 4k gaming, matter of fact, I would say it would be low-medium end by late 2017. MS doesn't care if you buy the Scorpio, they want the existing Xbox users on the MS Store, they would actually rather you bought from Dell. 4k on consoles, generally won't happen for a few years, probably looking 2018-2020, unless you want to play on low settings. MS really isn't in the console business going forward, they are in the MS UWP Store business.

The UWP business is the xbox business. They know Xbox spenders spend on xbox and not on PC.

Sony will continue the Neo I would imagine, release in 3-6 months. There is really no reason for them to do anything but what they are doing.

Less than 50% more powerful than ps4k is estimated to be, which would be a smaller difference than between ps4 ans xone, and which people here said was a too small a difference to matter. It probably does matter though.

Uh, no... When doing performance metrics, actual numbers matter more than percentage differences. The difference between computing power for the PS4 and Xbox One is .5 TFLOPs or 500 billion floating point calculations per second. The difference in computing power between Scorpio and Neo is 1.86 TFLOPs or 1.86 trillion calculations per second or 1860​ billion calculations per second.

Its roughtly the same percentage difference between XB1 and PS4, not sure what you are getting at. Right now Dell, Lenovo, HP, Alienware, etc. are Sony's hardware competitior, not MS, MS is consuming the Xbox into Windows and the UWP store... there really isn't much to this. Sony will never win the spec wars against what is potentially all PC manufacturers.

percentage difference is distortion. just like if you increase sales from 1 to 2. That's a 100% increase. versus increasing sales from 100 to 102 which is only a 2% increase. I think most people would rather sell 102 than sell 2. In reality, executing 1860 billion more instructions per second is much better than execuitng 500 billion more instructions per second.

Here's the thing... Sony hasn't announced the PS4K yet. Posted via the Windows Central App for Android

the developer kits are already in the hands of developers. they're the ones saying the Neo is only 4.14 TFLOPs. Sony told them in the documentation. NDAs don't prevent developer leaks.

Good thing its they didnt drop the Kinect 2.0! :D

Too bad they didn't give it any software support or improvements.

Congratulations Zac.. I see your first article her @windows central

Awesome news that was just announced by Phil Spencer and his team!

I'll hopefully support Xbox 360 backwards compatibility too. I don't see no reason why not though.

It supports everything Xbox One does - That's the whole gaming without generations thing. You can in theory stop worrying about a new console making all your previous games obsolete

In this case: *throws large quantities of money at the screen*

I'll definitely buy one if it delivers. The timing of the release is great IMO.

I'll definitely be getting one too.

For me the timing of the release for the Scorpio is horrible... if it was this holiday season, I'd still be in high school and able to blow a large amount of money on it. Holiay 2017, though? I'll be a freshman in college and actually have to worry about money...

Exactly the same situation... I know I'm not getting a Scorpio aha, if they do refresh Xbox every two years, I might have a chance of new iteration number 3?

I don't think this is something very regular to happen. It's more a thing of realizing that the current Xbox One is not powerful enough to compete. Especially with what Sony is up to. It would hurt the weak sales even more.

Shame they didn't tweak the performance specs of the S a bit, at least up to current PS 4 specs :(

That is not what is happening at all... Xbox is being consumed by Win/MS UWP Store. Sony's hardware competitors is now Dell, Lenovo, HP, Alienware, insert company here. MS just wants you on there store, simple as that.... if you elect to buy the Scorpio or the Slim is really irrelevant to them... what is relevant is you buy in to their UWP platform.

You should let Microsoft know so they can reschedule their launch.

Bung the price of games up by $5 or $10 by all means and take a hit on the hardware costs, but the console has to be $399 or below.

Sounds like youre a good candidate for the Xbox One S, those of us who want power are willing to pay a realistic prce for it

If you can't afford to game, then maybe you shouldn't game. A $399 PC can run league of legends and not much more, so have some realistic expectations

I don't get why they would do this. They cut the legs off of the S model and give Sony a year to plan a counter. Was also hoping to see a streaming device, sucks we didn't get that.

Your computer and your phone are your streaming deivce, and you already own these. Why would you spend more money and waste another HDMI on your TV for a dumb Xbox streaming box?

Because I want to play my XB1 in the living room, on that TV. A Chromecast-like device to just stream the video for $50 or less, not a Roku/Apple TV thing.

The S will replace the current Xbox One in production and offer a great price point for those that don't want to pay the expense of going up to Scorpio which will be well north of the $299 of the S. Since all Xbox One games will be playable on Scoripio, upgrading later to Scorpio will be a relatively easy thing to do. I hear you on the Roku Competitor streaming/Apps device. I have a TV waiting for it that I'd love to use it on in my office.

I agreed at first. But, actually this will only damage it a bit, and the standard PS4 very little. They are aimed at different market-ish. Sony's PS4.5 has much more to fear. This launches after it, so many will hold out for the more powerful device.

I'd say the opposite. If you want power and multi-platform stuff, PC still makes more sense. If you don't, then you are with Sony for exclusives that still won't be on the Scorpio.