Microsoft updates Excel, Word, PowerPoint and Sway on Windows 10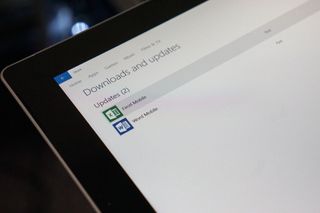 Microsoft has rolled out an update for its Excel, PowerPoint and Word Mobile apps, as well as Sway. The mobile-friendly office suite is perfect for those on their smartphone or Windows-powered tablet, opening up a world of easy document editing and presentation creation tools.
Unfortunately, as is the case these days, we're not entirely sure what has been included in this latest release for the apps, which bumps Excel, Word and PowerPoint up to version 17.6326.10211.0. You can either install these apps or check for updates by hitting the links below:
Download Excel Mobile (opens in new tab)
Download PowerPoint Mobile (opens in new tab)
Download Word Mobile (opens in new tab)
Download Sway for Windows 10 (opens in new tab)
Figured out what's new? Give us a shout in the comments below.
Thanks to everyone who tipped us!
Windows Central Newsletter
Get the best of Windows Central in in your inbox, every day!
Rich Edmonds was formerly a Senior Editor of PC hardware at Windows Central, covering everything related to PC components and NAS. He's been involved in technology for more than a decade and knows a thing or two about the magic inside a PC chassis. You can follow him on Twitter at @RichEdmonds.
It's an advanced and modern kind of PowerPoint... But it's not available for phones yet..

It is available...only for iOS, android and windows 10 mobile...

Not available in my W10M ... :-/ weird

Not weird at all. Microsoft apps are better on iPhone.

MS is turning all the other phones into windows phones. And people will get so used to it their next phone may end up being a windows phone. Let's hope by then the apps on 10 mobile are as great.

Or rather new type of Publisher..

Hi @chaau Sway is an awesome storytelling app created by Microsoft. It allows users to easily create mixed-media web based content. Once a Sway is created it resides on the web and is easily shareable via a link. Sways are great in that that reflow to match any screen, phone, tablet or PC that they are on.
Sway also uses limited intelligence in that it takes the meticulous arranging of content out of the hands of the user. Via the "Storyboard" you place your content into the Sway and Sway does the rest. It's storytelling made easy. Combined with docs.com its an awesome tool for creating and publishing content!
Here, I interviewed Sway creator Chris Pratley and Program Manager Nathan Frieir last year. And wrote up a couple of Windows Central articles on Sway and docs.com. Check them out here! :-) : https://doc.co/MCMtxm

Dude your enthusiasm always makes me want to do more.

@IEhrgeizl Lol...that's cool man. :-)

Just to be clear, you cannot CREATE a Sway on WM10 - but you CAN view any shared sway since you have the Edge Browser. Just click the samples at the bottom of sway.com to see for yourself.

MS didn't roll out W10M cause they are busy in providing other platforms and putt cortana in ios and android .... MS should release it now to all the world

Yeah... Okay.. I'll ask Satya to do whatever you said.. :p

You forgot giving iOS and Android the WP keyboard.

Major players are Microsoft's first priority to provide their service. We are minority in terms of mobile support.

What's the release date of Windows 10 for old Lumias?

what kinda question is this????

Just install Insider and do it yourself.

Insider releases have issues already... I hope msft is working out on stable release, until then it's better not to go grab the half-baked firmware.

It out now insider app if a
Lumia or HTC m8

'Early' 2016 last time I checked. Posted via the Windows Central App for Android on my Lumia 950 XL

What a joke that MS can not have Sway on windows 10 but can on itunes

...but Sway is on Windows 10. It's what this article is all about.

Its not on Mobile. Sway first came out to the world as an iPhone app, then it went to Android. Yet MS is telling us that they can't or won't put it on Mobile.

Or maybe it's just not here yet. Deal with it.

Microsoft told us no such thing. They're just still working on it.

Yea, satya always thinks that Microsoft mobile is just a big joke. Always! Dont be surprised!

Any plan for sway on win10 mobile ?

An update for the "normal" versions of office 2016 would be great. Still a mess. Especially the new Charts in Excel...

Huh ? Office 2016 is being updated monthly.

Wait? What? Why is mine still ******?
Maybe I should look for an manual update or something

Thank you! It is loading updates now. It did not update via the windows update, even though it was enabled.

office updates are normally not shown in windows update .. it auto downloads when it detects an update and installs it when office is not being used. You can manually check for updates from individual office apps from About section

Actually, when you enter "update" in the office-help it tells you that windows update (in win 10) will install office updates automatically as long as some little switch is on. Well it is, but still have to update manually.

All previous versions of Office get updates from Windows Update. But starting with Office 2016, I've noticed that it no longer behaves the same. To trigger a check for Office updates manually, the user must open any Office apps and select Accounts.

We've got all kinds of ignorant people today complaining about stuff they don't seem to have a clue about...

Office apps are updated on 10 Mobile also.

Office apps updated on mobile and so did Maps...

My surface pen isn't interacting with Excel the same way now. Have to keep switching hand panning on/off when I'm using the pen

Hahahahaha... Funny lil ignorant..

Not receiving the updates yet but where do I check the version numbers of the apps?

Create a blank doc, worksheet, or presentation the go menu>settings>about

Why MS is killing OneNote for Windows mobile? There's a huge bridge between the OS's. They should port that thing from iOs. Would be better...

Source, please, or you are full of it.

Nah is just a thought, they leave The app behind the other plat.

That is a joke Sway is not on W10M, nice to see MS, doesn't leave a good impression for those looking to switch.

Hmmmm... Maybe they should just roll out a polished version of W10M and start from there instead!

Still no support for .txt or .rtf docs...

What kind of "just install Insider app on your old Lumia" answers are these? I have 920 on Insider and is buggy as hell. I have to wait 20sec just to open Messaging app. Outlook syncs after 10minuta on Manual push. So yes I am waiting for Official release..

Has anyone had a problem with PowerPoint on smartphones not being able to update, open or uninstall for about 3 weeks or so?

Have you tried uninstalling from the Storage app?

Thank you, that got it to uninstall but I can't reinstall for some reason.

After the update for a moment my excel said i would need to purchase office 365 for editing. And files were opening in read only mode. I exited app, restarted my device and opened a new document. After which it showed upgraded and editing was back on
Using Lumia 950

Do you have a 365 subscription?

I use office 2016 I dint got any updates this month

Today update make office not free anymore..

I've had it un-free for a while now... It Sucks...

PowerPoint Mobile can now play Morph transitions!

You can only edit documents if you have an office 365 subscription, even on w10 mobile.

I've had that for a while... :(
Windows Central Newsletter
Thank you for signing up to Windows Central. You will receive a verification email shortly.
There was a problem. Please refresh the page and try again.