Microsoft has new ads for Surface Pen and Surface Pro 4 Type Cover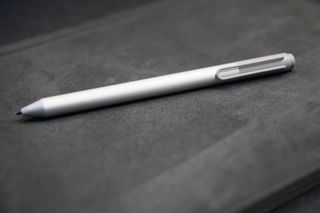 Microsoft's Surface Pro 4 tablet and Surface Book laptop officially go on sale today. That also means Microsoft is selling some new accessories for both products, such as the revamped Surface Pen and the Type Cover made for the Surface Pro 4. Both got the spotlight in newly revealed TV ads.
The commercial for the Surface Pen shows how it works with both the Surface Book and Surface Pro 4. In addition to its high-end writing and drawing capabilities with 1024 levels of pressure, users can click it once to open the Windows 10 OneNote app, or double-click it to get a screen grab.
Buy the new Surface Pen at the Microsoft Store / $59 (opens in new tab)
The Type Cover for the Surface Pro 4 gets its own commercial, showing off its improvements in its keys, its 40 percent larger trackpad and the optional fingerprint reader that allows users to log-in via Windows Hello.
Buy the Type Cover for the Surface Pro 4 at the Microsoft Store / starting at $129 (opens in new tab)
Source: Surface (YouTube)
Windows Central Newsletter
Get the best of Windows Central in in your inbox, every day!
I didnt know new type cover had backlit keys.. Great ads though. And Great products!

SP3's type cover has backlit keys.

Heck, the Pro 2 Type cover had backlit keys.

oh the Surface Pro 1 also has backlit keys

So if you want a colored pen, do you have to spend an extra $60, then have an extra with no purpose?

yep, but it's great that Microsoft is selling the pen together since that'll be one less thing for people to complain for the price point of the Surface Pro tablets

Oh, I agree, but I think it'd be better if when you bought the thing, you got to pick the free pen. That, or they should knock $50 off and let you buy your desired pen separately, basically how they handle the keyboards.

that's not how it works. you knock $50 off, people will stil say that it should include the keyboard and pen for the new lower price.

When you start listening to idiots, you become one of them.

It's all a bit troubling but I can agree with you if you really want to choose pen color. For most people however, they will never buy another pen unless the one included breaks.

Much better than the apple pencil.

Apple will probably come out with a pen after the 4th iteration....and then they'll coin the word "pen" after that. Engadget and TheVerge voyeurs will be all over it like honey pot.

And you know this because you've tried both? I can see a pretty big advantage in the Apple Pencil, which is that it recognizes the angle you're holding the pencil in so you can draw with more than just the tip.

Yep, tried both, since I happen to know a few folks at Apple who let me play with a demo unit. Pen beats pencil hands down.

plus Apple's so-called pencil doesn't even have an eraser bit on the top. Like what good is a pencil without the eraser?

I wish Microsoft would fix the few things that "would" make wacom still better option for artists, But I am sure this is a nice upgrade over SP3 pen. I wish people would make ​videos running sculpting 3d software, but I always see silly notetaking and drawing bad shapes. but maybe someone will make it and see how it performs in that field.

I remember seeing videos on Microsoft's Youtube channel people using Surface Pro 3 for Autodesk, and Photoshop (at their desk and in the field)

well yes, but all I have seen it's usually Maya (not even 3dsmax which I like using more) with the touch and only Panos showing the Mudbox with Surface Book pen thanks to the gpu it has, but he didn't show much. I saw today a video of a guy using Zbrush with Surface Book, but it was only like 3 seconds with one of the demo projects, he didn't really brush, or compare how the brush feels and the interface with the pen and such, the hover and such. well, Surface Book​ having Nvidia dGPU, would work okaish with SB so I would want to see someone actually making something from zero, not so much for the performace but mostly for how the new pen feels in scultping 3d software with the new screen technology, compared to wacom, compared to SP3.
Giving tips about how to change buttons on pen with 3rdparty tools, and just working on it. with or without on screen buttons from 3rd party tools and such. you just can't find that stuff, but I wish people would do it, but I am sure it's too much to ask sometimes.

I will play the usual wait game. Wait 6 mos and the price of the KB will drop to $99 and the pen will be $39 on fleabay. I'll replace my SP3 KB then.

are you referring to the KGB?

Just got back from Best Buy and they didn't have the new pen in stock. I was, however, able to buy a new fingerprint id typecover.

Are these really ads? Usually MS just sends copies to tech media... I hope we can start seeing this on TV so that consumers can realize the potential.

Looking good. Posted via the Windows Central App for Android

Good ads, need widespread promotion

These are actually formatted for TV, so I really hope they air them--I think they're great!

Will this work with the Surface 3?

Yes. Posted via the Windows Central App for Android

I just picked up the new Surface type cover with fingerprint reader for my Surface Pro 3. Cover is great - key travel is superb, quiet and the cover itself is more rigid. Hits 2 of my 3 minor concerns with the original keyboard (the 3rd being the felt cover that is a crumb magnet). Also picked up the pen, which feels slightly heavier in a good way. The tips are terrific. I'll hang on to the original pen but the new pen is a joy to use. ​Today's firmware update followed by a reboot after the new type cover is detected sets everything up. Windows Hello login with the fingerprint reader is incredibly fast. Overall, a great refresh for my SP3.

How strong is the magnet on the pen? Strong enough to not fly off? Posted via the Windows Central App for Android

It's strong but not that strong. You could snag it on something and lose it. I will still use the loop if it fits snug.

0:18 in the second video bottom right corner. "Fingerprint reader available in US only." What? Are you serious? Why?

i think it's because it is compatible with SP3 so they gain some sort of "windows hello" from the fingerprint reader. SP4 comes with face detection so fingerprint is not needed.

Are you a politician? Because you just said something and nothing of that actually answers my question, why it is US only.

Baecause sp3 owners, who are not upgrading might buy the new typecovers that's why. Its actually a very good idea. :)

Got my new type cover and pen delivered today. Tested them out briefly tonight. Type cover is fantastic. It's honestly significantly better than the sp3 TC. The pen is also great. Writing feels very natural, perfect friction, and the interchangeable tips work very well. So much better than the previous pens. The only thing I don't like on the pen is the clip location. It rubs my hand raw. I have to turn the pen with the button facing down so that the clip doesn't rub. So that makes using the button cumbersome because I have to twist the pen in my fingers each time to reach it. Also, getting the battery out is odd. Previously the eraser end was a screw, not it's this special twist connection that requires you to perfectly align the eraser end with the groove on the inside. Not nearly as easy as screwing (that's what she said).

Does anyone know if the new surface pen sticks to the sp3 and/or gets the additional pressure sensitivity.

The new surface pen wouldn't attach to the SP3 because of some magnets lacking in the SP3. Also, it wouldn't have the 1024 pressure sensitivity because of the new co-processor. I can't specifically refer to sources, but I have been researching about it because I own an SP3 and wanted to buy the new accessories.

Does anyone know if the fingerprint cover comes in any other color besides black? Was really looking to get a red cover, but want the fingerprint reader as well.

From what I have read, no. I am in the same boat as you, I want the finger print reader, but also wanted the blue type cover.
Windows Central Newsletter
Thank you for signing up to Windows Central. You will receive a verification email shortly.
There was a problem. Please refresh the page and try again.