Microsoft will help Seattle's KING 5 News cover tonight's Washington presidential primary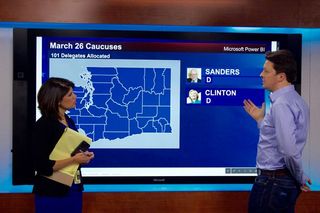 Microsoft is helping Seattle's KING 5 News cover the Washington state U.S. presidential primary tonight. The TV station will use Power BI and the large Surface Hub PC to display the data about the primary results.
KING 5 was the first local TV station to begin using the large Surface Hub PC back in February and used it, along with Microsoft's Power BI data analytics tools, to offer viewers details of the "Super Tuesday" primaries on March 26. For the local Washington state primary, Microsoft says (opens in new tab) it is helping KING with some additional Power BI features:
In addition, the Power BI app recently added a Surface Hub presentation mode that KING 5 will use on the air:
Windows Central Newsletter
Get the best of Windows Central in in your inbox, every day!
Awww, Surface Hub.... 4 months overdue, no delivery date given, 25% more expensive.

Built one of these touchscreens 4 years ago for network TV.... ran flawlessly on windows 7 .... 4 years ago https://vimeo.com/63690429

Around minute 2 and 2:20 you will see it was not flawlessly.

Haha - fair enough. Point is this is just a weird PR move considering nothing is really new here in terms of Windows 7 had great touch support.

Power BI enables KING 5 News to give more BS than previously possible.

Hopefully there won't be any Windows 10 upgrade prompts during the broadcast.

King5 also likes to use iPads (I live in Seattle). I get a multiple popups daily on my iPad telling me to upgrade, which I refuse to do because of repeated upgrade problems on Apple products. You should go over to iMore and bit*h there about Apple, being you hate those popups so much.

I know this article is more about the process that the content is being delivered on rather than the content itself but most political junkies know the Washington state primary election is meaningless. The delegates for the 2016 presidential election were chosen in the Washington state caucus last week. http://www.wa-democrats.org/page/2016-democratic-caucuses Jon Oliver had a funny piece about the process. https://www.youtube.com/watch?v=_S2G8jhhUHg

I lost my cat. The whole cat.

As long as the political parties can cheat, they welcome all automation of elections and election coverage.

Why are we still entertaining Bernie? Hes done.

Wow, I was very confused because I was sure the Dem primary had already taken place in WA. Guess this is for the GOP primary.
Windows Central Newsletter
Thank you for signing up to Windows Central. You will receive a verification email shortly.
There was a problem. Please refresh the page and try again.