Microsoft will prompt IE 8, 9 and 10 users to upgrade to IE 11 on Jan. 12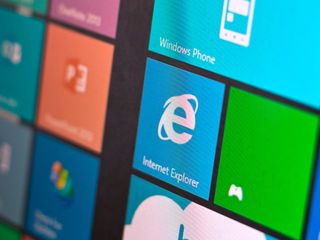 If you are using Windows 7, but are also still using Internet Explorer 8, 9 or 10 as your main web browser, Microsoft wants to let you know that you should really switch over to IE 11. The company has revealed it will be sending notifications to those users on Tuesday, January 12 to upgrade to IE 11.
The notifications are part of Microsoft's previously announced plans to end support for IE 8, 9 and 10 for Windows 7 and Windows 8.1 on January 12. If you are still using Windows Vista, IE 9 will continue to be supported until official support for Vista itself ends in mid-2017. Business and enterprise users who really want to keep using the older browsers can get rid of the notifications to upgrade via a registry change.
Windows 10 users still have IE 11 for backwards compatibility with older web apps, but Microsoft seems determined to slowly end the IE brand in favor of its new Microsoft Edge browser which was introduced with Windows 10 and Windows 10 Mobile.
Source: Microsoft (opens in new tab); Via: The Next Web
Windows Central Newsletter
Get the best of Windows Central in your inbox, every day!
Microsoft should release Edge for Windows 7 users. If they want to capture audience.

Edge is a universal Windows 10 app that cant run on Windows 7.

Technically they did. Windows 7 users can upgrade to W10 for free and use Edge.

Except for those who can't upgrade to 10 for one reason or another. 4 machines at work can't be upgraded because the parent company is using third party software that's not compatible(the VPN and one of the websites uses plugins). They haven't given us an ETA on when they are going to resolve the issue. 2 of the other machines at work can't be upgraded because the video card isn't supported with Windows 10. I have 6 friends so far that can't update to Windows 10 for similar hardware upgrade issues. I'm very glad they had reversed their decision on not having IE11 for W7.

Actually the user agent on w7 is edge

I agree. I'm someone like millions of others who will not upgrade from 7 to 10. Windows 7 is the best OS Microsoft released ever, in my opinion. It was basically a costa service pack with GUI changes which I much preferred compared to vista. I hates 8.0, 8.1 went in the correct direction and 10 they listed and made major changes but I cannot and will not give up windows 7. They may even need to extend win7 life like XP if it keeps growing like it has been.

Or they should give those users Win 10 for free... oh wait!

Good. It surprises me that people still use such outdated browsers. (although my work is admittedly one of them). However I'm not that impressed with Edge. For all it's claims of speed, it's super slow a lot of the time.

Agreed. When MS first introduced Edge, it was lightning fast but with subsequent updates and tweeks it is slow sometimes slower than IE. At least in my experience so far.

I too was thinking the same

IE is still the best one among others for a handful of things.

Edge was painfully slow until I finally used hosts to block ads. So long as ads are being loaded, Edge is slower than molasses. It's pretty decent if you block them, but that's unfortunately not obvious to the average user.

Edge will get extension support soon and adblock plus have it as coming soon. I still prefer IE though compared to edge. On desktop though. Edge is better on mobile.

We have some software that still runs on IE8,9 and 10 ... out of our control though. One of our systems updated this week to finally run on IE10.

Edge is not really mature for the prime time. Until it can handle with ease and speed all that IE and the competition can.

Not only that it needs devs that give a rats ass

8,9,10 to 11 on the 12th. Got it lol

Don't forget it mainly applies to those on Windows 7.

I use uc browser in my pc of windows 8 it's fine

Good strategy for people who don't want to upgrade to 10. I use Edge myself, and the 1511 update made it better for me.

But does IE 11 support 64 Bit in Win 7 ?

It does yes. You just need to select the 64 bit version in program files to load the 64 bit version. 32 bit is supported but many more developers though compared to 64 bit.

I really can't get on with Edge, I've been using Chrome for a few years now and it will take a lot to make me switch to something else

How about hours of battery life and tons of ram usage along with a quicker start up time? Is that enough to make you ditch chrome?

EDGE is a POS on Windows 10... I use IE 11 exlusivly on WIndows 10 because of the compatabilty between pulgins and web sites I use...

Today I have switched back to Firefox from edge. After it failed to upload a video in Facebook.

Let's hope they won't get an idea to pull the plug on IE 11 too soon. So far Edge is hardly a browser a can user. Whatever I try to do in it, like sort my favourites or even change the size of the icons is not there. The plugins support is still in the oven (hopefully arrives not underbaken) and really even though I try to move to Edge I often feel irritated with all the functionality that I have in Chrome and even IE (my main browser) but not in Edge. On a separate note - my company is still using Windows 7 and IE 10 since a lot of our internal websites do not support anything newer. I wonder if this makes the CIO and IT guys move to Windows 10...

IE>Edge. IE is better. Ad Blocking lists don't work in edge yet??

Does this mean extensions will be ready by then!

Whew I'm glad Vista is still supported for now. I love using IE but I can't upgrade further than 9 on Windows Vista. I wish they would've at least made IE10 compatible with Vista.

you still use Vista? OMFG!

They should rather focus on the speed and reliability. I find myself using chrome and Firefox more and more.

I will like to fine a app for snapchat

So, will they release IE 11 for Windows XP ? (not kidding, there are still machines where I work on XP...I am trying to get to them but, no time)

Today i got a strange notification on my notebook with the upgrade to win 10 . I have win 7 without lincence. Is microsoft trying to force all isers to win 10?

There are millions of users that cant upgrade to W10 not because they dont want to, but because they cant because of drivers and other reasons. I have 3 desktops and only one of them has W10. The other two ( even though they are running 8.1) has drivers that are not compatable with W10. The same thing is going to happen in Mobile where millions of W8.1 phones will never see W10 even though Microsoft said in the past they would get it. This everything on W10 is comming back to bite Microsoft on thr butt.